Australian Open champion Novak Djokovic was eliminated from the 2013 French Open by Rafael Nadal in a tremendous semifinal. His exit ensures tennis won't have a men's singles Grand Slam winner for the 44th straight year.
7-time champ @RafaelNadal, arms thrust overhead, into a record 8th RG final #RG13 #RafaNole35 pic.twitter.com/18pZHpmhFl

— Roland Garros (@rolandgarros) June 7, 2013
Djokovic, the No. 1 seed, lived up to the top billing during the early rounds. He didn't drop a single set in his first three matches. However, the "King of Clay" proved to be a test he still hasn't found a way to master on the clay courts of Roland Garros.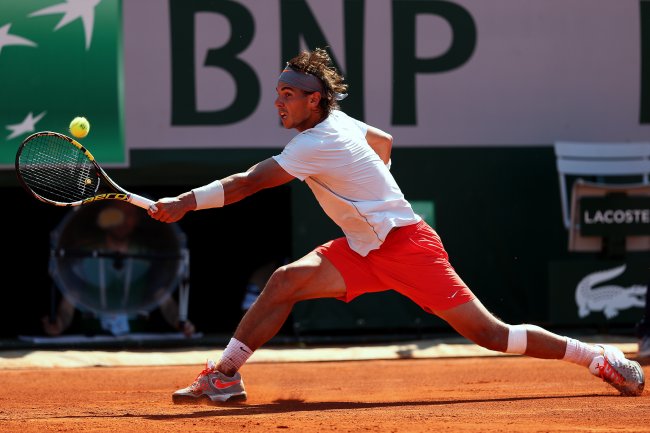 Clive Brunskill/Getty Images
At this point, Djokovic has established a nearly impossible standard for himself. If he doesn't win a major, it's considered a disappointment, which is the same type of pressure Nadal and Roger Federer have dealt with throughout their careers.
Winning the championship at Roland Garros is probably near the top of his to-do list given his lack of success there in the past. It's a quest that continues to elude him.
So the Serbian sensation will have to wait at least another year to complete the career Grand Slam. The French Open remains the only missing piece for the six-time major champion.
That shouldn't come as a surprise, though. Nadal's dominance on clay combined with the fact it's Djokovic's weakest surface will make it tough for him to break through at Roland Garros.
Flashback Friday? @RafaelNadal & @DjokerNole back in 2006, their 1st meeting EVER, right here at RG #RafaNole35 #RG13 pic.twitter.com/HH8hhtEYps

— Roland Garros (@rolandgarros) June 7, 2013
While that's something he will have to worry about next spring, his focus now will be regrouping and getting ready for the rest of the season.
How will Djokovic fare in the year's remaining majors?
A busy summer is as always on tap with Wimbledon, which is less than a month away, and the U.S. Open coming up. Djokovic can't allow his frustrating five-set exit from the French Open to cause an otherwise promising season to spiral out of control.
The good news for Djokovic is the return to grass and hard courts should allow him to regain form pretty quickly. The world No. 1 has been the most consistent player on tour over the past few years. It's hard to imagine one loss changing that.
He's made the semifinals three straight years at Wimbledon. So expect him to put the French Open disappointment behind him pretty quickly once Grand Slam play gets back underway in London.
It won't take long to find out for sure. Wimbledon is just weeks away.