Part I: A New Season
It is May 2013 and spring is here. The season of blooming plants, trees and bushes. Richly colored flowers, leaves and grass fill our city's lawns, backyards and parks and dot the urban landscape that is New York City. It is the season of nature's renewal.
And for sports fans, a new season always signifies the promise of a new beginning. The chance to again root for your favorite team with the hope that the season ends victoriously.
Planting fields and playing fields. Two of our most famous playing fields are Gardens: Madison Square Garden and Boston Garden.
For professional athletes, however, the season of renewal is not promised. Like the annuals planted in a garden, each new season is not a given and cannot be taken for granted. And gardens have only so much room.
The WNBA's New York Liberty is in training camp preparing for the upcoming season. Currently, 13 players are vying for 11 spots on the roster.
Four of these players are recent draft picks out of college. And two of these players are veterans who did not play with the Liberty last year.
The new head coach and general manager, Bill Laimbeer, appears intent on quickly making his imprint on this team, philosophically and personnel-wise. He will not hesitate to implement the ideas that he thinks will make the Liberty a championship team
This is Part I of a series of articles that will follow the journeys of two players in this new season: Katie Smith and Shenneika Smith.
Katie Smith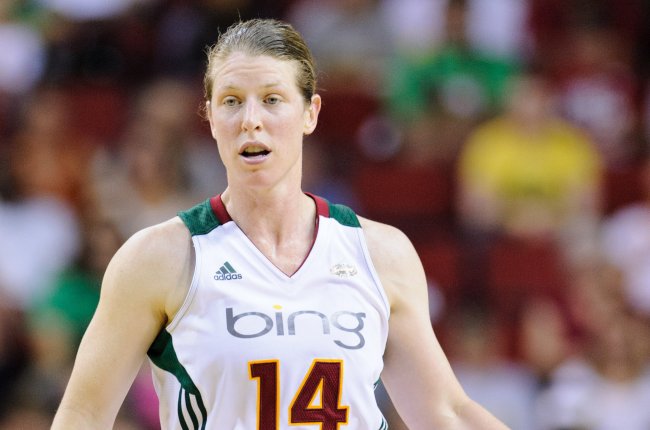 Steven Bisig-USA TODAY Sports
In the twilight of a very successful and long basketball career, this is Katie's first season with the Liberty. The soon-to-be 39-year-old has played on championship teams before, including two coached by Laimbeer.
Coaches need players to help lead, and Katie, familiar with Laimbeer's philosophy, will be a leader in the locker room and on the court. Her career gives her instant credibility with her teammates. Laimbeer would not have signed her unless he envisioned her on the team this year.
Upon her signing, Laimbeer said, "[w]e were fortunate to acquire Katie. She brings leadership, toughness and a discipline for the game."
Throughout her basketball career, the 5'11' Katie Smith has been on many championship teams and played in many championship games. In college at Ohio State, her team went to the NCAA championship game her freshman year.
She broke the Big Ten scoring record while at Ohio State. She played on three United States Olympic gold medal teams, in 2000, 2004, and 2008. The Detroit Shock won two WNBA championships when she was on the team and she was the MVP of the 2008 WNBA finals.
She is a seven-time WNBA All-Star and is the third all-time WNBA scorer.
To put her career in perspective, Smith was voted by the fans in 2011 as one of the top 15 players in the then 15-year history of the WNBA.
Shenneika Smith
In the dawn of her professional career, the 6'1" Shenneika just finished her college basketball career at St. John's University in Queens, N.Y. She was the 25th overall pick in this year's WNBA draft and the fourth player picked by the Liberty. She is the only player on the Liberty roster to go to a New York college.
In all four of her years at St. John's, her team made the NCAA tournament, reaching the Sweet 16 in 2012. Playing in the Big East Conference, St. John's went up against fierce competition, including three of the four 2013 Final Four teams: UConn, Notre Dame and Louisville.
Shenneika and St. John's teammate Nadirah McKenith are the only two St. John's players ever to be drafted by the WNBA.
As one of the best players in the history of St. John's women's basketball, Smith showed this past year that she could play with anyone in college basketball. She is an all-round player who defends, rebounds and scores. Although she was the Johnnies' go-to scorer and leading scorer the last few years, she is an unselfish player.
Despite a skinny frame (reminiscent of another Big East player, Louis Orr from Syracuse who played for the Knicks), Shenneika lead her team in rebounds per game her last two years, is the fourth-leading rebounder in St. John's history and is the No. 3 all-time leader in blocked shots.
Hanging on the wall in the media room at the Liberty's training center in upper Westchester County, there is a large team picture of the 1969-70 New York Knicks. It is the Knicks' first championship team and the gold standard for New York professional basketball.
It took the Knicks 23 years to win its first championship since the NBA was founded in 1946. In those intervening years, New York was always a hotbed of basketball with many great college teams from schools such as St. John's, NYU, CCNY, LIU and Syracuse.
In the picture of the 1969-70 championship team, you can see the one player on that team that went to a New York college. It was his rookie year. Johnny Warren. And he played for St. John's.