Fact vs. Fiction from Houston Rockets' NBA Playoffs Performance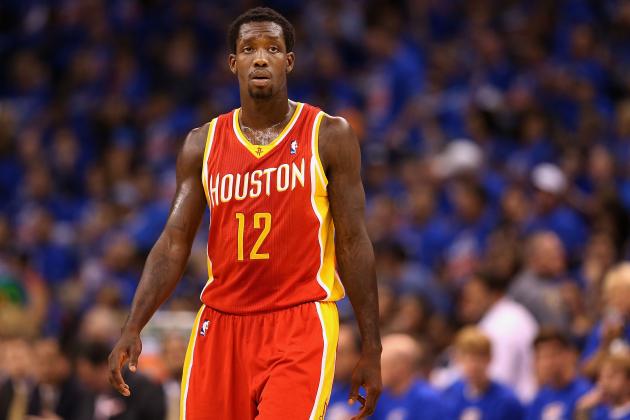 Christian Petersen/Getty Images

The Houston Rockets had some interesting stat lines and trends during their postseason series against the Oklahoma City Thunder, but it's important to establish which of those were "fact" and which of those were "fiction."
The organization (as well as the fans) could get a false sense of what's right with the roster if they go into next season expecting some of the same results as the postseason. Building a team based on such a small sample size is not a smart plan—although there were some performances that will likely continue on in 2013-14.
The Thunder were put at a disadvantage when Russell Westbrook was injured, but the series would not have become so interesting had it not been for some standout performances.
Deciphering what's real and what's not will be general manager Daryl Morey's key job this offseason as he looks to build a winner from the already strong core he has in place.
Begin Slideshow

»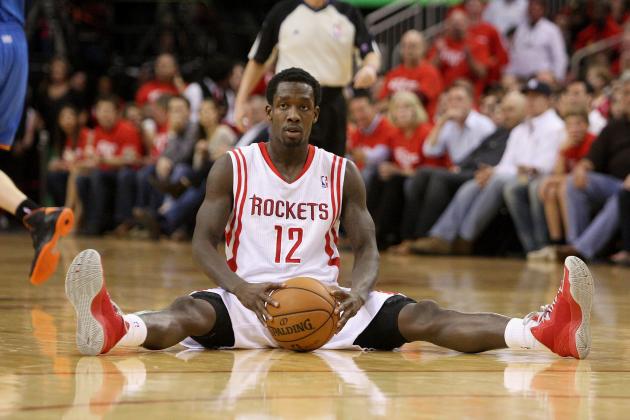 Troy Taormina-USA TODAY Sports

Rookie Patrick Beverley had a great run with increased playing time during the playoffs. Beverley played a significant number of minutes with Jeremy Lin active but saw an even greater spike in time when Lin went down.
Beverley played 33.3 minutes per game during the series and converted 43.1 percent of his shots (33.3 percent from deep). That led to 11.8 points per game. He didn't dish out too many assists (2.8 per game), as the role of ball-handler went to James Harden with Lin sidelined (Harden was primary "point guard" with Lin active anyway).
Where Beverley made surprising contributions was on the glass. He pulled down 5.5 boards per game, 1.8 of which were offensive. This was a huge contribution from a guy (and position) not expected to make an impact on the glass.
Playing in a run-and-gun offense, Beverley's ability to grab rebounds gave the Rockets second-chance opportunities that they may have lost had Lin been the point guard.
Defensively, Beverley proved that he can guard some of the NBA's best. He averaged 1.2 steals per game and even 0.7 blocks per game in the playoffs. This type of defense is invaluable in Houston given the team's defensive inefficiencies.
Beverley stands to improve next season—should he avoid the "sophomore slump." His performance is one that Houston can count on moving forward.
Verdict: Fact; Beverley will be a key contributor in the future.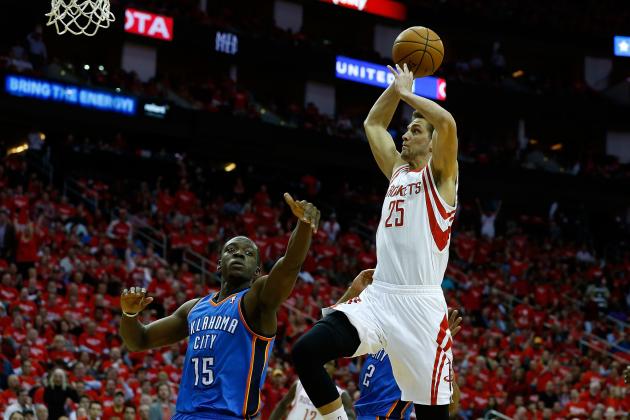 Scott Halleran/Getty Images

Chandler Parsons played a great series against the Thunder. Primarily matched up against the long and athletic Kevin Durant, Parsons was able to find ways to score at a high percentage.
He averaged 18.2 points per game on 45.2 percent shooting, while knocking down exactly 40 percent of his shots from deep. Parsons was a perfect No. 2 scoring option behind James Harden, and a good portion of the Rockets' surprising success this season can be attributed to his play.
Even still, Parsons had his shortcomings against the Thunder.
Parsons shot just 64.3 percent from the charity stripe. This is surprising because most above-average shooters are at least sufficient from the free-throw line. Parsons is a liability at the line, and that's something he'll need to work on moving forward.
He did shoot 72.9 percent there during the season, but he shot just 55.1 percent during his rookie year a season prior. That averages to 67 percent, right around Parsons' playoff mark.
To take the next step in his development, Parsons needs to work on his free-throw shooting. Not only will it add a few more points to his numbers, but it has the potential to also result in a few more Rockets victories.
Verdict: Fact; The guy just can't shoot the free ones.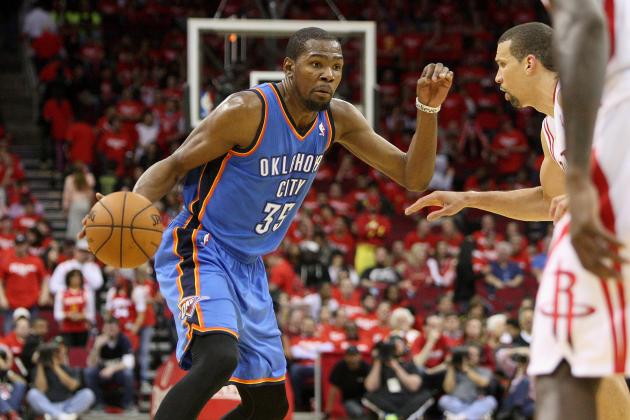 Troy Taormina-USA TODAY Sports

The Rockets scored 100.0 points per game against the Thunder, while Oklahoma City was able to drop 105.8 points per game. We all know that the defense in Houston is bad, but allowing nearly 106 points per contest is ridiculous.
During the regular season, Houston allowed 102.5 points per game. That's not a huge improvement, but it's an improvement all the same.
Defense should be a priority for Daryl Morey during the offseason, as shoring up the defense of the second unit could really work wonders for Houston's title hopes. A potent offense and lockdown defense is a pretty good recipe for success.
The lack of impact defenders against the Thunder really showed. Even without Russell Westbrook (who played very well when he was healthy), Houston had no answer for Kevin Durant and Co. Durant averaged 32.5 points per game against the Rockets. As the only impact scorer with Westbrook gone, Durant was too much to handle.
They needed to at least slow him down, and they couldn't.
Regardless, the defense is not one that will routinely allow that many points per game. The high total was just a product of playing the potent Thunder in the first round. This team can do better next season as is. Throw in a few new defensive-minded players and it could make a big difference.
Verdict: Fact (bad defense), Fiction (so bad they'll allow nearly 106 per game)
Scott Halleran/Getty Images

You have answered the question correctly if you said, "Kenny, they shot a ridiculous 33.7 three-point field goals per game."
That's, right—33.7! That's nine more than the next-closest team, the Thunder (funny, right?), who shot 24.7 per game.
Luckily for Houston, the team was able to convert on a high percentage of these shots. The 34.7 percent mark is good enough to rank it fourth amongst all playoff teams this season (both those playing and eliminated).
That percentage, however, can be attributed to some pretty lucky shooters.
Francisco Garcia shot 45.9 percent, Chandler Parsons shot 40.0 percent and Carlos Delfino shot 35.5 percent. Those three shooters are the reason why the Rockets shot so well as a "team." Inflated numbers from these three guys brought the team's percentage up.
Shooting over 30 three-point field goals a game is not conducive to success. That's a lot of threes, and even an offensive team like Houston should know not to shoot from deep so often. I'm chalking this statistic up to the Rockets taking what the defense gave them.
Who could blame the Thunder defense, anyway? I'd let a team chuck up over 30 threes per game, too. The chances of them missing are pretty darn good.
Verdict: Fiction; They won't shoot that many per game next season.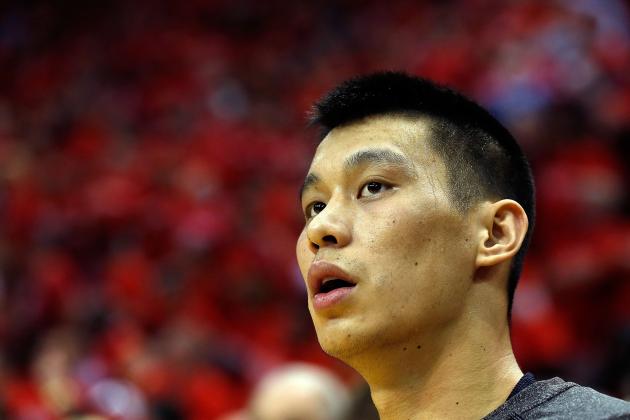 Scott Halleran/Getty Images

Jeremy Lin was essentially a non-factor in the playoffs—except if you consider not being a factor actually being a factor.
Lin started just three games and played in another but only saw the court for 21.0 minutes per game. He scored only four points, grabbed only two boards and dished out only two assists per game.
That's not the type of reliability and consistency you want to see from your point guard.
This is the second straight season that Lin closed the year out with an injury. Last season with the New York Knicks, Lin tore his meniscus and was sidelined for the remainder of the team's season.
It took a chest injury to keep Lin out of action this postseason, albeit it was not serious enough to keep him out entirely. Even when healthy, though, he was a non-factor.
Lin's tendency to injure himself at the end of the season is a trend that will likely continue. He's a player that plays 110 percent every game (which is commendable), but that leads to a ton of wear and tear on his body. Because he plays so hard, Lin's body gets beaten up over the course of a full NBA season (plus playoffs).
It's hard to ask a high-energy guy like Lin to calm it down, but he may have to if he wants to be effective at the end of the season.
Verdict: Fact; Lin's style of play will lead to more injuries in the future.