Andy Murray's Injury Latest Sign ATP Schedule Too Tough on Players
Andy Murray receives medical treatment at Italian Open.
Clive Brunskill/Getty Images
Andy Murray retired from his second-round match in Rome. He is doubtful for the French Open and concerned about being healthy enough for Wimbledon.
His injury is the latest sign that the ATP schedule is too tough on players. There are too many tournaments. Players are beat up and breaking down.
Rafael Nadal once complained that the ATP cared little about its players, in a report from Fox News. He worried that the the number of hard-court tournaments increased the risk of injuries. He also said these injuries could impact players long after their playing days are over.
Nadal recently returned to the tour after missing seven months with a serious knee injury. In April, Novak Djokovic was on the ground in tears after suffering an ankle injury during Davis Cup.
In light of the injury to Murray, it's time for the ATP reconsider its schedule and stop playing players into the ground.
All professional athletes struggle with injuries. The NBA playoffs have been marred by injuries to star players.
But in tennis, there are no backups. When Nadal, Murray, Djokovic or Roger Federer go down, fans miss out.
We are only five months into the season and already each of the Big Four have suffered some sort of ailment. The ATP's near year-round schedule may be forcing some of its best players off the tour.
This comes at a time when Grand Slam tournaments are increasing prize money. More money paid often means more requirements for recipients.
Is the ATP Tour Schedule Too Tough on Players?
But if the goal of the ATP is to increase the profile of the sport, it can't continue this grueling schedule.
Guys are playing tournaments back-to-back, traveling from country to country without a break.
We've seen subtle signs of fatigue in Rome. Popular players like Jo-Wilfried Tsonga, Grigor Dimitrov and Kei Nishikori; bounced from the tournament early. Stanislas Wawrinka, winner of Portugal and runner-up in Madrid, withdrew with a thigh injury.
Players have complained about the schedule before. Murray was so concerned about the number of tournaments in 2011 that he was ready to strike, according to The Independent. That year there were a record number of retirements at the U.S. Open.
During the 2011 U.S. Open, Nadal told The New York Times, "The schedule is crazy... It's crazy now, it was crazy before and it will still be crazy next year. You can't make your body go to the limit for the whole year. It's just not possible."
In the same article, Maria Sharapova commented about the ATP schedule. "It seems like they play forever... So I guess we're lucky."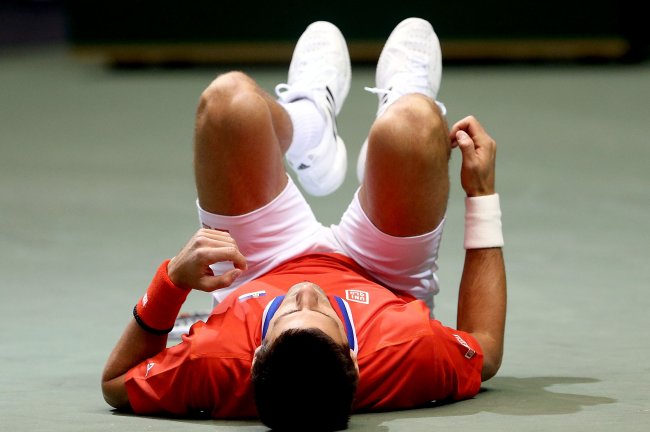 Matthew Stockman/Getty Images
The ATP schedule began Dec. 30, 2012, and ends in November. The WTA schedule begins in late December too but ends in October.
Shortening the season will not eliminate injuries. But it may cut down on the number of top players hobbling out of tournaments.
According to the "2013 ATP World Tour Rulebook," a player in the Top 30 is required to play "singles event of all ATP World Tour Masters 1000 tournaments for which he is accepted, the Barclays ATP World Tour Finals (if qualified as a direct acceptance or designated as the alternate) and four (4) ATP World Tour 500 tournaments, one (1) of which must be held following the US Open. For commitment and ranking purposes, the Monte Carlo Masters 1000 will be included in the minimum requirements for the 500 category."
That means about 18 tournaments for top players. This does not include exhibitions or World Team Tennis.
Players older than 31, who have at least 12 years on the tour or have played in 600 matches, can reduce their commitment.
The ATP needs to consider shortening the season or easing the mandatory tournament requirements. Because it makes no sense to build up a sport only to tear down its players.
This article is
What is the duplicate article?
Why is this article offensive?
Where is this article plagiarized from?
Why is this article poorly edited?