10 Biggest Takeaways from the Players Championship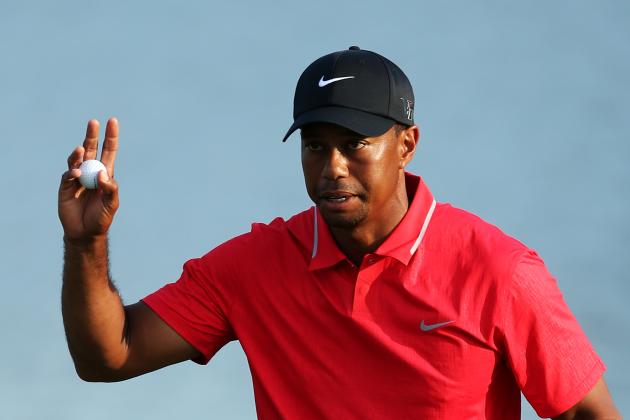 Andy Lyons/Getty Images
Tiger Woods' victory at The Players Championship is his biggest since 2008.
Tiger Woods wins for a second time as a professional at TPC Sawgrass. Sergio Garcia causes a stir first by calling out Tiger on Saturday and then faltering in front of him on Sunday. A PGA Tour rookie comes from nowhere to challenge Woods until the final hole.
There was plenty going on in the 40th edition of The Players Championship and even more to take away from the game's most significant event this side of a major championship. Undoubtedly, Woods' victory, which came in his 300th career start, will continue to own the headlines and fuel the discussion.
That said, the demise of Garcia, the rise of David Lingmerth, the struggles of Phil Mickelson and Rory McIlroy and the growing presence of the event itself will last long beyond Sunday's thrilling conclusion.
We rank the 10 most important takeaways from The Players Championship as the golf season turns directly to golf next major championship—The U.S. Open.
Begin Slideshow

»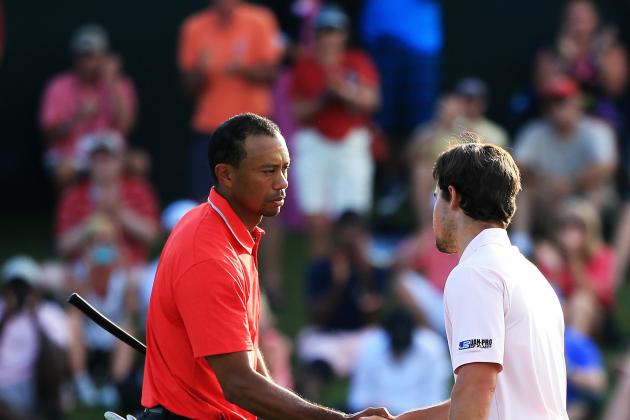 Richard Heathcote/Getty Images
Tiger's victory at The Players Championship drew significant ratings Sunday.
Golf's most polarizing player, the sport's most recognizable and unique golf course and a billowing rivalry with true star power. Golf had all the makings for a ratings bonanza Sunday as The Players Championship absolutely stole the show from the NBA and NHL playoffs.
Not since 2001 has the signature PGA Tour event enjoyed the type of television ratings it got this past weekend as Tiger Woods won his second Players Championship in dramatic fashion. In fact, The Players' Sunday rating of 5.7 easily bested the NBA's offering of San Antonio vs. Golden State and several NHL matchups not played on network television.
Think Tiger Woods doesn't make a difference? It just so happens the World No. 1 captured the 2001 event, which was the tournament's highest at the time since 1991. It also didn't hurt that the Tiger vs. Garcia feud erupted late Saturday, adding fuel to the already hot Players fire by the time final round coverage opened at 2 p.m.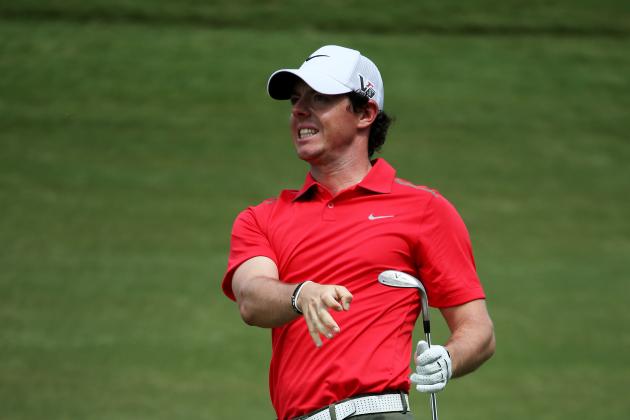 Richard Heathcote/Getty Images
Rory McIlory finished tied for eighth at The Players Championship.
For the second consecutive week, a solid opening round didn't translate to a significant PGA Tour victory, much less even true contention, for the struggling world's second-ranked golfer.
Yes, Rory McIlory finished in a tie for eighth at The Players Championship, but he essentially flat-lined following an opening-round six-under 66 and was never really a factor at the Stadium Course, finishing at seven-under.
McIlroy did essentially the same thing a week before at the Wells Fargo Championship after opening with a 67 only to fade into the background over the weekend on the difficult Quail Hollow layout. The inability to put two, much less four, solid rounds of golf together continues to frustrate McIlory and confound those expecting him to break out after every solid outing.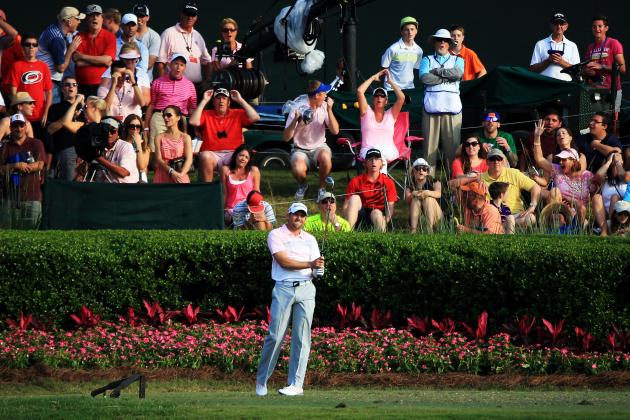 Richard Heathcote/Getty Images
The Players Championship might not be a major, but it is major theater.
Each year in the days leading up to The Players Championship, the debate stirs as to whether the signature PGA Tour event should become, or at the very least be considered, golf's fifth major.
By the time the event ends, as it did Sunday with Tiger Woods as its champion for the second time, we are all reminded it doesn't need a conjured-up designation to make it the best event played on American soil every year this side of the U.S. Open and PGA Championship.
After playing soft and generous for the first two days, the TPC Sawgrass Stadium Course was the star of Saturday and Sunday, rewarding players for great shots, penalizing them for bad ones and playing host to great drama that didn't end until Sergio Garcia dunked his tee shot into the water on 17 and Tiger raised the trophy about 45 minutes later.
More often than not, The Players identifies the best golfers in the world, just as majors tend to, and this year was no different. Theater, drama and suspense…this one had it all.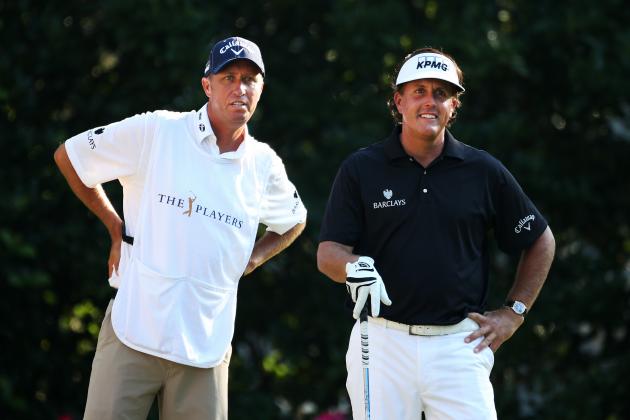 Richard Heathcote/Getty Images
Phil Mickelson's missed cut was among the biggest surprises in the Players Championship.
It's not exactly clear what's wrong, but there is certainly something amiss with Phil Mickelson. Especially in the more significant tournaments of 2013, Lefty has been anything but special, a disturbing trend further highlighted by his missed cut this past weekend at TPC Sawgrass.
While Phil hasn't been completely off, he's been just off enough to struggle since making the turn to the PGA Tour's East Coast swing in early March. A week ago at the Wells Fargo Championship, Mickelson lost a lead to tour rookie Derek Ernst with two late bogeys and couldn't recover. Before that, Lefty struggled to one of his worst Masters finishes ever, "lowlighted" by a second-round 76 and a third-round 77.
This week, Mickelson failed to take advantage of a vulnerable Stadium Course, finishing a shot short of the cut at one-over. His driving was erratic, his putting sporadic and his focus seemed off as he simply went through the motions in the first and second rounds.
Not good momentum heading into the U.S. Open, which he has never won in his stellar career.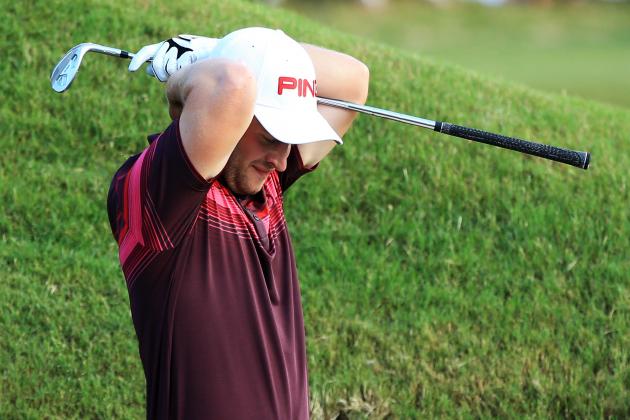 Richard Heathcote/Getty Images
David Lingmerth finished one missed birdie putt from forcing a playoff with Tiger Woods at TPC Sawgrass on Sunday.
It really shouldn't have surprised anyone that a rather unheralded PGA Tour rookie would make a splash this past weekend at The Players Championship. It did, however, surprise everyone that it was David Lingmerth who would be the one to do it.
In a season that has already seen two rookies win PGA Tour events, including Derek Ernst who did it a week ago at Quail Hollow, Lingmerth became the latest first-timer to impress by battling eventual winner Tiger Woods all the way to the 72nd hole.
While others faltered around him, including playing partner Sergio Garcia, Lingmerth held steady, overcoming some early back nine struggles to pull within a shot of Tiger heading to the 17th. A par there and a subsequent bogey on 18 relegated Lingmerth to a second-place tie, but his surprising performance earned him significant praise, and for good reason.
By most accounts, Lingmerth's swing is solid, his poise was proven while playing in the final group on Sunday and his determination to see it through will carry him well into the future. This guy will be heard from again soon.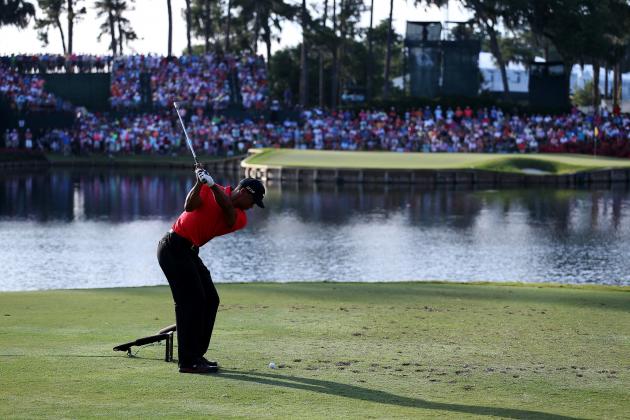 Andy Lyons/Getty Images
Tiger Woods plays the entertaining 17th hole at TPC Sawgrass on Sunday.
With all due respect to Sergio Garcia's pain, we just can't get enough of the drama, energy and ultimate devastation that the island green at TPC Sawgrass' 17th hole delivers every single year.
Through the years, golfers' dreams of winning The Players Championship have often been cemented or drowned in cement feet by a hole that is easily the Stadium Course's shortest but most dramatic.
No other golfer understands this better than Garcia, who has both won a Players Championship on the Pete Dye-designed hole (in a 2008 playoff) and just this past Sunday painfully lost one by dumping two shots into the water.
In any given round, the hole can measure anywhere from just over 100 to just under 150 yards, but no matter its length, it strikes fear into the hearts of every golfer that plays it no matter how many times he does it. It's truly the gateway to Players glory or the pathway to professional misery every year and we just can't turn away when the unthinkable happens on this unrivaled golf hole.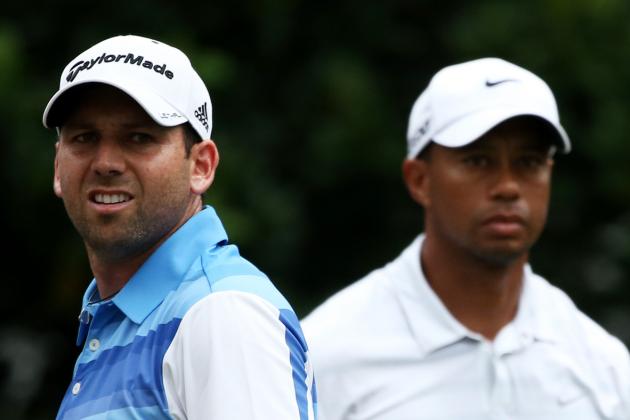 Richard Heathcote/Getty Images
Tiger Woods and Sergio Garcia did not play well together on Saturday or Sunday at The Players Championship.
In case we didn't know it before "distraction gate," Tiger Woods and Sergio Garcia aren't exactly best buds away from the golf course and that's not a fact that bothers either one a single bit.
Paired together in the final group on Saturday, the duo found themselves in a significant dust up after Sergio accused Tiger of pulling a club just before his back swing, causing a distraction when the galleries around the second hole reacted. Garcia's shot to the par-five green went way right, ultimately resulting in a bogey and the ignition of previous ill will that spilled over to the media following the round.
In a scene more appropriate for the principal's office than the PGA Tour, Sergio contended Tiger wasn't very nice and Woods essentially called Garcia a whiner. Wherever the truth lies is up to one's perspective, but what is undeniable is these two do not like each other and the next time they are paired together will be must-see TV.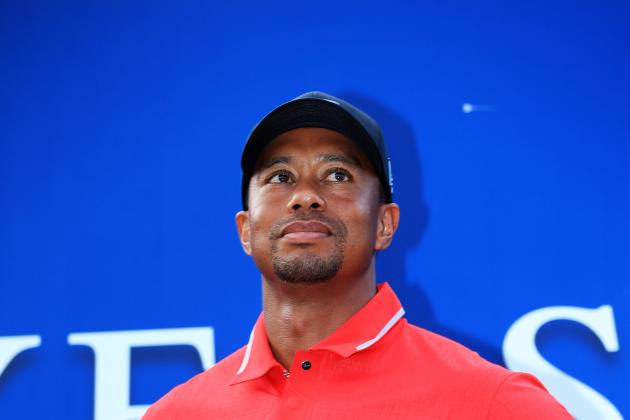 Richard Heathcote/Getty Images
Tiger Woods' Players victory showed he is poised for another run of dominance.
First there was The Arrival under Butch Harmon. Next came the Renewal by Hank Haney. Welcome to the Redemption featuring Sean Foley.
Tiger might have been derailed by a bad drop a month ago at The Masters, but based on his performance this weekend at TPC Sawgrass, there's little doubt the world's No. 1 is poised to begin another dominant stretch in his already storied career.
Woods' two-stroke victory at The Players was his second in the event, his fourth in just seven starts this season and by far his most significant triumph since his last major win in 2008.
His new golf swing now delivering clutch shots in difficult moments, Woods is in complete control of his game and trusts himself now to execute the type of python-squeeze game plans he was executing five or six years ago. That form will serve him well in three majors that will play out over the next three months.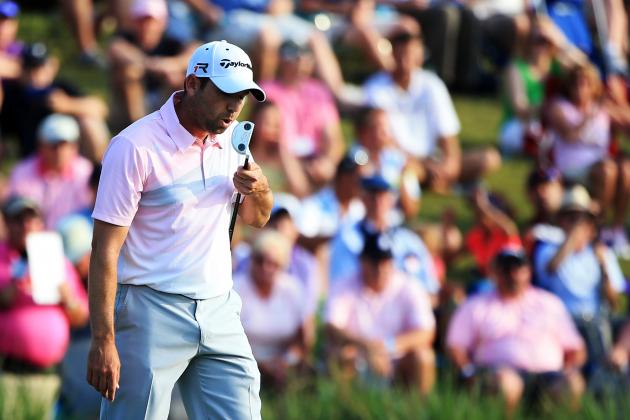 Richard Heathcote/Getty Images
Sergio Garcia saw another opportunity to best Tiger Woods get away Sunday.
Standing on the 17th green with perhaps his biggest career victory well within his grasp, Sergio Garcia did two things most have come to expect of him. The Spaniard collapsed under pressure and failed to lift himself up in the aftermath. The end result is another crushing finish in a career that continues to come up short of expectations.
Tied with Tiger Woods on the 71st hole, Sergio twice found the water on the par-three 17th to notch a quadruple bogey and once again fall short in the shadow of the game's finest player. Bad shots happen, but had Sergio found a way to get up and down after putting his first shot in the water, he might have still tied Woods with a birdie on 18.
Instead, Garcia couldn't do it and had to watch the same man who had a hand in denying him three possible major titles during the past 14 years best him again on the largest of stages. It's just another tale of Sergio's tape—a ton of talent but not nearly the results to match.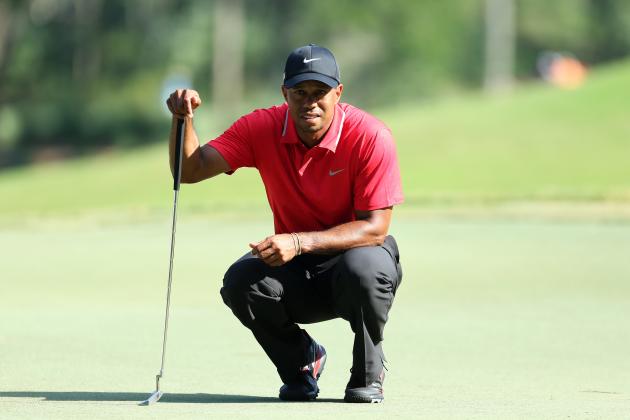 Andy Lyons/Getty Images
Tiger Woods now has four PGA Tour victories in 2013.
In 2000, Tiger Woods captured four PGA Tour events before the end of May and then went on to win the U.S. Open, British Open and PGA Championship during the remainder of the year. The following April he would add The Masters title to create "The Tiger Slam," and become the only golfer to hold all four major titles at the same time since a guy named Bobby Jones.
Flash forward 13 years to the modern day Tiger, who is looking a lot like his younger self these days. With his victory Sunday at The Players Championship, Tiger again owns four victories with the calendar still reading May and his game screaming major mettle.
If you're a believer in history repeating itself, and you saw the control, accuracy and determination in Tiger's game at TPC Sawgrass this past weekend, you'll agree one, if not two, majors will fall to the world's top-ranked player this summer.
We're not predicting another Slam, but we are calling for the end of the five-year major drought in 2013.