Charting the Way L.A. Lakers Changed in Front of Their Fans' Eyes This Season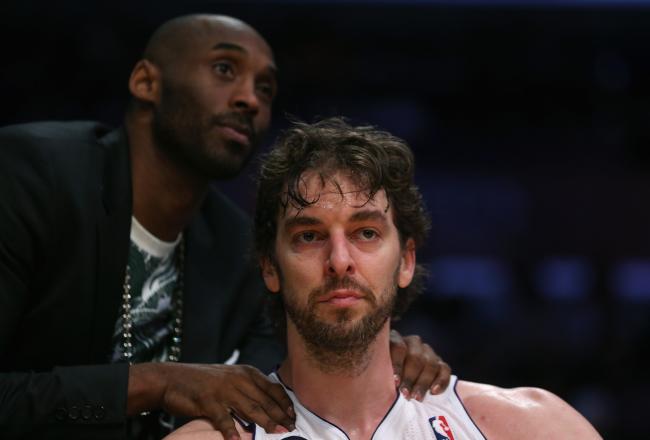 Jeff Gross/Getty Images
No team in the NBA this season has had as bad of an identity crisis as the Los Angeles Lakers had this season.
It all started with the acquisitions of Steve Nash and Dwight Howard.
Fueled by such star power, it was apparent that the Lakers were destined to make their way back into the upper echelon of the Western Conference.
While Howard didn't have the post moves that Andrew Bynum had exhibited when he was healthy, Howard was the far superior defender and perhaps the more imposing physical force.
With Nash taking some of the ball-handling duties from Kobe Bryant, the Lakers were supposed to have even more offensive weapons than their title-winning teams in 2009 and 2010.
Even the role players looked good on paper.
Jodie Meeks, Steve Blake and Antawn Jamison would provide the outside shooting threat while Metta World Peace would continue to be a pest on defense and inconsistently dangerous on offense.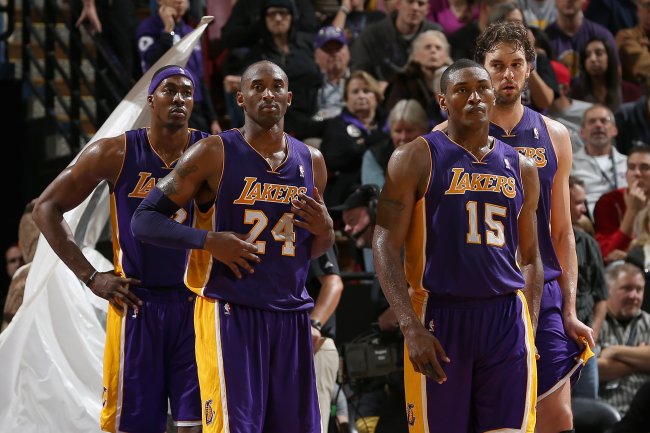 Ezra Shaw/Getty Images
However, things did not mesh together as planned.
Mike Brown started the season losing every preseason game and winning only one of the Lakers' first five games.
The onus of the blame can't be pinpointed on one thing.
Brown's implementation of the Princeton offense was obviously a poor fit for a Lakers team whose skills were mitigated in that system.
A lot of the blame was also unfairly placed upon Howard's shoulders. While he wasn't as dominant as he was in seasons past, it was clear that returning several months early from back surgery may not have been prudent if the Lakers were expecting the Howard of old.
With Gasol and Nash suffering through early-season injury woes, the Lakers' early season struggles ultimately resulted in Brown's dismissal.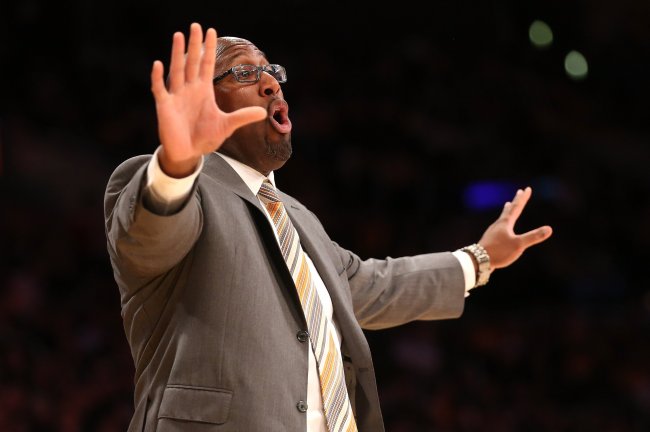 Stephen Dunn/Getty Images
Then started the public outcry for Phil Jackson's hiring.
A proven winner and one of the greatest coaches of all time, if anybody could mesh a championship-caliber roster into a cohesive unit, it was Jackson.
While the Lakers' fans were displeased with the poor start, it wasn't time to panic yet. The season was young and with Jackson and Mike D'Antoni as potential coaching prospects, they had plenty of time to turn it around.
With Jackson showing growing interest in the position, Jim Buss ultimately picked D'Antoni for the job.
Even though this wasn't the most popular decision, D'Antoni was also a proven winner and optimism was restored in a season that didn't start the way the Lakers intended.
Although D'Antoni's reputation took a hit during his tenure with the New York Knicks, the Lakers' fans were excited at the prospect of D'Antoni's run-and-gun style and the homage it would pay to the Showtime era.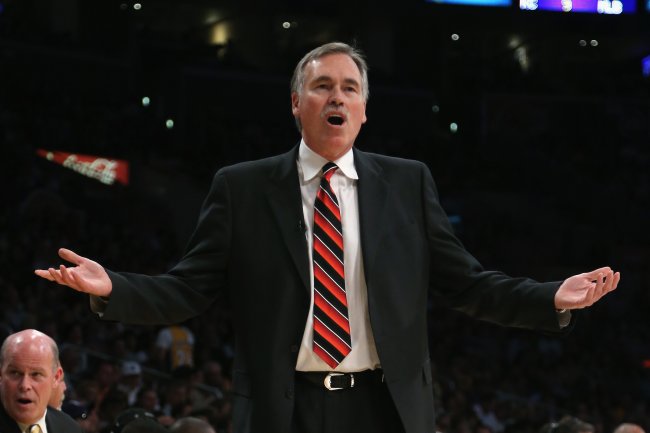 Jeff Gross/Getty Images
A close inspection of the Lakers roster would show that their players didn't really fit the mold of a typical run-and-gun team.
While Howard and Nash looked to be an ideal replication of Amar'e Stoudemire and Nash back in Phoenix, Howard isn't the pick-and-roll player Stoudemire was and Nash isn't the same player he was back in his MVP days in Phoenix.
Furthermore, while Nash continued to miss games due to various injuries, Howard was definitely hindered by his back following surgery in the summer.
With D'Antoni's system revolving around a two-man pick-and-roll game and surrounding them with shooters, the pick-and-roll itself was already out of the picture.
In fact, Gasol is arguably the better pick-and-roll player than Howard, and he was singled out and alienated by D'Antoni early in his coaching tenure.
Jamison quickly became a D'Antoni favorite, then fell out of the rotation shortly after and the Lakers continued to struggle.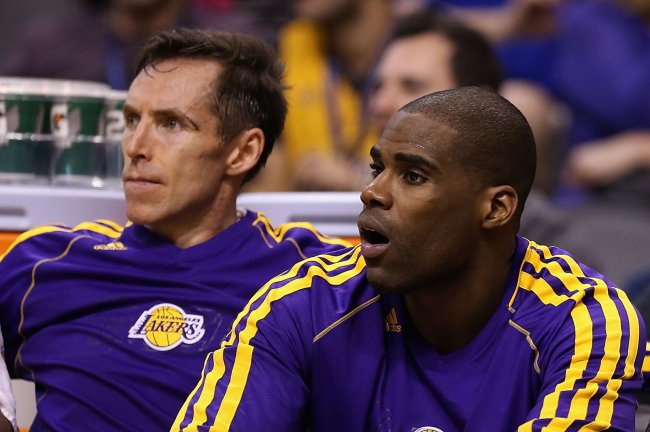 Christian Petersen/Getty Images
In a nutshell, the Lakers' struggles seem to revolve around D'Antoni's inability to conform this aging and injury-prone roster to his system while showing favoritism to some players and alienating others.
While the Lakers' fans were growing uncomfortable with the gong show that the Lakers' season had become, the Black Mamba remained confident in his teammates.
Converting his game into more of a facilitating role to make up for the Lakers' lack of a real distributor due to Gasol and Nash's various injuries, Bryant managed to keep the Lakers afloat as they drifted closer and closer to the playoffs.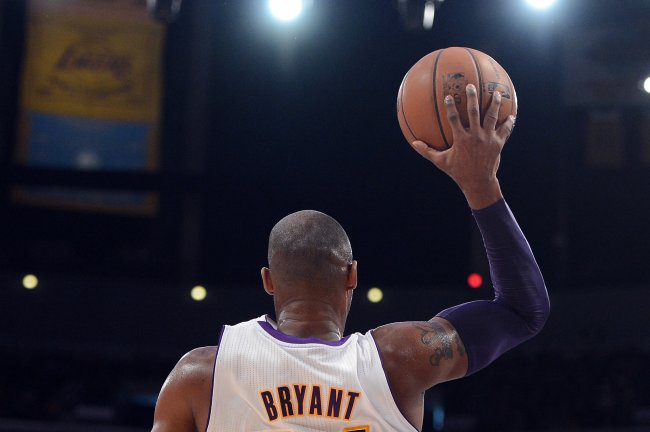 Harry How/Getty Images
As the Lakers began to battle the Dallas Mavericks, Utah Jazz and Houston Rockets for the final playoff spot, their transition from potential contenders to playoff underdogs was finalized.
Despite losing Bryant to an Achilles tendon injury, the Lakers managed to make it into the playoffs to become first-round fodder for the San Antonio Spurs.
With an offseason of uncertainty looming, the Lakers have finally completed their tailspin out of contention that started with the negation of the Chris Paul trade and the departure of Lamar Odom, who acted as the Scottie Pippen-like facilitator to Bryant's Michael Jordan.
As a new era begins, the Lakers' fans are in for another rebuilding period that hasn't been seen since Shaquille O'Neal's departure from Los Angeles.
This article is
What is the duplicate article?
Why is this article offensive?
Where is this article plagiarized from?
Why is this article poorly edited?

Los Angeles Lakers: Like this team?