Stock Up, Stock Down for Cincinnati Reds' Top 10 Prospects for Week of April 15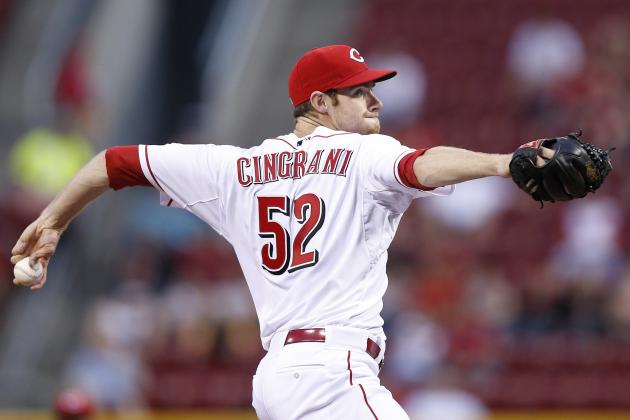 Joe Robbins/Getty Images

The Cincinnati Reds' top prospects come in as a very young core of players. The 2013 minor league season will determine how well the organization is stocked for the future.
Only a few weeks into the season, we've already seen one top prospect, Tony Cingrani, pitch in Cincinnati. We've also seen Billy Hamilton notch 13 steals in Triple-A.
It's too early to overcriticize lackluster performances within the first few weeks. However, it's relevant to see who is underperforming or standing out in the system.
Here are the current stock positions for the Reds' top 10 prospects.
All statistics courtesy of MiLB.com unless otherwise noted.
Begin Slideshow

»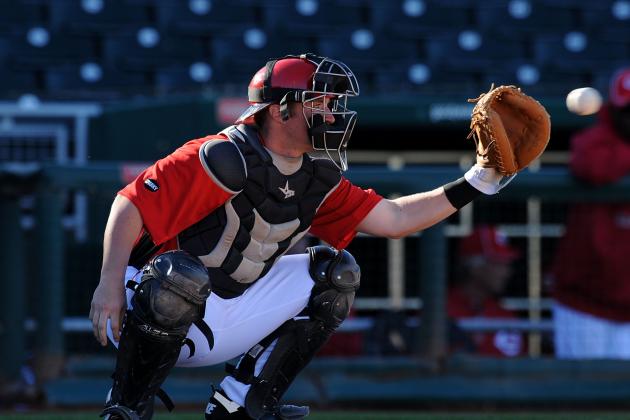 Norm Hall/Getty Images

Level: Double-A (Pensacola)
Position: C
Throws/Bats: R/S
Season Stats
43 at-bats, 13 hits, .302 AVG, three runs, one home run, five RBI, .380 OBP, .395 SLG, .775 OPS, six caught stealing
Analysis
Tucker Barnhart didn't turn heads in spring training this year. He had one hit and one walk in nine at-bats (per MLB.com).
However, since returning to Double-A, he's stepped up nearly all of his hitting stats from last year.
Catching isn't the largest concern for the Cincinnati Reds, but if he continues to play like this, we could see him sooner than later.
Stock: UP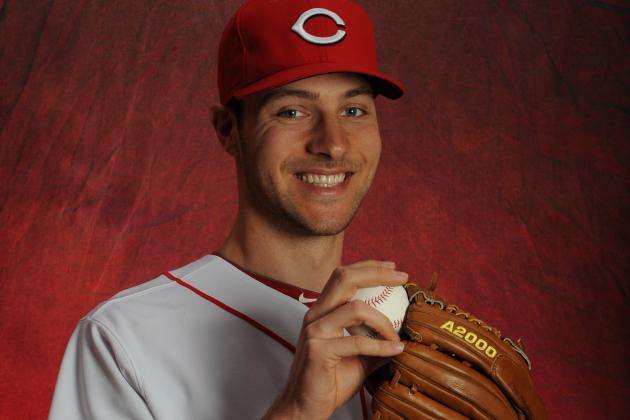 Rich Pilling/Getty Images

Level: Double-A (Pensacola)
Position: RP
Throws: R
Season Stats
0-1, 11.25 ERA, four innings pitched, nine hits, four strikeouts, four walks
Analysis
With only three appearances, there haven't been many opportunities for Kyle Lotzkar. His first outing of the season was his only one where he didn't give up a run.
Lotzkar's numbers cooled down a bit when he moved to Double-A last season. This is definitely a year for Lotzkar to stand out in the minors.
As long as his numbers do not continue to slump, he'll have a good shot at relieving in Triple-A next season. His biggest challenge will be continuous good numbers and keeping runners off the bases.
Stock: EVEN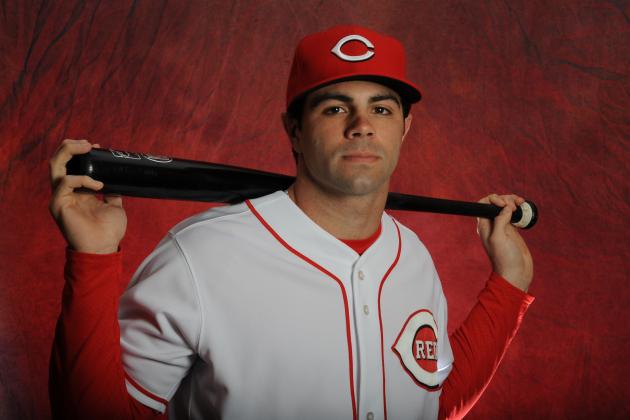 Rich Pilling/Getty Images

Level: Double-A (Pensacola)
Position: RF
Throws/Bats: L/R
Season Stats
55 at-bats, 12 hits, .218 AVG, four runs, one RBI, one stolen base, .283 OBP, .255 SLG, 13 strikeouts
Analysis
LaMarre had an impressive 30 stolen bases in 2012 and 55 in 2011. He's off to a slow start in Pensacola and is in need of raising his batting average.
LaMarre recorded 119 strikeouts last year and has to show more patience at the plate in Double-A.
His average against righties is .175 and at home he's only batting .152 for the season.
He has plenty of time to turn his slow start around, but so far the numbers are slumping from last season.
Stock: DOWN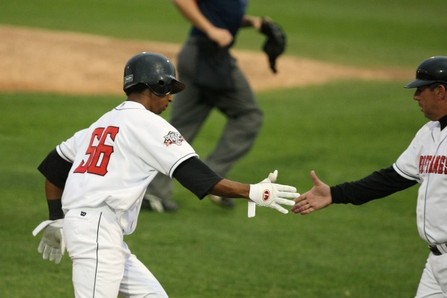 http://2.bp.blogspot.com/_es_1TaSmpPQ/S65XRzLC55I/AAAAAAAACVU/YXau9hZyfAc/s1600/Y.Rodriguez+2.jpg
Level: High-A (Bakersfield)
Position: CF
Throws/Bats: R/R
Season Stats
68 at-bats, 18 hits, .265 AVG, nine runs, three home runs, 11 RBI, two steals, .351 OBP, .471 SLG, 22 strikeouts, .821 OPS
Analysis
Rodriguez only spent 23 games in High-A ball last year and didn't have much success. He put up solid numbers in Dayton and is starting off this year with similar numbers.
Rodriguez is one of the youngest top prospects and was an international signee at 16.
He's certainly one of the younger prospects Reds fans should keep an eye on as he moves through the farm system.
Rodriguez leads his High-A club in RBI, runs and is tied for first in hits.
His numbers might not be over the top impressive. But it's a great start to the season for the young Venezuelan.
Stock: UP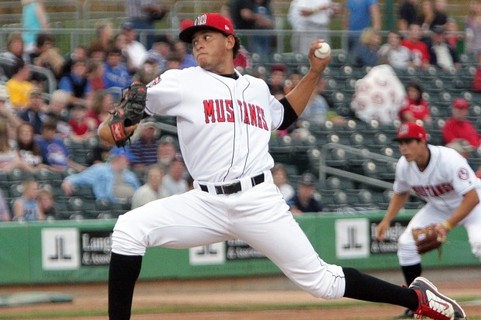 http://2.bp.blogspot.com/-W6SiXrLikv4/UQqYJe6tyQI/AAAAAAAAC64/x5duWFdseKI/s1600/I.Guillon+11.jpg
Level: Low-A (Dayton)
Position: SP
Throws: L
Season Stats
0-2, 6.75 ERA, 10.2 innings pitched, eight hits, 18 strikeouts, 16 walks, six wild pitches
Analysis
There's no doubt about it that Guillon's biggest issue right now is control. He leads his team in walks and already has over half the amount of wild pitches he had in all of 2012.
While his control has been poor, he's doing a great job at preventing hits. He's had two games with just one hit, but his last outing he gave up nine walks.
Guillon can strike out hitters and prevent them from solid contact. However, his control is killing his stats and Guillon will need to turn it around if he looks to advance through the system.
Stock: DOWN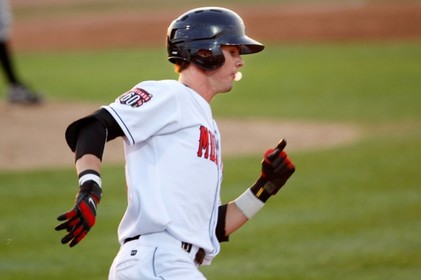 http://bloximages.chicago2.vip.townnews.com/billingsgazette.com/content/tncms/assets/v3/editorial/8/8a/88a1f658-0411-5233-8639-b96f98a7d4e3/502b2bbde0e82.preview-620.jpg
Level: Low-A (Dayton)
Position: LF
Throws/Bats: L/L
Season Stats
55 at-bats, 13 hits, .236 AVG, five runs, five RBI, one home run, .344 OBP, .382 SLG, 12 strikeouts, nine walks
Analysis
Winker is another young prospect in the Reds system that was drafted last year. Winker showed a lot of discipline at the plate in the Pioneer league. He had 40 walks and .338/.443/.500 slash line.
Winker quickly impressed scouts and has made it on nearly all of the Reds top 10 prospect lists for 2013.
However, Winker will have to continue his dominance at the plate. Oddly enough, the 19-year-old strikes out a ton. But, Winker also gets his fair share of walks.
His numbers are significantly down from last season and Winker could stand to get on base more.
Stock: DOWN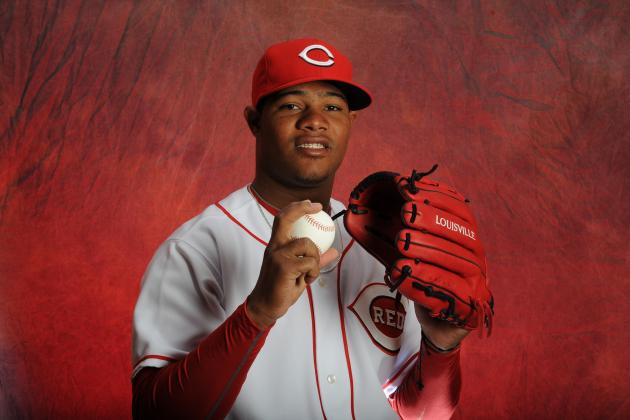 Rich Pilling/Getty Images

Level: Triple-A (Louisville)
Position: SP
Throws: R
Season Stats
0-3, 6.94 ERA, 11.2 innings pitched, 15 hits, 12 strikeouts, nine walks
Analysis
Aside from Tony Cingrani, Daniel Corcino is one of the top pitching prospects Reds fans hope to see in the very near future.
Corcino has quickly made his way through the Reds farm system and must now prove his steadiness in Triple-A.
So far he leads his team in runs allowed, hits, walks and has the highest ERA for a Louisville starter.
His last two seasons were masterful in Double-A and Low-A. It's far too early to worry about Corcino's start to the season. However, he has to prove himself at Triple-A to keep his stock rising.
Stock: DOWN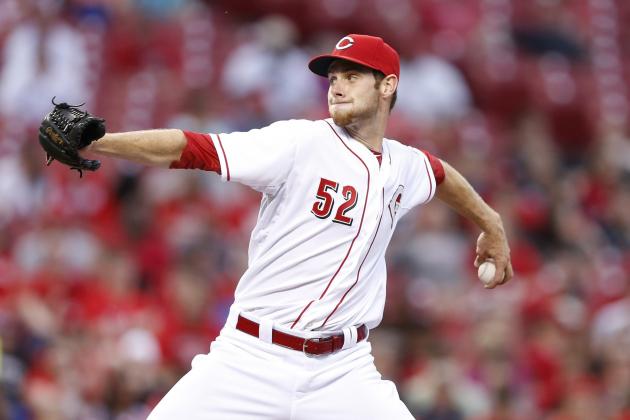 Joe Robbins/Getty Images

Level: MLB
Position: SP
Throws: L
Season Stats
1-0, 1.80 ERA, five innings pitched, five hits, eight strikeouts, three walks
Analysis
Cingrani got his first major league start last week against one of the worst teams in the majors. He handled the start very well and got himself out of a several jams.
His next start will likely come against the Chicago Cubs, and he needs to be dominant once again.
Cingrani was the no-brainer decision to be called up for Johnny Cueto. He recorded 26 strikeouts and two walks in 14.1 innings pitched. He didn't allow a single run in his three minor league starts.
If Cingrani can put up anything close to his Triple-A numbers, expect him to stick around with the Reds once Cueto returns.
Stock: UP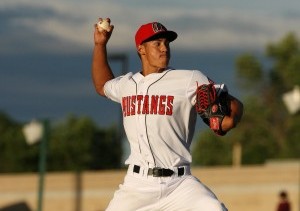 http://3.bp.blogspot.com/-AI3gHSRpzW0/T-HYHdQPnDI/AAAAAAAAAUc/LoixF3uivpI/s1600/robert+stephenson.jpg
Level: Low-A (Dayton)
Position: SP
Throws: R
Season Stats
0-2, 6.23 ERA, 17.1 innings pitched, 23 hits, 27 strikeouts, six walks
Analysis
Stephenson has a ways to go before he has a chance at the majors, but he's off to a good start.
Stephenson is certainly being hit around a bit so far in Low-A ball.
However, the two biggest stats are his amount of strikeouts and walks. He's giving up too many runs per game, but the strikeouts and pitching command are definitely there.
Don't look too far into his high ERA. If Stephenson can keep batters from solid contact, he'll dominate his way through the minors.
Stock: EVEN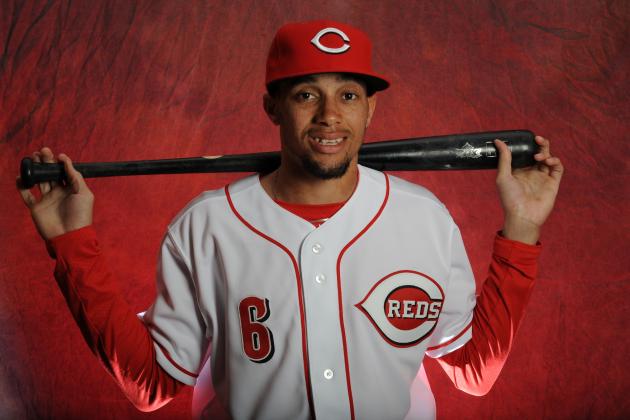 Rich Pilling/Getty Images

Level: Triple-A (Louisville)
Position: CF
Throws/Bats: R/S
Season Stats
61 at-bats, 14 hits, .230 AVG, six runs, three RBI, 13 steals, .299 OBP, .295 SLG, nine strikeouts, six walks
Analysis
So far, Hamilton's Triple-A start hasn't been anything to write home about.
While his steals are high, his batting average is lacking. Mainly what the Reds want to see from Hamilton is his ability to get on base.
The Reds are spoiled at the moment with Shin-Soo Choo. Hamilton will need to improve his OBP to be a lock on the Reds roster next season.
However, a few slow weeks shouldn't determine Hamilton's ability in Triple-A. He's recorded at least one steal in his last five games and his average is slowly rising.
There's no reason to mark his current stock down, as he's only improving. But there are obviously some tough challenges facing the speedster in Louisville.
Stock: EVEN