Reid Fragel: 5 Things You Need to Know About the Ohio State OT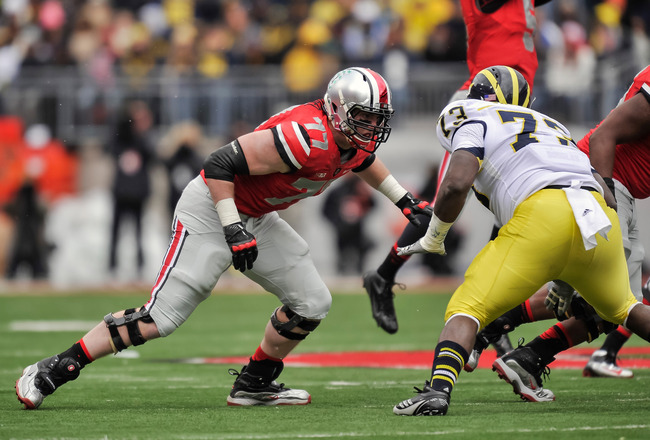 Jamie Sabau/Getty Images
The Ohio State Buckeyes lost a couple of offensive tackles to the draft last season, so they converted tight end Reid Fragel to the position.
He might not be a highly touted tackle prospect, but he is an intriguing late-round guy given his athleticism. Here are five things you should know about him.
Combine results courtesy of NFL.com. College stats courtesy of sports-reference.com.
Background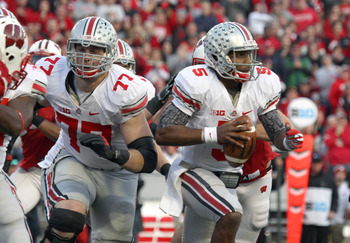 Mary Langenfeld-USA TODAY Sports
Full Name: Reid Fragel
Hometown: Grosse Pointe Farms, Michigan
School: Ohio State
Major: Communication
Year: Senior
Twitter: @Fragel77
Fragel hails from a town that is a bus ride away from the locale in the film Grosse Point Blank.
Fragel has good sports genes. He has a sister who rows for the renown Miami squad, and his grandfather was a college basketball coach.
Collegiate Stats

Video courtesy of DraftBreakdown.com

Fragel's offensive stats are irrelevant at this point being that he was converted to an offensive lineman, but you will find his meager receiving statistics from his days as a tight end below.
He was a nice surprise at right tackle for Urban Meyer, to the point where he named a fictitious award after him for coming out of nowhere. Ohio State had a good offense—averaging 5.2 yards per carry on the ground—and Fragel was a big contributor.
Offense
| | | | | |
| --- | --- | --- | --- | --- |
| Year | Rec | Yds | Avg | TD |
| 2010 | 9 | 121 | 13.4 | 1 |
| 2011 | 5 | 64 | 12.8 | 0 |
| Career | 14 | 185 | 13.2 | 1 |
Draft Process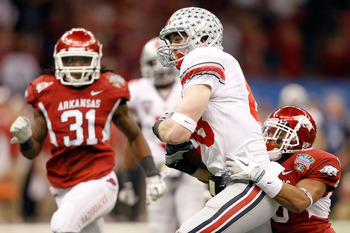 Matthew Stockman/Getty Images
Measurables
Height: 6'8"
Weight: 308 lbs.
Arm Length: 33"
Hand Size: 10 5/8"
Combine Results
40-yard dash: 5.14 seconds
225-pound bench press reps: 33 (top performer)
Broad jump: 113.0 inches (top performer)
Vertical jump: 30.0 inches (top performer)
3-cone drill: 7.68 seconds
20-yard shuttle: 4.68 seconds
A converted tight end, Fragel showed nice athleticism at the combine. He was a tad slower than you might expect a former tight end to be, but he showed off his bench-pressing skills, and he did rather well in the jump events.
He's also huge.
Converted Tight End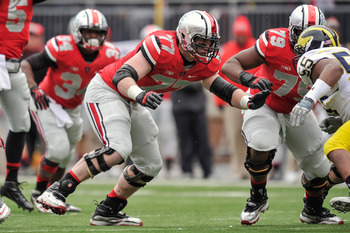 Jamie Sabau/Getty Images
You might think that a converted tight end will have trouble at the next level, but Fragel is not blazing a new trail.
Indeed, it might be the road less traveled, but there are converted tight ends with great success in the NFL. Eric Winston is one such example, having played tight end at Miami before being moved over to tackle.
Fragel might work best in a zone-blocking scheme given his athleticism.
Observations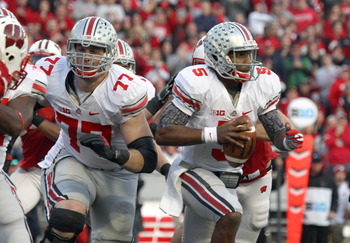 Mary Langenfeld-USA TODAY Sports
What is the word on Reid Fragel in the Twitterverse?
I feel like @fragel77 missed an opportunity when he picked that name... @fragelrock is available.

— Alessandro Miglio (@AlexMiglio) April 22, 2013
Bengals working out Reid Fragel. My 7-Round Bengals mock submitted last night included him.

— Joe Goodberry (@JoeGoodberry) April 22, 2013
There are people in life who want nothing more than for you to fail. Accept that and use it to your advantage.

— Reid Fragel (@Fragel77) April 1, 2013
Ohio St OT Reid Fragel an interesting prospect. He's huge & it's all upside. He was a TE until his senior year. "My best FB is ahead of me."

— Rick Gosselin (@RickGosselinDMN) February 23, 2013
Keep Reading

Cincinnati Bengals: Like this team?