10 Reasons You Should Be Watching the LPGA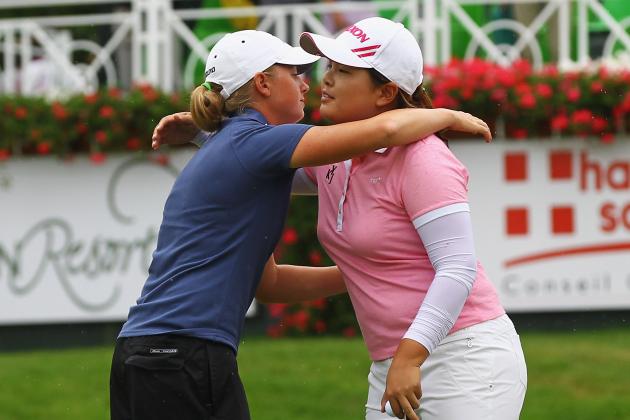 Matthew Lewis/Getty Images
Inbee Park and Stacy Lewis are battling for the No. 1 ranking
If you have not been following the lady golfers on the LPGA Tour, you are missing some great golf.
The LPGA Tour travels the world and holds tournaments in some of the most beautiful locales the world has to offer.
There are teenage phenoms putting pressure on veterans, players that have been around forever trying to rediscover their games and a heated competition for the No. 1 ranking in the world.
LPGA Tour Commissioner Michael Whan has resurrected a golf tour that had lost 30 percent of its events and has it back hosting a nearly full schedule of 29 events for 2013.
The players are encouraged to interact with fans and engage them on social media outlets such as Facebook and Twitter.
The best reason may be that the women on the LPGA Tour are a whole better to look at than the old guys on the Champions Tour.
Begin Slideshow

»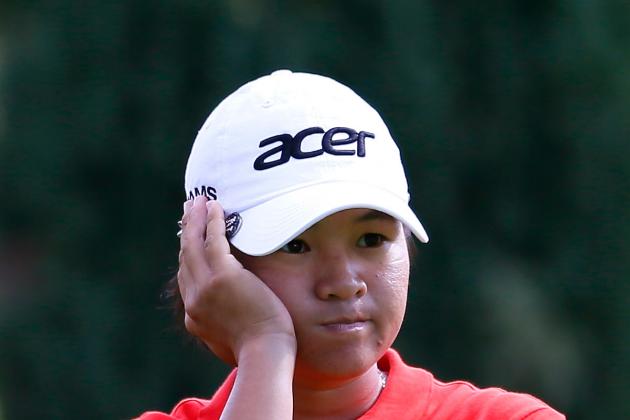 Kevin C. Cox/Getty Images
Yani Tseng has fallen to No. 4 on the Rolex Rankings
Yani Tseng was the No. 1-ranked woman golfer on the Rolex Rankings for 109 weeks. Stacy Lewis unseated Tseng after two consecutive wins in Singapore and at the RR Donnelley Founders Cup.
In an off week during the Masters, Lewis lost her top spot to Inbee Park, who also has two wins in 2013.
Both players are only a few percentage points apart in the rankings and are followed closely by Tseng, Na Yeon Choi and So Yeon Ryu.
Suzann Pettersen, with two wins last fall, a win on the Ladies European Tour in China and the recent win at the LPGA Lotte Championship, has also moved into the conversation for who is the best woman golfer right now.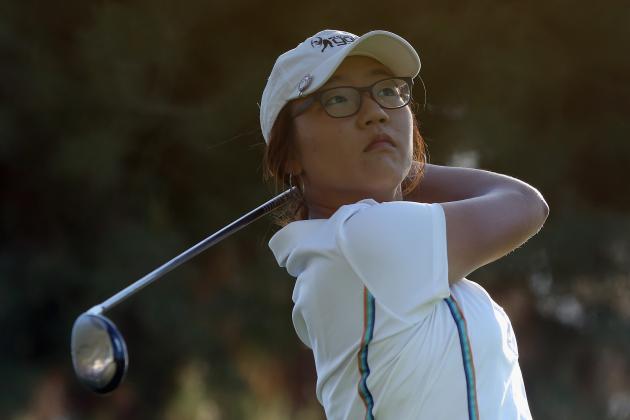 Jeff Gross/Getty Images
Lydia Ko is a 15-year-old phenom.
Lydia Ko is still an amateur and is not a member of the LPGA Tour, but she is receiving numerous sponsor's exemptions to play in LPGA Tour events.
She is a high school student from New Zealand and has won professional events on the Australian Ladies Professional Tour, the Ladies European Tour (LET) and the LPGA.
She won the U.S. Amateur last summer and then went on to win the Canadian Women's Open on the LPGA Tour.
Thus far in 2013, she has won the ISPS Handa New Zealand Women's Open on the LET and finished third in the ISPS Handa Australian Women's Open behind former world No. 1-ranked players, Jiyai Shin and Yani Tseng.
She just recently was T-25 in the Kraft Nabisco Championship and posted a top-10 finish in the LPGA Lotte Championship in Hawaii.
She is the real deal.
Ko turns 16 in just a few days. Even though she says she wants to attend college, she will most certainly seek an exemption to become a member of the LPGA next year when she turns 17.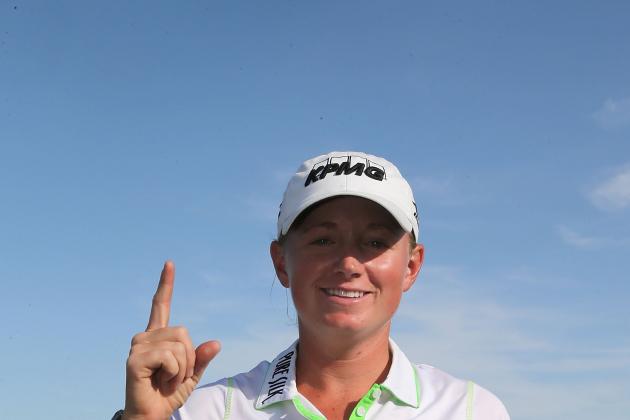 Christian Petersen/Getty Images
Stacy Lewis won 2012 LPGA Player of the Year
International players Annika Sorenstam, Lorena Ochoa and Yani Tseng dominated the LPGA Tour over the past decade.
The sentiment was that the LPGA struggled to gain attention in this country because so many of its top players were from outside the U.S.
Stacy Lewis winning the LPGA Tour's Player of the Year award last year with her four wins and 16 top-10 finishes has changed the discussion dramatically.
Young American players Lexi Thompson and Jessica Korda are competing and grabbing headlines.
Veterans like Paula Creamer and Christie Kerr are re-emerging and in contention in LPGA Tour events.
There are also some new young American faces on the Symetra Tour that will be making waves in the LPGA in the near future.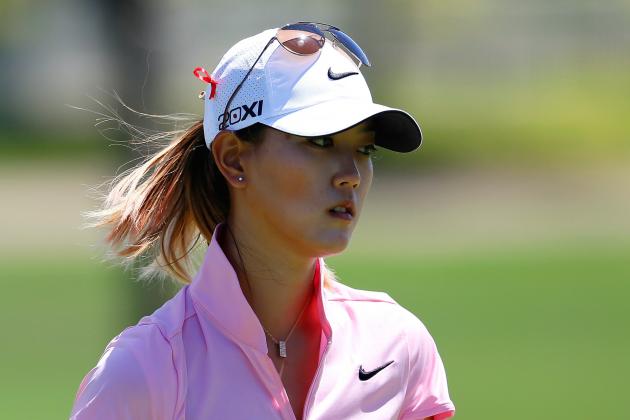 Kevin C. Cox/Getty Images
Michelle Wie remains a mystery
One of the more intriguing storylines on the LPGA is the struggles of Michelle Wie.
She was a teenage sensation around the golf world and even competed in PGA Tour events.
Her golf game and her beauty earned her large endorsement deals and a modeling contract.
She was somewhat diverted from golf while attending Stanford but upon graduation last spring was expected to jump onto LPGA Tour leaderboards.
Even though she is one of the best ball strikers on tour, she has struggled mightily with the flat stick.
Following Michelle Wie is sort of like watching NASCAR and waiting to see where the next accident will take place.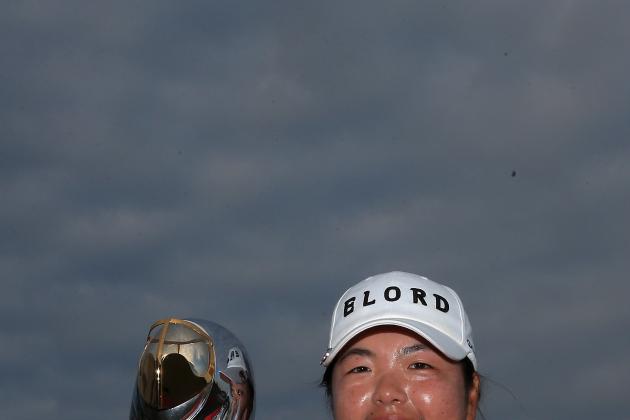 David Cannon/Getty Images
Shanshan Feng from China won the 2012 LPGA Championship
The LPGA has become an international tour.
Se Ri Pak inspired an entire nation of young women to take up golf and South Korea comprises a large percentage of LPGA members.
The tour visits Australia, Thailand, Singapore, Japan, Taiwan, China, Europe, Canada, Mexico, South America and the U.S.
PGA Tour players are regaled for not traveling outside the friendly confines of the U.S. to play golf and spread the game.
LPGA Tour members rack up a ton of frequent flier miles and are helping to grow the game around the world.
Asia and the Far East are a huge potential market for golf manufacturers and the golf industry as a whole.
LPGA tournaments held in these exotic locales can only help grow the game exponentially.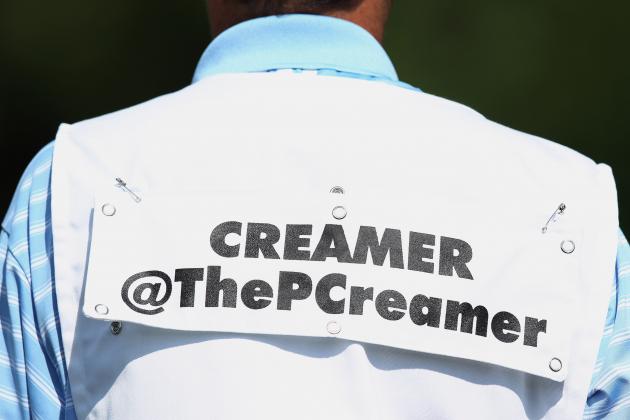 Scott Halleran/Getty Images
LPGA Tour Players interact with fans on Twitter
The LPGA Tour hired Kraig Kann, from the Golf Channel, to help teach tour players to be more fan-friendly and interact via social media with their fans.
Twitter and Facebook help an individual player not only grow their personal brand but also help to grow the LPGA.
Twitter allows fans to connect with their favorite players, follow their travels and successes.
LPGA Tour players are also expected to interact with fans during tournaments, especially throughout practice rounds and pro-ams.
LPGA Tour Commissioner Michael Whan is doing a wonderful job of finding new sponsors, adding tournaments and growing the LPGA brand.
The players have helped immensely with their outgoing personalities and by embracing the power of social media.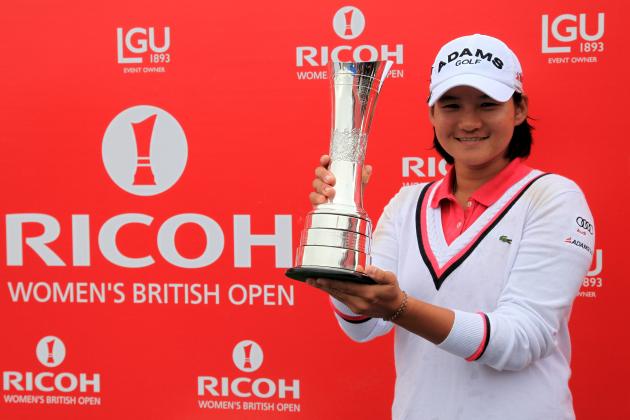 David Cannon/Getty Images
Yani Tseng won the 2011 Ricoh Women's British Open
Yani Tseng won her fifth major title at the 2011 Ricoh Women's British Open at Carnoustie in Scotland.
With that win, at the age of 22, she became the youngest player ever, man or woman, to win five major championships.
Tseng has struggled since her last win on tour, the Kia Classic, in March 2012.
She has fallen from the No. 1 spot on the Rolex Rankings that she held for 109 weeks.
She is one of the most talented players in the women's game.
Following her efforts to regain her world-class form and challenge for the No. 1 spot with Inbee Park and Stacy Lewis is reason enough to become a fan of the LPGA.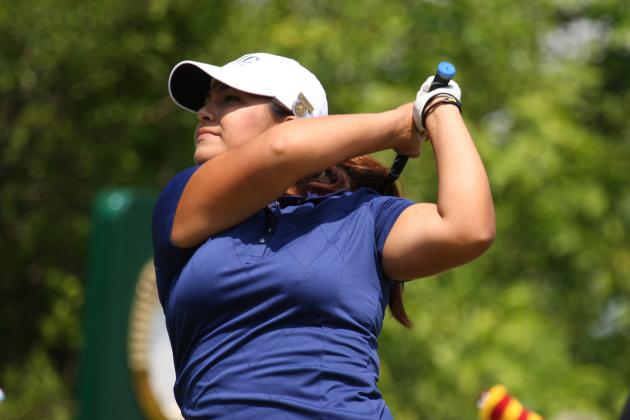 Mary Langenfeld-USA TODAY Sports
Lizette Salas is just one of the young players ready to win on the LP'GA Tour
Lizette Salas is just one of the young players that appear ready to win on the LPGA Tour.
She is in her second year on the LPGA and has three top-10 finishes in her last four starts. Most recently, she shot a final round 10-under par 62 in the LPGA Lotte Championship to force a playoff with Suzann Pettersen.
Ariya and Moriya Jutanugarn are sisters from Thailand that have been showing up on LPGA Tour leaderboards this year.
Moriya earned her LPGA Tour card last fall and has one top-10 finish thus far. Ariya contended in Thailand and was the first-round leader at the LPGA Lotte Championship eventually finishing in third place.
Lexi Thompson and Jessica Korda have both won on the LPGA Tour and will win again.
So Yeon Ryu from South Korea won the 2011 U.S. Women's Open and has a solid golf game.
Lydia Ko from New Zealand is not even eligible to join the LPGA Tour, because she is too young, but already has won on tour.
Young players continue to challenge the veterans on the LPGA and provide a never-ending pool of talent.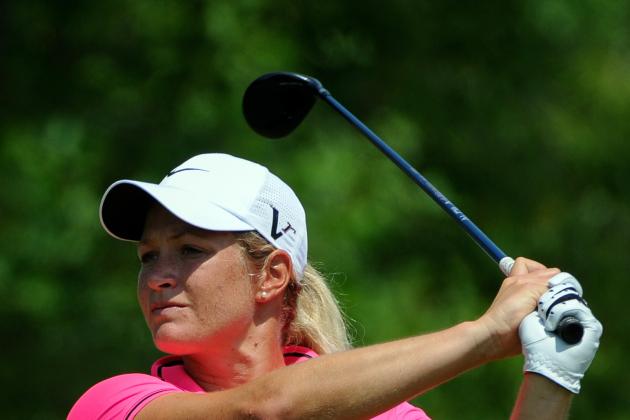 Benny Sieu-USA TODAY Sports
Suzann Pettersen has a textbook swing.
Studying the golf swings of the best women players can greatly help every average golfer improve their game.
The average amateur golfer cannot relate to the 115 mph swings that a typical PGA Tour player possesses. Watching Tiger Woods or Dustin Johnson hit their driver 325 yards will probably just frustrate a normal golfer.
Much can be learned from watching the LPGA lady professionals. Their swings are much more technically sound and they must play the golf course as it is set up. The ladies cannot bomb and gouge a golf course like the men.
A full turn throughout the swing, patience, and a solid short game will help the everyday golfer improve their score quicker than hitting an eight-iron 170 yards.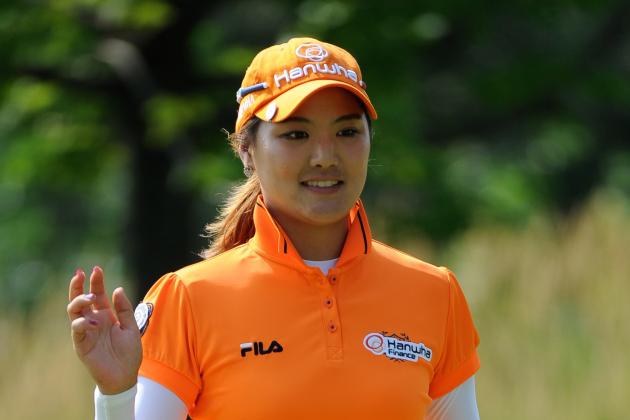 Benny Sieu-USA TODAY Sports
So Yeon Ryu is one of the rising young stars of the LPGA
Watching beautiful young women adorned in colorful, becoming golf attire walk around a golf course is much more pleasing than watching a bunch of sweaty men.
Tim Herron, Kevin Stadler, Mark Calcavecchia or Boo Weekley will not be gracing the covers of Elle or Vogue magazines anytime in the near future.
It is certainly more pleasing watching Grace Park, So Yeon Ryu, Lexi Thompson, Natalie Gulbis, Blair O'Neal and Anna Rawson swing a golf club than sitting through six-hour rounds watching the PGA Tour.
The ladies of the LPGA are serious professional golfers, but they still comport themselves in a manner that allows them to maintain the qualities of a modern young woman.
Woman for woman, pound for pound, the LPGA has a lot to offer golf fans.
The LPGA is growing and gaining popularity around the world.
Get on board and watch the best women golfers in the world.
You might just learn something.