Is Nick Saban at a Recruiting Disadvantage by Not Being on Twitter?
Use your ← → (arrow) keys to browse more stories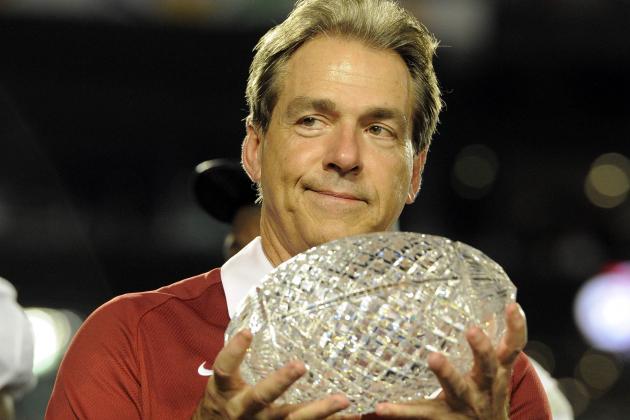 John David Mercer-USA TODAY Sports
Alabama head coach Nick Saban
College football coaches are in an interesting time nowadays. Recruiting deregulation is a clear goal of the NCAA, despite the fact that the unlimited calls and texts rule was overridden last month and efforts to allow off-the-field staff members to recruit was suspended.
While direct messages on Twitter and Facebook are allowed as long as they aren't received via text message, the evolution of social media has become quite the recruiting tool for college football coaches.
Florida wide receivers head coach Joker Phillips has posted images from the Batman movie The Dark Knight to lure prospects on Twitter, while Arkansas head coach Bret Bielema's Twitter feed has been an instrumental part of Arkansas' effort to get more than 50,000 people at the spring game on Saturday.
Noticeably absent from the Twitter world is Alabama head coach Nick Saban.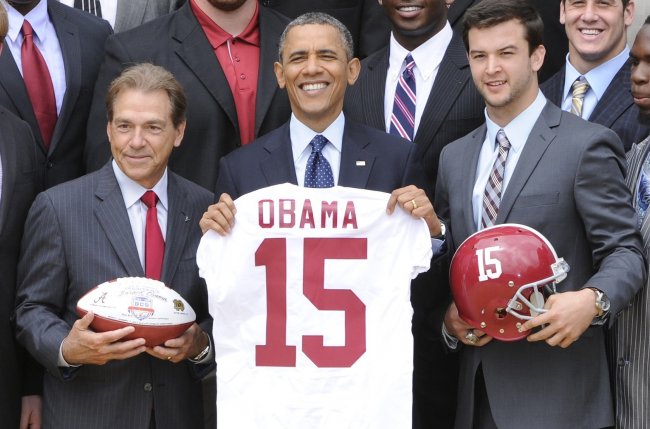 H.Darr Beiser-USA TODAY Sports
The seventh-year head coach of the Alabama Crimson Tide has several parody accounts, but not one that is regularly used to promote the program.
Is he putting himself at a recruiting disadvantage by not using Twitter to connect with potential recruits?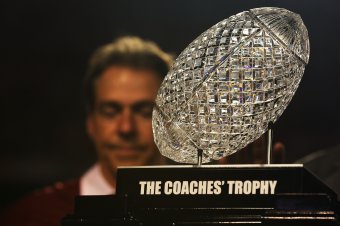 Streeter Lecka/Getty Images
On the surface, yes.
While the type of contact allowed is limited, the ability to promote the program to a rapidly-growing audience at a personal level is something that Saban is missing out on. The social network topped the 500 million-subscriber mark in June of 2012 according to TechCrunch.com, 148.1 million of which are from the United States.
Twitter allows head coaches to communicate with a broad audience, promote themselves and sell the program; even if it's not a message directed at a specific prospect.
But it's only on the surface.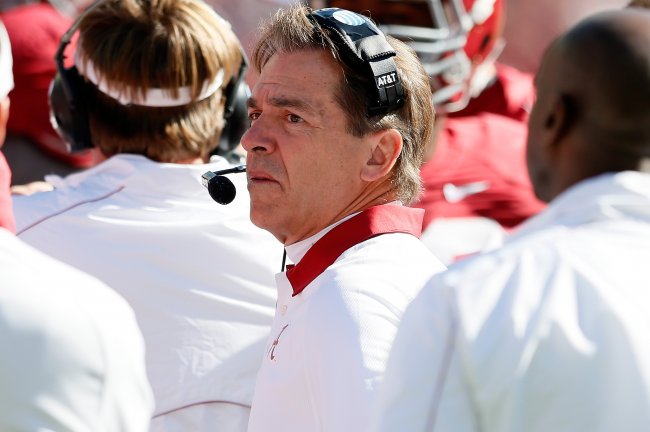 Kevin C. Cox/Getty Images
Alabama's recruiting efforts under Saban's watch speaks volumes. The Crimson Tide has finished with the No. 1 recruiting class in the country in the 247Sports.com composite index in each of the last three seasons. Those three crystal footballs during this dynasty are more of a recruiting draw than anything on Twitter.
Alabama is a different animal than other programs. The success on the field and through the NFL draft—20 players have been drafted over the last three seasons—is unmatched in college football. It doesn't convince players to sign on the dotted line, it invites them to.
Will Nick Saban eventually join Twitter?
Because of that, marketing efforts from a recruiting standpoint are understandably minimal.
Former Tennessee head coach Derek Dooley said it best before the Vols played Alabama in October last year.
"They draft, we recruit," Dooley said (via AL.com). "And they get the first 25 picks of the draft."
Until that changes—which is not something that looks possible in the current landscape of college football—Saban is fine staying away from the 140-character shenanigans.
But that doesn't mean he isn't in tune with what's going on. There's just no need for him to be the Internet mouthpiece of the program.
Titles take care of that.