5 Ways Cristiano Ronaldo Can Still Improve His Game
Alex Livesey/Getty Images

Cristiano Ronaldo is a world superstar. Alongside Lionel Messi, his footballing excellence defines the modern era of a sport that continues to evolve at a ridiculous rate.
At the age of 28, it's fair to assume Ronaldo is at his peak. However, even with his mastery, Ronaldo's success can still be improved in a number of important areas.
Risking the wrath of the gods, I dare you to read on and consider the imperfections of Ronaldo's game.
Begin Slideshow

»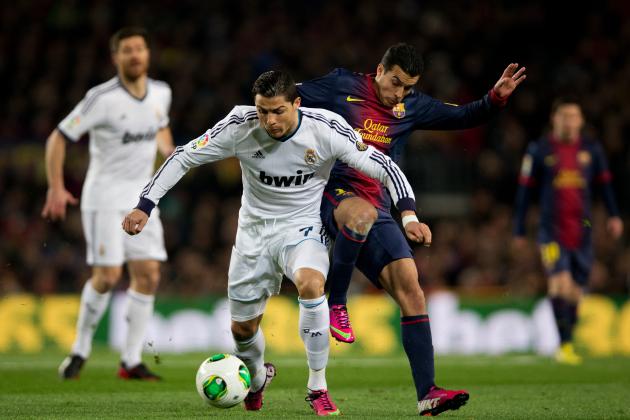 Jasper Juinen/Getty Images

Let's start with Cristiano Ronaldo's most obvious weakness.
The Portuguese forward is an all-round attacking monster. With that being said, for his size and stature, his defensive contribution is certainly on the weak side. This season, Ronaldo has proven more likely to commit a foul than successfully steal the ball from an opponent.
Ronaldo averages 0.4 tackles per game in all competitions this campaign. He has also produced 0.4 interceptions and 0.7 fouls per match, suggesting opponents are likely to bypass his challenge when entering the Real Madrid half.
Is defensive prowess necessary for someone like Ronaldo? With forwards such as Didier Drogba and Edinson Cavani playing a massive part in the defensive success of their teams, the thought of an improved contribution from Ronaldo is somewhat frightening.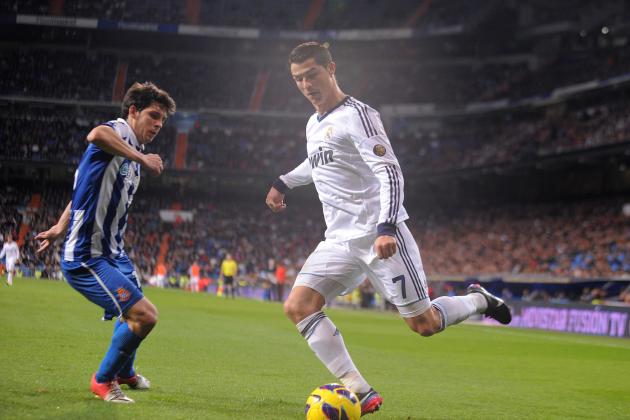 Denis Doyle/Getty Images

Cristiano Ronaldo produces a decent amount of assists for his teammates. In a total of 45 appearances this season, Big Crissy has set up seven goals for his Madrid and Portugal colleagues.
While one assist every six games is an acceptable rate, Lionel Messi has averaged one every three games this year.
Ronaldo's short passing is fantastic and often opens up massive amounts of space as Madrid progress up the pitch. When enjoying possession from wide positions, Ronaldo's crossing leaves a lot to be desired.
Perhaps Madrid's maestro has spent too much time with Nani. The fact is, he averages 0.3 successful crosses per game this season. That's barely more than you, me, or indeed, his former Manchester United colleague.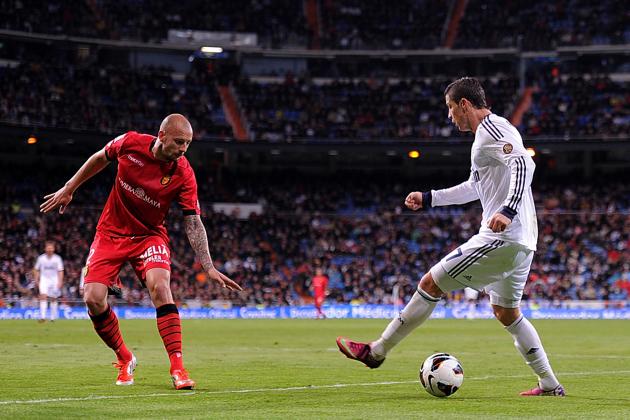 Denis Doyle/Getty Images

When Ronaldo burst toward international recognition at Manchester United, many fans outlined him as nothing more than a one-trick pony. That trick, of course, was the famous stepover he implemented into seemingly every dribble.
While this era has passed, Ronaldo's dribbling isn't as successful as one might think. His immense power and skill lends itself to well-controlled, pacey dribbling in any area of the pitch. This season, the diverse forward has completed an average of 1.7 dribbles per game. Strangely, he has also been dispossessed an average of 1.7 times in every match.
Ronaldo wouldn't be the player he is without extreme confidence. The problem is, when the 28-year-old is equally likely to bypass an opponent as he is to get tackled, many mistake this for extreme arrogance.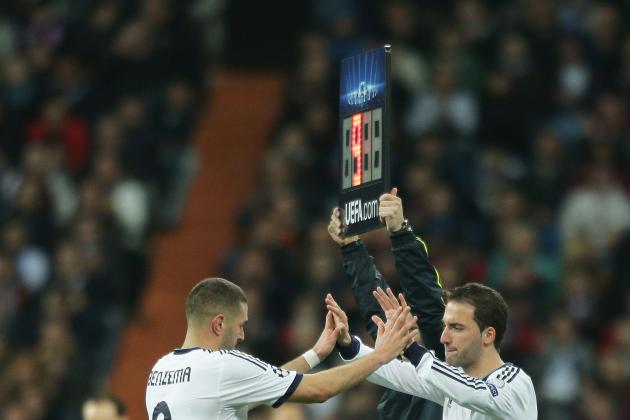 Gonzalo Arroyo Moreno/Getty Images

One of Ronaldo's greatest assets at Manchester United was his link with Wayne Rooney. Although Carlos Tevez also played a massive part in the Red Devils' success during the 2007-08 season, Ronny and Rooney had a special bond.
This hasn't happened at Real Madrid. Jose Mourinho's decision to flit between starting Karim Benzema and Gonzalo Higuain continues to interrupt the building of a long-term relationship between Ronaldo and the lone striker.
Benzema and Higuain have the capability to score at least 25 goals in a season. Both have dipped in and out of form that has seen neither receive as many starts as anticipated. While Benzema has netted eight goals in 14 starts and 10 substitute appearances, Higuain has 13 goals in 16 starts and six entrances from the bench.
If Ronaldo played alongside one for the majority of the season, perhaps his assists chart would also improve significantly.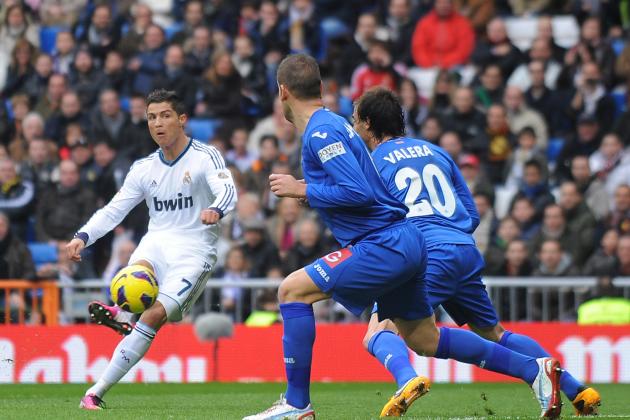 Denis Doyle/Getty Images

Ronaldo is the type of player who believes he can score from any angle. His career is defined by stunning goals, cheeky attempts and ridiculous success from anywhere inside the opponent's half.
To score so many of these goals, he also has to miss many. Ronaldo has racked up an average of seven shots in every match this season, with approximately one flying into the back of the net. With 31 goals to his name, it's easy to forget that 179 shots have also missed the mark.
While I would hate to diminish the lure of Ronaldo's playing style, these stats suggest he could regularly make use of more profitable options for the team.
How can Ronaldo improve his game? Let me know your thoughts in the comments section below and be sure to follow me on Twitter:
All statistics in this article are courtesy of WhoScored.