AC Milan: Antonio Nocerino's Descent into Worthlessness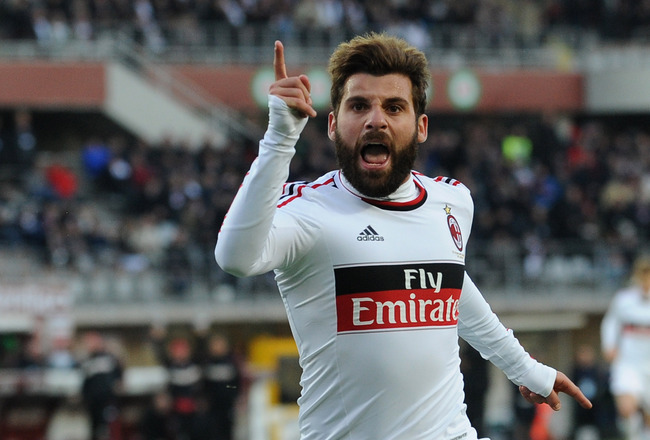 Valerio Pennicino/Getty Images
AC Milan midfielder Antonio Nocerino has gone from hero to zero in the span of one season.
This article will tell you how he has descended into worthlessness.
He is a perfect example of a player overachieving big-time and then failing to live up to the standards he set.
Should Milan sell Nocerino in the summer transfer window?
Reliving Antonio Nocerino's Transfer to AC Milan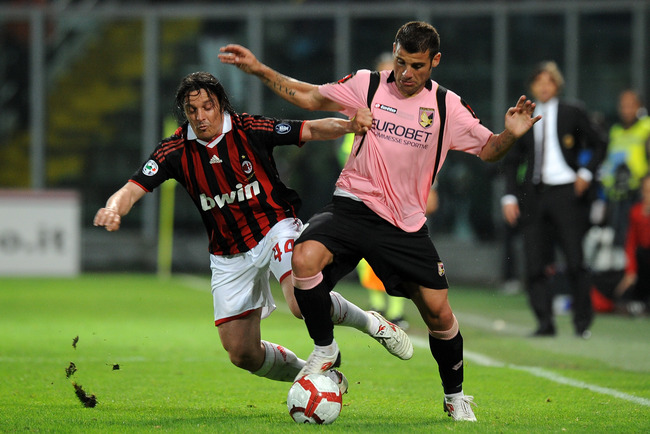 Tullio M. Puglia/Getty Images
Antonio Nocerino, a former Juventus youth product, joined AC Milan from Palermo for a miserly fee of €500,000 on transfer deadline day.
Five days earlier, Milan CEO Adriano Galliani had signed Andrea Pirlo's replacement in the form of Liverpool loan Alberto Aquilani.
With Mathieu Flamini going down with a cruciate ligament injury, Galliani now needed a Rossoneri-standard midfielder, who would also come cheaply.
Maurizio Zamparini to the rescue.
The Palermo owner and his brain-trust were adamant that Edgar Barreto, the €5.3 million man from Atalanta, was an upgrade from Antonio.
Galliani recounted how he bargained hard (from Jack Sargeant at Forza Italian Football):
At one in the afternoon of the last day of the transfer window, someone came running into my office saying that Palermo were selling Nocerino.

I found Zamparini as quickly as I could and made an offer. I started low to be honest.

He said no but I waited all afternoon and then we called Nocerino who was with the Italian team and we reached an agreement. Then Palermo said yes to the sale.

It was a real stroke of luck.
Sargeant had started his article by stating: "Nocerino, a player easily worth around €10 million, was stolen from Palermo by Adriano Galliani for €500,000 in a case of pure daylight robbery," and he was right.
Milan had just bought one of Palermo's most important midfielders—the only player on the team who started all 38 league games—for half-a-million euros.
Oh Galliani, you conniving scrounge.
OFFICIAL: Milan sign Palermo/Italian NT midfielder Antonio Nocerino to a five year deal. He will fill the void left by Flamini.

— Matteo Bonetti (@TheMilanGuy) August 31, 2011
To add insult to injury, Antonio never wanted to leave Palermo (via Football Italia):
I'm still not sure why Palermo allowed my contract to run down into its last 12 months.

I wasn't at an age or had significant enough wages which would have forced Palermo to sell me in that way.

I was disappointed at the start as I left behind some good friends.

I don't know if there was someone there who didn't believe in me. You'll have to ask President Maurizio Zamparini about the decision.

Antonio Nocerino: The Classic Overachiever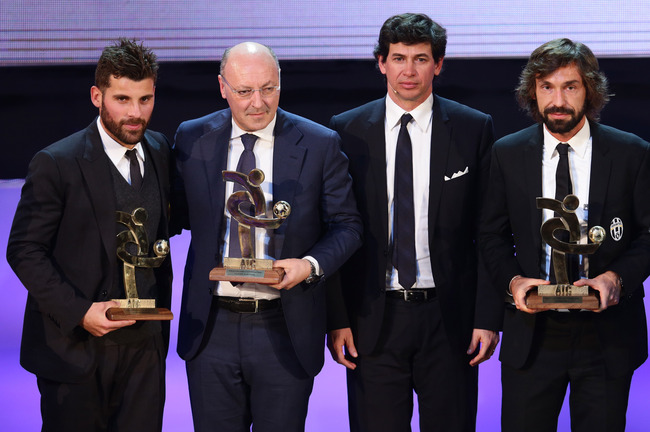 Vittorio Zunino Celotto/Getty Images
Little-known Uruguayan right-back Bruno Montelongo had possession of the No. 22 shirt the season before—Bruno, who?
Antonio Nocerino's decision to accept the number attracted criticism, as documented by James Horncastle (via The Score):
It was the No 22 and had belonged to Kaka.

Milan were champions of Italy, but to some this was already a sign of their decline.

"If even Nocerino can play for Milan, so can I," was the mocking refrain among the fans at San Siro.

"Far from being a coup, I was treated like a slap in the face," Nocerino told La Repubblica.

"I wasn't worthy of Milan."
Antonio also had to clarify his playing style with a segment of Rossoneri supporters saying he was the new Gennaro Gattuso (from Rai Sport via Goal.com's Salvatore Landolina): "I am not and I will not be the new Gattuso. From my position I can play more of the ball and have a better view of the game."
Anyone that watched Palermo during Antonio's last season knew their answer to Gattuso was Armin Bacinovic—not Nocerino, who orchestrated play for the Rossonero.
Perhaps Gattuso's nickname, Rino, being in Nocerino had something to do with the bizarre comparisons.
The success that followed for Antonio at AC Milan was as unpredictable as Toto Schillaci's magical 1990 FIFA World Cup campaign.
Galliani: "Against Parma it was the first time I didn't miss Kaka. After Nocerino's 3rd goal I thought 'who'd brought Kaka back?'"

— Meytar Zeevi (@RossoneriBlog) October 28, 2011
5 - Milan Antonio Nocerino has just scored his fifth goal of the season, his personal record in Serie A. Bargain.

— OptaPaolo (@OptaPaolo) December 2, 2011
Many complaining about Maxi wearing Pirlo's #21. Don't forget Nocerino is wearing Kaka's #22 and he has more goals than Kaka this season ;)

— AC Milan News (@Milanello) January 28, 2012
Antonio Nocerino of AC Milan has scored 7 goals this season. F. Torres & Andy Carroll have 4 each this yr. His transfer fee? 500,000 euro.

— Steve Amoia (@worldfootballcm) January 29, 2012
Nocerino. Signing of the season for €500,000. Amazing

— 101 Great Goals (@101greatgoals) April 3, 2012
Setting the Bar Too High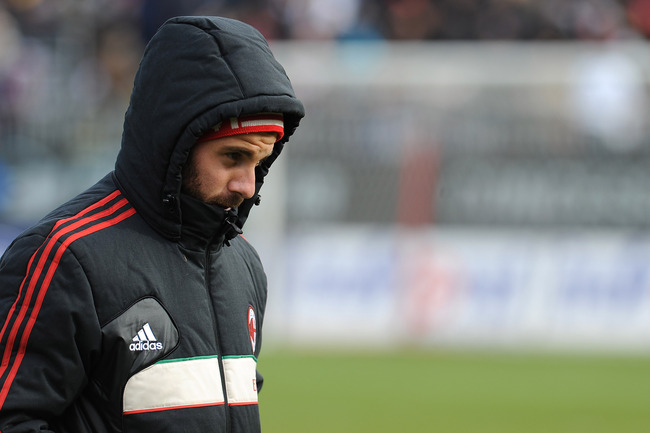 Valerio Pennicino/Getty Images
Trying to figure out why Antonio Nocerino has dramatically declined is like attempting to explain the Miracle of Istanbul or how Deportivo La Coruña overturned a 4-1 first-leg deficit to dump AC Milan out of the 2003-04 UEFA Champions League.
There are plenty of theories but no definitive answer.
Spurred on by the chip on his shoulder, Nocerino became one of the league's best midfielders, but now with the spotlight firmly fixed on him, he has balked.
He has set a standard of play that he can't match, let alone surpass.
Instead of being a role player like Urby Emanuelson (currently on loan at Fulham), Antonio is expected to produce 7.5/10 performances week in, week out.
Afterall, he was named in the Gran Gala del Calcio Team of the Year, alongside Andrea Pirlo and Claudio Marchisio (via David Schiavone at Forza Italian Football).
Was Nocerino's 10 goal-haul in Serie A a fluke? In his previous four seasons, he scored six goals in 138 league games.
He's played 21 games this Serie A season and scored two goals with a wasteful 12.5 shots per league goal average.
With Zlatan Ibrahimovic at Paris Saint-Germain, it's not a coincidence that Antonio's goals have dried up.
He attacked the vacant space left by opposing defenders drawn to Ibra, who would then play in an often-unmarked Nocerino.
Without the goals, what is his role for Massimiliano Allegri?
Antonio has no physical presence on the field, his defensive positioning is dreadful and his disappearing acts are frequent.
What Edgar Barreto is doing right now for Palermo, averaging 60.5 passes per game, is Antonio's natural role.
But, he isn't good enough to displace Riccardo Montolivo as the primary facilitator in midfield.
During the January transfer window, Nocerino said he would stay (via Adam Digby at ESPN FC): "I'm happy at Milan."
Two months later, his mood changed (via Nadia Carminati at Sky Sports): "I am 28. Next season there is a World Cup. I would like to be there. I'd have problems in having another season like this one. We will see."
"It's not a good thing to lose the starting place but we are waiting for the coach's decision.We won't say no to Napoli" - Nocerino's agent

— Daily ACMilan News (@Milangirls) March 21, 2013
Nocerino's career with Milan has descended as quickly as it ascended.
Statistics courtesy of WhoScored.com, Fox Soccer and Squawka.com.
Keep Reading

AC Milan: Like this team?