Leon McFadden: Video Highlights for San Diego State CB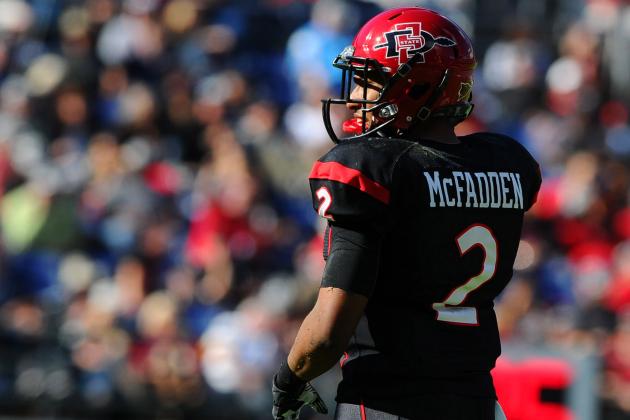 Christopher Hanewinckel-USA TODAY Sports

San Diego State cornerback Leon McFadden plays bigger than his 5'10", 190-pound frame.
He finished his career with eight interceptions, returning two for touchdowns. He has excellent closing speed and anticipates the ball well. A good tackler, McFadden makes a great zone corner.
Here are video highlights of McFadden displaying his skill-set.
Begin Slideshow

»
McFadden isn't afraid to use all of his 190 pounds to hit a receiver.
In this play, he breaks away from his area of responsibility to lay a hit on an unsuspecting West Point receiver.
One of McFadden's positive attributes is his ability to stay low and use leverage to his advantage.
In this play against BYU, he sniffs out the screen and blows through the wedge to get to the running back.
In this interception against TCU, McFadden shows his ball-hawking skills.
While in zone coverage, he anticipates the route and cuts it off. He makes the interception and returns it 23 yards.
Again, a play where McFadden anticipates and reacts.
Here he watches the quarterback's eyes and puts himself in front of the throw. He's helped by an under-thrown ball. Regardless, McFadden intercepts the pass and then returns it to the 4-yard line.
In this highlight, watch how McFadden leaves his assignment to make a move on the intended receiver.
Again, this play shows McFadden's intuition. He instinctively leaves his man to get the interception in the end zone.
This play looks unremarkable. However, it's not.
Watch how McFadden explodes to the ball and then wraps the receiver up to make a textbook tackle. He doesn't go for the big hit and the highlight reel, but rather stays disciplined and stops the play.
Although McFadden's strength is in zone coverage, he can play press coverage when necessary.
Here he plays bump-and-run coverage against West Point, making it more difficult for the quarterback to determine where to put the ball on this fade route. The pass is off, allowing McFadden to make the play.