Why Andy Murray Will Be Second Best Before The French Open
April 21, 2009
For the last two to three years, men's tennis has been graced by the presence of two greats, Roger Federer and Rafael Nadal. The older Swiss racqueteer dominated for many years, until his arch-nemesis and kryptonite, the Raging Bull came along.
As Rafael began to rise, the two were meeting in Grand Slam finals so often that it was to be expected. As April and May rolled around, Rafael was considered the grand poobah and unstoppable force at Roland Garros, despite being consistently given the second seed.
It was a role reversal as the duo headed to the lawn, with Federer playing the part of the esteemed honor guard of Centre Court.
But 2008 saw a change to that. As the changing of the guard at Buckingham Palace, Federer's time was up. The Raging Bull had done the unexpected, but not the unforeseen. Everyone is bound to fall some time.
The summer lull and more disappointments from Federer lead to losing the No. 1 rank after a record 237 weeks of holding it.
Now, as the clay season blossoms with the April showers, Federer looks as vulnerable as ever. A new power is rising. From the land of tartan plaid and outlawed pipes, Andy Murray is making his mark. He might not be the hero we all want, but he is the hero we all need.
And he will be moving up the ladder before the French Open trumpets even sound.
How?
Opportunity
Murray is staring a window of opportunity right in the face. Why? Consider what Federer did last year on clay. The Swiss maestro was sensational.
He was a finalist in Monaco and Hamburg. He also won in Estoril. He showed the world that he WAS the second-best player on clay.
So in order for him to keep his ATP Points, he will have to replicate those results this year or he will begin losing some. He already started poorly, only advancing to the third round at Monte Carlo, losing to compatriot Stanislas Wawrinka as it was well documented.
How does this all effect Andy Murray?
Because Murray was so bad on clay last year. His best result saw him reach the round of 16. So what's the point?
Murray has so much to gain. He is essentially playing with house money at this point. He can't really do much worse than he did last year, and if he continues to reach quarters or semifinals, he can stockpile a LOT of points.
Quantum Leaps
Everyone knows that Murray is not a big fan of the clay. Until Monte Carlo last week, his previous clay tournament was Roland Garros in 2008. That apparently doesn't matter to the Scot.
Just ask Fabio Fognini.
Fognini, a clay-court lover, held a 5-0 lead over Murray in the first set of their third round matchup last week. But Murray, against all odds, came back to take the set in a tiebreak and eventually win the match.
Let me clear this up. Fognini may be young, but he is a special clay court player. He basically lives in the sand. If you still don't believe me, you can go ahead and check in with Master Rafa.
I'm pretty sure he would agree that Murray gave him all he could handle in the second set of the semis.
This is not the same guy who has looked like a first-time tourist using MapQuest instructions when playing on clay.
Federer and Djokovic
Let's start with Roger the Lionheart. He doesn't care about Monte Carlo. He doesn't care about Rome. Or Madrid. He has his focus set on the big prize in Paris. And why not? It's the only Slam that has eluded him to this date.
He wasn't even supposed to play in Monte Carlo in the first place. "It just showed me again this week what I need to work on for next week. That's why I think it was good to come here." said Federer. Shrug it off, Roger, it's one loss.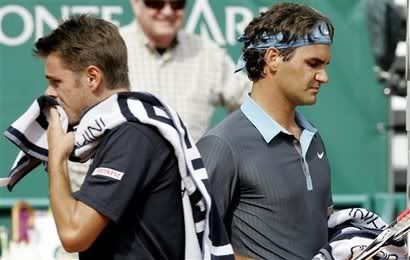 He may not care at all, but his points can't be happy. Andy Murray gained 210 ATP points from last year, Federer just lost 610. Here you go Andy, take your 820 points. That's better than reaching a Masters Series final.
Now to Djokovic. The Serbian is getting to be a better and better clay court player every year. Taking a set from the Raging Bull is proof of that.
He was terrific in 2008. He won in Rome. He was a semifinalist in Monaco, Hamburg and Roland Garros. So what gives?
The man has nothing to gain. There really isn't much improvement he can make on those kind of results. He might replicate them, but with Nadal swooping around over the clay like a carrion, does he have a realistic shot at winning anything?
It's unlikely.
Attention and Knowledge
Murray is no crash test dummy. He knows what is at stake. If he outperforms Federer in the upcoming events, the second spot is his for the taking. This is a guy who is already ridiculously focused and driven.
He is a fierce competitor and wants to win everything. Think he needs any more reasons to play harder? No, but he has one more anyway.
He has seen enough of Federer vs. Nadal for his liking.
So how does he respond? By playing in another tournament he wasn't scheduled to be in. He never intended to play Monte Carlo. But a semifinal can't hurt, right? Aside from the Masters Series tournaments (Rome and Madrid), expect the young Scot to play anywhere he can.
Symbolism
If this does happen and Murray takes over the No. 2 spot, it will be the ultimate symbol. It is the third in a series of apocalyptic events for the former record holder in weeks at No. 1. Tears in Melbourne, losing all composure in Miami, and now, the collapse of the greatest one-two punch in tennis history.
And Murray is salivating at the chance to make that a reality. He wants to be the one who takes down the Bull. And if Federer slides to third, that would very likely involve a semifinal meeting between Nadal and himself at Roland Garros.
Not exactly where Federer wants to be.
Will Roger and Rafael meet in another Slam final again? Possibly. But not if Andy Murray has a say in the issue.
So please, Roger. Enjoy your honeymoon, you don't get the chance to do that every year. Don't read the newspapers or watch any news.
But your voyages will cost more than a monetary value.