5 Late-Round Prospects That Would Be a Perfect Match for Carolina Panthers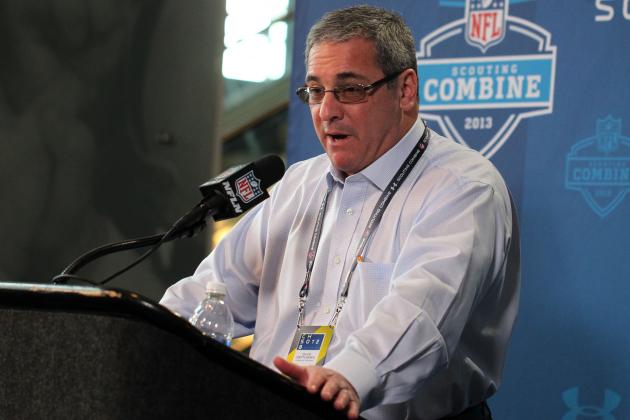 Brian Spurlock-USA TODAY Sports

While the majority of the attention tends to be focused on the first round of the draft, bargains can be had in the later rounds.
Finding a bargain player on day three is difficult for a variety of reasons.
In some cases, prospects are coming off injuries, which makes projecting their NFL futures extremely difficult.
It can also be difficult to quantify just how much a player's college system or teammates affected their play. This is crucial because the vast majority of upcoming rookies will be tasked with learning a new system while playing with a new group of peers.
Drafting a player is only one step of the process, as it's up to the coaches to develop the young talent that the front office will acquire on draft weekend. This concept is even more important for those selected in the late rounds, when the players tend to have more weaknesses.
Scouting football players is an inexact science. It will take time for honest conclusions to be drawn about how well Dave Gettleman's fared in his first draft as general manager of the Panthers.
Begin Slideshow

»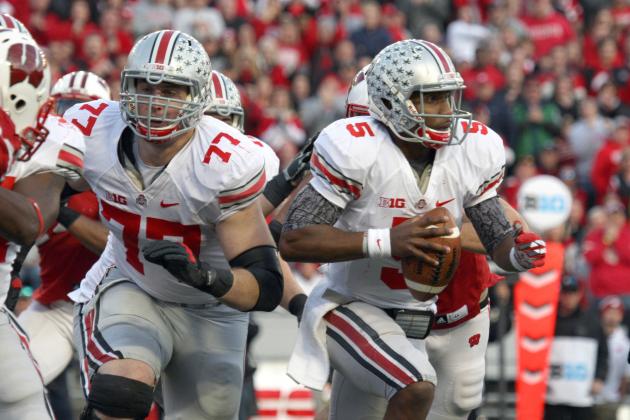 Mary Langenfeld-USA TODAY Sports

At 6'8" and 308 pounds, there is no arguing the fact that Reid Fragel has the frame to develop into a starting tackle at the NFL level.
The criticism surrounding Fragel is centered upon his raw technique, but that should be expected. There's a reason Fragel is expected to get selected on day three of the draft rather than on day one.
After spending time at tight end, Fragel shifted to offensive tackle and is still learning the nuances of the position.
There's no denying that Fragel is a project, but he has the size and athleticism to warrant taking risk on him in the draft's final couple of rounds.
With Jordan Gross on the decline and Byron Bell holding down the right tackle positon, the Carolina Panthers need to improve the depth behind them at tackle.
Fragel would not be expected to contribute immediately but could pay major dividends down the road, which in many ways makes him the quintessential late-round pick.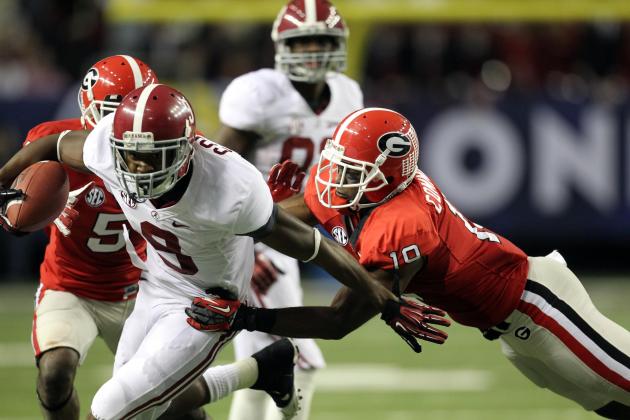 USA TODAY Sports

Sanders Commings is a versatile defensive back, as he could play either cornerback or safety at the next level if he found the right situation.
At 6'2" and 216 pounds, Commings has the size to stack up physically against the bigger wide receivers that are dominating in the NFL. Due to his fluid hips, Commings is capable of keeping with wideouts on the outside, even if the Georgia product's size is more reminiscent of a safety.
Even if Commings doesn't crack the cornerback rotation when next season kicks off, he would be able to make an impact on special teams from day one.
If Commings is able to break through at cornerback, it will be interesting to see how long he will play there before being shifted to safety.
With the draft still a few weeks away, Commings is projected to come off the board around the fifth round.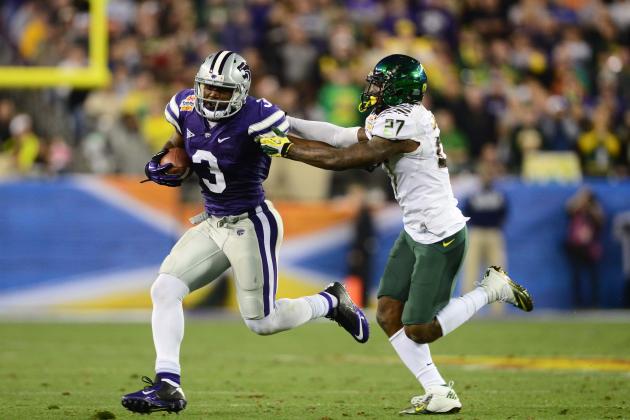 Mark J. Rebilas-USA TODAY Sports

The Carolina Panthers must make surrounding Cam Newton with weapons a priority if they want him to continue to develop as a passer.
Steve Smith is without a doubt one of the best players in franchise history, but he won't be able to remain a No. 1 option forever.
Dave Gettleman may decide to address the wide receiver position in the first round, but I don't see it happening. With the 14th selection, the Panthers may find better value by addressing a different position.
While it would be in Carolina's best interest to draft multiple wide receivers, one of those selections should come on day three of the event.
In the later rounds, the Panthers should target Chris Harper out of Kansas State. At 6'1" and 208 pounds, Harper excels at catching difficult passes while covered closely by the opposition. He displayed natural ability with the ball in the air during his collegiate career.
Harper projects to be a good redzone and short-yardage option, which would help Newton in those stressful situations.
Due to his size, the Kansas State product is also a respectable run blocker, which would make him a natural fit in Carolina's offense.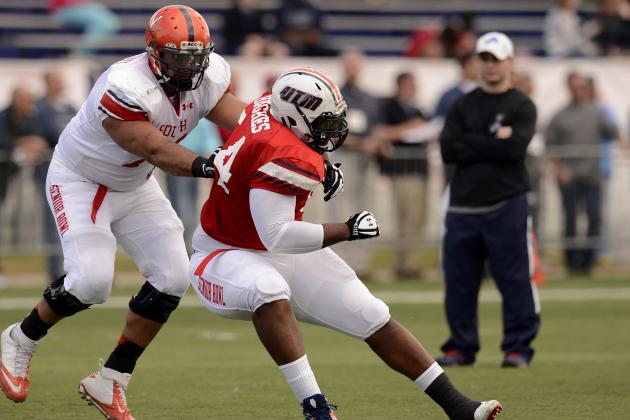 USA TODAY Sports

Montori Hughes was dismissed from the Tennessee football program after his sophomore season, which obviously raises a lot of red flags.
That being said, grabbing a flier on Hughes late in the draft could pay off big time. At 6'4" and 329 pounds, Hughes has the frame to bolster the interior of Carolina's defensive line.
After transferring to Tennessee-Martin, Hughes continued to demonstrate that he had the strength and agility to warrant a look by NFL scouts.
It's impossible to quantify just how much Hughes' off-the-field issues have hurt his draft stock, but it's safe to say he would have been picked in the first couple of rounds if he kept his nose clean while in Knoxville.
If he reaches his potential, Hughes will be one of the draft's bigger steals, as he could anchor a run defense.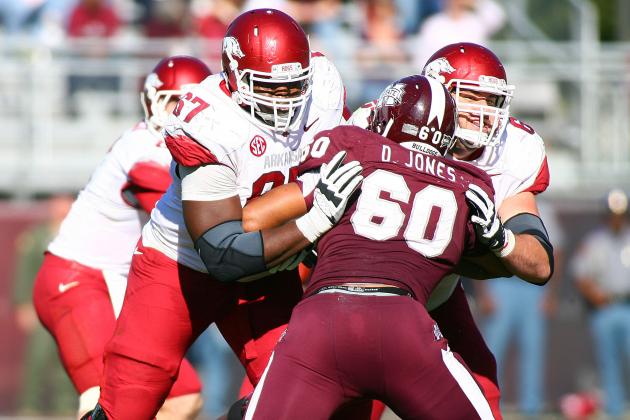 Spruce Derden-USA TODAY Sports

At this point, the Carolina Panthers would be starting Amini Silatolu and Geoff Hangartner at guard.
While Hangartner performed adequately most of the time last season, there is still room to make an upgrade.
Carolina drafted Silatolu in the second round last year, and while he struggled as a rookie, he will certainly get another opportunity in 2013.
If the Panthers do not address the offensive guard position early in the draft, expect Dave Gettleman to look for value in the later rounds.
Arkansas product Alvin Bailey has a massive frame and the potential to be a difference-maker in the run game.
When an offensive lineman falls into the middle rounds, it's always for a reason. In Bailey's case, it's because his technique needs refinement, which could keep him from maintaining a long career.
That being said, if coached properly, Bailey could develop into a solid starter at right guard for the better part of a decade.
While Bailey may not start when Week 1 rolls around, he's the type of project player who could pay huge dividends to whichever team drafts him.