Carolina Hurricanes: A Graphic Analysis of Jamie McBain's Defensive Mistakes
Claus Andersen/Getty Images
No one player has received more blame for the Carolina Hurricanes' ongoing collapse than inexperienced, overmatched defenseman Jamie McBain.
At only age 25 and surrounded by an aura of defeated confidence and pessimistic attitudes, it's hard not to feel at least a little sorry for the poor guy.
And then out come the tapes. Then out come the photos. Then out come the overhead perspectives.
Suddenly, it's blatantly clear why McBain's public image has taken such a disastrous turn over the past month—he's simply, obviously, clearly just plain horrible.
Although he miraculously remains a plus-six on the season, that rating has dropped by more than half over the past two weeks. He's lucky, actually, that it's not worse, as McBain has benefited from the highest on-ice goaltender save percentage of any 'Canes skater to date.
What's going wrong with the once-promising prospect blueliner? An occasionally redundant, unquestionably embarrassing and fully graphic analysis of McBain's constant defensive blunders lies below.
Mistake No. 1: Chasing the Puck
Early in the first period of the Hurricanes' visit to Toronto on March 28, the Leafs' James van Riemsdyk emerged from the corner with McBain in hot pursuit: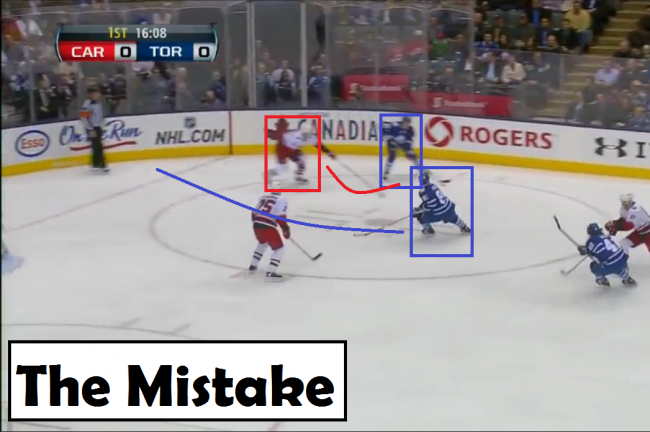 Van Riemsdyk pulled McBain away from his left defense position and toward Jeff Skinner's zone above the faceoff circle, allowing Phil Kessel, of all people, to slip in behind him and create a two-on-one down low.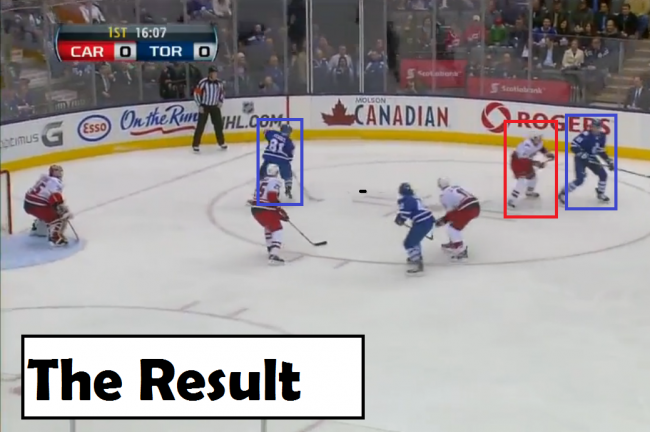 Jay Harrison was then forced to take the angle on Kessel, leaving the back door open for Toronto's Tyler Bozak. Although Jordan Staal nearly found the open man in time, McBain never regained relevance in the play and Bozak slid the puck through Justin Peters' five-hole for the opening goal of the game.
Now, fast forward two days to a 'Canes visit to Winnipeg. On a breakout rather than a cycle this time, McBain falls for a similar power move, leaving a shockingly wide space open behind him: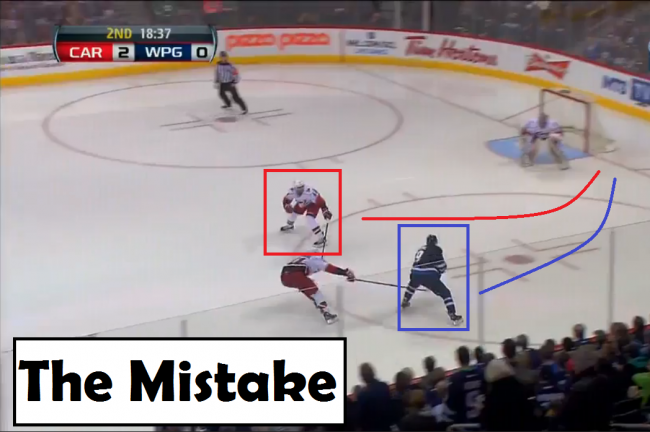 Jets' speedy winger Evander Kane pulls McBain to nearly behind the net on the fast break before finding a sneaky Olli Jokinen in the wheelhouse for a simple tap-in tally.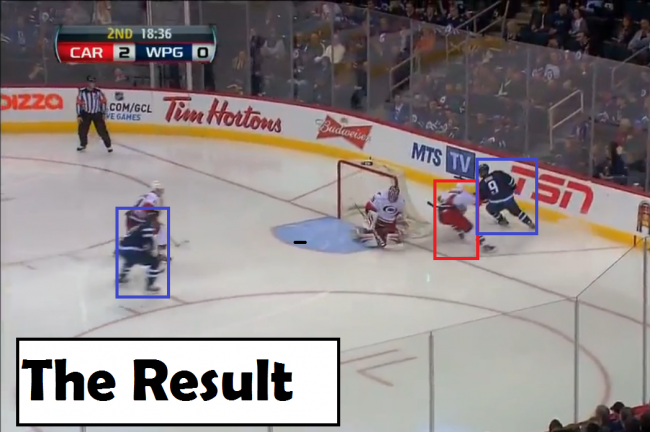 Mistake No. 2: Getting Lost in the Defensive Zone
Less than half a minute into the second period of Tampa Bay's 5-0 win at the PNC Arena last week—but with the score still tied 0-0—the puck was cleared back out to the Bolts' Matt Carle sliding inside the blue line.
Teddy Purcell, who had been involved in another scoring chance moments before, remains forgotten, however, as he drifts around in the opposite corner: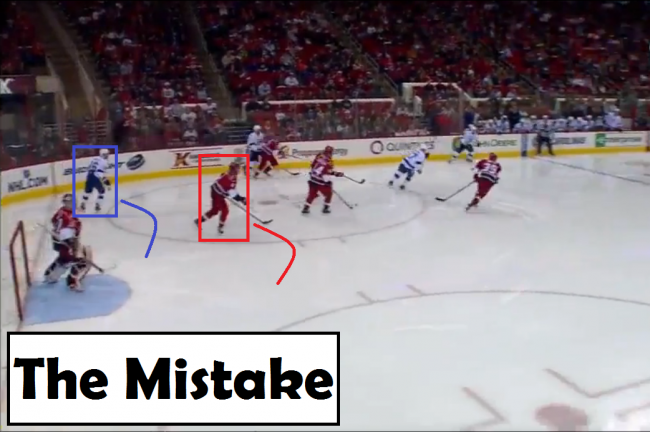 Carle's point shot deflects unexpectedly off of Dan Ellis' left pad and away from the goal. Although the play was a poor one from Ellis, any consequence could've been avoided by any 'Canes player keeping even a casual watch on Purcell.
Unfortunately, though, McBain had slid mindlessly into no-man's land and left Purcell wide open. As a result, this happened: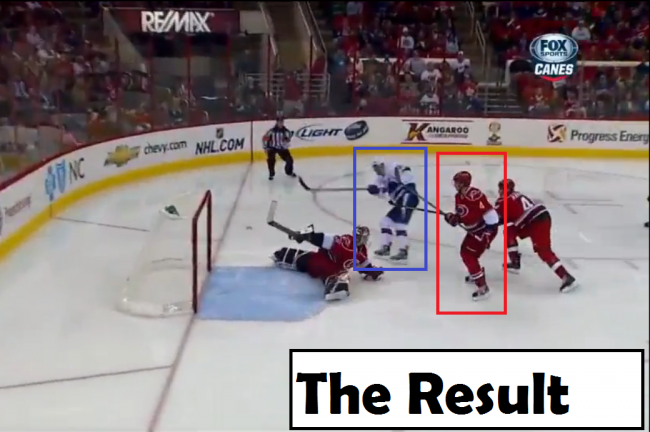 For a second example, consider this past weekend's defeat at the hands of the New York Rangers. With the game still scoreless and the 'Canes nearing the end of a momentum-building penalty kill, the Blueshirts' Brad Richards brought the puck down low in the zone.
Patrick Dwyer makes an ill-advised bite on the puck and is mostly at blame for Derek Stepan's eventual one-timer goal. Notice that McBain, though, is both blocking Ellis's view from the crease and poorly covering a potential pass to left winger Derick Brassard (barely visible at the bottom), who is also wide open: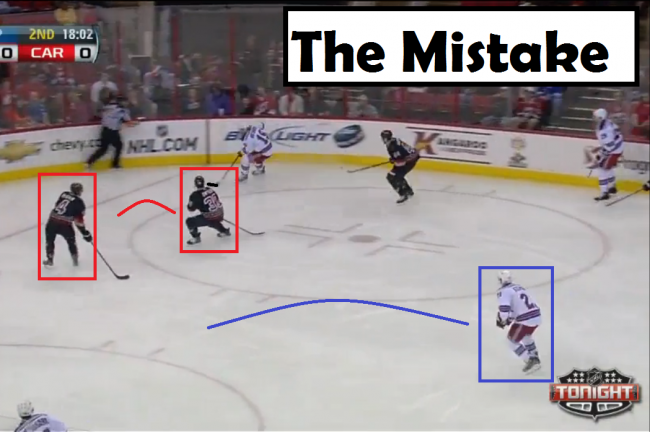 Mistake No. 3: Misreading the Play
With the Montreal Canadiens on a fast break and looking to expand on their 2-1 third period lead, Max Pacioretty curls toward the net from a sharp angle with only McBain and goaltender Justin Peters in the way: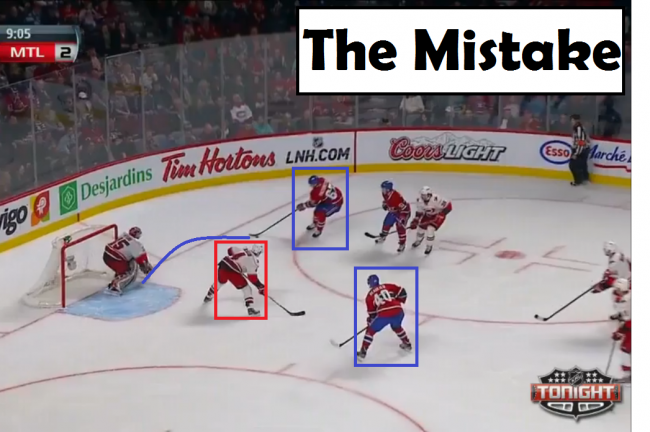 On a typical 2-on-1, the defenseman's job is to take away the pass. However, his job is also to entice the puck-carrier to attempt the pass.
McBain adequately cuts off the angle to Nathan Beaulieu (rightmost rectangle), but allows Pacioretty to crash the net uncontested. Peters stops his first point-blank shot, but the Habs' veteran is easily able to stuff the puck in soon after.
Secondly, take this aerial picture from the Jets' visit to Raleigh on March 26. This time in a situation just before a breakout begins, both Kane (top) and Jokinen (bottom) have a full head of steam as they attempt to push the puck out of the zone for a quick counterattack: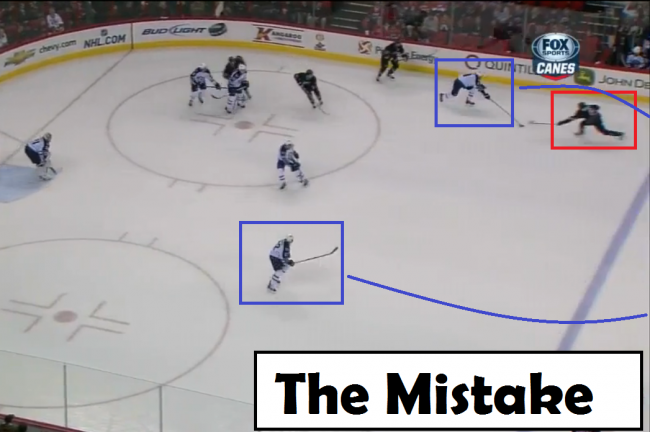 Without a high forward, however, McBain makes a ridiculously late pinch and poke toward Kane. The speedy young forward easily blows past him and, seconds later, dishes to his teammate Jokinen for the tying goal.
As the 'Canes move to just one win in their past 13 contests and continue to squander any remaining confidence left in the franchise, we don't expect this barrage of cringe-worthy McBain blunders to end anytime soon.
Mark Jones has been a Carolina Hurricanes featured columnist for Bleacher Report since 2009. Visit his profile to read more, or follow him on Twitter.
This article is
What is the duplicate article?
Why is this article offensive?
Where is this article plagiarized from?
Why is this article poorly edited?

Carolina Hurricanes: Like this team?