Oakland Raiders 2013 Draft Updates: Latest News, Trade Rumors & Predictions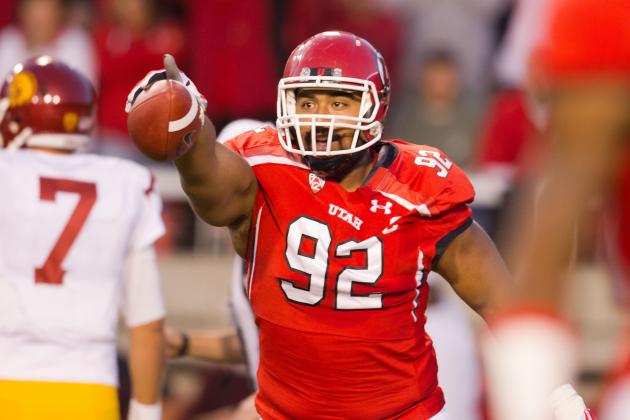 Russ Isabella-USA TODAY Sports
Star Lotulelei is a defensive piece the Raiders can build around.
The Oakland Raiders are a team that could use a great draft to rebuild a talent-depleted roster. Unfortunately, the Raiders don't have a second- or fifth-round pick. General manager Reggie McKenzie has the third-overall pick, but in a draft without clearly defined top options.
The 2013 NFL draft is the most important draft of the post-Davis era in Oakland, which makes the situation less than ideal. McKenzie has blown up the roster, but that was the easy part of the process. Adding talent through the draft to bring the Raiders back to prominence is now McKenzie's goal.
Raiders fans will be following the draft closely, and this slideshow is a good place to keep up on all the latest news, rumors, storylines and even an updated mock draft. Don't forget to bookmark, as it will be regularly updated with everything you missed while sleeping, eating or working.
Begin Slideshow

»
Joe Nicholson-USA TODAY Sports
Matt Flynn won't keep the Raiders from drafting a quarterback.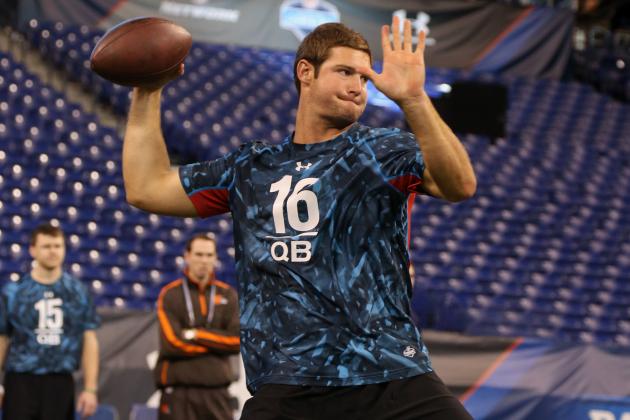 Brian Spurlock-USA TODAY Sports
Maybe Reggie McKenzie will see a little Brett Favre in Tyler Wilson.
Round 1, Pick 3: Star Lotulelei, DT, Utah
Round 3, Pick 66: Tyler Wilson, QB, Arkansas
Round 4, Pick 100: Leon McFadden, CB, San Diego State
Round 6, Pick 172: Michael Buchanan, DE, Illinois
Round 6, Pick 176: Knile Davis, RB, Arkansas
Round 6, Pick 205: Rontez Miles, FS, California (PA)
Round 7, Pick 209: Jeff Locke, P, UCLA
After trading for Matt Flynn, it's easy to assume the Raiders won't draft a quarterback in the first round. That could be a very poor assumption because the Raiders are only tied to Flynn for one season.
Oakland could bring in a quarterback to sit for a year, even if it means drafting him third overall.
It comes down to how much the Raiders like Geno Smith. The quarterback class in 2013 might lack top options, but there is considerable depth. Smith may be the consensus top option, but opinions vary wildly. Could the Raiders actually prefer Matt Barkley or Tyler Wilson? It's possible.
The Raiders could draft a quarterback later in the draft instead of taking Smith. Taking a quarterback and letting him sit on the bench with the third pick doesn't make the Raiders better in 2013, but McKenzie is likely thinking about 2014 judging from his roster purge.
No one knows what the Raiders are going to do, but it's almost impossible to remove Smith from the conversation even after the Flynn trade.
McKenzie is keeping everyone guessing because he can go in so many directions with the pick.
Their reluctance to jettison Carson Palmer until they had Flynn indicates the Raiders won't draft Smith. McKenzie also worked closely with Chiefs general manager John Dorsey in Green Bay, who said in February that there were no definitive first-round quarterbacks in the draft before trading for Alex Smith.
Geno Smith is the biggest wild card of the draft because no one is certain where he will be drafted. The Raiders are one of multiple options for Smith, but there are too many little things indicating that McKenzie will go in another direction with the third pick.