Michigan Basketball: Breaking Down Starting 5 Matchups vs. Syracuse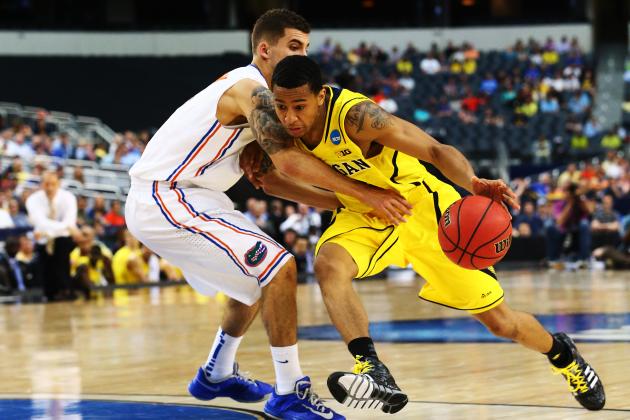 Ronald Martinez/Getty Images
Will anyone be able to slow down Trey Burke?
The Michigan basketball program is in uncharted waters as its young group of Wolverines has them back in the Final Four for the first time since 1993, while the Syracuse Orange has made three national semifinal appearances in the past 20 years (1996, 2003 and 2013).
Syracuse's 2-3 zone has been nearly impossible for teams to crack this postseason, but Michigan's explosive offense will provide it a tougher test than it has faced all season.
Neither of these teams lean heavily on their reserves for a significant amount of production, so the starting fives will be critical in this matchup. Does Michigan have the advantage, or will Syracuse's starters be too much to handle?
Begin Slideshow

»
Sophomore point guard Trey Burke will be looking to drive off of picks and attack the center of the Syracuse Orange's 2-3 zone, but Michael Carter-Williams has the length and quickness to shut down the best player in the college basketball.
Burke has not shot the ball very well in the NCAA tournament (32 percent), so Carter-Williams will be focusing on keeping the Big Ten Player of the Year out of the lane. If Burke is able to attack the wings and middle of the zone without much resistance, he will begin dishing to the rest of his teammates on the perimeter for open looks.
Plus, Carter-Williams will have to respect Burke's jump shot for the entire game, even if it is not falling. Burke failed to score at all in the first half against the Kansas Jayhawks only to catch fire and pour in eight points in the final 1:16.
The Columbus, Ohio native's driving abilities have helped freshman big man Mitch McGary get numerous easy baskets in the paint during the Big Dance.
Defensively, Burke has to make sure Carter-Williams is unable to get quality looks on the interior. Carter-Williams is shooting a mere 39.7 percent on the season. Michigan can live with him taking jump shots outside the paint.
Both of these point guards love to distribute, after forcing the defense to collapse. Neither team can afford to let Burke or Carter-Williams get inside.
Advantage: Michigan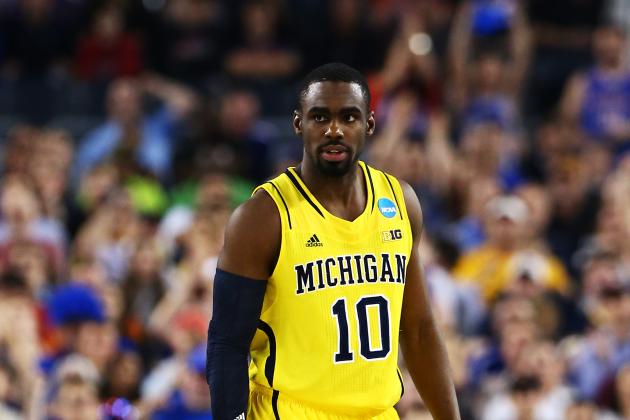 Tom Pennington/Getty Images
Will Tim Hardaway Jr. get hot from three-point range on Saturday, or will the Orange keep him in check?
Much like the first matchup, both junior shooting guard Tim Hardaway Jr. and senior Brandon Triche love to attack the wings to create good looks. How these veterans finish could not be more different, though.
Hardaway is at his best when pulling up from mid-range. The 6'6", 205-pounder is an excellent jump shooter inside the arc, but has proven to be more than capable of knocking down three-pointers (38.7 percent). In four NCAA tournament games, Hardaway is 10-of-20 from distance.
Expect to see Hardaway playing in the high post throughout the game as well.
Conversely, Triche struggles from three-point range (29.2 percent) and looks to create shots near the key as well as finish at the rim.
Staying in front of Triche will be Hardaway's top priority. Again, the Michigan Wolverines will be willing to let the Syracuse Orange try and beat them by hitting contested jumpers. Giving up 60 points in the paint, as Michigan did against the Kansas Jayhawks, will be the end of the Wolverines' postseason run.
Making sure Triche is unable to grab offensive rebounds is going to be key for Hardaway to win this matchup. Triche grabs 3.4 boards per game, while Hardaway hauls in 4.6 on average. Both guards have to box out for and hit shots when called upon for their respective teams to come away with a win.
Advantage: Michigan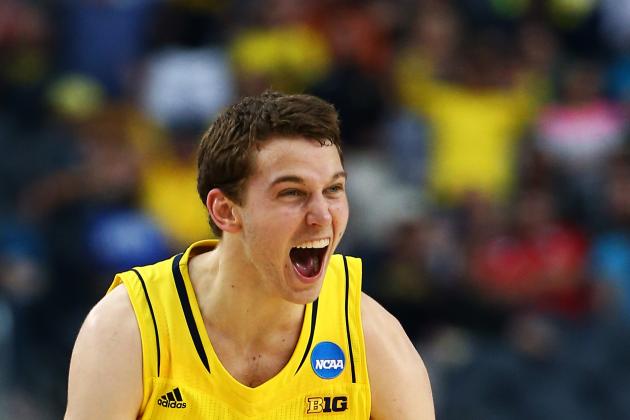 Tom Pennington/Getty Images
Nik Stauskas got his swagger back against the Florida Gators, but can Syracuse disrupt his shots this Saturday?
This is a matchup the Syracuse Orange have the potential to dominate. Freshman shooting guard Nik Stauskas will be giving up two inches and 25 pounds to junior forward C.J. Fair.
Stauskas has improved his defense significantly since the start of the 2012-13 campaign, but he has still struggled to get around screens and slowing down driving guards. Fair is going to be tough for Stauskas to handle, especially if the former is hitting mid-range jumpers.
Contesting Fair's shots from inside the arc is not the only thing Stauskas will have to worry about, though. The 6'8", 215-pounder shoots 47.5 percent from three-point range.
Syracuse relies on Fair to score (14.3 points per game) and rebound (7.0 per contest), so Stauskas will need to put a body on him to avoid giving up too many second-chance points.
Fair also records 1.1 blocks per contest, and at the back of the 2-3 zone, he will have an opportunity to swat several Michigan Wolverines.
Do not count on Stauskas being able to get five wide-open threes from the same corner like he did in the win over the Florida Gators. Fair will make sure to disrupt Stauskas' long-range attempts.
The Canadian sharp-shooter has shown the tenacity and skills required to drive when the three-ball is not falling. Behind the three-point line is where Stauskas thrives, though, knocking shots down at a 45 percent clip.
If Stauskas begins to struggle defensively, head coach John Beilein may have to give more minutes to either freshman guard Caris LeVert, or redshirt junior forward Jordan Morgan. Both are better defenders and could match up with Fair.
Advantage: Syracuse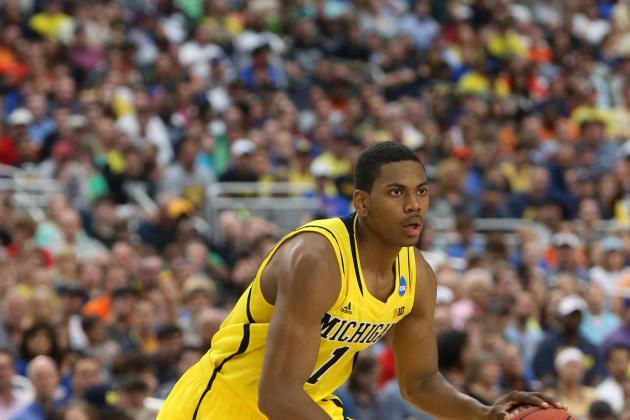 Matthew Emmons-USA TODAY Sports
Glenn Robinson III will have a tough assignment this weekend.
Senior forward James Southerland is another member of the Syracuse Orange that can burn the Michigan Wolverines from inside and outside the arc. Believe it or not, guarding Southerland will be much more difficult than slowing down C.J. Fair.
Southerland converts 40.3 percent of his threes, 45.6 percent overall and averages 13.5 points per game. Freshman small forward Glenn Robinson III will have his hands full this weekend.
Kevin Young of the Kansas Jayhawks exposed Robinson's defensive flaws inside. Do not think Southerland will not learn from the tape of Michigan's game against Kansas. Young went 6-of-6 for 12 points, most of which came with Robinson guarding him.
Fortunately for the Michigan Wolverines, Robinson presents a host of problems for Southerland, too.
Robinson is shooting 62.1 percent from the field in the NCAA tournament. The 6'6", 210-pounder will spend some time in the high post, which will help alleviate some of the pressure of Syracuse's zone.
The most important thing for Robinson to do well in the high post is making decisions. The Orange's defense will pressure Robinson, so the youngster is going to need to remain composed and find open teammates.
Syracuse has forced 66 turnovers in four NCAA tournament games, and if Robinson, or any of the Wolverines cough up the ball, the Orange will run away with this one.
Rebounding is a major part of Robinson's and Southerland's game as well. Both average over five rebounds per game, so whichever forward creates more second-chance points will give his team a leg up.
Advantage: Syracuse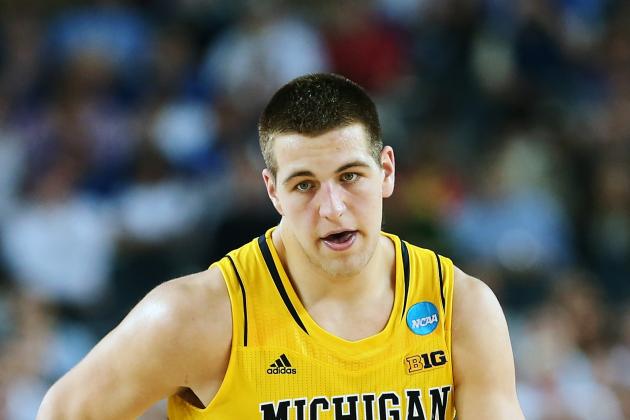 Kevin Jairaj-USA TODAY Sports
Can Rakeem Christmas slow down a surging Mitch McGary?
Mitch McGary will certainly play a more prominent role offensively for the Michigan Wolverines than counterpart Rakeem Christmas. This does not necessarily mean this matchup favors the Maize and Blue, however.
Christmas plays strong in the center of the 2-3 zone, and should be able to limit McGary's production in the half court. If Michigan is getting out in transition, though, Christmas will have big problems.
The Chesterton, Ind. product runs the floor better than most of the big men in college basketball, which screams advantage Wolverines. McGary is also quick enough to steal entry passes and create fast-break opportunities on his own.
The biggest challenge for Christmas will be keeping McGary from dominating glass, though. McGary is averaging 11.5 rebounds per game.
Trey Burke's ability to penetrate the Syracuse zone will affect how many clean looks McGary gets. If Burke is attacking and getting into the lane, McGary could put up 20-plus points. Burke struggling to distribute would significantly hurt McGary's numbers this Saturday.
On defense, No. 4 needs to keep Christmas out of the paint area. Christmas shoots 52 percent from the field and gets most of his looks near the basket. McGary needs to make the sophomore forward take longer shots to win this battle.
Advantage: Michigan