Florida Gulf Coast University did what no other No. 15 seed has ever done in the history of the NCAA tournament by reaching the Sweet 16 on Sunday night.
After scoring an incredible 78-68 victory over Georgetown in their second-round game, the Eagles made history by defeating No. 7 seed San Diego State by a rather comfortable margin, 81-71, at the Wells Fargo Center in Philadelphia.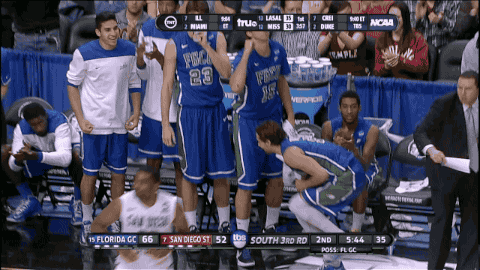 History will be made as FGCU will be the first #15 seed to make the Sweet 16.

— Dick Vitale (@DickieV) March 25, 2013
FGCU
was led on the night by guard Bernard Thompson, who finished with 23 points, four rebounds and five steals. Guard Brett Comer was also huge for the Eagles, recording 10 points and an incredible 14 assists.
SDSU's Jamaal Franklin led the Aztecs with 20 points and 11 rebounds.
" frameborder="0" width="620" height="430">
The Eagles trailed by as many as five points in the first half, but they kept it close and found themselves trailing by just one heading into halftime.
And then came what everyone secretly wanted to happen.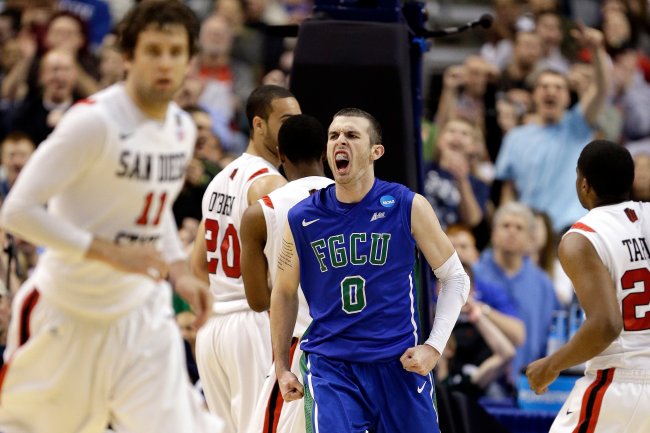 Rob Carr/Getty Images
The Eagles raced to a double-digit lead midway through the second half with a 17-0 run. Buoyed by the crowd in attendance,
FGCU
would hang on for the 10-point win.
Before the tournament began, we gave FGCU a 3.3% chance to reach the Sweet 16 (53rd of 68 teams).

— Nate Silver (@fivethirtyeight) March 25, 2013
Hoopsworld's Alex Kennedy
summed up the win perfectly:
Florida Gulf Coast! This is why March Madness is awesome.

— Alex Kennedy (@AlexKennedyNBA) March 25, 2013
Gulf Coast head coach
Andy

Enfield

wrote
a guest column for Bleacher Report prior to the start of March Madness. Oblivious to the incredible run in store for his underdog side, he wrote:
This week will be special. However far we advance or don't advance, it's something I want them to remember for the rest of their lives and take with them. We are ready for the moment [and] we'll continue to have the same mentality going forward.
FGCU will take on No. 3 seed Florida in the Sweet 16 on Friday, March 29.