Chris Paul's Most Ridiculous Alley-Oops of the Season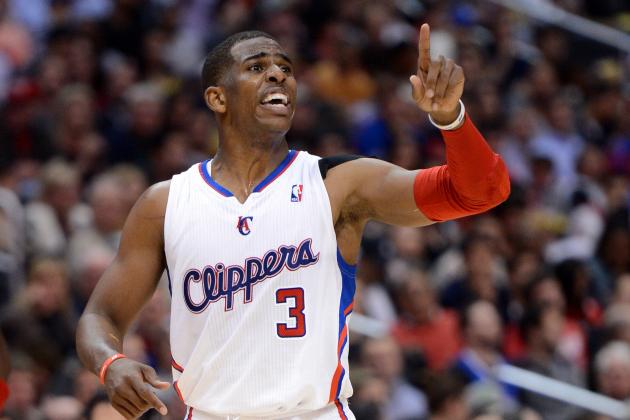 Jayne Kamin-Oncea-USA TODAY Sports

NBA purists appreciate Chris Paul's unique ability to control the flow of the game and keep track of the other nine other players at once.
But everyone loves the way he sets up his L.A. Clippers teammates with a seemingly endless array of ridiculous alley-oops.
Sure, it helps that Paul has some of the league's best high-altitude finishers in Blake Griffin, DeAndre Jordan and even Eric Bledsoe. But that doesn't change the fact that the one constant in Lob City's army of dunkers is its floor general.
And Paul is particularly adept at coordinating devastating air strikes.
Before we run through CP3's best lobs from the 2012-13 season, note that the ranking criteria isn't particularly rigid. There'll be points for style, degree of difficulty, accuracy and ingenuity.
And "general awesomeness" will also be among the key factors.
Basically, there's a technical component as well as a fuzzy metric that measures how high you jumped out of your chair when you saw the lob in question for the first time.
Please return all seat backs to their upright and locked positions as we prepare for takeoff.
Begin Slideshow

»
It's a shame there aren't extra points for long-range alley-oops because the Clippers really could have used a few more from this lob against the Sacramento Kings.
L.A. lost this game in one of the season's most surprising upsets, but at least Paul provided a memorable highlight in an otherwise forgettable game for Clippers fans.
CP3 spun expertly around Patrick Patterson, who couldn't seem to decide whether he was interested in playing defense or trying to take a charge. Either way, he provided little resistance as Paul advanced the rock to the time line.
With one foot on the half-court stripe, L.A.'s point guard saw Jordan streaking to the rim, which triggered his natural instinct to feed the high-flying center. Paul lofted a lob from about 47 feet that reached Jordan's hands at just the right moment, enabling him to cleanly catch it and punch it in for two.
This one wasn't a true jaw-dropper, but the accuracy of the long-distance toss was pretty impressive.
If a 47-foot lob was good, wouldn't one from about 75 feet be better?
Against the Charlotte Bobcats, Paul spotted Griffin sprinting up the left side as soon as he got the ball. He probably knew to look up the floor because that's where the dunk-hungry Griffin always seems to be after an opponent's miss.
At the top of the Bobcats' three-point arc, Paul heaved a chest pass that a leaping Griffin caught well below the rim before dunking it.
It would have been nice to see the pass a little higher—you know, for theatrical effect—but given the distance the ball had to travel, Paul is excused for the substandard accuracy.
If we were only grading the end results of these lobs, Paul's toss to Jordan against the Detroit Pistons would easily take the cake.
Everyone has seen this one dozens of times by now.
And for a good reason: It might have been the nastiest dunk of the year.
Paul seemed to undertake his foray down the right side with the idea of setting up a lob. He felt the Pistons defenders moving toward him and probably also realized that nobody big enough to stop Jordan was left in the paint.
That led to a quick lob over the top of everyone, and an earth-shattering slam that had poster companies scrambling to capture the image.
There are still poster companies, right?
Anyway, the dunk was pure TNT, but it required a pretty slick lob to light the fuse. Paul gets credit for his part in the detonation that nearly ended Brandon Knight.
Ok, Eric Bledsoe is not exactly a "little guy" at 6'1" and 195 pounds.
But Paul's over-the-head flip to his backup against the Kings (who seem to be on the wrong end of a disproportionate number of CP3's highlights) required a bit more precision than most of his tosses.
After all, not everyone has the cartoonish length of Jordan or the terrifying athleticism of Griffin. Either of those guys can snatch an errant lob out of the rafters if need be.
Paul gets extra credit on this play for putting the rock in the perfect spot for Bledsoe to hammer home a one-handed spike that nearly shut down the Staples Center.
Oh, and he did it with a nonchalant no-look flair that made the overall play just a little bit better.
This might be controversial, but Paul's lob near half court to Jordan against the Golden State Warriors takes the cake.
Why?
Because it had everything a good alley-oop needs.
Paul was double-teamed out near midcourt, but that didn't faze him enough to force his eyes off of his teammate nearly 50 feet away. Waiting for just the right moment, Jordan cut backdoor.
But it still took a ridiculously accurate lob over two hard-charging defenders to get the job done.
CP3's pass was so on-the-money that it might have actually gone in had Jordan not captured it in his giant mitts and flushed it.
And really, it's hard not to love Mark Jackson's "All right, I see what you did there" reaction to the whole affair.
Perfect accuracy, long distance and the grudging approval of one of the best passers in the league's history add up to make this lob the best one of Paul's season.
Of course, with over a month left in the 2012-13 campaign, there's plenty of time for CP3 to top himself.
So make sure to keep your eyes on the skies.
You never know when Paul will loft the next highlight lob.