L.A. Lakers vs. Phoenix Suns: Postgame Grades and Analysis for L.A.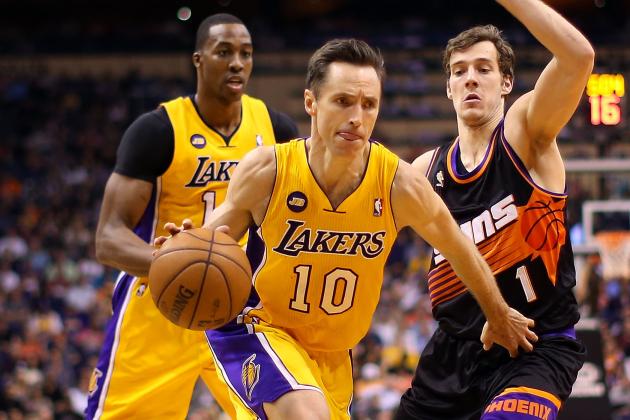 Christian Petersen/Getty Images

The Los Angeles Lakers were without Kobe Bryant Monday night for the second straight game, and they fell in an ugly contest to the Phoenix Suns, 99-76.
With Bryant on the bench, this game belonged to Steve Nash and Dwight Howard in the opening period. The two combined for 21 points in the first 12 minutes, and it became clear that they would be the ones putting points on the board from start to finish.
When Nash and Howard left the floor for the first time, Phoenix was able to get back on track. The Lakers went just 2-of-9, and the Suns put together a 14-4 run.
This would prove to be a common theme throughout, but the bigger problem—as it's been most of the season—was defense. No matter who was on the floor, L.A. was giving up open looks, and Phoenix was allowed to shoot nearly 50 percent on the night to L.A.'s 33.
Along with a lack of defensive effort, the Lakers were plagued by slow starts to each period. Inefficient shooting dug them in holes, and it would take late-quarter execution to simply make this a game of runs.
Unfortunately for L.A., the fourth quarter proved to be the one time they couldn't make up the difference. The team found itself down 16 with just five-and-a-half minutes to go, and awful play on both sides of the court led to them being outscored 28-10 by the league's ninth-worst offense.
Begin Slideshow

»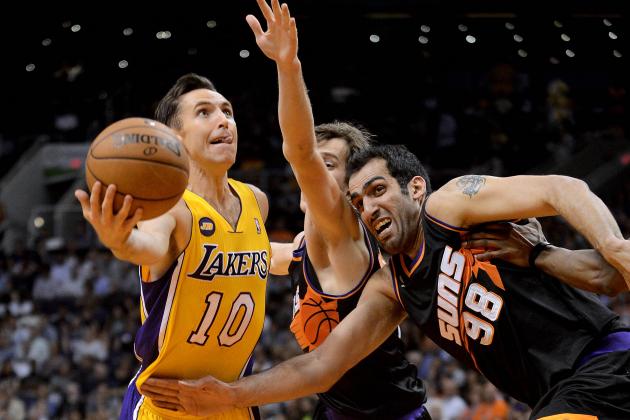 Jennifer Stewart-USA TODAY Sports

The last time the Los Angeles Lakers traveled to Phoenix, the big story was how well Steve Nash would play in his return to US Airways Center.
This time, the Lakers had bigger worries. The question became, how well would Nash play without Kobe Bryant?
In the last two games, Nash had averaged 17 points, 10.5 assists and four rebounds. He came into this one as efficient as we've seen all season, as he scored 10 points on 4-of-7 shooting in the first quarter alone.
Nash only collected four assists on the night to go with his 19 points, but that had very little to do with his decision-making. Along with trying to score, he was trying to get Dwight Howard involved. The big man missed a number of attempts to open up the contest.
The only area where Nash truly struggled was defense. He couldn't stay in front of Goran Dragic or Kendall Marshall in fast-break or half-court situations, and poor rotations behind him led to easy buckets for the Phoenix Suns.
Grade: B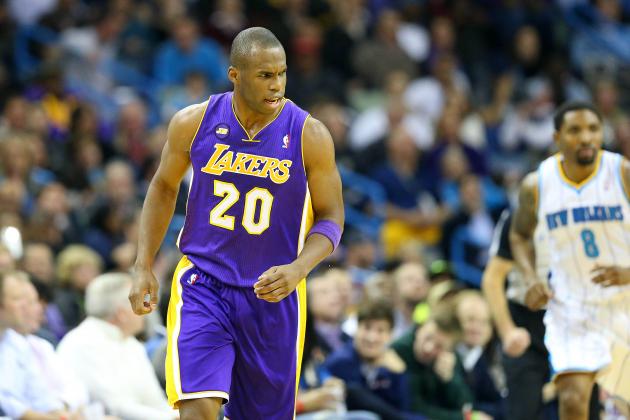 Crystal LoGiudice-USA TODAY Sports

Jodie Meeks didn't have one of his most efficient games against the Phoenix Suns, but you can't knock him for his aggressiveness.
Despite shooting just 3-of-9 on the night, Meeks was putting the opposition to the test with his willingness to attack the rim. Whether in isolation sets or backdoor cuts, the 6'4" guard was getting above the rim, especially early in the contest.
On the glass, Meeks managed to bring down six rebounds in 33 minutes. In fact, no starter had fewer than five boards, as the team was taking advantage of a smaller lineup.
As aggressive as Meeks was, it's safe to say that the Lakers will be jumping for joy when Kobe Bryant makes his return. Meeks' production hasn't been anywhere near what L.A. needs to see, and if the team has any hope of grabbing the No. 6 seed, it must rally behind its superstar.
Grade: C-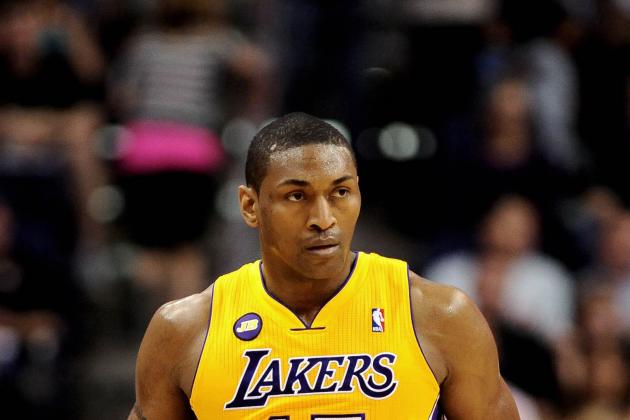 Jennifer Stewart-USA TODAY Sports

Metta World Peace has had plenty of quiet games this season, but this was one where he was making decisions that hurt the team early.
On multiple occasions in the first quarter, the 33-year-old forced shots both in the paint and on the perimeter. In the game's first 12 minutes, he missed five of his six shots, including all three from deep range.
Shooting wasn't the only area where World Peace was playing inefficiently. A number of bad passes led to unforced turnovers, and he had three giveaways to go with his 5-of-17 shooting.
World Peace tried to make up the difference on defense. He was certainly guilty of poor rotations—the entire team was—but he did have an impressive five steals on the night.
Take the good with the bad when it comes to World Peace, but understand that his efforts on one side don't make up for his mistakes on the other.
Grade: C-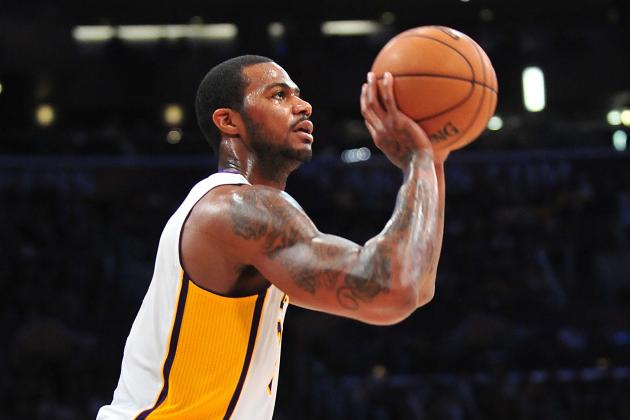 Gary A. Vasquez-USA TODAY Sports

Earl Clark remained quiet in the scoring department. He put up just four points in 30 minutes, but what you love to see is the effort in other categories.
Unlike those who were making bad decisions, Clark never did anything to hurt this team's chances. He had an impact on the boards, grabbing 10, and the shots he missed were shots that simply didn't fall—not shots he forced.
The problem was that we've seen him step up in the past when his team needed it, and Monday never proved to be one of those nights. You don't expect him to be the savior game in and game out, but only taking five shots when the rest of the team is misfiring is an easy way to get lost in the shuffle.
Grade: C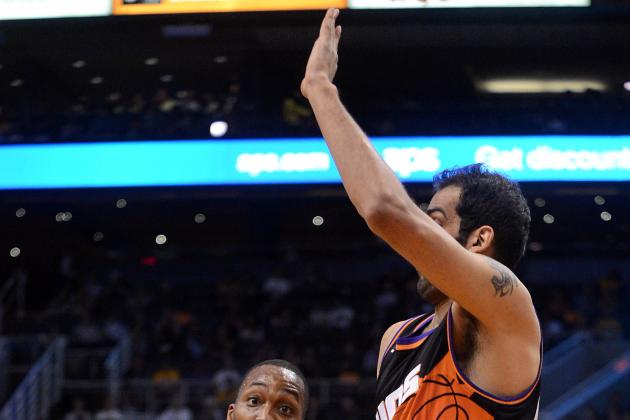 Jennifer Stewart-USA TODAY Sports

Dwight Howard took five shots in the first three minutes of this game, and while that's usually a great sign of things to come, an 0-of-5 start wasn't what Mike D'Antoni was hoping for.
Despite the slow beginning, Howard remained aggressive. He got to the line, pulled down rebounds and the Lakers kept looking his way as a reward for his efforts.
By the end of the first quarter, Howard had collected 11 points on 11 shots and grabbed six rebounds.
Throughout the game, Howard kept shooting, but he only managed to go 6-of-18 from the field. Steve Nash and the rest of the guards kept looking his way, and while he made four out of five free-throw attempts, he was never a true automatic option.
As the leading rebounder in the league, you knew Howard would get his numbers against the Suns. The center collected 11 boards in the loss. While that's under his season average, it was more than anybody else grabbed Monday night.
Grade: B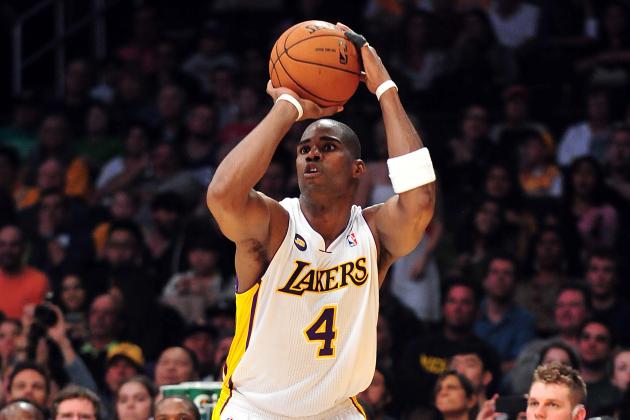 Gary A. Vasquez-USA TODAY Sports

Antawn Jamison entered this contest having recorded 27 points and nine rebounds against the Sacramento Kings. The game before that he had 17 points and seven rebounds. The team was hoping for similar production against the Phoenix Suns.
Unfortunately for the Los Angeles Lakers, this would be a far different night.
By the end of the first half, you could tell that Jamison wasn't going to be the one to win this game. He hadn't scored a single point, and he had just one field-goal attempt in 13 minutes.
When it was all said and done, Jamison managed to knock down just one jumper. He collected five rebounds in 23 minutes, but his three points on 1-of-6 shooting is what killed this team.
Grade: D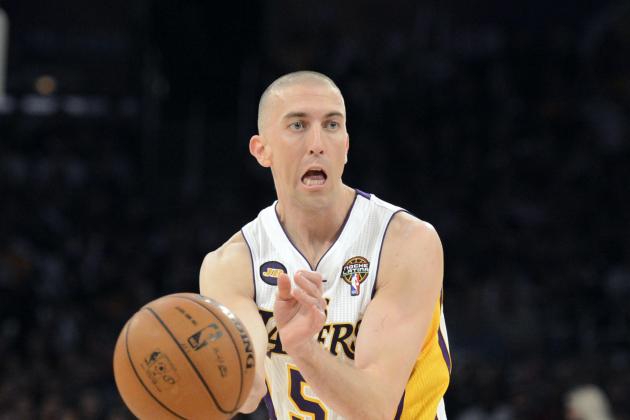 Richard Mackson-USA TODAY Sports

The Los Angeles Lakers have had one of the shallowest benches of the 2012-13 season, and that's become even more clear with Kobe Bryant and Pau Gasol on the sidelines.
Luckily for L.A., it was Steve Blake to the rescue for the third game in a row.
Blake entered this game with confidence, and it showed. In his first 11 minutes, he scored eight points on 4-of-6 shooting, and he collected four assists and a steal to top things off.
The unfortunate part of his game is that he went just 1-of-5 from deep range. He finished the game with 13 points and four assists.
The only other player to see significant time off the bench was Antawn Jamison. Neither player excelled, but at least Blake made smart plays at different points in the game to help keep it a contest early.
Grade: C