The Complete Guide to the Houston Texans Free Agency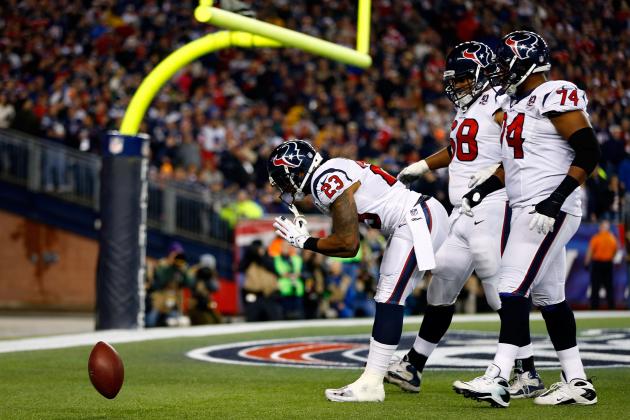 Jared Wickerham/Getty Images

The Houston Texans are as close to winning a Super Bowl as they have been in their entire existence, making this one of the most important free agency periods in franchise history.
The Texans are up against the cap, and they do not have enough room to retain all of their free agents. This will force management to make difficult decisions as to which players are more important to their franchise than others.
Management must make the correct decisions, or the Texans could be pushed further away from bringing the Lombardi Trophy back to Houston.
And to ensure that all of you, the fans, have a full understanding of this tense and nerve-wracking point of the season, we at Bleacher Report decided to put together a complete guide to the Texans free agency period.
(All salary cap statistics courtesy of Spotrac.com)
Begin Slideshow

»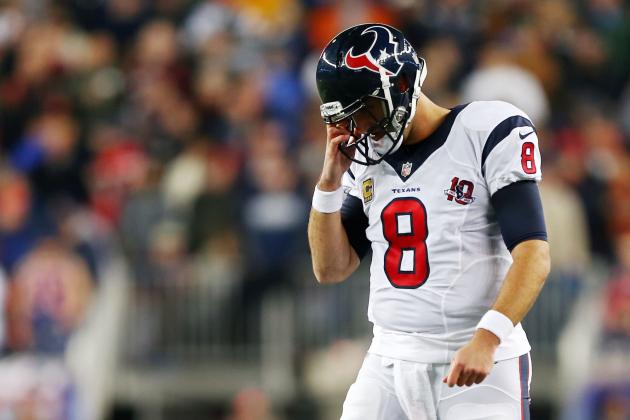 Elsa/Getty Images
Matt Schaub is disappointed about the Texans' salary cap situation
Currently, the Texans are $5.768 million under the cap. While five million dollars may seem like a lot of money, in NFL terms, it is actually quite little.
Even less than quite little, actually. It's more around very, very, very little.
This leaves the Texans in an uncomfortable situation. They have several important players that should be re-signed, but their miserable cap situation may prevent those key re-signings from taking place.
The Texans will be forced to pick and choose which players must be kept on the team, and which must unfortunately be allowed to walk.
It's not going to be a fun time for Texans fans, and more than a few surprise cuts may take place to grant the team more cap space.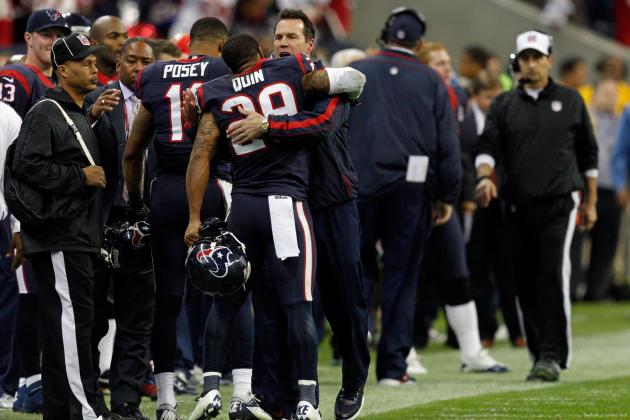 Bob Levey/Getty Images

Unrestricted Free Agents
Glover Quin
Connor Barwin
Alan Ball
Rashad Butler
Antoine Caldwell
James Casey
Shaun Cody
Quintin Demps
Tim Dobbins
Justin Forsett
Keyaron Fox
Shayne Graham
Ryan Harris
Bradie James
Donnie Jones
Brice McCain
Jesse Nading
Stanford Routt
Barrett Ruud
Restricted Free Agents
Mister Alexander
Andrew Gardner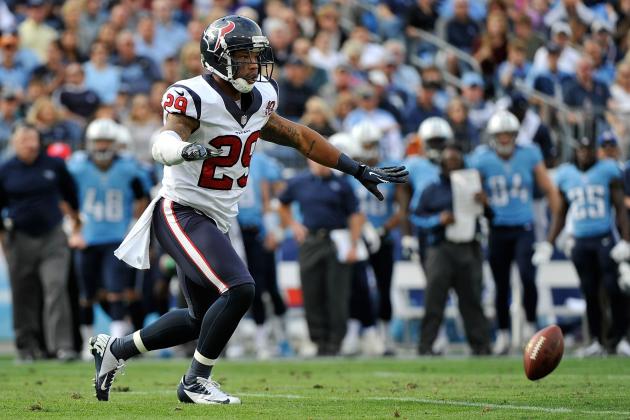 Frederick Breedon/Getty Images

The deadline to franchise tag a free agent has now come and gone. As the deadline approached, rumors swelled that the Texans were going to tag Glover Quin, to prevent him from hitting the open market.
Quin was the only player the Texans considered worthy of being tagged. However, as the deadline neared, it was reported that the Texans would not tag Quin, or anyone else.
This means the Texans joined the majority of the league in deciding not to utilize the franchise tag. It also means that Quin, the Texans' most important free agent, will likely be hitting the open market.
Quin is a must re-sign, and if he chooses to sign with another team, the Texans will deeply regret not spending a little bit of extra money by not tagging Quin.
Elsa/Getty Images

Want to know who the Texans have re-signed as of yet? A big whopping grand total of zero players.
As free agency approaches, key players like Glover Quin, Brice McCain, Connor Barwin, Shaun Cody and James Casey have not been offered contracts.
Quin has been listed as an absolute must re-sign by the Texans organization, so they will likely make an all out effort to retain him this offseason.
As for the other players, however, their fates are unknown. At the right price, they all could be brought back. If they demand too much, though, the Texans would be fully prepared to let them walk.
After all, they did cut Eric Winston to save cap space last season.
It's quite likely that McCain, Barwin, Cody and Casey could all be playing in different jerseys next season.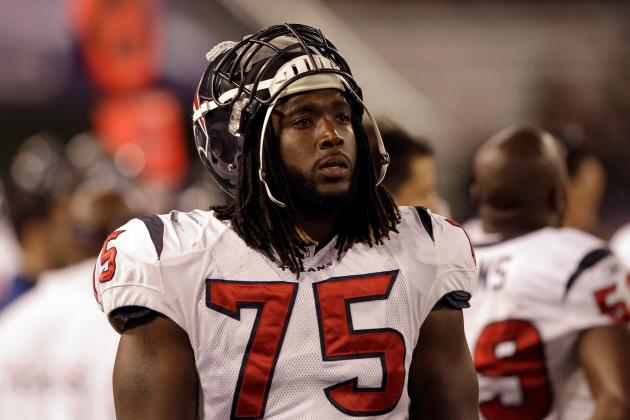 Rob Carr/Getty Images

Offensive Line
The core of the Texans offense is the offensive line. Without offensive line success, no other offensive position will be able to play consistently and effectively. When the zone blocking scheme is not opening up holes, Arian Foster transforms from an all-pro running back to an undrafted rookie.
When the running game collapses, the effectiveness of the play-action passing game virtually disappears, making Matt Schaub one of the least threatening quarterbacks there are.
The Texans offense thrives on the success of the offensive line. This offseason must feature the Texans doing everything they can to shore the line up and ensure that it will be able to compete at a high level next season.
Wide Receiver
Behind Andre Johnson, no receiver can be trusted. Kevin Walter is extremely inefficient in the passing game; he rarely makes any type of impact. The coaching staff, however, decided that his blocking skills and dependability made him worthy of the second starting job.
Behind Walter, the Texans receiving core consists of a bevy of untrustworthy yet intriguing play-makers. DeVier Posey, Keshawn Martin and Lestar Jean have all shown flashes, but they have not proven to be consistent.
The Texans must take pressure off of Johnson and improve the receiver position this offseason. Johnson is getting older, and there is no guarantee that he will be able to stay healthy for the entire season. The Texans must have a strong backup plan in place.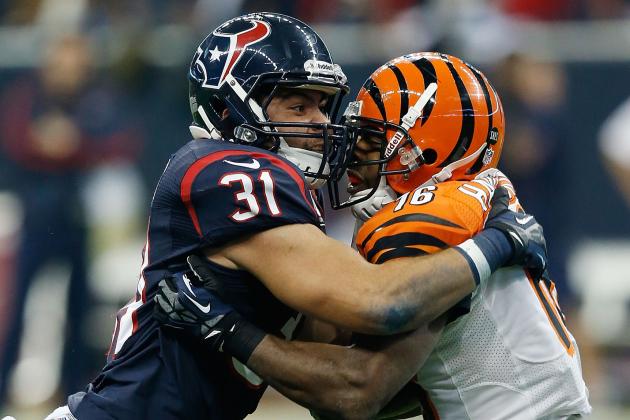 Scott Halleran/Getty Images

Inside Linebacker
Heading into next season, the only inside linebackers guaranteed to be on the Texans roster will be Brian Cushing and Darryl Sharpton. Bryan Braman could also likely play on the inside, but he has yet to contribute as anything other than a special teamer in his short career.
Cushing is returning from an ACL injury, and Sharpton has been the Texans' perennial injured player. Neither figures to be fully healthy heading into next season.
Although the Texans often utilize nickel and dime packages, which take inside linebackers off the field, shoring up depth at the position is a must.
Nose Tackle
With Shaun Cody heading into free agency, the Texans must begin to consider revolutionizing the nose tackle position on their team. For too long the Texans have plugged in small, quick defensive linemen in at nose tackle, and for far too long, the Texans nose tackles have failed to make any serious contributions to the defense.
A play-making nose tackle, who could consistently break into the backfield, could drastically improve the Texans defense. Teams would be forced to stop double and triple-teaming J.J. Watt as much, and the outside linebackers would have much more room to rush the quarterback.
The Texans should definitely look to improve the nose tackle position this offseason.
Backup Safety
If the Texans manage to re-sign Glover Quin, which all signs point to being the likely outcome, they will still need to upgrade the safety position.
The current backups, Quintin Demps—who also happens to be a free agent—and Shiloh Keo, were terrible last season. They allowed numerous deep balls, and they were easy targets for opposing quarterbacks. Whenever they stepped onto the field, they became an instant liability for the defense.
Almost any competent safety would be an upgrade over the Texans backups last season.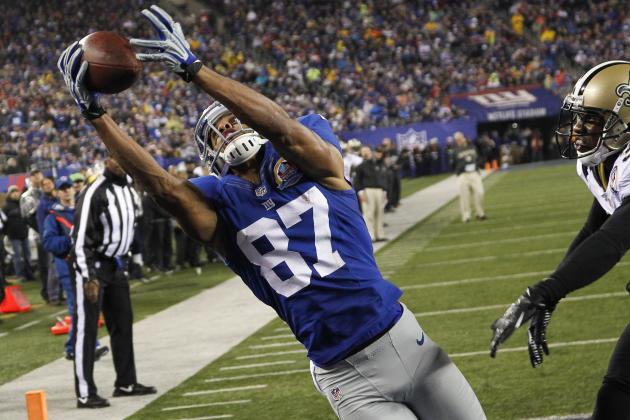 Jeff Zelevansky/Getty Images

Heading into the next season, it is clear that the Texans must upgrade the receiver position. Andre Johnson simply cannot do it all, and Kevin Walter is hardly a dangerous threat as the second starter.
However, the Texans do not have the salary cap space to bring an elite receiver like Greg Jennings or Mike Wallace. Therefore, they must look to other, cheaper solutions.
Of those cheaper solutions, Domenik Hixon certainly stands out.
The battle-tested veteran is buried on the Giants' incredibly talented receiver depth chart. Despite playing behind the likes of Hakeem Nicks, Victor Cruz, Reuben Randle and Ramses Barden, Hixon still managed to tally 567 yards and two touchdowns on the season.
The big, physical receiver is the definition of versatility. He can line up on either the inside or the outside, and he is capable of beating defenders on short routes or long streaks.
He can consistently make plays for an offense—the virtual opposite of Walter.
The best part is that Hixon could be brought in without breaking the bank. He is cheap, and signing him will do little to further damage the Texans' precarious salary cap situation.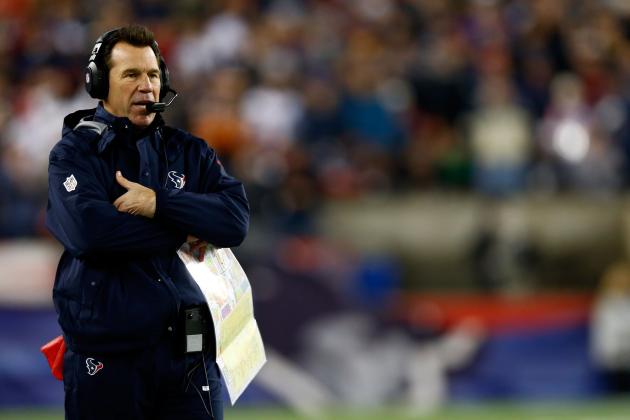 Jared Wickerham/Getty Images

While free agency seems like an ideal place to improve an NFL franchise, it is simply not for the Texans.
Although some players on the market are easily better options than those the Texans might find in the draft, rookies come much cheaper than veterans, desiring a large contract.
The Texans are in deep salary cap trouble, and signing an experienced veteran—while enticing—will only hurt the team in the future.
So, as players hit the open market, don't keep your hopes up. The Texans will not be signing any stars this free agency period.