BYU vs. Gonzaga: Complete Game Preview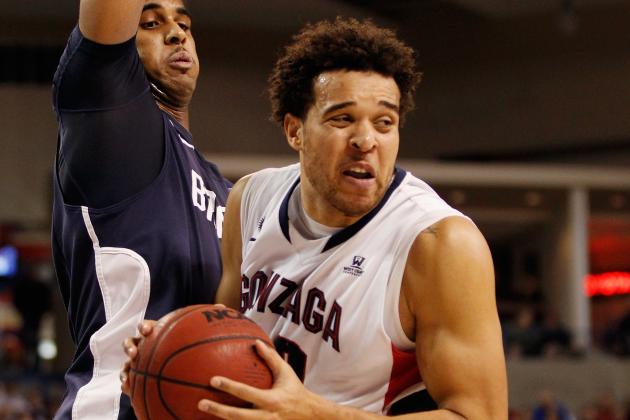 William Mancebo/Getty Images

The second-ranked Gonzaga Bulldogs will head to Provo, Utah, on Thursday to take on the BYU Cougars. Riding a 10-game winning streak, the Zags are one of the hottest teams in the country.
Can the Cougs stop their frontcourt duo of Kelly Olynyk and Elias Harris? What will be the difference-makers in the game for both teams?
Here are those answers, with more information and opinions on the game.
Begin Slideshow

»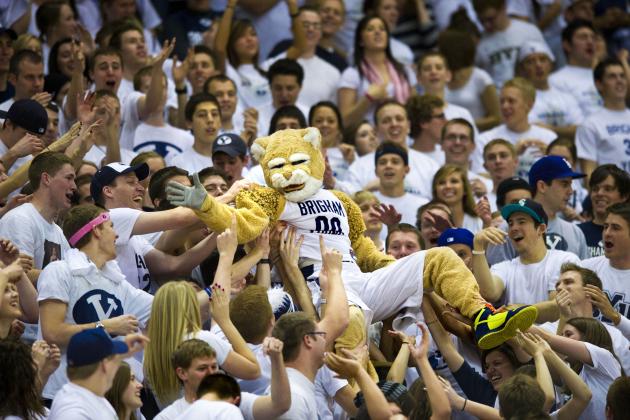 Douglas C. Pizac-USA TODAY Sports
BYU's student section, the ROC
Where: Provo, Utah
Arena: Marriott Center (20, 900)
When: Feb. 28, 9 p.m. (MST)
TV: ESPN2
Radio: KSL NewsRadio (102.7 FM/1160 AM)
Live Streaming: ESPN3 (www.espn.go.com/watchespn)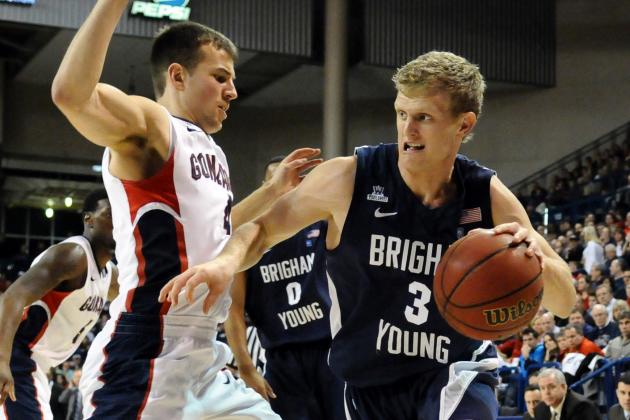 James Snook-USA TODAY Sports

Matt Carlino - G
Tyler Haws - G
Brock Zylstra - G
Josh Sharp - F
Brandon Davies -F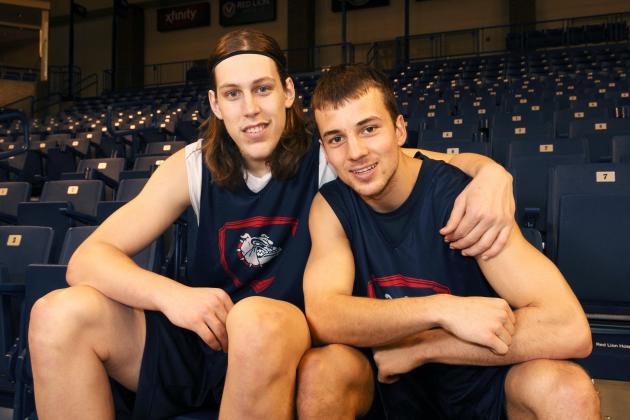 James Snook-USA TODAY Sports

Kevin Pangos - G
Mike Hart - G
Gary Bell, Jr. - G
Elias Harris - F
Kelly Olynyk - F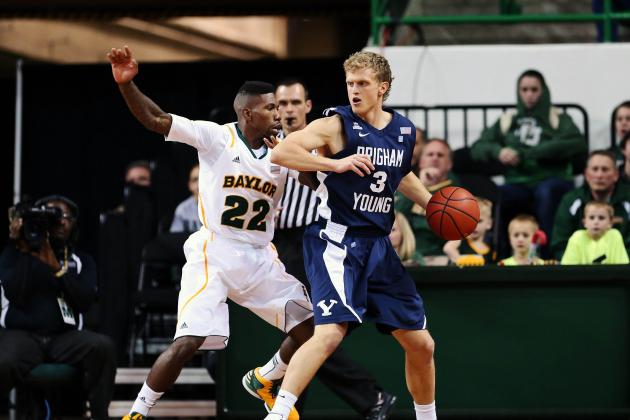 Kevin Jairaj-USA TODAY Sports

Tyler Haws is one of the best scorers in the western United States, and is the leader of the BYU team. He scored a season-low two points against the Zags the last time the two teams meet, and it will be interesting to see how he can adjust.
Unless Haws gets going, there is very little chance that the Cougs will be able to pull of the upset. If he gets hot, though, like his 42-point showing against Virginia Tech earlier this season, he will be fun to watch.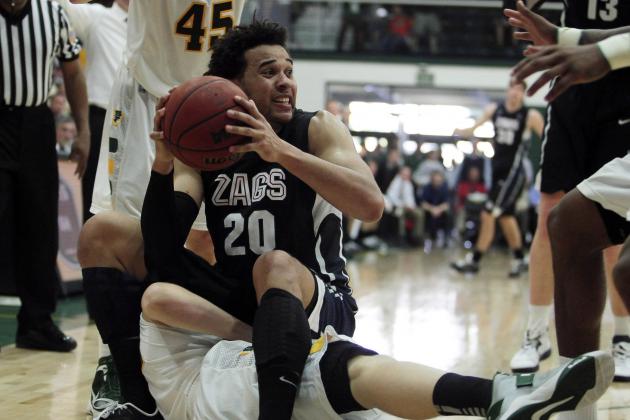 USA TODAY Sports

Elias Harris was nearly unstoppable for BYU's defense earlier this year, as he dropped a season-high 25 points and 10 rebounds. If he can do the same on Thursday, the Zags will be nearly unstoppable.
The 6'8" native of Germany may prove to be quite the handful for the Cougars. Paired with Kelly Olynyk, Harris and the Gonzaga frontcourt are very hard to control.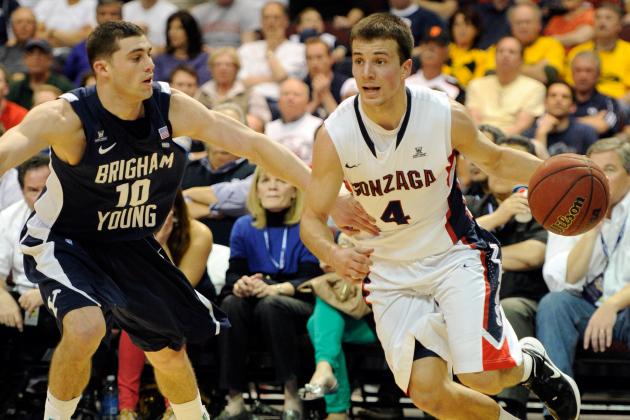 Ethan Miller/Getty Images

BYU's Frontcourt vs. Gonzaga's Frontcourt
Kelly Olynyk and Elias Harris worked together to destroy the Cougar defense earlier this year, and it will be fun to see how well Brandon Davies and the other BYU bigs are prepared.
Whoever wins this battle, on both the scoreboard and the rebounding glass, will likely win the game.
Tyler Haws vs. Kevin Pangos
Pangos and Haws are the two leaders of their respective teams, and if they are assigned to defend each other, it will be an interesting matchup to watch.
Pangos leads the Zags as the point guard, and Haws is the main scoring option and a good defender for the Cougs. Keep your eye on these two, and they will hopefully put on a show.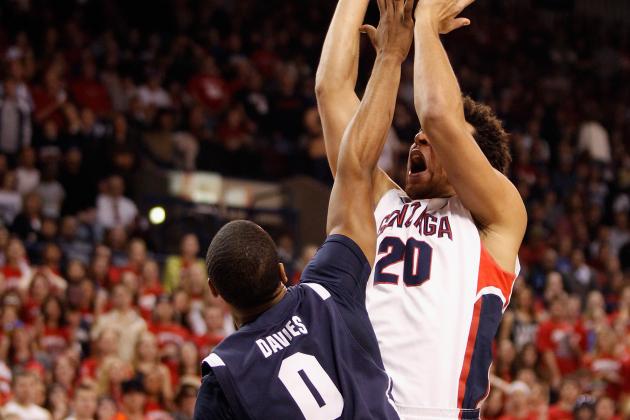 William Mancebo/Getty Images

They will win if they can find a defensive solution for Gonzaga's frontcourt. Kelly Olynyk and Elias Harris torched BYU with 51 combined points in Spokane, and the Cougs will need to find a way to prevent that.
I don't know if they will be able to pull of the feat, but if they can, a win is much more likely.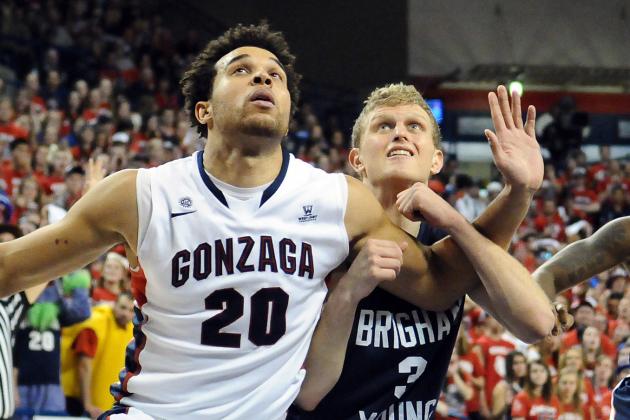 James Snook-USA TODAY Sports

They will win if they can again force Tyler Haws to have a bad-scoring night. When Haws gets hot, the entire Cougar offense seems to open up, and the Zags can't allow that.
Sure, there is a decent chance that Haws could score 20-plus points and the Bulldogs still scratch out a win, but the victory will come more easily if they contain BYU's leading scorer.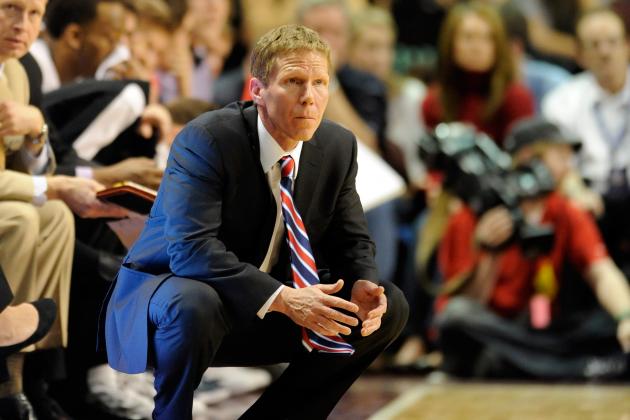 Ethan Miller/Getty Images

The home-court advantage will play a role for the Cougs, but it won't be big enough to stop Gonzaga's post players. Kelly Olynyk and the Bulldog offense will be dominant, and they will escape with plenty of breathing room.
Prediction: Gonzaga wins, 75-61