Ohio State Football: How Buckeyes' 2013 Assistant Coaches Compare to Michigan's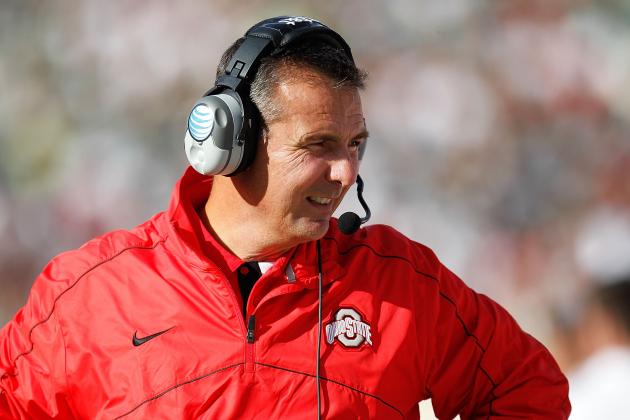 Gregory Shamus/Getty Images

The rivalry between the Michigan Wolverines and Ohio State Buckeyes is soon going to feel like the old days.
With both Urban Meyer and Brady Hoke breathing life back into both programs, these two schools will hate each other more than ever as they both are destined to compete for national titles.
Some would argue about which head coach is better, but it is simply too early for anybody to compare Hoke to Meyer at this point in his career. After all, we need to see some championship hardware before that debate can hold much weight.
But what about the assistant coaching staffs?
These two schools have put together an impressive group of coaches that do all of the work on the sidelines. Some have been around longer than others, but all have had their fair share of accomplishments over the years and have earned their spot.
So with the battle between these Big Ten powerhouses soon to kick off in 2013, let's take a look at the assistant coaching staff of both programs.
Note: Defensive line has not been graded due to Jerry Montgomery leaving for Oklahoma.
Begin Slideshow

»
Gregory Shamus/Getty Images

Stan Drayton of Ohio State
Stan Drayton has spent time under Urban Meyer in the past with the Florida Gators.
He was the wide receivers coach back in 2011, but was switched over to the running backs coach once his mentor arrived on campus.
Despite dealing with multiple injuries to the running back position and a handful of question marks, Drayton still helped this team rank second in the Big Ten in rushing yards. He was also able to get big time production out of Carlos Hyde.
Drayton has only been coaching the position since 1993, but he has produced some big names over the years and has put up solid rushing numbers at various big programs.
Fred Jackson of Michigan
Fred Jackson has been with the Michigan Wolverines since 1992 and has held different positions throughout the offense since then.
One of the things that have remained constant is that he has worked with the running backs, and his success rate is off the charts. Producing many All-Big Ten running backs over the years and seeing many guys go on to have careers at the next level, the running game for Michigan is one of the few things that has remained consistent for this program.
Just think, Jackson has been around through three different head coaching changes. That should tell you all you need to know.
Advantage: Fred Jackson—when you are able to stay with a program for more than two decades, you are doing something right.
Ed Warinner of Ohio State
Ed Warinner is an offensive line coach who also helps out with running the offense. Listed as the position coach and co-offensive coordinator, Warinner is somebody who has a lot on his plate.
However, he has shown what he can do in such a short amount of time.
Taking over a revamped offensive line last season, he was able to mix and match pieces to create one of the better units in the entire Big Ten. Despite converting a tight end to play tackle, Ohio State had the second best rushing offense in the Big Ten, and it all starts up front.
As an offensive coordinator, Warinner is best known for the job he did with Kansas in 2007 and 2008 when his offenses were some of the best in the country.
Darrell Funk of Michigan
Darrell Funk has followed head coach Brady Hoke everywhere since his days at Ball State back in 2008. And already in his days with the Wolverines, Funk had made his impact felt in a big way.
Not only has the unit allowed the third fewest sacks in the Big Ten in the last two years (18), but he has helped produce studs in David Molk and Taylor Lewan.
A combination of Funk and Hoke has produced damage now at three different schools. It also doesn't look like it is going to change anytime soon with the offensive line class Michigan is bringing in.
Advantage: Ed Warinner—this was really a toss-up, but I'll go with the guy who contributes more to the entire offense.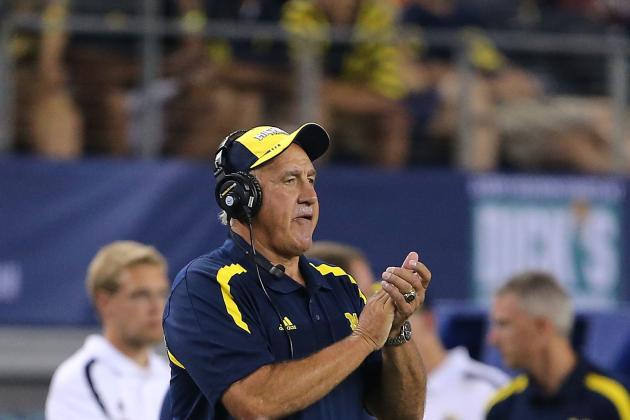 Leon Halip/Getty Images

Everett Withers of Ohio State
Everett Withers has had an interesting coaching career.
He has spent almost 20 seasons at the college level, seven years in the NFL and led North Carolina to a respectable 7-5 record in 2011 as an interim head coach in place of Butch Davis.
His defensive work speaks for itself as the 2009 Tar Heels had a defense ranked sixth in the country and his 2010 defense saw five players get selected in the 2011 NFL draft.
Buckeyes fans are now just hoping some of that success will translate in Columbus, as last year was rocky, to say the least.
Greg Mattison of Michigan
Greg Mattison is simply a defensive guy who has coached this side of the ball his entire life. Despite being 63 years old, he has never held a head coaching position.
Usually coaching the defensive front, Mattison took over the Wolverines defense in 2011 after spending a few years calling the shots for the Baltimore Ravens. He was in charge of a Michigan defense that was ranked dead last in the Big Ten in 2010, and improved to where it was ranked fourth in one season.
Last year the Wolverines were ranked 14th nationally in total defense.

Advantage: Greg Mattison—he has proven himself time and time again, but the job he has done in Ann Arbor speaks volumes.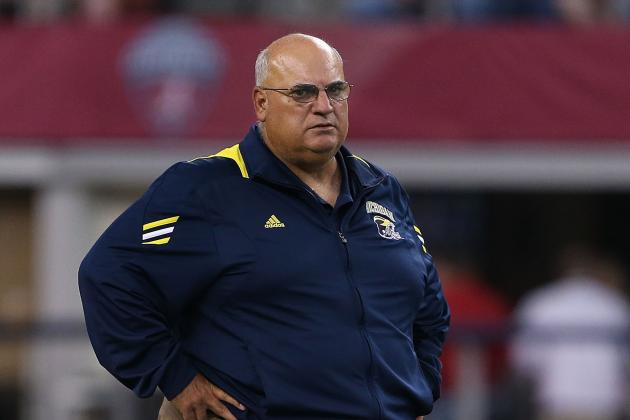 Leon Halip/Getty Images

Tom Herman of Ohio State
Tom Herman is a young coach who took over the offensive duties once Urban Meyer stepped on campus.
While he would appear to still be wet behind the ears at the young age of 37 years old, he has put together a respectable track record in a short amount of time. He helped lead Sam Houston State to conference titles as a wide receivers coach, turned Texas State into an offensive powerhouse and was able to get incredible production out of Rice, of all teams.
Herman shares a bunch of the same traits as Meyer, and is one of the brighter offense minds in the game that many aren't familiar with.
Al Borges of Michigan
Al Borges has been around for a little longer than Herman, which has allowed him to put together a slightly better resume.
Having spent time in the Pac-10, Big Ten and SEC, there really isn't much this coach hasn't seen, and it allows him to adapt to the players around him.
Able to adjust on the fly, Borges has had success from UCLA to Auburn, even San Diego State before taking the job at Michigan in 2011. In his first season with the team, the offense ranked third in the Big Ten, and despite missing quarterback Denard Robinson for a good chunk of the year, the Wolverines still finished in the Top 60 in points scored.
Advantage: Al Borges—there aren't many offensive coordinators who have a bigger name than this guy, or have accomplished as much.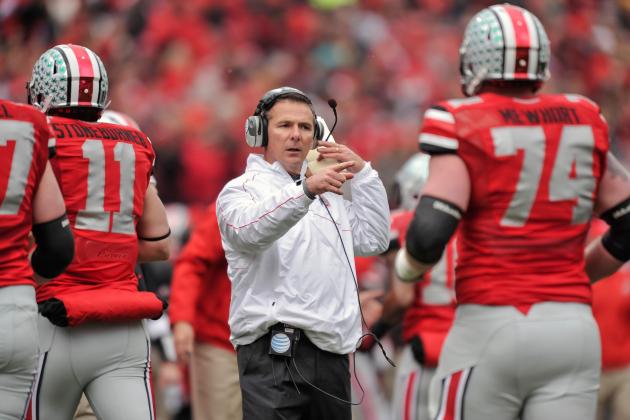 Jamie Sabau/Getty Images

It is hard to argue with the assistant coaching staff of the Michigan Wolverines. When you look at it on paper, this is arguably one of the best groups of coaches in the entire country.
Al Borges has proven to be a top-notch offensive coordinator who finds ways to put guys in positions to succeed. Fred Jackson has held down his coaching job since 1992, which shows he has been getting the job done.
Then, you can't say enough about the job Greg Mattison has done as defensive coordinator. He keeps on trucking away and doesn't seem to have lost a step even after all of these years.
However, Ohio State has a much younger coaching staff. Many of these guys, such as Luke Fickell, Ed Warinner, Stan Drayton and even Mike Vrabel, are really just getting started in their coaching careers.
While they have all had success at their respective positions, it is a lot to expect them to compete with the resume some of the older guys on the Michigan staff have put together.
You can't go wrong with either staff, but you would have to give the nod to Michigan at the moment due to overall experience.
How much does this swing things when discussing head coaches? Well, that's a whole different story.
Advantage: Michigan