Why Nobody Realizes What a Big Deal South Carolina vs. North Carolina Really Is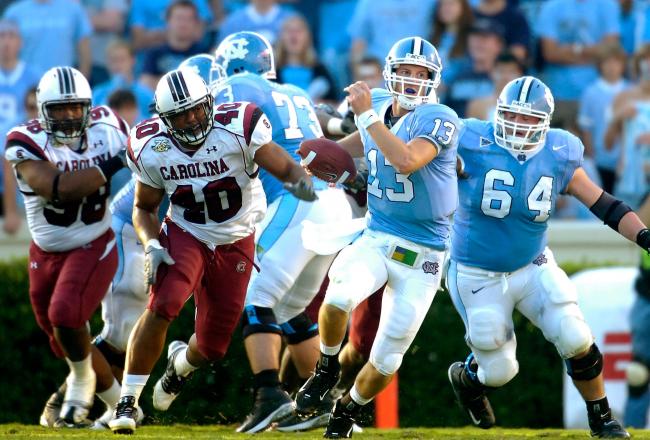 Grant Halverson/Getty Images
Mostly, because it's not that big of a deal.
Certainly, there is a continued power struggle between which team is "The Real Carolina" as both use the moniker. The alumni bases overlap from a geography standpoint, especially in Charlotte, N.C. A city that is closer to Gamecock Country than it is Chapel Hill.
These teams have played 55 games against one another. They fight it out for recruits on a yearly basis. UNC pulling guys like Robert Quinn and Quinshad Davis out of the Palmetto State in recent years. South Carolina of course counters by grabbing guys like Larenz Bryant and Connor Mitch from the Tar Heel State.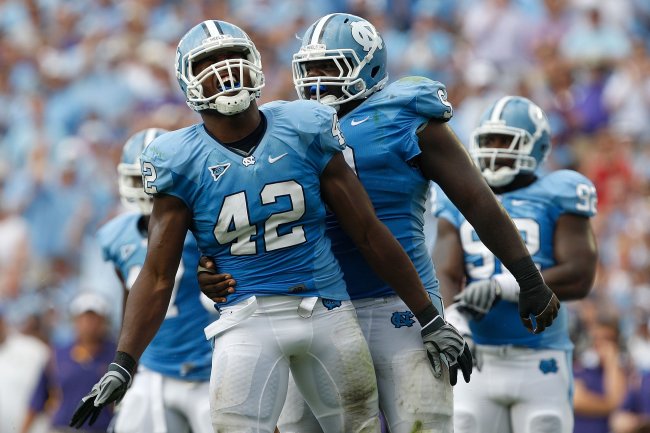 Streeter Lecka/Getty Images
Unfortunately, for a rivalry to exist beyond being the fuel of hypotheticals and sports radio bluster, the two teams have to actually play. That's something North Carolina and South Carolina just have not done enough to solidify the rivalry in a lot of folks' minds.
Since South Carolina left the ACC in 1971, the Gamecocks and Tar Heels have played a grand total of 11 times. Of those 11 games, five came in the decade after South Carolina moved from the ACC. Five more came in an eight year period spanning 1983-1991. Just one has come in the last 22 years.
Tough to generate steam in a rivalry when the students, the players and even a lot of the coaches patrolling the sidelines have little to no base on which to build on. Sure, the "back in the day" crowd can talk about the great battles of the past, but the fact is the game is not a fixture.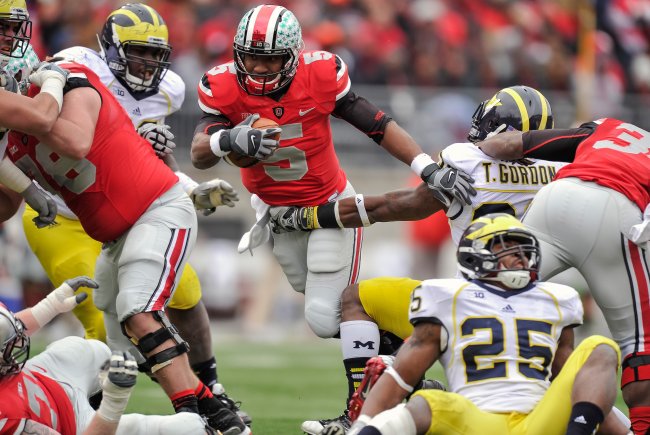 Jamie Sabau/Getty Images
Yes, border wars like Ohio State-Michigan, Texas-Oklahoma and Georgia-Florida gain steam because of elite competition and conference ties. However, the fact that they are annual contests also has a tremendous amount to do with why they stay at the forefront of folks' minds. The out-of-conference rivalries of the ACC-SEC have an annual flare that helps them stay relevant year in and year out.
Do you think North Carolina-South Carolina will ever be a premier college football rivalry?
We're going to see the same occur with the Backyard Brawl between West Virginia and Pitt as the teams have separated themselves from one another and moved on to new leagues and new rivalries. South Carolina and North Carolina are 30 years into the process and the lack of zeal, from a general fan standpoint, is very real.
That does not mean there are not pockets of folks with a vested interest in this game. Families with Gamecocks and Tar Heels split down the middle. Couples where the man bleeds Carolina Blue and the woman is all about the Garnet and Black. The fight, when it is present, is very real.
However, for the rivalry to become a bigger deal, there needs to be more fight present. If they want to build this game into a centerpiece for the region, they need to focus on playing it more than just once in a blue moon. Until both parties move to play the game as close to annually as possible, it will remain an afterthought with the average fan.
This article is
What is the duplicate article?
Why is this article offensive?
Where is this article plagiarized from?
Why is this article poorly edited?