Performing well at the 2013 Daytona 500 is imperative to the success of a driver's season, and starting from the pole positions in this race is even more important than at other tracks.
Which driver has a better shot at victory?
Pole sitter Danica Patrick (196.434 mph), outside pole winner
Jeff Gordon
(196.292 mph) and their strong qualifying efforts have the inside lane for a strong performance at Daytona International Speedway.
With so much on the line during Sunday's Great American Race, both Patrick and Gordon have a great chance to start the race at the front, stay there all day and finish strong.
Easier said than done, though.
Where: Daytona International Speedway in Daytona Beach, Fla.
When: Sunday, 1 p.m. ET
Watch: Fox
Listen: Motor Racing Network
Live Stream: RaceView
Starting Order
Pos

.
Driver

Pos

.
Driver
1
Danica Patrick
2
Jeff Gordon
3
Kevin Harvick
4
Kyle Busch
5
Greg Biffle
6
Kasey Kahne
7
Juan Pablo Montoya
8
Austin Dillon
9
Jimmie Johnson
10
Clint Bowyer
11
Kurt Busch
12
Matt Kenseth
13
Tony Stewart
14
Mark Martin
15
Brad

Keselowski

16
Paul Menard
17
Casey Mears
18
Jeff Burton
19
Dale Earnhardt Jr.
20
Jamie McMurray
21
Joey

Logano

22
David Ragan
23
Bobby Labonte
24
Marcos Ambrose
25
David Gilliland
26

Aric

Almirola

27
Joe Nemechek
28
Ricky

Stenhouse

Jr.
29
Michael

Waltrip

30
Dave

Blaney

31
Scott Speed
32
Josh Wise
33
Trevor

Bayne

34
Ryan Newman
35
Denny Hamlin
36
Carl Edwards
37
Martin Truex Jr.
38
Michael McDowell
39
Terry Labonte
40
Regan Smith
41
J.J. Yeley
42
David

Reutimann

43
Travis

Kvapil
Breaking Down the Front Row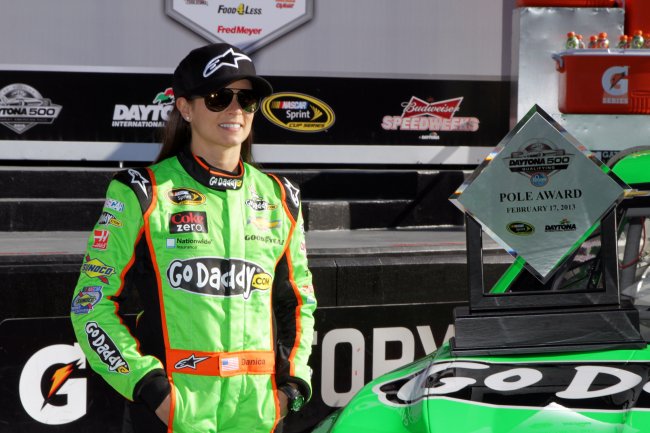 Jerry Markland/Getty Images
No. 1: Danica Patrick
The hype surrounding the pole sitter for the 2013 Daytona 500, Danica Patrick, is unlike anything the sport has ever seen, but the first woman to ever obtain the No. 1 starting position in a NASCAR race wants more.
Patrick needs to finish the race as well as she is starting it, and that involves running a smart race. Everyone is on the same page with the new Generation-6 cars, so as long as Patrick stays toward the front, she should be able to avoid trouble.
No matter what Patrick and the No. 10 team decide their strategy will be on Sunday—force the issue and staying out front of the field or falling to the back early and avoiding trouble before making a late push toward the front—the mainstream focus will be fixed on the second-year star.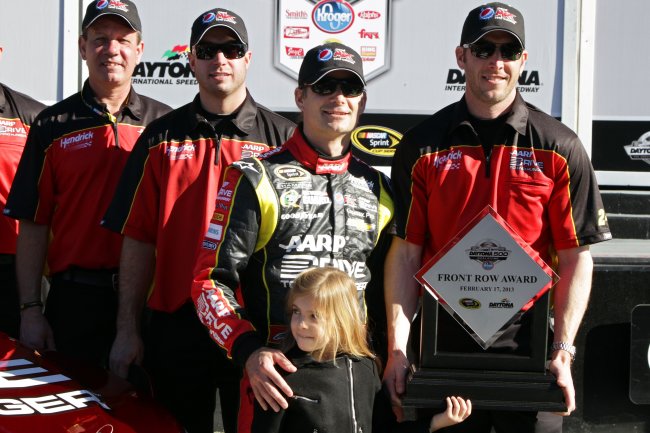 Jerry Markland/Getty Images
No. 2: Jeff Gordon
Jeff Gordon starting from the outside pole position is bad news for the rest of the drivers in the field. The NASCAR veteran has raced in 20 Daytona 500s over his career, winning three times and finishing in the top-10 eight times.
As great as Gordon can be at Daytona, the intense competition and the fact that over the past three years the No. 24 car has averaged a 31.3 place finish has many questioning how well the racing legend will finish Sunday.
Starting out in front of the pack will afford Gordon the opportunity to stay out of trouble, and as long as he remains one of the top contenders throughout the day, the No. 24 team will walk away from the 500 with a solid finish.