Portland Trail Blazers vs. L.A. Lakers: Postgame Grades and Analysis for L.A.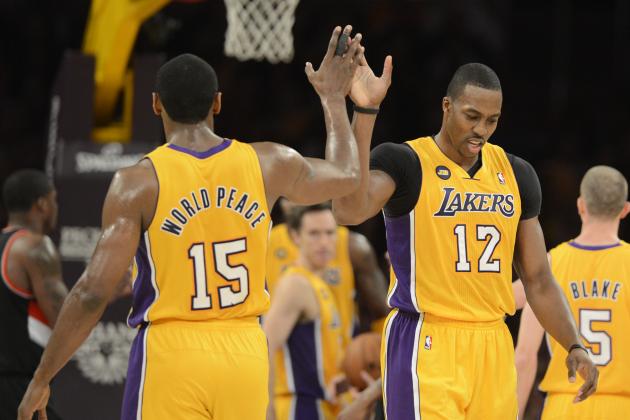 Richard Mackson-USA TODAY Sports

Kobe Bryant has guaranteed that the Los Angeles Lakers will make the playoffs (according to Jack McCallum of Sports Illustrated), and the team took a big step toward making that happen with a 111-107 win over the Portland Trail Blazers.
The Lakers entered the game just half a game ahead of Portland for the ninth spot out West. This had been a home-dominated series, with Los Angeles winning 10 of the last 11 at Staples Center, and that trend continued Friday night.
Both teams had a lot of energy to start this one. The contest was tightly contested early, and while L.A. was able to move the ball well, it went into half time down two points because of a flurry of missed open shots.
The second half began with the Blazers catching fire, so for Los Angeles, it quickly became Kobe time. He scored the team's first 13 points of the third quarter, and more importantly, he did it with efficient shooting.
The Lakers finished the period on a 16-9 run, but it was only enough to bring them within two points after Portland's hot start.
The final quarter fit the back-and-forth theme of the night, and the intensity quickly reached its highest point. Both teams understood what was on the line, and fortunately for L.A., it put together the late-game execution necessary to steal one at home.
One game doesn't ensure anything at this point in the year, but with the Lakers fighting the Blazers for a playoff spot, this was a big win with just two months remaining in the regular season.
Begin Slideshow

»
It's not often that Steve Nash has a bad shooting night, but coming off a 6-of-7 performance against the Boston Celtics, Nash managed to shoot just 2-of-11 from the field against the Portland Trail Blazers.
In the first half, Nash scored just two points on 1-of-6 shooting. He also had three turnovers, but he managed to collect five assists along the way.
With the third quarter becoming Kobe Bryant's, Nash really lost his place within the offense. He finished the game with just four points, and he was virtually invisible the rest of the way.
You can't ignore the point guard's six assists and five rebounds, but realize that he only picked up one second-half assist to go along with all of his missed shots.
Defensively, Nash struggled to contain Rookie of the Year front-runner Damian Lillard. L.A. did a good job of throwing bigger bodies at the young point guard, but when Nash was given the defensive responsibilities, it was clear that Lillard's young legs had the easy advantage.
Grade: D+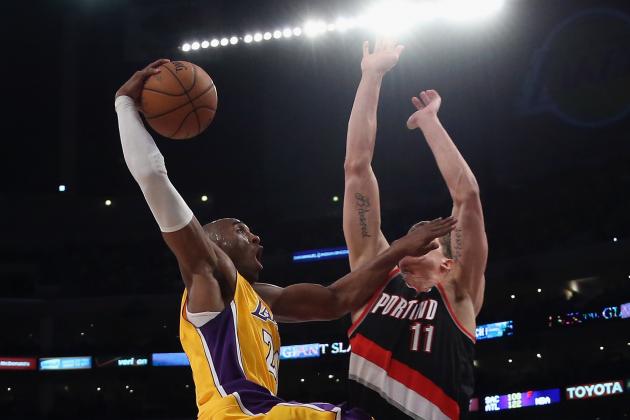 Jeff Gross/Getty Images

Kobe Bryant had a quiet 11 points when halftime rolled around Friday night, but needless to say, he wouldn't stay quiet for long.
Despite the offense becoming stagnant in the third quarter, Bryant began to take over. He scored 18 total points in the quarter, and quite frankly, he was the only reason the team stayed close with Portland's starters scoring early.
Unfortunately for L.A., Bryant's involvement in the offense took away from any chance Steve Nash or Dwight Howard had to get involved. That being said, it was much-needed scoring output, and Bryant did it in efficient fashion.
This game certainly wasn't one of Bryant's famous pass-first contests we've seen throughout the year, but he rounded out his game nicely with four assists and seven rebounds to go along with his 40 points on 15-of-23 shooting.
The efficiency is what you like to see more than anything else, and it's why Bryant deserves the credit he receives.
Grade: A+
Brace Hemmelgarn-USA TODAY Sports

Metta World Peace has been inconsistent throughout the entire 2012-13 season. He's had trouble shooting the ball for much of the year, and that theme held true against the Portland Trail Blazers.
If it weren't for World Peace's five first-half rebounds, his team-high 19 minutes in the first two quarters would have been downright inexcusable. He shot just 1-of-5 from the floor during that time frame, and he had trouble containing his man, whether it was Wesley Matthews, Nicolas Batum or LaMarcus Aldridge.
World Peace's minutes were limited in the third period because of foul trouble, but he managed to get himself involved late with open shots and a stronger defensive effort.
He ended up shooting 4-of-9 while scoring 11 points on the game, and the timing of his plays down the stretch justified his minutes after such a rocky start.
Grade: C+
Stephen Dunn/Getty Images

Earl Clark had about as neutral of a game as we've seen from him at this point in the season.
The power forward was quiet the entire way, but unlike Steve Nash—and Metta World Peace in the first half—he never did anything to hurt his team's chances.
Having shot 50 percent on the night, Clark finished with 11 points. He also grabbed five rebounds—all on the defensive end—but what you like to see out of the 25-year-old is a consistent effort.
Clark does all the little things that you love to see in the NBA. He chases after loose balls, makes the right rotations and very rarely bogs down the offense with bad shots.
At times, he had trouble containing Nicolas Batum and LaMarcus Aldridge defensively, but overall, you can't complain too much about what we saw on either end of the floor.
Grade: B-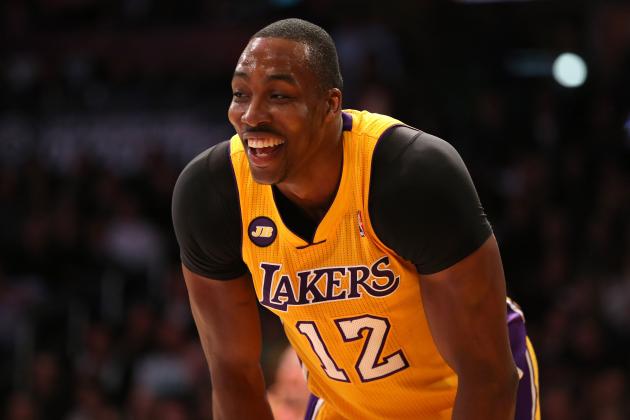 Stephen Dunn/Getty Images

Dwight Howard entered this game with good energy for the second straight contest. He played 11 minutes in the first quarter and used his solid placement at the rim to collect five rebounds and five points early.
As much energy as Howard had on the offensive end, he struggled keeping up with J.J. Hickson defensively. He couldn't stay with the big man off the dribble, and as a result, the Blazers center ended the game with 22 points and 11 rebounds on 11-of-15 shooting.
But for all his defensive deficiencies, Howard excelled at getting the Blazers bigs into early foul trouble. He ended up taking 12 free throws on the night, making five of them,and his ability to draw fouls forced Portland to play even smaller than it already is.
This game may have belonged to Kobe Bryant, but Howard made sure to leave his mark. He finished with 19 points on 50 percent shooting, and he grabbed 16 rebounds in his 38 minutes of play.
Grade: A-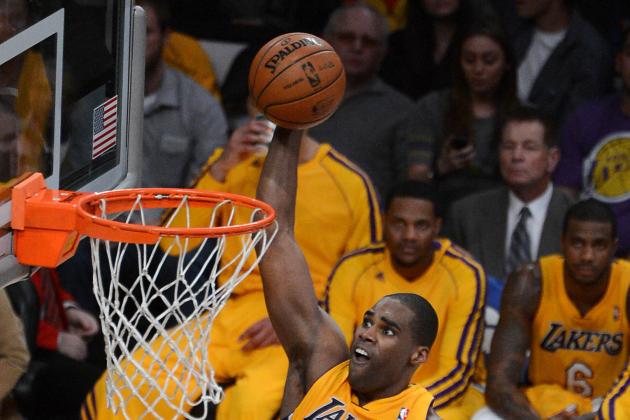 Jayne Kamin-Oncea-USA TODAY Sports

Antawn Jamison played his role of sixth man to perfection early against the Portland Trail Blazers.
As the first man off the bench, the 36-year-old came in and fit right into the Los Angeles Lakers' system. He was scoring from multiple spots on the floor, he was helping push the tempo and he was the biggest reason Portland's momentum never got out of control.
Efficiency was really the theme for Jamison in this one. In just 21 minutes, he managed to collect six rebounds and get to the line six times. He knocked down five of those six shots, and he finished 5-of-12 from the field.
When it was all said and done, Jamison had 16 points and was easily the most productive Lakers player off the bench Friday night.
Grade: B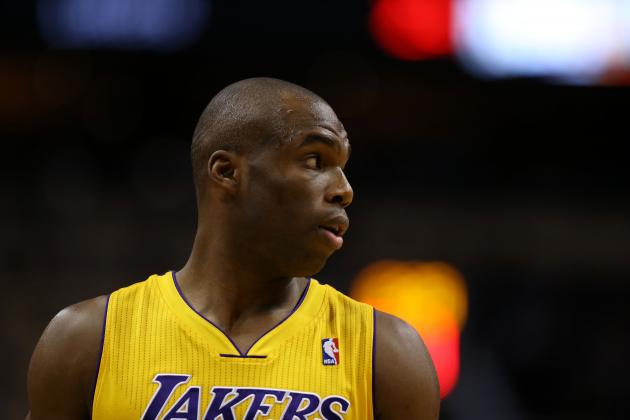 Mark J. Rebilas-USA TODAY Sports

Aside from Antawn Jamison, the only Los Angles Lakers player to make a difference off the bench was Jodie Meeks.
The 2-guard came in and played 21 minutes, collecting a team-high plus-nine in the plus-minus category. He only made one of his three deep-range shots, but it was a timely one that helped L.A. when it needed to.
Steve Blake, a former Portland Trail Blazers point guard, played the most minutes off the bench (24), but he failed to record a single point on his three field-goal attempts.
Luckily for the Lakers, they were going up against a bench that has been even worst than theirs this season, and they had the edge from start to finish with Jamison and Meeks on their side.
Grade: B-