Why Dwight Freeney Doesn't Make Sense for the Denver Broncos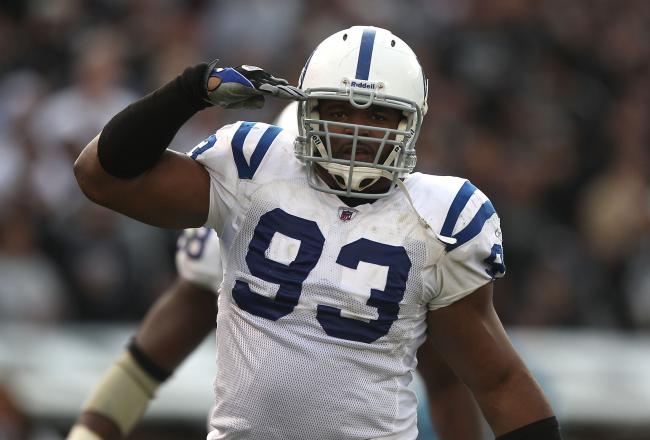 Jed Jacobsohn/Getty Images
One theory is that you can never have too many pass-rushers. That's probably what makes it so interesting that Peyton Manning reached out to Dwight Freeney and suggested that he join the Denver Broncos after he was released from the Colts.
Manning was probably kidding, and Freeney downplayed his fit with the Broncos to PFT Live by noting that the Broncos have a couple of good pass-rushers already. Despite the presence of Von Miller and Elvis Dumervil, it's an intriguing idea because the Broncos did play rookie Derek Wolfe—a defensive tackle—at defensive end last season.
The Broncos were also a bit one-dimensional and struggled to generate a pass rush when teams were able to slow down Miller, as was the case against the Baltimore Ravens in the playoffs. Adding another pass-rusher to the mix could certainly make the Broncos better, but would Freeney (or a player like him) be a good fit?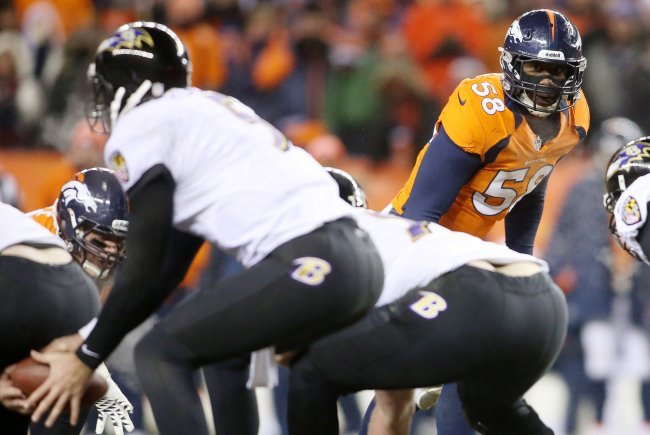 Chris Humphreys-USA TODAY Sports
Part of the problem with bringing in Freeney is how it would negatively impact Miller. The Broncos use a variety of defensive fronts so they can utilize Miller as a pass-rusher. The most common defensive fronts the Broncos use are the four-man fronts, with Miller often serving as a stand-up defensive end or blitzing linebacker.
In reality, Miller is a 4-3 outside linebacker in name only, having rushed the passer 289 more times in 2012 than the next 4-3 outside linebacker, according to ProFootballFocus. Only four 3-4 outside linebackers rushed the passer more than Miller.
Four-Man Rush
The Broncos run a hybrid 4-3 scheme with Dumervil putting his hand in the dirt on one side and Miller standing up on the other. When using these four-man fronts, Wolfe—the defensive end—is basically playing defensive tackle and will attack the offensive guard.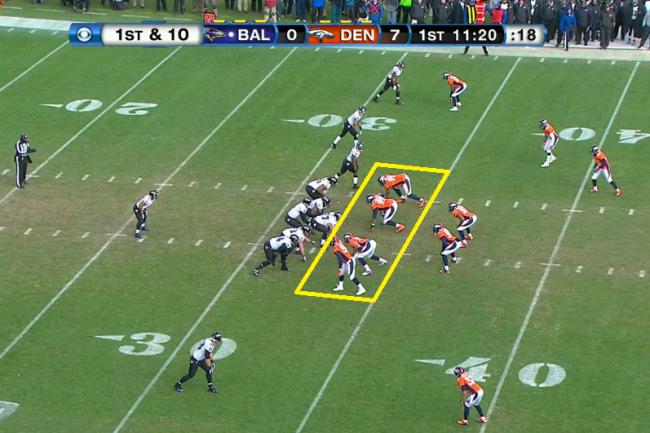 It's best not to think of defensive line positions as ends or tackles anymore, but rather by where they are lining up. Wolfe often lines up inside or directly over the offensive tackle like a 3-4 defensive end. Sam Monson of ProFootballFocus does a great job describing the different defensive line techniques and their corresponding prototypes.
Miller almost always draws the block from the offensive tackle with Wolfe working the offensive guard. Freeney can't simply replace Wolfe in the lineup and improve the pass rush, because he needs to operate in space like Miller.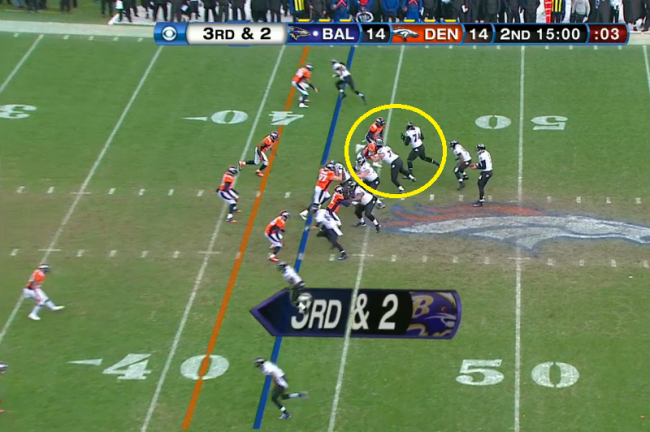 You'll notice that Freeney is listed as the prototypical nine-technique defensive end in Monson's review. Put simply, this is the defensive end who lines up wide of the offensive tackle or tight end on his side and pins his ears back to rush. The Broncos use Miller in that role now, and that's not going to change. There's simply no place for him to play when the Broncos use a four-man front.
From the four-man front, the Broncos can also do a lot of different things with Miller since he plays the run and drops in coverage well. The offensive line has to account for Miller coming off the edge and slide the protection to his side, which allows the Broncos to drop Miller occasionally and bring a blitzing linebacker from the opposite side. It's still rushing just four, but the Broncos ensure their players are getting one-on-one matchups.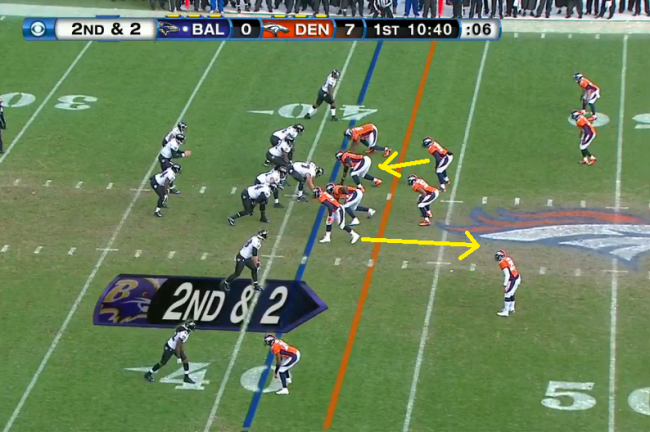 If the Broncos signed Freeney or any other pass-rushing defensive end, the Broncos would be forced to rush five in order to get him, Dumervil and Miller involved at the same time. One of the pass-rushers wouldn't be able to use their speed and pass agility in open space and would instead be in the "phone booth" with offensive guards.
Five-Man Rush
Bringing five defenders means there is going to be one less player in coverage, which makes things easier on the quarterback if he gets pass protection. The Broncos did rush five at times, but it usually meant that Miller was a blitzing linebacker. In these cases, Miller was trying to squirt through a gap or Wolfe was pinning the offensive tackle inside so Miller could bend around the edge.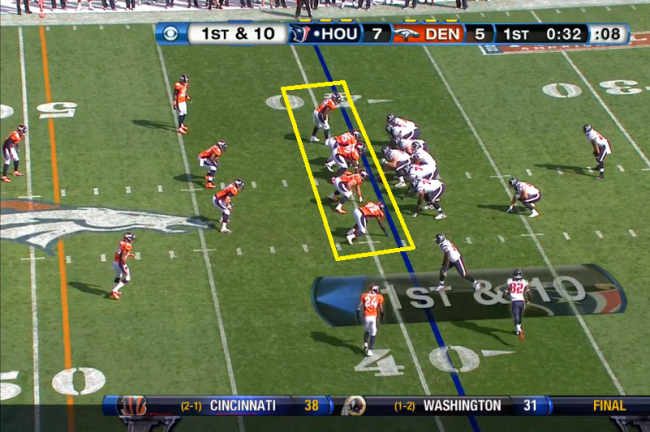 Unfortunately, sending Miller on a blitz as the fifth guy is impractical when teams go to three- and four- receiver sets that require an extra defensive back. The Broncos seemed to be moving away from these alignments against passing teams, as they did against the Ravens.
You can't have too many pass-rushers, but you can only have so many players rushing the edge. What the Broncos need is an interior pass-rusher who makes the opposing offensive line attempt to account for both Miller and the rush up the middle. Richard Seymour is a great option, as would be Glenn Dorsey or a draft pick.
Freeney doesn't make sense and neither does any other edge rusher, which is why the Broncos are in great shape defensively going forward. Many teams don't even have one edge rusher, and the Broncos have two, but they don't need a third.
This article is
What is the duplicate article?
Why is this article offensive?
Where is this article plagiarized from?
Why is this article poorly edited?