Predicting 2013 Season Statistics for Top-10 San Jose Sharks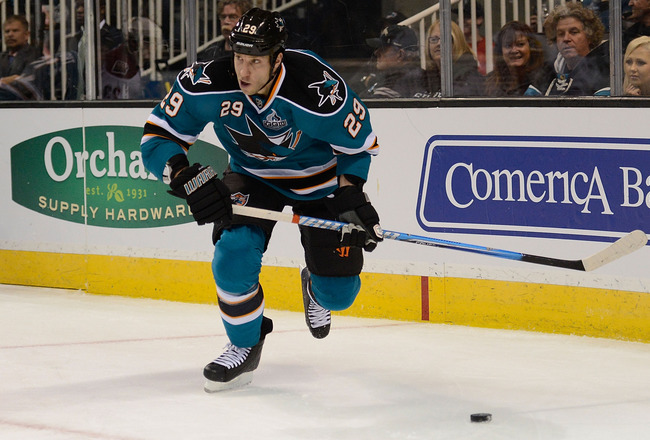 Ryane Clowe is among three skaters vying to finish among the top 10 in ice time for the 2013 San Jose Sharks
Thearon W. Henderson/Getty Images
With 70 percent of their regular season to go, predicting the final statistics for the 2013 San Jose Sharks is pure speculation.
That can make it fun but also leave one looking foolish. Things that will affect certain players more than others are even less scientific.
But why cop out and make every prediction based on the faulty assumption that the 10 most important Sharks will stay free of injury for the rest of the season? Why add a conditional "if he is not traded" to the forecast?
Even which players fill that final spot—the starting goalie, top four forwards and defensemen—is uncertain. This list will project the 10th player and project statistics for not just points, but key real-time stats like blocked shots, giveaways and takeaways...
Antti Niemi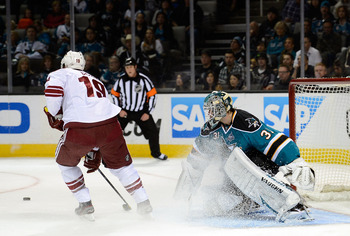 Thearon W. Henderson/Getty Images
Even if Antti Niemi does miss time with a minor injury, he will play over 30 games. At about 60 minutes each, there is little doubt that will give him more ice time than the top NHL skater in that stat, and thus leads this list.
He has probably been the best San Jose Sharks player thus far this season. Through 11 starts he is 6-2-3 with a .930 save percentage and 1.92 goals against average. Nemo finishes 23-10-5 in 38 starts with a 2.12 GAA and .929 save pct. in 2013.
Dan Boyle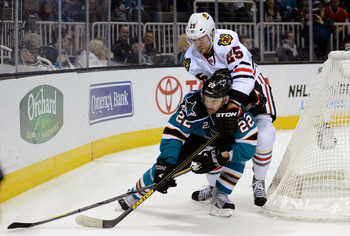 Thearon W. Henderson/Getty Images
Part of the reason Dan Boyle gets the among the most minutes every season is he has been the top-scoring NHL defenseman since joining the San Jose Sharks. But his skating makes him a valuable player in his own end, as well.
Boyle is able to get in position for blocking shots (top-50 in NHL last season), get to loose pucks and advance them. He has been durable enough to believe he will lose few if any further games, and should be able to pass the others in total ice time.
Through 12 games, Boyle has two goals and six assists with five hits, 14 blocks, nine giveaways and three takeaways. He will play 44 games, have seven goals, 21 assists, 25 hits, 47 blocks, 33 giveaways and 13 takeaways.
Marc-Edouard Vlasic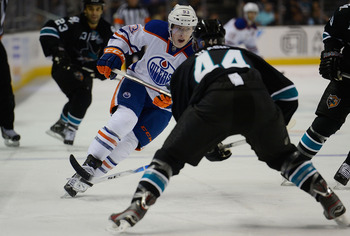 Thearon W. Henderson/Getty Images
Marc-Edouard Vlasic has been a good skater with skill on the San Jose Sharks blue line for six years. That kind of experience is invaluable, but Pickles comes with another trait especially valuable in this condensed NHL season.
He is only in his mid-20s.
Vlasic does not typically wow anyone statistically. He eats up minutes not only because of durability and endurance, but because he makes the right play almost every time.
He is having a great start to 2013, filling in many of Dan Boyle's missed time and scoring a goal and three assists with nine hits, 24 blocks, 14 giveaways and five takeaways through 14 games. He will miss just one game and finish with three goals, 10 assists, 75 blocks, 35 giveaways and 18 takeaways.
Brad Stuart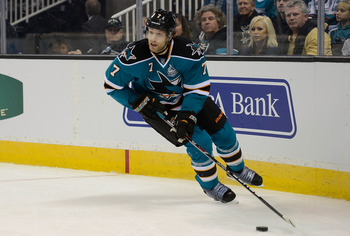 Thearon W. Henderson/Getty Images
Brad Stuart has been leaned on in the absence of Brent Burns and paired with him upon his return. He may lack the dynamic qualities of his teammate, but the San Jose Sharks can count on the solid veteran in sticky defensive situations in addition to the likelihood he finishes 2013 with more games played.
Stuart has no goals and three assists through 14 games, with 21 hits, 23 blocks, nine giveaways and four takeaways. He will play 45 games, score two goals and eight assists with 72 hits, 80 blocks, 26 giveaways and 12 takeaways.
Brent Burns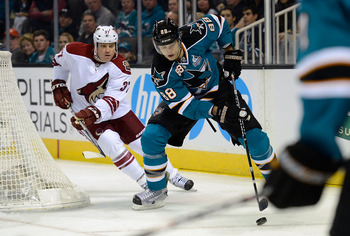 Thearon W. Henderson/Getty Images
The top four skaters in ice time are usually on the blue line. There are only six that usually dress and two are on the ice no matter how many are in the penalty box.
Brent Burns is better than the average NHL defenseman that plays 20 minutes a game. Only three San Jose Sharks forwards have averaged more than that this year.
When the fourth defenseman misses several games and needs to be eased in somewhat when he does return, there is a chance that a forward slips ahead of him. But Burns should be counted on for big minutes at the end of what will be a shorter season for him, so he should finish fourth in minutes.
He has no points, six hits, one block, four giveaways and no takeaways through three games. He will play every remaining game (37 total), score four goals and 15 assists with 68 hits, 39 blocks, 36 giveaways and 13 takeaways.
Joe Pavelski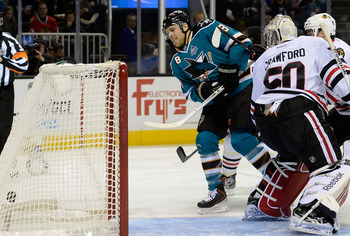 Thearon W. Henderson/Getty Images
Joe Pavelski led the 2011-12 San Jose Sharks forwards in ice time, and he will again in 2013.
He is probably the best defensive forward on the team, and one of its best offensively. That gets him out on the ice in a lot of situations.
Pavelski has the high hockey IQ and capability to handle the minutes. He is also still in his 20s and his body can handle the grind.
The Big Pavelski has six goals and eight assists through 14 games, with 10 hits, 11 blocks, nine giveaways and six takeaways. The best Shark in the circle last season, he is currently ranked second among those with more than 54 faceoff attempts, at 54.1 percent.
He will play all 48 games, score 19 goals and 24 assists with 38 hits, 43 blocks, 33 giveaways and 30 takeaways. He will win five faceoffs for every four he loses by season's end.
Joe Thornton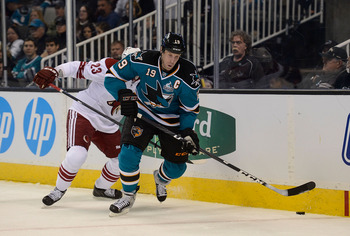 Thearon W. Henderson/Getty Images
Joe Thornton is the single best player on the San Jose Sharks. He is the most skilled offensive player and probably the second best defensive forward on the team.
In a season in which they already face an uphill climb to avoid being underdogs in the first round, the Sharks will have to rely on him a lot. He has also been healthy enough to be on the ice for almost every available game throughout his career.
Through 14 games, he has three goals and 12 assists with five hits, four blocks, 10 giveaways and nine takeaways. He currently leads San Jose in faceoff winning percentage at 56 percent.
He will play in all 48 games, score 10 goals and 36 assists and register 16 hits, 15 blocks, 33 giveaways and 35 takeaways. He will be lucky to hold his current faceoff winning percentage, but should be able to just barely maintain the team lead over Joe Pavelski.
Patrick Marleau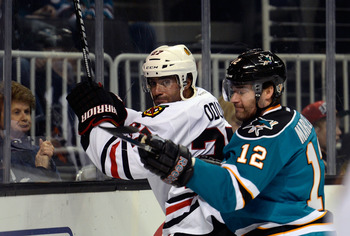 Thearon W. Henderson/Getty Images
Despite being by far the top hitter on the first line, Patrick Marleau is almost never hurt. His skating makes him an asset on the penalty kill and the power play.
That is why he finished seconds ahead of Joe Thornton for second-most among San Jose Sharks forwards in ice time during the 2011-12 regular season. It is why he is (and will remain) seconds behind Thornton so far in 2013.
Patrick Marleau has 10 goals and five assists in 14 games. He has nine hits, two blocked shots, six giveaways and nine takeaways. Capable in the faceoff circle, he has lost one more than he has won in 39 tries.
He will play all 48 games, score 22 goals and 20 assists and register 28 hits, 10 blocked shots, 23 giveaways and 27 takeaways. He will finish the season above 50 percent in the circle.
Logan Couture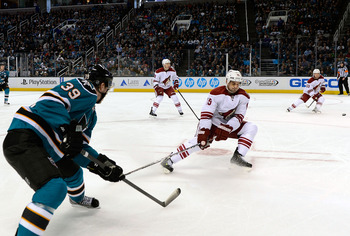 Thearon W. Henderson/Getty Images
Even though to this point he is not getting as much ice time as Patrick Marleau, Logan Couture is younger, equal in skills and a better defensive player. He should be able to put up bigger minutes late in the condensed 2013 NHL season.
But some elite forwards have to miss time. Marleau's bigger size, better skating and shall we say, less consistent sacrifice, will help him avoid injuries.
So far in 14 games, Couture has six goals and six assists to go with 13 hits, 11 blocks, six giveaways and eight takeaways. Of the four Sharks with over 54 faceoffs, he has the lowest percentage by a hair, but is still at a respectable 53.2 percent.
He should not miss much time or production: 42 games played, 18 goals, 20 assists, 40 hits, 43 blocks, 19 giveaways and 22 takeaways. His faceoff wins will end the season a hair over 54 percent.
Martin Havlat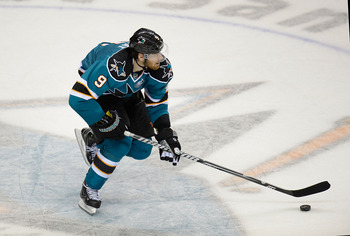 Thearon W. Henderson/Getty Images
The battle for the San Jose Sharks skater with the ninth most ice time will come down to the wire. Let me tell you why I went with the injury-prone Martin Havlat.
Douglas Murray, Jason Demers and Justin Braun will be battling for the last two blue-line spots. Even if one is injured or traded, calling up Matt Irwin would likely result in him getting into the rotation. All of them will miss time.
Ryane Clowe is almost as injury-prone as Havlat, though they are rarely as serious. Still, his physical play puts him at higher risk of injury with the condensed 2013 NHL schedule.
Oh, and he will likely be traded.
When have the Sharks not made a deadline deal? How many players might be wanted by other teams to bring an impact player in return, most likely in combination with another player, prospect, pick or some combination thereof?
Clowe's lack of trade restrictions, cap number and expiring contract make him a likely bargaining chip to help swing a deal for a big player. He can play now and another team would have an easier chance to fit the 30-year old under their cap this summer.
Even if the reports of a no-trade clause for Havlat are not true, he is more overpaid and older, thus less desirable in a trade. A once-fast team, the Sharks now need Havlat's speed.
Through 14 games, he has three goals, two assists, one hit, five blocks, seven giveaways and three takeaways. He will play in 43 games, score 10 goals and 12 assists, and register five hits, 18 blocks, 22 giveaways and 12 takeaways to go with a win and three losses in the faceoff circle.
Keep Reading

San Jose Sharks: Like this team?