New York Giants: Ranking Their Three Greatest GMs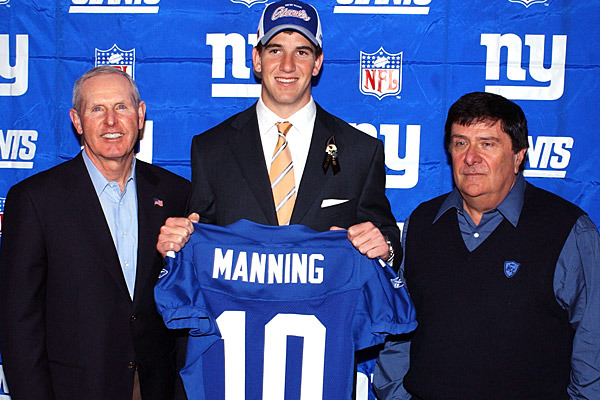 Eli Manning lands in NY via a 2004 Draft Day trade.
The New York Giants have a long and illustrious history. From their inception in the NFL in 1925, they have won eight NFL titles, including four Super Bowls. While the names of the players who have delivered those titles have changed over the years, the faces behind the scenes have been consistent.
The general managers most synonymous with the Giants and winning are George Young, Ernie Accorsi and Jerry Reese.
Between them, they have won four Super Bowls and five NFC championships. But which of these three is the greatest?
Let's look at the facts.
Begin Slideshow

»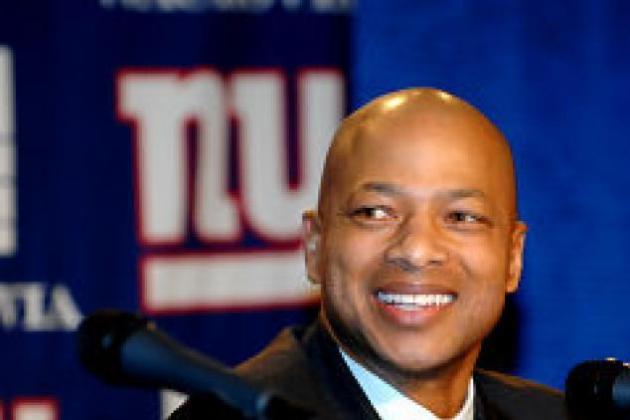 Jerry Reese has been the architect of two Super Bowls.
When he took over the job in 2007, the direction of the franchise was in doubt. The team had not been to the Super Bowl since the 2000 season and had lost all three playoff appearances in that span, each time being a wild-card entry and not a division winner.
With a nucleus established, Reese built on it with a good draft class in his initial season. He drafted Aaron Ross, Steve Smith, Kevin Boss, Ahmad Bradshaw and Zak DeOssie, among others.
With that infusion of talent, franchise QB Eli Manning had his weapons, and the team made a historic run to an eventual Super Bowl win that year. They followed it up four years later with another remarkable Super Bowl run with a similar cast.
Instead of mainstay names like Plaxico Burress, Amani Toomer, Antonio Pierce and Michael Strahan, however, they won the second time with Victor Cruz, Mario Manningham, Hakeem Nicks and Jason Pierre-Paul, all Reese draftees.
With Reese at the helm, the Giants seem headed in the right direction. While Reese has two rings for his efforts, one could argue that the first ring could be shared with Ernie Accorsi, who pulled the trigger on the daring draft-day trade that resulted in Eli Manning becoming a Giant.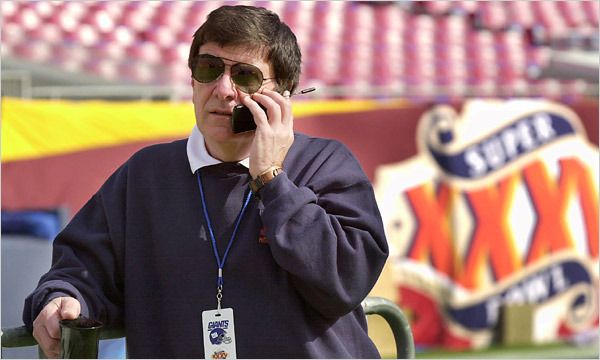 Accorsi is credited with one Super Bowl appearance.
It's a tough job when you have to follow a legend. One has to either emerge from an enormous shadow or stumble in its darkness. That was the challenge Ernie Accorsi faced when he took the reins of the Giants organization from George Young.
Accorsi was up for it. He began with smart front-office moves, solid drafts and free-agent acquisitions. After adding quarterback Kerry Collins, the Giants offense finally had firepower to equal their ferocious defense.
This combination led to an appearance in the Super Bowl against the Baltimore Ravens. Afterward, Accorsi continued to field a playoff-contending team mostly every year until 2003 when the Giants went 4-12 and lost their final eight games, leading to the firing of coach Jim Fassel.
Accorsi hired Tom Coughlin to replace Fassel and drafted Philip Rivers with the first pick of the 2004 draft. Then, Accorsi traded Rivers and multiple draft picks to the Chargers for Eli Manning.
It was a four-for-one trade that many fans and media members dismissed as being lopsided in the Chargers' favor. But, in the end, the only player in the deal with a Super Bowl ring is Manning, and he has two.
In addition to this, Accorsi was responsible for drafting such players as Osi Umenyiora, Justin Tuck, Brandon Jacobs, Dave Diehl, David Tyree, Mathais Kiwanuka, Derrick Ward, Jeremy Shockey, Dhani Jones, Ron Dayne, Ron Dixon and Luke Petitgout.
While his tenure on paper only netted the team one Super Bowl berth in four playoff appearances, it had a profound impact on not just the history of the franchise but the current state of the team as well.
What another legend left behind, Accorsi made legendary.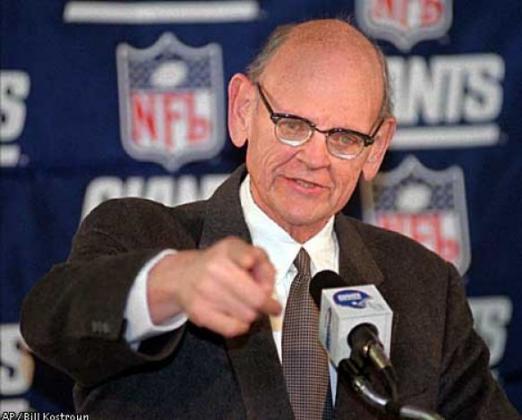 The NFL appointed Young in dire circumstances.
The Giants were in complete disarray in 1979 when George Young became general manager. The owners were so much at odds, they were not even on speaking terms. The NFL stepped in by appointing a neutral party, Young, as GM.
He began by hiring Bill Parcells as his head coach. Then, as if to top that, he drafted Phil Simms and Lawrence Taylor in a three-year span.
Along with these greats, he is credited with drafting Carl Banks, Leonard Marshall, Joe Morris, Mark Bavaro, Jeff Hostetler, Gary Reasons, Pepper Johnson, Jumbo Elliot, Rodney Hampton, Jason Sehorn, Amani Toomer, Tiki Barber and Michael Strahan, among many other Giants greats.
His tenure delivered two Super Bowl wins, including the Giants'—first of the Super Bowl era following the 1986 season. The Giants had eight playoff appearances in his tenure, with three as division winners and two ending in championships.
He passed on a roster that was instrumental in Accorsi's early success and 2000 Super Bowl run. He drafted two players—Taylor and Michael Strahan—now in the NFL Hall of Fame and a coach, Parcells, who will be inducted this fall.
His legacy has endured long after his death in 2001. He was a five-time NFL Executive of the Year Award recipient (1984, 1986, 1990, 1993 and 1997) and the true architect of the modern-day brand that is New York Giants football.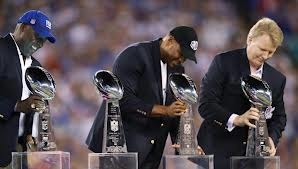 All four Super Bowl trophies on display.
Taking everything into consideration, it is plain to see that George Young was the Giants' best GM.
What he was given by his predecessor Andy Robustelli in 1979 and what he was able to establish for the next 19 years were as different as night and day.
What he passed on to Accorsi was the foundation that Accorsi passed on to Jerry Reese. But it all stems from Young.
Without him, there would not be a dominant L.T. and Phil Simms against the Denver Broncos. There would not be a Jeff Hostetler and a missed field goal, wrapping up a dramatic Super Bowl win.
There would not be a dominant Michael Strahan hoisting the Lombardi Trophy in celebration as he rides into the sunset. There would not be a Bill Parcells' Hall of Fame induction or the level of pride the fans and organization have in the franchise's illustrious history.
These memorable moments may have occurred somewhere in the NFL, but without Young, they would not have occurred with the Giants.
His legacy is establishing a winning tradition that has lasted through generations and will endure into future decades as well.
(For more articles like this, please check out my blog, Big Giants Boom)