NBA Draft Analysis and Breakdown of UCLA Star Shabazz Muhammad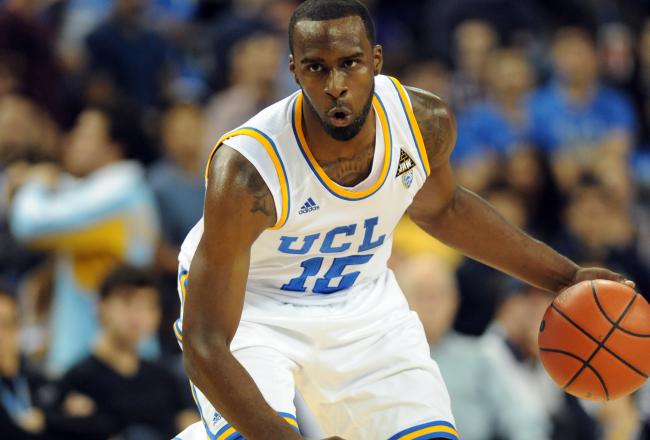 USA TODAY Sports
Shabazz Muhammad is auditioning with NBA teams for a top scoring position.
A consensus top-two national recruit, scouts have had their ears and eyes on Muhammad since his early days in high school.
Now he's at UCLA, where he's averaging 18 points per game in a system that makes it very difficult to do so.
Physical Tools
Muhammad's physical tools play a significant role in the way he approaches his game. He has perfect 6'6'' size for a shooting guard or a wing, with a strong, wide frame that can overwhelm vulnerable defenders.
Despite a top-heavy body, Muhammad is light on his feet and moves extremely well around the court. He has the foot speed to face up or make sharp cuts off the ball.
Muhammad is also an explosive athlete who can get up over the rim and finish full-speed ahead. The combination of power and finesse adds to his versatility as a scorer.
On-Ball Offense
Muhammad has the desire to be a primary offensive scoring option. He wants the ball on every possession, whether it's coming off a curl or in isolation on the wing.
With the ball in his hands, Muhammad is a multidimensional threat. He has incredible scoring instincts which help him navigate through a defense and show him the easiest route for points.
Muhammad's very first shot-attempt at UCLA tells you all you need to know. Muhammad caught the ball, took a dribble and without making eye contact with the rim, stopped on a dime before rising and firing.
Muhammad knows where the rim is at all times. He has a feel for the game that can't be taught.
Facing the rim, he's shifty off the dribble and can get into the lane and score on the move. Muhammad has the agility and touch inside to elude defenders and finish with finesse.
He's more effective off the ball as a spot-up threat and a slasher. But with an angle to attack and room to operate, teams can give the rock to Muhammad and watch him go to work.
Off-Ball Offense
Muhammad's ability to play off the ball is more impressive than his ability to create on it.
As an off-ball scorer, Muhammad is active and moves with purpose. He desperately wants the ball whenever he comes out of a route.
He's an excellent slasher who can make diagonal cuts through the lane and finish using angles. Once he catches the ball on the move, Muhammad shows tremendous body control and the ability to finish after contact.
His favorite shot is his one-handed push shot. Muhammad has a great feel for the ball and can turn tough angles into easy scoring opportunities with the ability to separate and release with one hand.
Muhammad is also an excellent three-pointer shooter, making 42.9 percent of his attempts from behind the arc. He has sweet rhythm as a catch-and-shoot shooter, stepping into his shots and rising with balance.
Because of his accuracy spotting up, Muhammad can stretch the floor and provide a target for his point guard in the drive and dish game.
Weaknesses
While being a lefty is an advantage, Muhammad's right hand is awfully weak. Rarely does he use it off the dribble. Teams that have forced him to do so have contained his scoring for most of the game.
The only other glaring weakness is creating separation as a perimeter scorer. He doesn't have that step-back mid-range jumper or pull-up long-range three-ball that the top NBA scorers have at their disposal.
He needs work defensively as well, as he's prone to getting beat on the perimeter by quicker guards.
NBA Outlook and Draft Analysis
Muhammad is the most complete scorer of any of the top prospects because of his ability to play on and off the ball.
Where Should Shabazz Muhammad get Drafted?
When you take a look at the teams projected to draft at the top of the lottery, most could use a dynamic scoring wing. The Washington Wizards, Orlando Magic, Charlotte Bobcats, New Orleans Hornets, Phoenix Suns and Sacramento Kings will all be giving him a look.
Muhammad's direct competitors are Kansas' Ben McLemore and UNLV's Anthony Bennett, who both can occupy the wing and provide offensive firepower and a consistent scoring presence.
Muhammad should shine at the NBA combine because of his shot-making and favorable measurements.
This article is
What is the duplicate article?
Why is this article offensive?
Where is this article plagiarized from?
Why is this article poorly edited?