8 Reasons Why the Los Angeles Dodgers Will Win the NL West in 2013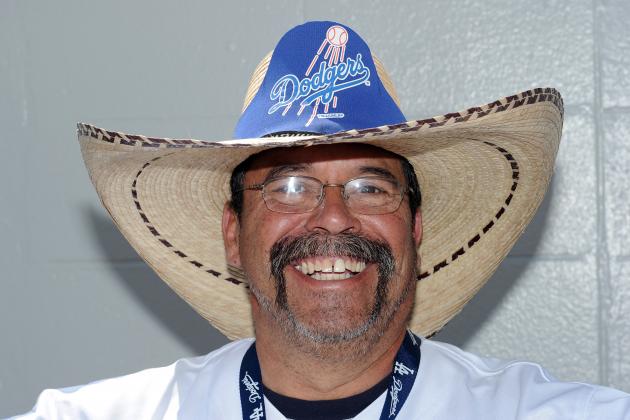 Harry How/Getty Images
Dodgers fans will have plenty of reasons to smile in 2013.
The Los Angeles Dodgers have spent the better part of a year transforming themselves into a World Series contender. With pitchers and catchers due to report to the Dodgers' sprint training facility in Glendale, AZ on Tuesday, February 12, Los Angeles looks like the favorite to win the National League West this season.
The Dodgers have not won the division since 2009, the last time they made the playoffs in any capacity. Meanwhile, the San Francisco Giants, L.A.'s chief rival, has won two World Series titles since 2010.
Almost immediately after taking ownership of the team last spring, Guggenheim Baseball Management made a return to playing winning baseball a top priority. Magic Johnson and Co. opened up their wallets, empowering Dodgers general manager Ned Colletti to do whatever it took to turn the team's fortunes around.
Colletti took that directive literally, making a series of big signings and blockbuster trades to infuse the Dodgers with All-Star-caliber talent all over the diamond. Now, players such as Adrian Gonzalez, Carl Crawford, Josh Beckett, Hanley Ramirez and Zack Greinke are all set to play their first full seasons in Los Angeles.
The expectations for the 2013 Dodgers have a World-Series-or-bust feel and understandably so. With a payroll projected to top $213 million on Opening Day—the MLB's Top Payrolls in 2013" target="_blank">highest in MLB ahead of the New York Yankees at $210 million—fans have every reason to expect Los Angeles to end its three-year playoff drought.
The roster is set, and fans are more excited about the Dodgers than they have been in years. Here are eight reasons why Los Angeles will win the NL West in 2013.
Begin Slideshow

»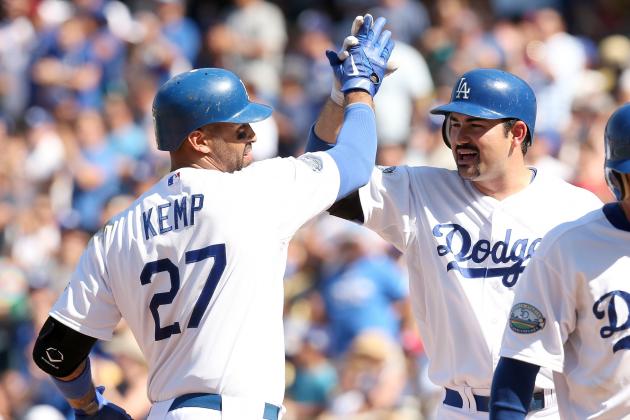 Stephen Dunn/Getty Images
Matt Kemp and Adrian Gonzalez should exchange a lot of high fives this season.
The Giants and St. Louis Cardinals, in winning the last three World Series, proved that you don't need a team of All-Stars to win a championship. However, in the case of the Dodgers, it doesn't hurt to have a roster littered with very accomplished players.
Following the Greinke signing, Los Angeles now has 11 players with a combined 25 All-Star game appearances and eight Gold Gloves between them. San Francisco, by contrast, has seven former or current All-Stars with 16 combined appearances.
Of L.A.'s accomplished group of players, only left-hander Ted Lilly is at an age (37) where he can no longer be expected to perform at an All-Star level.
The other 10 Dodgers are all 32 or younger, so it is fair to expect great things from them this season. This group includes two former NL MVP runners-up (Matt Kemp and Ramirez) and two former Cy Young award winners (Clayton Kershaw and Greinke), all of whom are 29 or younger.
As ESPNLosAngeles.com staff writer Mark Saxon recently explained, this grand experiment could implode at any moment. But I'm guessing that manager Don Mattingly is paying close attention to the saga playing out with the Los Angeles Lakers.
I am certain that he will take every precaution to prevent a similar soap opera in the Dodgers' clubhouse.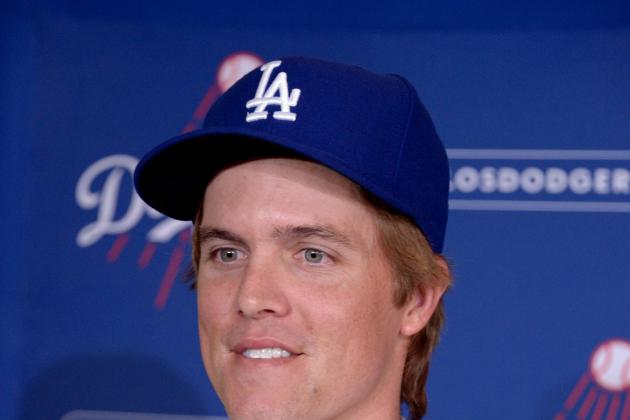 USA TODAY Sports
Zack Greinke will be a potent No. 2 starter behind ace Clayton Kershaw.
When the Dodgers signed Greinke to a six-year, $147 million contract last December, he immediately joined Kershaw as one of the best 1-2 starting pitching combinations in Major League Baseball. Fans in San Francisco, Philadelphia, Washington and Detroit may take issue with that, but the evidence is irrefutable.
Along with the Phillies and Giants, the Dodgers are the only other team in MLB with two former Cy Young award winners on their staff.
Unlike Philadelphia's duo of Roy Halladay, 35, and Cliff Lee, 34, Kershaw (who will turn 25 in March) and Greinke (29) are both in their primes. They are also unquestionably the No. 1 and No. 2 starters in the Dodgers' rotation, while Cole Hamels is now the ace of the Phillies' staff.
You could make very strong cases for Matt Cain and Madison Bumgarner (Giants), Stephen Strasburg and Gio Gonzalez (Nationals) and Justin Verlander and Max Scherzer (Tigers) all being better tag teams than Kershaw and Greinke in Los Angeles. I'll save the detailed analysis for a future article (coming soon), but suffice it to say that each pair is flawed.
Other teams' top-two starters may be younger, have greater potential or possess better pure stuff than Greinke and Kershaw. But no other duo has a better combination of proven track record and potential upside than L.A.'s pitchers.
Stephen Dunn/Getty Images
The Dodgers signed South-Korean lefty Hyun-Jin Ryu to improve an already deep rotation.
The Dodgers' impressive stable of arms does not end with Kershaw and Greinke. Los Angeles finished second in the National League in team ERA (3.34) last season, without the benefit of some notable late-season and offseason acquisitions that it will now have the entire year.
The Dodgers dominated headlines last summer with a series of high-profile trades that added Beckett and Brandon League to the staff. As the No. 3 or No. 4 starter (Beckett) and primary closer (League), both players will be major contributors this season.
Greinke's impact on the starting rotation has been the talk of the offseason. However, Los Angeles further bolstered their pitching by signing South Korean lefty Hyun-jin Ryu to a six-year, $36 million contract.
He will almost certainly begin the season as the third or fourth starter.
Adding left-handed relief pitcher J.P. Howell to the bullpen offsets the loss of Randy Choate. Choate was acquired in the Hanley Ramirez deal, but was not re-signed as a free agent this offseason.
With 2012 regulars Chris Capuano and Aaron Harang still on the roster, Los Angeles would appear to have too many starting pitchers. But the extra arms offer insurance as Chad Billingsley and Lilly battle back from injuries that ended their 2012 seasons prematurely.
At the very least, the Dodgers have valuable trade assets that can be used to address other needs as they arise.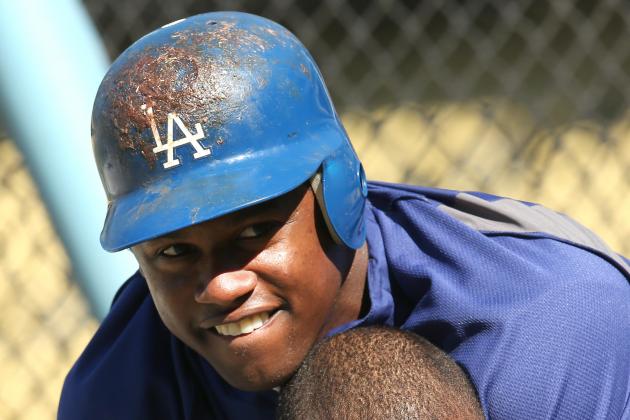 Stephen Dunn/Getty Images
30-30 Seasons from Kemp and Hanley Ramirez are not out of the question.
Despite lacking a traditional leadoff hitter, the Dodgers should field one of the best lineups in the majors. That would be quite a jump for a team that finished 2012 ranked 13th in the NL in runs scored, but there are many reasons to be optimistic.
The Dodgers will have Gonzalez and Ramirez in the middle of the order for a full season for the first time. While both struggled occasionally during their brief time in Los Angeles, each showed flashes of returning to their All-Star form.
Aside from hitting a home run in his first at-bat as a Dodger, Gonzalez struggled mightily during his few weeks in Los Angeles. He rediscovered his stroke down the stretch, however, hitting .319 over his final 116 at-bats during September and October.
Ramirez may not win another batting title—as he did in 2009—but the move to Los Angeles seemed to renew his passion for the game. He hit 10 home runs and drove in 44 in just 64 games with L.A. The Dodgers still have concerns about his defense at shortstop, but his bat will not be an issue.
The biggest question marks for Los Angeles are the returns of Carl Crawford and Matt Kemp from major injuries.
Crawford has yet to play a game for the Dodgers after Tommy John surgery ended his season in mid-August. He is expected to be the starting left fielder on Opening Day, but his recent injury history, dating back to his two years in Boston, leaves plenty of people skeptical about his ability to return to the player he was in Tampa Bay.
Kemp was well on his way to topping his 2011 NL MVP runner-up season before a hamstring injury cost him 53 games from May through July. A late-season shoulder injury was the nail in the coffin of a promising season that quickly went south.
Kemp is also expected to be ready for Opening Day, but the Dodgers are far less certain that he will be anywhere close to ready to duplicate last April's torrid pace.
While right fielder Andre Ethier will need to shake off the uneasiness from an offseason filled with trade rumors, he is still one of MLB's best right fielders.
Third baseman Luis Cruz and catcher A.J. Ellis emerged as pleasant surprises at the plate last year. The Dodgers are hopeful that the two late bloomers will continue to impress in 2013.
There are plenty of reasons to question whether L.A.'s collection of former All-Stars will produce on the field—and get along off it. Some of those concerns may indeed prove prophetic, but the Dodgers will field one of the best offenses in the majors by season's end.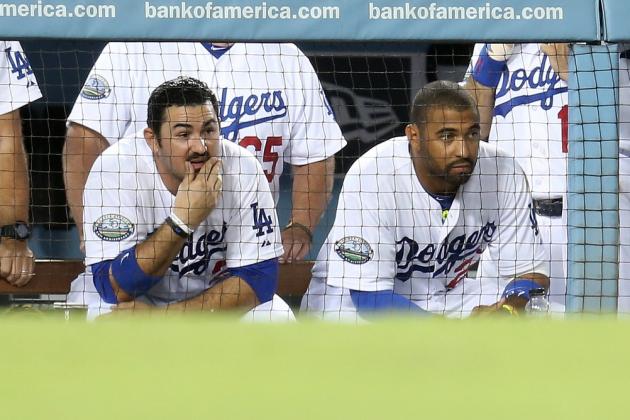 Stephen Dunn/Getty Images
Gonzalez will be more comfortable in his first full season in L.A.
The last six weeks of the Dodgers' 2012 season proved that even premiere talent takes time to develop into a winner. But anyone who thought Los Angeles was going all-in to win last year's World Series was missing the big picture.
Team president Stan Kasten has openly discussed his two-part plan for restoring the Dodgers to glory. The long-term goal is to once again make Los Angeles one of MLB's most respected organizations for scouting and player development.
While that is an admirable goal, it takes time to translate into wins at the major league level.
The second part of Kasten's plan, and the primary goal of the Guggenheim Baseball Management ownership group, was to put a winner on the field as soon as possible. However, last season was merely an appetizer for the promise of 2013 and beyond.
Now that Beckett, Gonzalez, Ramirez and League have had a full offseason to get acclimated to their new home, the Dodgers expect them to start strong this year.
Greinke may be new to the Dodgers, but he spent the last three months of 2012 pitching in Los Angeles in the middle of a playoff race, albeit for the Angels. He performed better as pressure increased down the stretch, exactly the type of situation the Dodgers expect to be in for the foreseeable future.
Although Crawford has yet to suit up, he has had more than six months to get excited about playing for the Dodgers. He seems genuinely happy to have a fresh start and make his disastrous stint with the Red Sox a distant memory.
Expectations will be high in L.A., but having roster certainty to begin the season may help the Dodgers duplicate last season's surprising start. In case you forgot, Los Angeles had the best record in the majors (42-27) as late as June 20.
Kasten was one of the architects of the Atlanta Braves' dynasty during the 1990s. He was also the man responsible for assembling much of the talent on the Washington Nationals, perhaps the National League's best team.
Magic Johnson may get all the headlines and camera time, but the Dodgers have a brilliant baseball man calling the shots.
Kasten knows that Rome was not built in a day. He also knows that once the proper infrastructure is in place, you can compete for championships for a long, long time.
The blueprint worked in Atlanta, is now bearing fruit in Washington and will soon manifest itself in Los Angeles.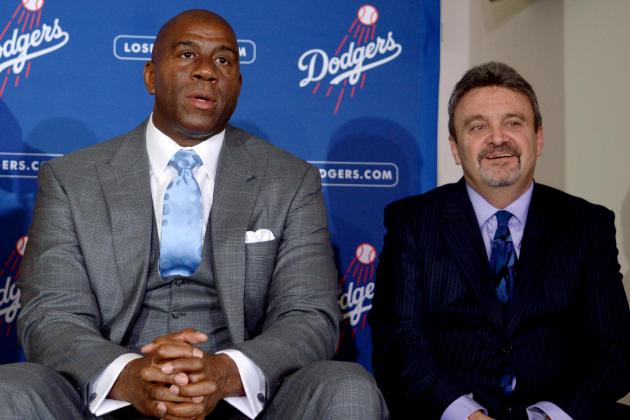 USA TODAY Sports
Ned Colletti has been busy since new ownership took over in 2012.
If the Dodgers are making as many blockbuster trades this summer as they did in 2012, the 2013 season will not be going as expected. Still, it is reassuring to know that Colletti can make drastic changes if necessary, regardless of the financial implications.
During the years that the Dodgers were owned by News Corporation (1988-2004) and Frank McCourt (2004-2012), profitability took priority over winning baseball games. The partners at GBM will not be spending recklessly, but they are also not afraid to throw around their significant financial weight.
As fans of smaller market teams can surely attest, there is nothing worse than seeing your team be unable to contend for championships solely because of financial restrictions. Fortunately, this is not a concern that Dodgers fans will have for quite some time.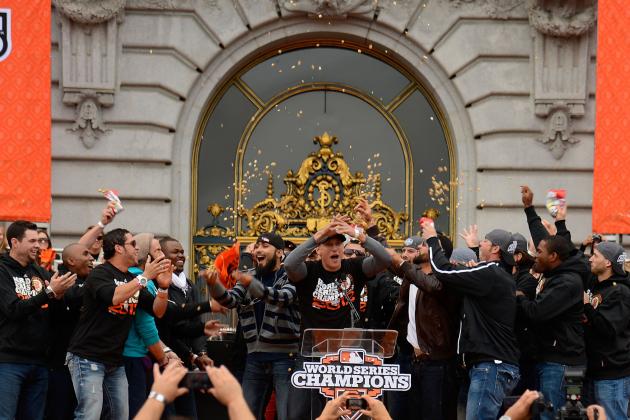 Thearon W. Henderson/Getty Images
The San Francisco Giants celebrate their 2012 World Series title.
If you don't believe that the Dodgers are motivated by the recent success of the Giants, then you don't know much about baseball history. It may not get the media attention of the New York Yankees and Boston Red Sox's storied affair, but Dodgers-Giants will soon return to being one of the best rivalries in the majors.
It has been quite a few years since Los Angeles and San Francisco were both legitimate World Series contenders. But for the first time since the franchises made back-to-back World Series appearances in 1988 (Dodgers) and 1989 (Giants), they both begin 2013 with more than the NL West division title in sight.
The Giants have quickly emerged from the dark cloud of the Barry Bonds era to become one of baseball's premiere franchises.
They have won two of the last three World Series titles, mostly due to the efforts of home-grown talent. 2012 NL MVP Buster Posey, 2012 World Series MVP Pablo Sandoval and the starting pitching trio of Matt Cain, Madison Bumgarner and two-time Cy Young award winner Tim Lincecum have become the rocks upon which the San Francisco dynasty is built.
In an era where long-term, free-agent contracts are becoming more expensive by the week, the Giants' track record of drafting and developing talent is the envy of MLB.
General manager Brian Sabean has also set the Giants up for long-term success without the benefit of a top-five payroll. San Francisco ranked 9th, 8th and 8th in payroll in 2010, '11 and '12 respectively.
Sabean has also had the good fortune of overcoming some catastrophic mistakes in free agency (Aaron Rowand and Aubrey Huff), Barry Zito's 2012 playoff performance notwithstanding.
If the Dodgers are going to win the NL West and advance to the World Series, they will likely have to go through the Giants twice. The pressure of living up to the expectations of having baseball's largest payroll is big enough on its own. The stakes get a lot higher when competing in the shadow of your oldest and most bitter rival.
Despite Kasten's long track record of success, the Giants are the new model for playing winning baseball in the modern era. You better believe the Dodgers' brass is taking notes.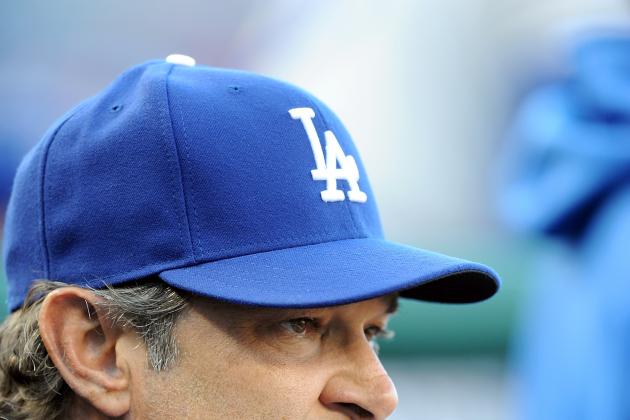 Greg Fiume/Getty Images
Dodgers manager Don Mattingly seeks his third consecutive winning season.
The Dodgers have gone through a massive overhaul during the past seven months, so it is easy to forget that this team is fairly accustomed to success. Los Angeles has had winning records in four of the past five seasons, including the last two under manager Don Mattingly.
In his first two years as a major league skipper, Mattingly has led the Dodgers to a combined record of 168-155. Despite the roster turnover and a number of significant injuries, Los Angeles finished 86-76 last year, contending for the division title and a NL Wild Card spot well into September.
The Dodgers should improve their luck in the injury department, and a few of the team's newest players come from cultures of success. Beckett brings his two World Series rings from Florida (2003) and Boston (2007), and both Greinke (Milwaukee) and Crawford (Tampa Bay) have had a taste of the postseason.
It may be 25 years since the Dodgers last made a World Series appearance, but Los Angeles has nothing close to a losing atmosphere. Taking the step from occasional to sustained success is not as big of a leap for this franchise as some would lead you to believe.