Setting the LA Clippers' Perfect Playoff Rotation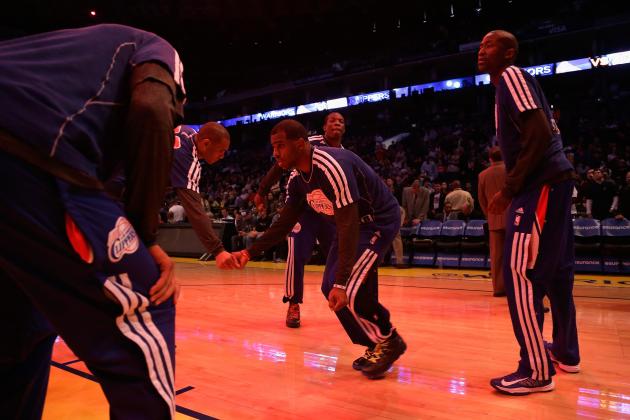 Ezra Shaw/Getty Images

Among the Western Conference contenders, the Los Angeles Clippers are hoping for a deep playoff run come April.
A franchise that has just two playoff series wins to its name, the Clips, when healthy, are in the conversation with the Oklahoma City Thunder and the San Antonio Spurs as the class of the conference.
While injuries have dropped Lob City in the standings, the combination of a loaded starting five and the deepest bench in the league should pay dividends this spring. Head coach Vinny Del Negro has often employed hockey-like line changes, playing five starters and then replacing them with five players off the bench.
An 11-man rotation might work fine during the regular season, but in the playoffs, rotations tend to get refined and shortened.
Who will lose minutes in the postseason? Who can we expect to take the lion's share of playing time?
Here is a preview of what could be Lob City's perfect playoff rotation this spring.
Statistics used in this article were accurate as of February 6, 2013.
Begin Slideshow

»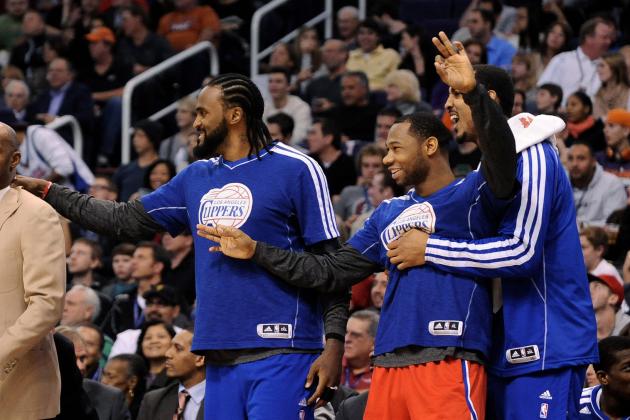 Jennifer Stewart-USA TODAY Sports

With only a combined 240 minutes available per game, Coach Del Negro might give Ronny Turiaf, Ryan Hollins and Willie Green the short end of the stick this postseason.
Although Green has started all but three games to date, the return of Chauncey Billups should relegate him back to the bench.
In fact, in the three games that Billups played, Green earned three consecutive DNP-Coach's Decisions. However, if injuries continue to plague the veteran Billups, then Green will likely return to the starting lineup.
Hollins and Turiaf are in a different situation.
Hollins plays largely in garbage time, having already fallen out of the regular rotation. While Turiaf has been a staple of A Tribe Called Bench, he has begun to lose minutes to Grant Hill.
If the Clips are healthy in the postseason, Green, Turiaf and Hollins could fall out of the rotation almost entirely.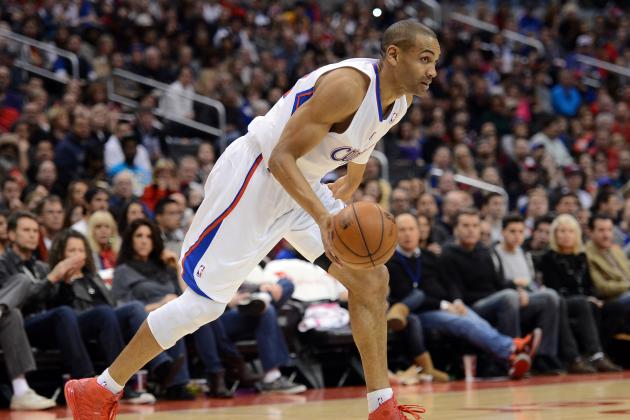 Harry How/Getty Images

Season averages: 4.3 PPG, 2.1 RPG, 1.3 APG, 6.87 PER
Minutes per game: 16.6
Breakdown: Grant Hill offers some nice versatility for the Clippers off the bench.
At 6'8", Hill is long enough to defend lanky forwards, but has the discipline to stay in front of guards on the perimeter. In the pick and roll game, he is even more valuable, giving the Clippers the option to switch Hill onto either the ball handler or the roll man.
Still returning from an injury that sidelined him until mid-January, Hill has not really gotten into any offensive groove this season.
Even with the logjam at small forward, Hill should enjoy consistent, if not limited, playing time in the postseason. Nevertheless, do not expect him to be playing more minutes than Lamar Odom or Matt Barnes.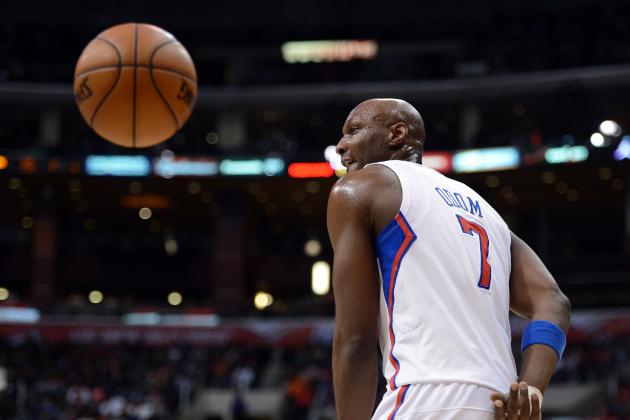 Harry How/Getty Images

Season averages: 3.9 PPG, 5.9 RPG, 1.8 APG, 10.21 PER
Minutes per game: 20.5
Breakdown: Despite coming out of his slump from his forgettable time on the Dallas Mavericks, Lamar Odom has still underperformed thus far for the Clips.
At times, Odom shows flashes of brilliance, reminding the Clipper faithful why LAC selected him fourth overall in the 1999 NBA Draft.
Even with his offensive deficiencies, Odom is still the Clips' best big at defending the pick and roll, and brings more versatility than the ultra-athletic DeAndre Jordan.
More than ever, the Clippers need Odom to come through with some offensive aggression in order to keep defenses honest. Odom will likely be the first big called off the bench in the playoffs, and he will need to perform.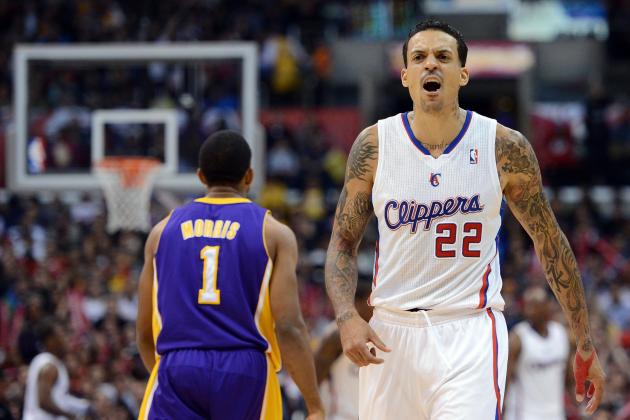 Harry How/Getty Images

Season averages: 10.5 PPG, 4.9 RPG, 16.00 PER
Minutes per game: 26.1
Breakdown: Matt Barnes is having one of the best seasons of his career.
The Clippers rely on Barnes for his staunch perimeter defense, his mental toughness and deft off-ball cutting. Over the season, Barnes has enjoyed a nice chemistry with Chris Paul and always seems to be in the right place at the right time.
It helps that Barnes has reasserted himself as a three-point threat. After two subpar seasons with the Lakers, Barnes is shooting 34.0 percent from deep, the second best percentage of his career.
Barnes has already overtaken starting small forward Caron Butler in minutes per game (26.1 to 24.4). Expect the UCLA product to play heavy minutes, defending the opposition's best perimeter threat this postseason.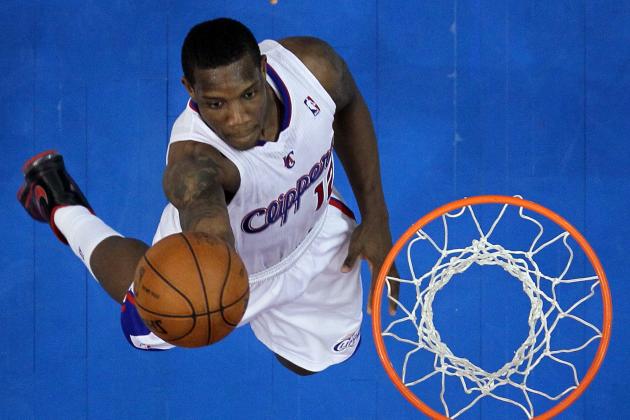 Harry How/Getty Images

Season averages: 9.8 PPG, 3.2 RPG, 3.2 APG, 1.7 STLPG, 19.04 PER
Minutes per game: 21.9
Breakdown: Eric Bledsoe has endured some rocky stretches starting for the injured Chris Paul this season.
At times, Bledsoe displays the type of game that has kept him among the most coveted young guards in basketball. In a 104-106 loss to the Boston Celtics, Bledsoe stuffed the stat sheet with 23 points, seven rebounds and 10 dimes on 60 percent shooting from the field.
In a no-show loss to the Toronto Raptors the game before, Bledsoe put up a clunker of just 10 points, two rebounds and three assists on miserable four-for-14 shooting.
With the lingering injury to Chris Paul, an interesting question has been brought to the fore: Does the Clippers' second unit miss Mini LeBron more than the starting five misses Chris Paul?
This question is not to deflect the credentials or value of the All-NBA Chris Paul, but is more of an indication of Bledsoe's value as the motor for A Tribe Called Bench.
At this stage of his career, Bledsoe appears to thrive more in limited minutes. During the Clips' undefeated December, Bledsoe had the second highest PER among point guards in the NBA, only behind CP3.
Once Paul returns from injury, expect some normalcy to return to the Clippers' rotation, as Bledsoe resumes his appropriate role with the bench squad.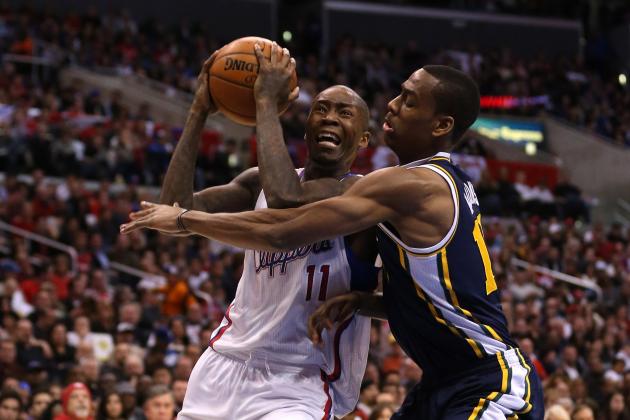 Stephen Dunn/Getty Images

Season averages: 16.9 PPG, 2.7 APG, 16.79 PER
Minutes per game: 29.5
Breakdown: A leading candidate for the Sixth Man of the Year Award, Jamal Crawford has thrived coming off the bench for Lob City this season.
Crawford has returned to the super sub that he was just a few years ago for the Atlanta Hawks, leading the Clippers' reserves in points per game.
Along with Chris Paul, Crawford is one of the Clippers' best isolation threats. Although he can throw up some head scratching jumpers, his ability to knock down the big shot and catch fire will make him all the more valuable this postseason.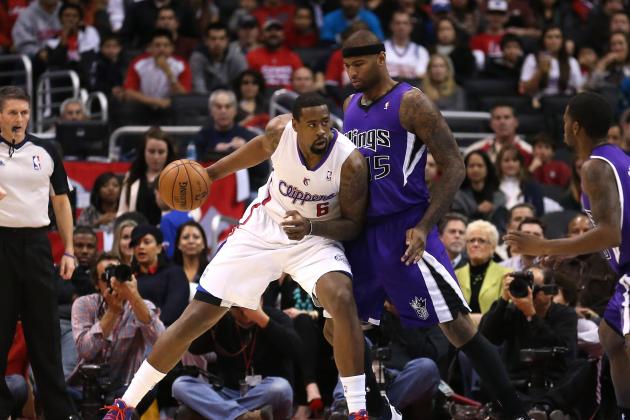 Stephen Dunn/Getty Images

Season averages: 9.0 PPG, 7.3 RPG, 1.4 BLKPG, 16.87 PER
Minutes per game: 24.8
Breakdown: At the start of the season, DeAndre Jordan looked the part of a dominant center beginning to come into his own.
With a soft jump hook, a nifty up-and-under move and his routine thunderous dunks, Jordan looked confident and aggressive early on.
Throughout the season, Jordan's game has regressed, as he now finds himself on the bench come crunch time, with Coach Del Negro opting to go with Odom instead.
In 51 games, Jordan has reached double-digit rebounding totals in just 12 contests. Against lanky forwards like Serge Ibaka or Tim Duncan, Jordan will need to come through.
DJ could be the X factor in the postseason; how he starts games could dictate this team's energy levels early on.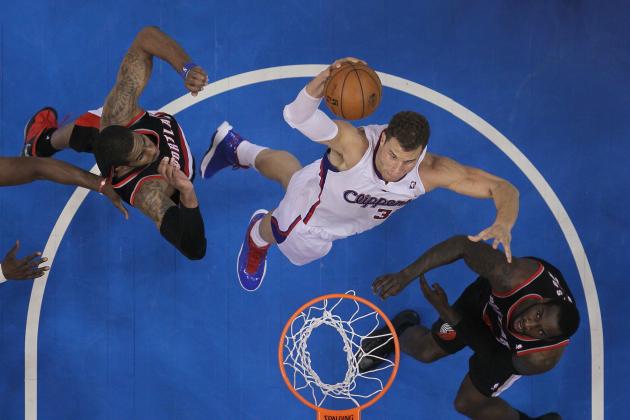 Harry How/Getty Images

Season averages: 18.5 PPG, 8.6 RPG, 3.6 APG, 23.15 PER
Minutes per game: 32.7
Breakdown: Improving on his stellar sophomore campaign, Blake Griffin has made his case as the game's best all-around power forward.
Griffin's team and individual defense has improved significantly. He looks more comfortable against double teams, and has become one of the team's best facilitators from the elbow.
BG looked his best as a facilitator in a home-and-home series against the Portland Trail Blazers in late January, notching 10 assists and 9 assists in back-to-back nights.
His perimeter game has improved as well. Griffin is shooting 36 percent on mid-range jumpers, per NBA.com.
That shooting puts Griffin in elite company as a shooting big, just off the pace of established perimeter threats LaMarcus Aldridge and Kevin Love.
The Clips will need Griffin to be firing on all cylinders this postseason. Expect his 32.7 minutes per game to go up when the games start to count.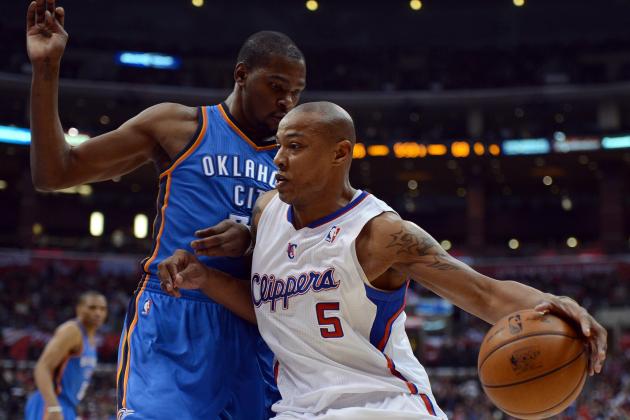 Harry How/Getty Images

Season averages: 10.0 PPG, 2.9 RPG, 11.76 PER
Minutes per game: 24.4
Breakdown: At this stage of his career, Caron Butler has lost a lot of the explosiveness that made him one of the premiere small forwards in the game in his prime.
Butler is still finding ways to contribute however, knocking down a career high 38.3 percent of his shots from downtown. The UConn product is still one of the team's most disciplined perimeter defenders and adds a component of toughness that this team sorely needs.
Come playoff time, Butler should enjoy his regular role as a starter, but will likely concede minutes to Matt Barnes off the bench.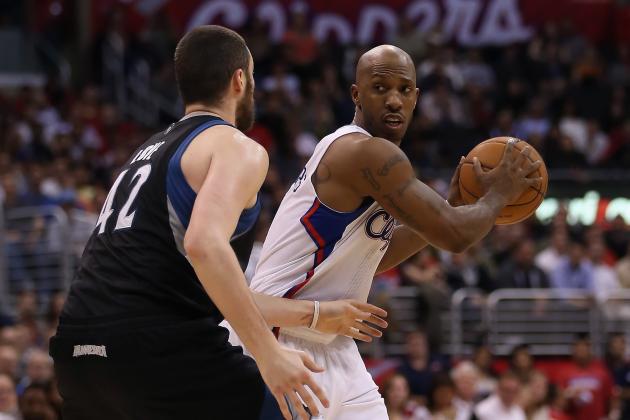 Jeff Gross/Getty Images

Season averages: 7.3 PPG, 2.3 APG, 12.51 PER
Minutes per game: 20.0
Breakdown: Battling injuries all season, Chauncey Billups has played in just three games for the Los Angeles Clippers this season.
All three of those games were victories, with Billups playing the backcourt role of veteran stabilizer.
With Billups healthy and in the lineup last season, the Clippers were one of the best teams in the NBA. When he went down with an Achilles injury in February, the team was never really the same.
While the results without Billups have been encouraging this season, Lob City is eager to play at full strength, with Mr. Big Shot resuming his role as LAC's starting shooting guard.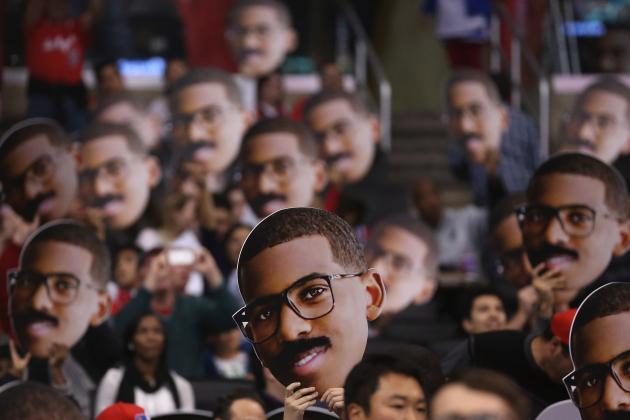 Stephen Dunn/Getty Images

Season averages: 16.6 PPG, 3.5 RPG, 9.7 APG, 2.6 STLPG, 26.15 PER
Minutes per game: 33.5
Breakdown: All-NBA Point God, Chris Paul is the Clips' best playmaker, best perimeter defender and best clutch threat.
The mayor of Lob City, Chris Paul's presence on the court alone elevates the Clippers to contender status.
With Paul in the lineup, the Clippers are a sterling 29-10. With him sidelined, the team is a mediocre 6-6.
No point guard in the game has a better understanding of what his team needs than Paul. There are few players in the league that can both inspire confidence in his teammates and inspire fear in the opposition.
Simply, with Chris Paul in the lineup, the Clippers cannot be counted out of any contest they play in.