The Biggest Offseason Priorities for the San Francisco 49ers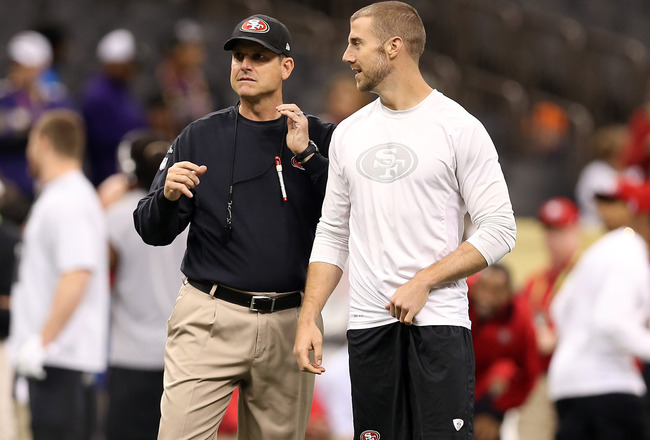 Christian Petersen/Getty Images
After a heartbreaking 34-31 defeat to the Baltimore Ravens in Super Bowl XLVII, the San Francisco 49ers will now immediately shift their focus to the offseason and to addressing the team's biggest priorities.
The 2012 season didn't end the way the Red and Gold had planned, which means it's now time to ensure that the 2013 season does.
In other words, the Quest for Six rolls on.
Head coach Jim Harbaugh, general manager Trent Baalke and the rest of the 49ers front office have some crucial decisions to make heading into a new league year. Several of the roster's starters will be hitting free agency, and the Niners now have a backup quarterback in Alex Smith that needs a new home.
As the bittersweet conclusion of the 2012 NFL season forces us to forge ahead into a new year, let us discuss the biggest offseason priorities for the San Francisco 49ers in 2013.
Finding a Home for Alex Smith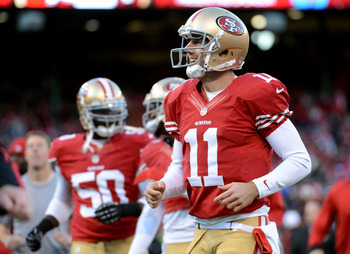 The 49ers may be able to bring in a decent pick in the 2013 draft in exchange for Alex Smith.
Harry How/Getty Images
No matter how you feel about the inevitable departure of Smith, we can all agree there is a distinct advantage to come from it.
The 49ers are willingly shopping the veteran signal-caller, as they would have to dole out $8.5 million to retain his services for another year. The money Smith's absence creates could be well spent in much-needed areas elsewhere on the field.
Though pulling off a trade for Smith could get hairy, ESPN's Adam Schefter believes the eight-year pro will be in high demand this offseason. Smith used Harbaugh's tutelage and a strong work ethic to develop into a winning QB, and there are likely a couple of NFL front offices thinking he may be a better option than any prospect available in the NFL draft.
The 28-year-old has increased his passer rating each of the past four seasons. That includes a rating of 104.1 over 10 games in 2012. It's currently unknown what type of offers the 49ers will receive for Smith, but it shouldn't take long to find out.
Bolstering the Defensive Line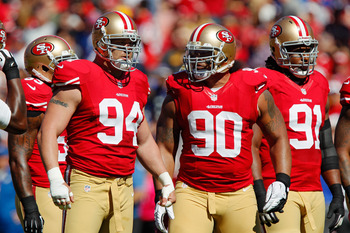 The 49ers defensive line struggled to repeat the success from the 2011 season.
Brian Bahr/Getty Images
Should the 49ers be in the market for a new centerpiece to their defensive line?
Nose tackle Isaac Sopoaga's 2012 season was far from his finest. The 31-year-old has been in the NFL for nine seasons, all with San Francisco. But is his time in the Bay Area coming to a close?
Reserve defensive lineman Ricky Jean Francois is an unrestricted free agent as well. So, the interior of the defensive line could be wearing thin if the Niners aren't able to (or decide not to) keep Soap or Jean Francois in town.
Elsewhere on the D-line, DE Justin Smith is 33 years old and will soon be having surgery on his torn triceps muscle. As tough as it is to think about, "The Cowboy" likely doesn't have much left in the tank.
The 49ers would be wise to address their need for depth across the D-line and potentially even seek out a replacement for Sopoaga through the draft or free agency.
The Niners could have as many as 14 picks in this year's NFL draft, and that's not counting any they might receive in a trade for Alex Smith, should one go down. That's plenty of ammo that can be used to move up and find a couple of valuable additions to the defensive front if the team desires to do so.
What to Do with Delanie Walker?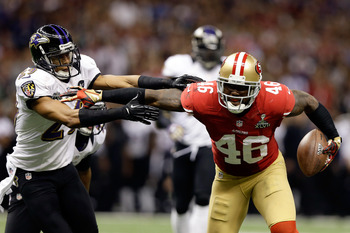 Ezra Shaw/Getty Images
Delanie Walker is referred to as "Swiss Army Knife" for a very legitimate reason. The 28-year-old tight end is a valuable asset on the football field in nearly every way one could imagine a tight end to be.
Walker, however, is now an unrestricted free agent. At 6'0", 242 pounds, the seven-year pro is undersized for his position but more than holds his own in run blocking and understands each and every one of his roles very well.
Considering how uniquely he is used, Walker would be very difficult to replace.
The 49ers love employing two tight-end sets but don't have much depth at the position beyond Walker. Vernon Davis isn't going anywhere, but losing Walker would likely leave undrafted rookie Garrett Celek as the only other TE on the roster.
If Walker has a weakness, it's his hands and small stature. For those reasons, the Niners could decide to explore other options in free agency and the draft while Walker tests his value on the open market.
But there is also the fact that No. 46 fits what the 49ers are doing on offense better than anywhere else. As a result, Walker may not draw a ton of interest. If that happens to be the case, San Francisco may be able to keep him around on the cheap and opt to upgrade another position instead.
How About Dashon Goldson and the Rest of the Free Agents?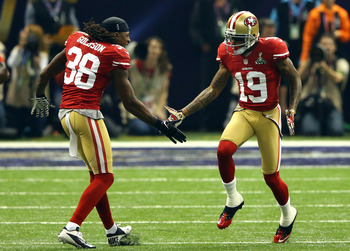 Dashon Goldson and Ted Ginn Jr. are both free agents in 2013.
Al Bello/Getty Images
The 49ers are right back where they were a year ago with strong safety Dashon Goldson.
The hard-hitting defensive back was slapped with San Francisco's franchise tag after the 2011 season, and the team will now have to agree to a long-term deal with Goldson, franchise tag him for a second consecutive year or simply let him walk.
The two-time Pro Bowl safety is a valuable piece of the 49ers defense, so the chances of him returning in 2013 are pretty solid. Then again, Goldson isn't likely to be asking for anything less than he did a year ago, and the Niners won't have a ton of extra cash to hand out this offseason, either.
Additionally, the 49ers have some decisions to make on players like Randy Moss, Ted Ginn Jr. and Jean Francois. Aside from Ginn Jr. in the return game, none of said players started in 2012, and each could be replaced if necessary.
Continue to Deepen the Roster Through the Draft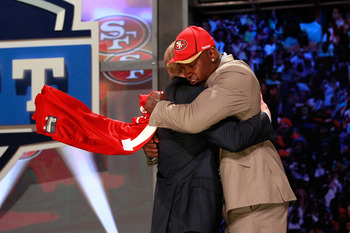 Chris Trotman/Getty Images
I believe the spot where the 49ers need the most help is along the defensive line, but there are numerous other positions where assistance is needed as well.
One spot the team must give a long, hard look in the NFL draft is tight end, regardless of whether or not they re-sign Walker. Having another pass-catching TE opposite Davis would bring yet another offensive weapon to a team loaded with them.
The center position on the offensive line is another future area of need. Current starter Jonathan Goodwin is now 34 years old and is only under contract for one more season. As it stands, no lineman on the roster looks capable of becoming the long-term answer at this position.
With a slew of picks at their disposal, the 49ers can't forget about the secondary. Depth at outside linebacker may be something to look at, too. The lack of an impact from SF's 2012 rookie class has caused many of the Niners' offseason needs to stay the same as last season.
Continue to Grow as a Team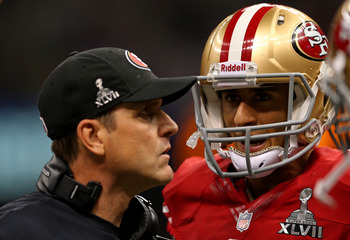 The 49ers coaching staff will continue to strengthen their already complex schemes.
Mike Ehrmann/Getty Images
The building blocks are in place for this franchise to remain among the NFL's elite for years to come.
How the 49ers respond from another heartbreaking end to a season is up to them. Luckily for fans, it looks as though the majority of Harbaugh's staff will remain in tact for at least one more year.
Even in a season that ends with Super Bowl defeat, the chemistry that has been built in San Francisco is irreplaceable.
QB Colin Kaepernick is still a newbie to the NFL despite all that he's already accomplished, and he now enters his first offseason as the starter. Sniffing out the Lombardi Trophy without actually hoisting it should only fuel his fire to become one of the NFL's next great QB's.
Whether or not the Niners re-sign Goldson and Sopoaga, the defense will once again be loaded with All-Pro veterans. This was the first taste of the game's biggest stage for almost all of these players, but the upside is that they now know exactly what to expect.
Now that this team has been to the big show, there's nothing left to do but win it.
Keep Reading

San Francisco 49ers: Like this team?