Ravens vs. 49ers: Final Grades, Analysis for San Francisco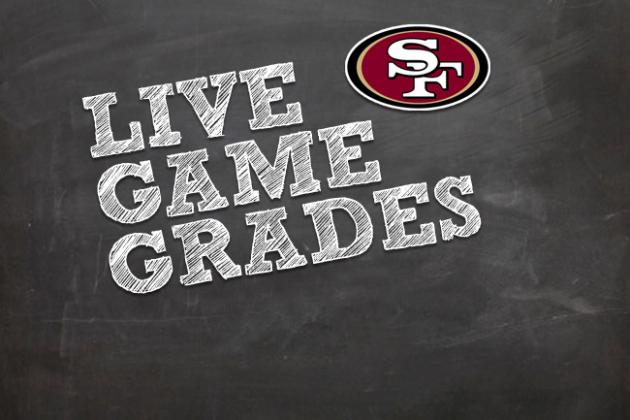 Forget the Lombardi Trophy, all that matters are these grades.
The Baltimore Ravens have beaten the San Francisco 49ers 34-31 in a heartbreaker, capturing their second Lombardi Trophy in Super Bowl XLVII and their coach, John Harbaugh once again getting the better of his more celebrated brother, Jim in their second head-to-head coaching matchup.
The Ravens raced out to a 21-6 halftime lead behind three touchdown passes from eventual game MVP Joe Flacco, who finished the game 22-of-33 for 287 yards and threw 11 touchdown passes to no interceptions in a brilliant four-game postseason run (and personal salary drive).
Their lead stretched out to 28-6 after the first play of the third quarter, when Jacoby Jones set a Super Bowl record with a 108-yard kickoff return touchdown.
Then it got really weird.
A blackout in the Mercedez-Benz Superdome caused a 35-minute delay in the game and once play resumed it was all 49ers. A 31-yard touchdown pass from Colin Kaepernick to Michael Crabtree cut it to 28-13, then 2:29 later, following a 31-yard punt return by Ted Ginn, Frank Gore scored from six yards out on a misdirection play to make it a 28-20 game.
The two teams traded field goals on their next drives and then the 49ers came oh-so-close to tying it up, driving 76 yards on five plays (capped off by Kaepernick's 15-yard scramble for a touchdown, the longest ever for a quarterback in a Super Bowl), to make it 31-29, but the two-point-conversion attempt was awry.
Once again Flacco guided the offense to a few first downs and another Justin Tucker field goal, but the 49ers still had 4:19 on the clock to score one last touchdown and complete what would've been a historic comeback.
They looked to all the world like they were going to pull it off, quickly advancing to Baltimore's 7-yard-line with 2:39 to go. However, they wouldn't get much closer. A first down run by LaMichael James (who had a costly lost fumble in the first half) gained just two yards and then, curiously, Jim Harbaugh elected to pass the next three plays, even though both Kaepernick and Frank Gore had been running effectively.
Kaepernick's three passes all fell incomplete, with the final one, intended for Michael Crabtree drawing the wrath of Jim Harbaugh because an apparent hold went uncalled.
The Ravens ran most of the clock out after that, with punter Sam Koch taking a safety on purpose to drain out all but the final four seconds of the clock. Ginn was tackled at midfield on the ensuing free kick and that was it.
For the Ravens it cements Flacco's self-proclaimed status as an elite quarterback, gives a long-awaited ring to a pair of Hall-of-Fame bound veterans in Ed Reed and Haloti Ngata (as well as receiver Anquan Boldin, who was terrific, Terrell Suggs, Matt Birk, Rice and so many other proud veterans) and sends Ray Lewis off into the sunset with his second ring.
For the Niners it's a bitter loss for Jim Harbaugh, and the first in the Super Bowl for the 49ers as a franchise, who are now 5-1 in "The Big Game." They will take little solace in the fact that they made it one step further than last season, but at least they know that they have a franchise quarterback and a surefire star for years to come in Colin Kaepernick, who made a slew of great plays (along with a few bad ones) in this game, only the tenth start of his career.
The loss must especially be painful for guys like Justin Smith, Randy Moss and Frank Gore, graybeards who don't have much time left to get that elusive championship, but football is a cruel game and only one team can leave the field smiling at the end of every season. The 49ers were excellent, but just not quite good enough.
There's always next year.
Begin Slideshow

»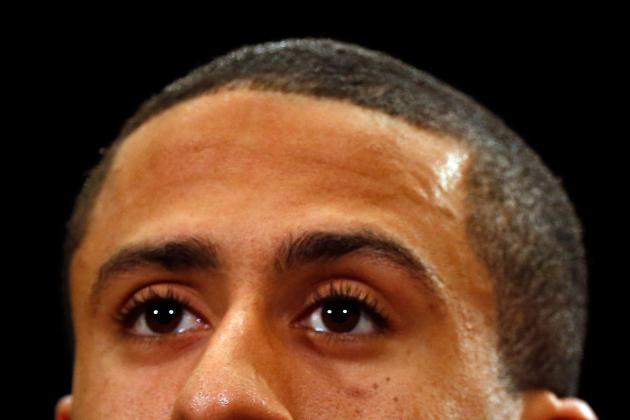 Scott Halleran/Getty Images
Even in a losing effort Kaepernick can hold his head up high, and he'll be a force in this league for the next decade.
Final Grade: B
At times it's hard to remember that Colin Kaepernick has all of 10 career starts in the NFL. Some of the reads he made, the throws he zipped into tight windows, and the calm he displayed on the biggest stage of all was just breathtaking. Just nothing ever seems to bother this kid, no matter how many points his team is down or what the game situation is.
Then there were other plays where Kaepernick's inexperience is all too apparent. After being very good with his clock management for three quarters, Kaepernick got a bit sloppy in that regard down the stretch, and it cost his team a time out and led to a couple of other hurried plays that went nowhere.
It was probably a function of the game plan, but Kaepernick repeatedly let the clock run down to the very end on most of his plays and he was playing with fire with it too much while at the same time making it easier for Ravens defenders to anticipate the snap.
For the game Kaepernick finished 16-of-28 for 303 yards with one touchdown pass, one interception and another 62 yards and a score on the ground, so it's hard to be too displeased with his performance, but the story of the game was the 49ers' failure as an offense in the red zone, and they just gave away way too many points there in the end.
It's a game that Kaepernick will ultimately learn from, but it certainly is curious why he never took it upon himself to run on any of the final three plays.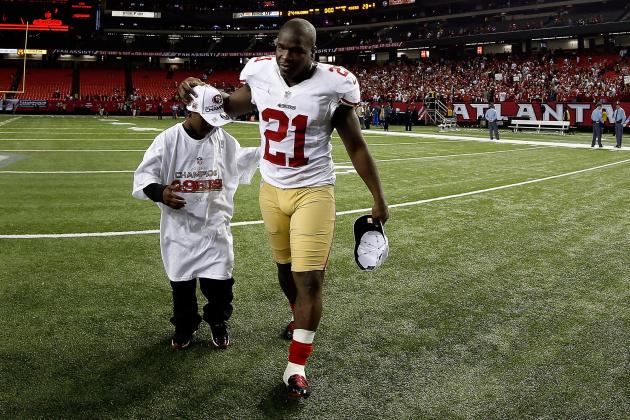 Chris Graythen/Getty Images
Another painful, bitter, wasted season for Gore, who's nearing the end.
Frank Gore: A-
Gore finished the game with 110 yards on 19 bruising carries and it's a testament to him, his linemen and the persistent play-calling of the coaches who refused to get one-dimensional even down 28-6 that he outshone the more celebrated Ray Rice on the biggest stage.
Gore broke a number of tackles, showed more acceleration and burst than any 29-year-old back with his mileage has any right to have and was for my money the 49ers MVP in a losing cause in this one. Just tremendous heart and you have to feel for him.
Bruce Miller: B
A few good pin blocks on the outside and he had as much to do with neutralizing Ray Lewis and making him a total non-factor in his final game as anyone. Did not get any touches.
LaMichael James: C-
Had an early fumble inside Baltimore's 25 that the Ravens capitalized on with a touchdown drive to make it a 14-point swing and surprisingly the next time he touched the ball on offense after that play was on 1st-and-goal from the 7-yard-line with two minutes to go. Another curious call by the coaching staff.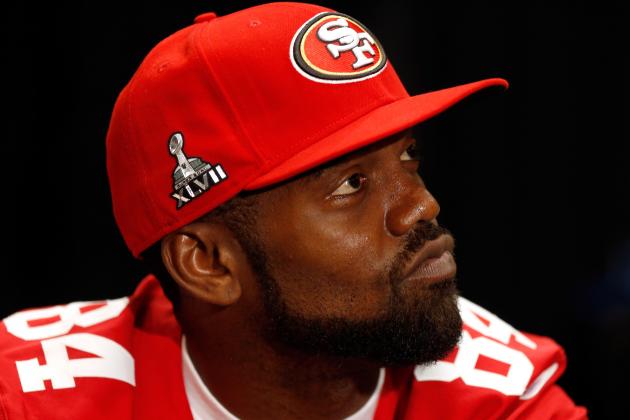 Scott Halleran/Getty Images
Oh-for-two in the big game for Moss, and you have to wonder if he'll get another chance.
Michael Crabtree: A-
Crabtree finished with five catches for 109 yards and a 31-yard touchdown, but while he only caught half of the passes thrown his way, it's hard to find fault with him for the ones that got away.
One bomb just went off his fingertips, on a play where the refs could've rightfully called pass interference. Another in the red zone was too hard and too high for him. Finally there was that fourth down play at the end, where Crabtree was practically assaulted by corner Jimmy Smith, but the zebras didn't have the guts to make the call.
Randy Moss: C+
Just a pair of grabs for 41 yards for Moss, who again comes up empty in his bid to earn a Super Bowl ring. He was never targeted for a deep ball, though he looked to be wide open on a post route on a play where Kaepernick elected to try Vernon Davis along the sideline instead.
Moss was the intended target, however, on a pass that was sailed way over his head for an interception by Ed Reed in the second quarter.
Since Moss will be 36-years-old next year, and because of some of the comments he made in the lead-up to the game about not being happy with his role in the offense, it's doubtful he'll be a 49er next year, especially with Mario Manningham due to return from injury and first-round pick A.J. Jenkins waiting in the wings.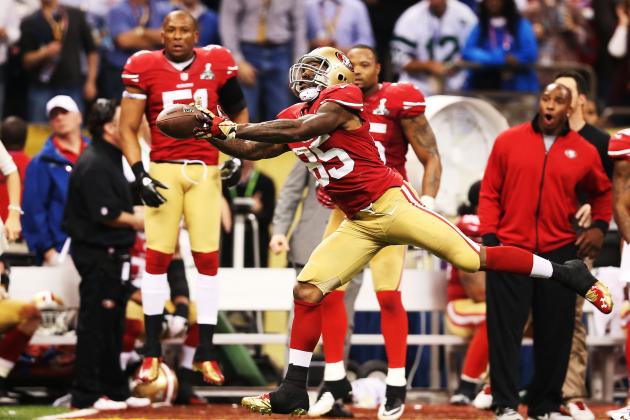 Christian Petersen/Getty Images
If a picture is ever worth a thousand words...
Vernon Davis: A
After slumping for most of the regular season, Davis finished off his season on an individual high note, posting consecutive 100-yard outings, and he's now done that in four of five career playoff games. He was a dynamic route-runner in the game, giving Dannell Ellerbe, Ed Reed and Bernard Pollard all they could handle and more, and finished with six grabs for 104 yards, with another 20-yard reception called back by penalty.
A Kaepernick bomb to Davis just overshot him by about six inches but Davis did haul in six of the eight throws his way and even in this loss it has to be somewhat heartening for Niners fans to envision a future where Kaepernick is equally comfortable throwing to him as he is Crabtree.
Delanie Walker: A-
Showed off his versatility and exactly what kind of a mismatch he can be with three catches for 48 yards in the game, and most importantly, no drops, taking a couple of big hits along the way. Walker's contract is up and I imagine he'll have a few suitors, but a final impression such as this just may force the Niners into doing whatever it takes to keep him.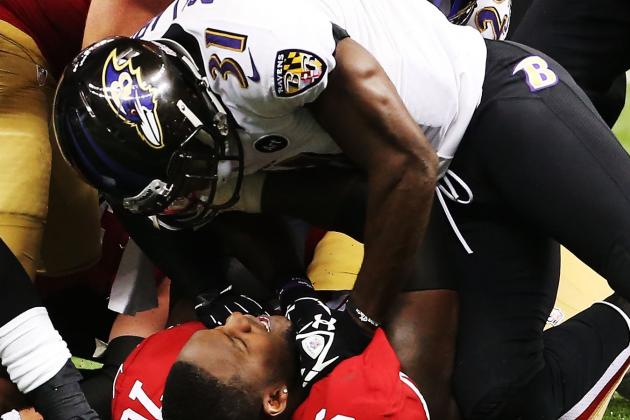 Ronald Martinez/Getty Images
Davis is usually on the other side of the pancake.
Joe Staley: B+
Didn't allow any sacks, but the running game wasn't really directed toward his side very much and Kaepernick was forced to scramble to his right (away from Staley) a number of times.
Mike Iupati: B
Struggled initially in the game but got better as it went along, and feasted once Haloti Ngata left the game.
Jonathan Goodwin: B
No bad snaps with Kaepernick, but again they had some timing issues as far as relaying to his young quarterback the urgency of the situation. Did his part in the running game.
Alex Boone: B+
Opened up some holes for Gore and like Iupati benefited from Ngata's absence in the second half. Had a few sloppy plays as well.
Anthony Davis: D
Gave up two sacks and was tossed around by Paul Kruger in the game. Some crushing run blocks too, but overall an inopportune time for his worst start of the year.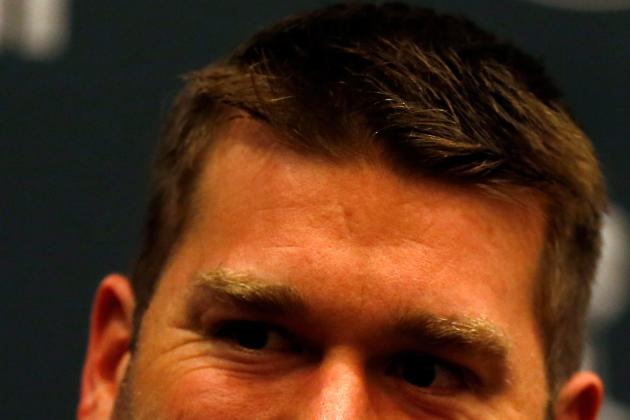 Scott Halleran/Getty Images
Poor Smith was never the same after tearing his triceps against the Patriots.
Justin Smith: C-
The "Cowboy" had some good moments in his previous two playoff games while playing with a partially torn triceps, but unfortunately he never got going in this game and had to check out numerous times. Just a sad end for Smith, 33.
Ray McDonald: B
After an inconsistent season filled with more downs than ups individually, McDonald finished strongly with a sack and a few pressures. The Ravens couldn't run to his side at all.
Isaac Sopoaga: B
In what was likely his final game as a 49er Sopoaga was in on four stops and helped collapse the pocket significantly on the snaps he played. A fine game for him to go out.
Ricky Jean Francois: B-
Played more than expected in relief of Smith and hair a pair of stops, though no real pressure on Flacco. Expected to take over for Sopoaga next season.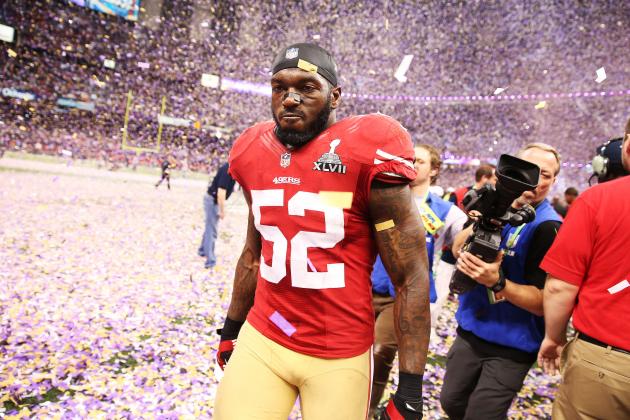 Christian Petersen/Getty Images
A sour ending for Willis, but one expects he'll have another chance on this stage.
Patrick Willis: B+
Led the team with ten stops and tackled securely overall. The coaches protected him for the most part by leaving the Ravens' tight ends for the safeties to deal with. Blitzed rarely but was solid against Rice. Helped sniff out the fake field goal attempt in the second quarter.
NaVorro Bowman: B+
Nine stops overall including a pair behind the line of scrimmage. Had a couple of delayed blitzes that were effective and he laid a couple of licks on Flacco. Finished with nine tackles, but missed a couple as well.
Aldon Smith: D
Only two stops and just one quarterback hit for Smith, who went sackless over his final six games. He had to be hiding some kind of lower body injury to go along with his shoulder. His explosiveness and effort was just not there.
Ahmad Brooks: A-
I've long held the theory that the 49ers defense is impregnable when Brooks plays well. So much for that, I suppose.
Brooks had his best game since the last time the 49ers visited the Saints, finishing with five tackles, a sacks (on a play he wasn't blocked it had to be said) and a couple of other pressures.
It just wasn't enough.
Clark Haggans: Inc.
One of two guys on the 49ers roster with a Super Bowl ring (Haggans earned it with the Steelers in 2008), he got a few snaps in the first half but didn't stand out.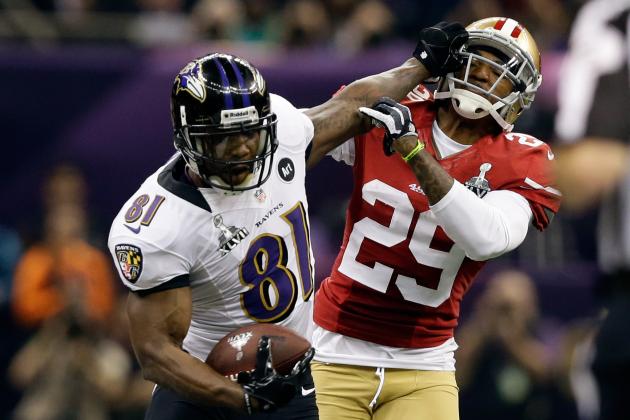 Ezra Shaw/Getty Images
Culliver's week in the Big Easy was anything but big or easy.
Carlos Rogers: B+
Has had some down weeks and overall a poor season, but the veteran slot corner accounted himself well in the Super Bowl and it took a few perfect throws by Joe Flacco to beat him at all. Really tight coverage throughout.
Tarell Brown: B+
Even a more pleasant surprise was Brown's performance, considering the way he's been torched in the playoffs. He forced a third quarter fumble of Rice, which led to three points and had tight coverage overall. Really wasn't tested too much. For whatever reason Flacco was more eager to challenge Culliver.
Chris Culliver: D+
Gave up a 56-yard bomb touchdown to Jacoby Jones, a couple of other completions to Anquan Boldin and also drew a critical pass interference flag. After a brilliant start to the season, where Culliver looked like one of the finest corners in the league for the first eight, ten games, he flagged down the stretch and it's an open question how this game (and the unwanted attention he drew to himself with his homophobic comments earlier in the week) will affect him psychologically going forward.
Donte Whitner: D-
Gave up two touchdowns in the first half (one to Dennis Pitta, one to Boldin) and a few other completions to Ed Dickson, Pitta, Boldin and Torrey Smith as well. Without a doubt the game's "LVP" in the first half, but got better somewhat in the second half, with Flacco looking elsewhere.
Dashon Goldson: B-
Finished with nine stops, cleaning up a lot of other peoples' messes after some shoddy tackles, but didn't have any kind of impact on the game with his hitting or his ball-skills. A poor finish to an overall solid season for Goldson.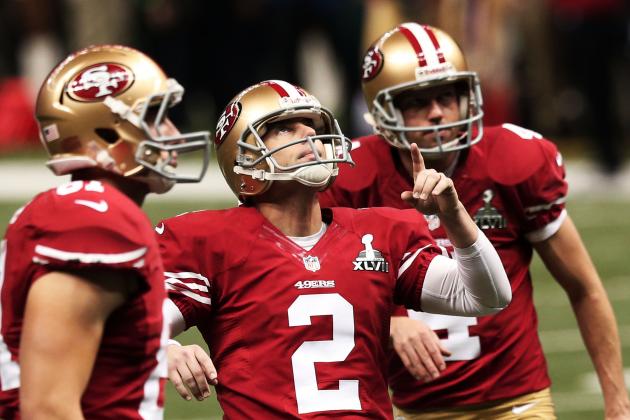 Win McNamee/Getty Images
Harbaugh wisely kept Akers' field goal attempts inside of 40 yards.
David Akers: B-
Was officially 3-of-3 on field goal attempts, but he actually missed a 39-yarder that was wiped away by a running-into-the-kicker call that turned into a 34-yard try that he drilled through.
His kickoffs were decent, and the one touchdown Jacoby Jones ran back to start the second half was not his fault, as the ball was nine yards deep into the endzone.
Andy Lee: C-
Lee's been incredible all season, but he picked an inopportune time for a poor game, grossing just 37 yards on his three punts, setting a couple up to returned by Jones and booting another out of the end zone. Just not a very accurate game for him.
Brian Jennings: A
Perfect as always for the longest-tenured 49er.
LaMichael James: B-
Averaged an even 25 yards on three kickoff returns, but never really threatened to break any of them. His blocking looked pretty solid, actually.
Ted Ginn: A-
Had a 32-yard punt return in his only chance which set up a touchdown and it was a fine way for him to go out in likely his final game as a 49er. Curiously, he never looked to lateral the final kickoff return, even when it was readily apparent that he was enveloped by Ravens and was about to go down.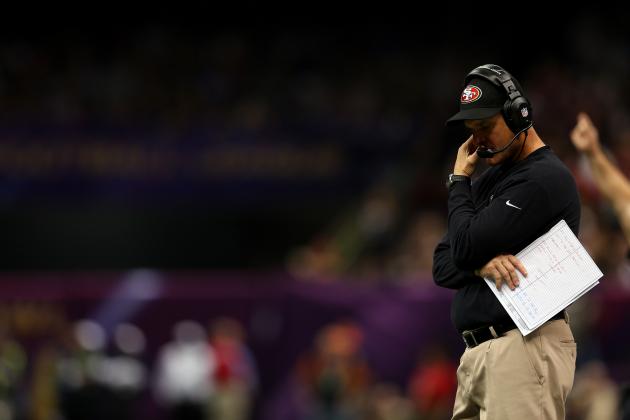 Mike Ehrmann/Getty Images
Harbaugh will be left to ponder the "what-ifs" all offseason.
Final Grade: C-
At times Jim Harbaugh and offensive coordinator Greg Roman had some brilliant calls, as they found ways to riddle the Ravens defense for nearly 500 yards of offense and managed to drive deep into Ravens territory throughout the game, despite their relatively limited number of legitimate weapons, personnel wise.
It's hard to criticize an offense where Colin Kaepernick, in only the tenth start of his career combined for 364 yards from scrimmage, where both Michael Crabtree and Vernon Davis went over a hundred yards receiving and Frank Gore rushed for over a hundred on the ground, and one that gave Kaepernick the time to find open receivers despite all of the Ravens exotic blitz schemes.
At the same time, the play-calling in the red zone was terrible, and there will be second-guessing for years for why Roman and Harbaugh saw fit to call the same sprint option play inside the five over and over again instead of running the ball with Gore or Kaepernick with plenty of time left on the clock.
The Niners squandered so many red zone opportunities, they were so poor on third downs and near the goal line, that Harbaugh and Roman have to take a hit there, and it just didn't make any sense why they weren't more eager to take advantage of Kaepernick's mobility in those situations.
Defensively Vic Fangio's guys shored up most of their first half issues and weren't giving up big plays down the middle to the tight ends or to Anquan Boldin over the final 25 minutes, but there is only so much scheming they could do against Flacco's velocity, accuracy and Boldin's individual brilliance.
Fangio was hamstrung by injuries to Justin Smith, Aldon Smith and Ahmad Brooks, with all three at clearly less than 100 percent, and he just didn't get enough big plays from his guys. The 2011 49ers forced turnovers by the handful, while the 2012 version just wasn't as fortunate.