Pitting Damian Lillard Against Blazers Best Rookies Ever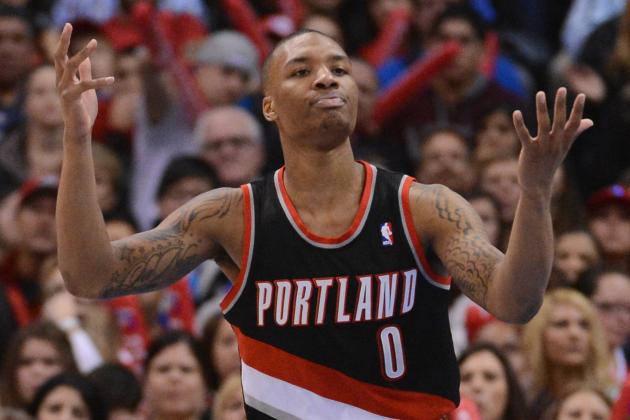 Harry How/Getty Images

Damian Lillard has taken the NBA by storm, as he's become the Rookie of the Year favorite halfway through the 2012-13 season. It's no secret that he's been one of the best players of his class, but the question is, where does he stand among the Portland Trail Blazers' all-time great rookies?
Rip City has been lucky to have Lillard on its side as it rebuilds. This franchise has seen its fair share of unfortunate circumstances, and a player of Lillard's caliber has been refreshing.
The big disclaimer here is that there is still basketball to be played. Anything can happen, and Lillard's season could be pushed one direction or the other by the time the year comes to an end. It would be unfair to rank his season at this juncture, but a friendly comparison is always good for a trip down memory lane.
With such a promising start, we have a good idea of where the youngster stands. The future has yet to be told, but the past is already written, and it's become clear that Lillard is already making history.
Begin Slideshow

»
2012-13 Stats: 18.1 PTS, 6.5 AST, 3.3 REB, 35.8 3PT%, 16.28 PER
The Portland Trail Blazers' fan base has experienced disappointment throughout the years, but they've been anything but disappointed when it comes to rookie point guard Damian Lillard.
The 22-year-old entered the league and instantly began making a difference. His 23 points and 11 assists on opening night was exactly what the Blazers wanted to see, and he's yet to let the team down halfway through his first season.
When the year began, Lillard was certainly a Rookie of the Year candidate, but most had Anthony Davis pegged as the No. 1 contender. Lillard, however, has become the front-runner, as he's hit multiple clutch buckets, scored a career-high 37 points and has the Blazers back in the hunt for the postseason.
The point guard plays at his own pace and is always in control. He's one of the league's top 20 scorers, as he can dominate from above the rim or behind the arc, but he can also run an offense like a veteran floor general. His poise is unlike most rookies, and he never seems rattled, especially in late-game situations.
It's safe to say that Lillard has become the point guard of the future, but the question remains, how does his first season compare to those who wore Portland black and red before him?
*Statistics are accurate as of Feb. 1, 2013 as of 12:00 AM ET.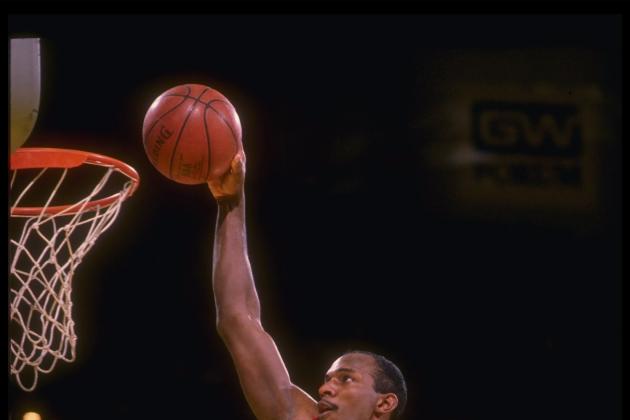 Mike Powell/Getty Images

Clyde Drexler is arguably the greatest player ever to don a Portland Trail Blazers uniform. Cases can be made for others in that category—as evidenced by the surplus of jerseys hanging from the Rose Garden rafters—but the former shooting guard was the face of the franchise during some of the greatest years in team history.
All that being said, his rookie season was less than memorable, as he averaged just 7.7 points in 17.2 minutes.
It wasn't until his second season that Drexler became a dominant presence in Portland's offense. His defense was solid from the beginning, and he was competent enough to be trusted with the ball—anywhere inside the three-point line, at least—but when it comes to taking over an offense, Lillard has the clear-cut advantage.
From day one, it's been obvious that the Blazers drafted Lillard to be a star. Nobody knows exactly what they're getting when it comes to NBA rookies, but Portland needed a franchise point guard, and it appears that Lillard is the one to guide this team into the future.
Drexler became that player too, but his first year is completely forgotten by most casual fans.
Needless to say, it's going to take a long, successful career for Lillard to compete with Drexler on the list of all-time Blazers greats. But when it comes to rookie seasons, Lillard has the edge, and it really doesn't matter what happens the rest of the way.
Advantage: Damian Lillard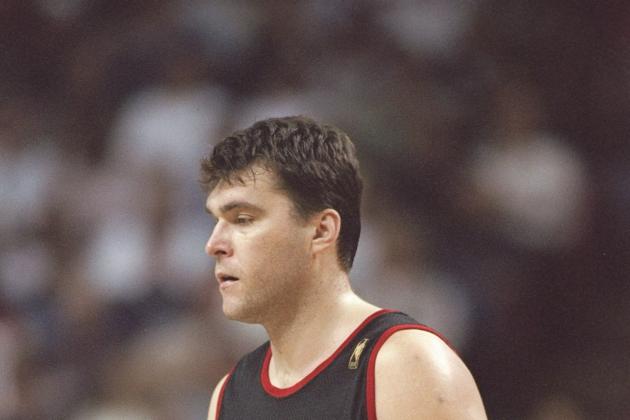 Andy Lyons/Getty Images

If Arvydas Sabonis had come to the United States 10 years sooner, he could have been one of the best centers to ever play in the NBA. Instead, the European big man made his debut in 1995, which was a time when his injuries had already gotten the best of him.
In his first season with Portland, Sabonis recorded 14.5 points, 8.1 rebounds and 1.1 blocks per game. He also shot 37.5 percent from the three-point line, and he became known for his ability to shoot and pass the ball from atop the key.
During the years where Sabonis was abroad, he was dominating the competition. While he did manage to make the All-Rookie First Team at the NBA level, he was a six-time Europa Player of the Year, a three-time USSR champion and a Euroleague Regular Season MVP.
Damian Lillard and Arvydas Sabonis couldn't be more different when it comes to overall stature, but if they have any one thing in common, it's that they are both beyond exciting to watch.
The Blazers' newest point guard has taken this team and transformed them from a group that was utterly uninteresting in 2012 to a team with energy and emotion in 2013. He is quickly becoming a leader in Portland, which is something Sabonis was unable to do with only 21 starts his first year.
Joining the Association earlier would have changed Sabonis' NBA career drastically, but with Lillard here and competing at a high level, he earns the nod on this list.
Advantage: Damian Lillard
Sidney Wicks didn't stick around Portland long, but his first season in the NBA saw him win Rookie of the Year honors and put up some of the most ridiculous numbers in franchise history.
As a big man, Wicks averaged 24.5 points and 11.5 rebounds per game. His field-goal percentage was an underwhelming 42.7 percent, but that didn't stop him from being named to the All-Star team in his first year.
From a numbers perspective, Wicks has been virtually untouched in Trail Blazers' rookie history. Unfortunately, those numbers didn't translate into team success, as Portland dropped from a 29-53 record to an 18-64 record upon his arrival.
Lillard's first season has been a much different story, as the team is making an impressive turnaround from the year before.
The 2011-12 season was one of the more disappointing campaigns in recent history, as a team full of talent imploded and missed the postseason. The Blazers needed to find a new player around whom they could build their roster, and Lillard has been just that guy early in his career.
Th 6'3" guard may not be averaging a double-double, but he's steadily bringing the winning ways back to Portland. If this team were losing games the comparison here would be a different story, but with the Blazers on the brink of a playoff berth the inspiration Lillard has provided gives him the edge at this point in the year.
Advantage: Damian Lillard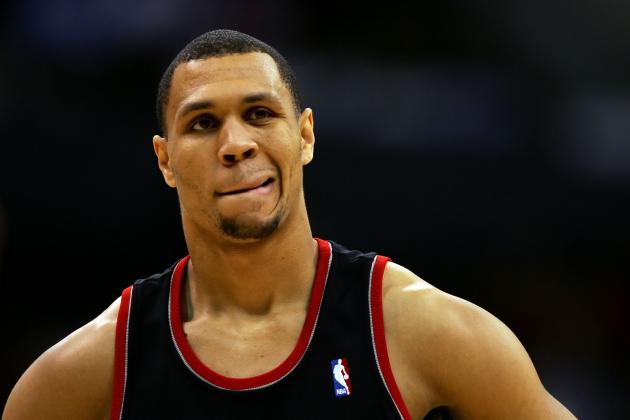 Lisa Blumenfeld/Getty Images

Brandon Roy entered the league in the 2006 NBA draft and he instantly became one of the focal points of the Blazers' offense. Zach Randolph was still the No. 1 option, but with a scorer like Roy quickly acclimating to the NBA game, the franchise was able to trade the power forward the following summer.
Damian Lillard's first season has drawn comparisons to the Rookie of the Year campaign Roy put together in 2007. Lillard's three-point shooting has been efficient, his isolation play has been excellent and he's the kind of player who can run an offense despite being just 22 years old.
Even further, the Blazers now have a player in Lillard whom they trust in crunch time—something they'd lacked from the day Roy announced his retirement.
Roy has a legitimate case as a top 3 rookie—or better—in Trail Blazers history, but by the time the 2012-13 season is over, Lillard could push Roy one spot back.
Lillard's scoring is better than Roy's was in his first season, and it doesn't look like that's going to change. As good as Roy was in a slow-it-down offense, he sometimes struggled in transition. Lillard looks as if he can do it all, as he plays at different speeds with the same level of success.
Roy was a fan favorite while his time lasted in Portland, but there's a new guard in town who will be looking to take his place sooner rather than later.
Advantage: Damian Lillard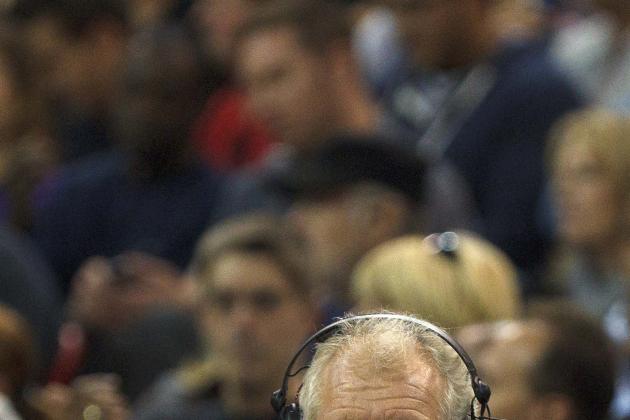 Jason O. Watson-USA TODAY Sports

The 1976-77 season was a special one for Rip City. It was the Portland Trail Blazers' first time in the postseason, it was their first year with a healthy Bill Walton and it remains the only campaign in which the team became NBA champions.
Walton is often given credit as the leader of that team, but the important thing to remember is that the big man had two injury-plagued years before that magical championship run.
Despite averaging 12.8 points, 12.6 rebounds and 2.7 blocks, Walton only played in 35 games his rookie season. He proved that he could perform when healthy, but his injuries are a major reason why he ended up leaving the team not too far down the road.
Although the team didn't make the playoffs that year, they did see an 11-game improvement from the previous season. Needless to say, this is the kind of turnaround Portland is hoping for with Lillard at the helm.
When comparing these two players, the numbers are arguably in Walton's favor. The problem is, you simply can't ignore the fact that he missed more than half the season to begin his career.
The center was credited by many with the team's success, but Lillard has won games with his clutch shooting, and a healthy season the rest of the way will place him ahead of Walton.
Advantage: Damian Lillard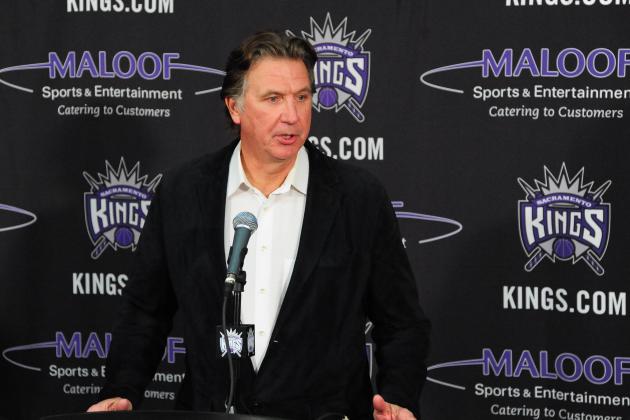 Kyle Terada-USA TODAY Sports

The Portland Trail Blazers played their inaugural NBA season in 1970, and their first-ever draft pick as an expansion team was Geoff Petrie.
If you think Damian Lillard is a good shooter, you should have seen this guy play. His 24.8 points per game as a rookie came before the three-point line, but he was a threat to score from deep like few others on the roster.
Petrie was the league's Rookie of the Year in 1971 and if it weren't for a knee injury that forced him away from the team—and eventually out of the league—he could have gone down as one of the greatest Blazers to ever play.
As the original Trail Blazer, Petrie has made his mark in franchise history, but then again, Lillard's career also began in historic fashion.
In Lillard's first-ever NBA game, he joined elite company by becoming just the third player in league history to record 20 points and 10 assists in a debut. He also became just the second player to post at least 20 points and seven assists in his first three contests.
Through three months of play, Lillard is a three-time Rookie of the Month. His next step is Rookie of the Year, which is a plausible goal at this point in the season.
But as historic as Lillard's start has been, Petrie set the bar high when it came to leading a team in his first year. Unless Lillard can overtake LaMarcus Aldridge as the team's consistent No. 1 option, the subjective, yet prestigious, title of best rookie belongs to the man who started it all for fans in Rip City.
Advantage: Geoff Petrie