HOUSTON—The auditions are in, and the regular cast won't be looking for work anytime soon.
On a night when making a good impression might have meant more than the final result, United States men's national team coach Jurgen Klinsmann selected five debutants for a squad with a decidedly unfamiliar feel. Neither the result nor the impressions will have satisfied.
With the big-name stars still in Europe, an inexperienced U.S. team labored to a dour scoreless draw with Canada as the U.S. Soccer Federation kicked off its centennial celebration Tuesday night at BBVA Compass Stadium in Houston.
As established stars like Clint Dempsey and Michael Bradley remained with their clubs, the good impressions in Houston were minimal. And to hear Klinsmann tell it, little of it mattered anyway.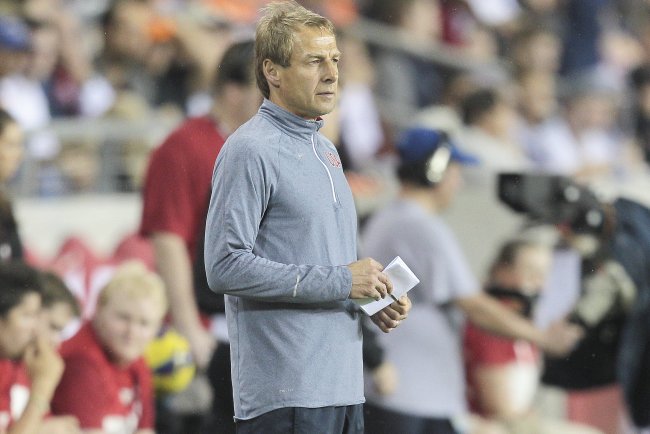 Bob Levey/Getty Images
For all the players with cases to make, perhaps only Benny Feilhaber will head home satisfied. Making his 32nd international appearance, Feilhaber represented one of the squad's most experienced players, and it showed.
The halftime substitute's incisive passing formed the backbone of the Americans' best moments early in the second half. At 28, Feilhaber is past the point of breaking into the squad. But the 2010 World Cup veteran might have played himself back onto the team for next month's 2014 World Cup qualifiers.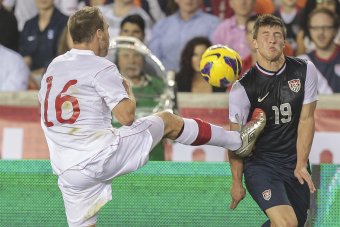 Bob Levey/Getty Images
After training together for three weeks in California and here in Houston, the U.S. dominated all of Tuesday's match, holding the majority of possession and out-shooting Canada, 11-3. But for all of the Americans' possession, most of the passing lacked a cutting edge in the final third.
"You could see the three-and-a-half weeks of a lot of work in their legs," said Klinsmann.
That much was apparent, as was the squad's inexperience.
Three of the four starting defenders—Justin Morrow, Tony Beltran and Matt Besler—earned their first caps, while substitutes Alfredo Morales (a midfielder) and Will Bruin (a forward for the Houston Dynamo) also made their debuts.
Captain Kyle Beckerman steadied the team from his central midfield position, while forwards Eddie Johnson and Chris Wondolowski provided sporadic danger in the first half. But Brad Evans struggled in the attacking midfield role, while Graham Zusi played unspectacularly—if not poorly—on the wing.
Wondolowski, the reigning MLS MVP, scored 27 goals last season but is still scoreless with the national team after nine appearances. That might bode badly for his national-team chances, but Klinsmann said he saw nothing in Tuesday's game that he didn't expect.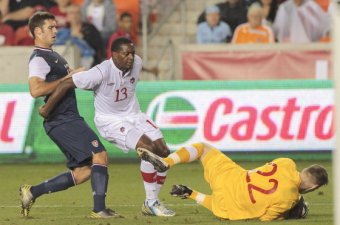 Bob Levey/Getty Images
"No. No surprises," Klinsmann said, adding that he was pleased with the team's overall performance in the training camp.
The next time the U.S. plays, much more will be at stake. The Americans will gather in Miami next weekend ahead of a trip to Honduras to start the final round of CONCACAF World Cup qualifying.
Klinsmann remained guarded about his selections for the match in his post-match remarks, saying little had changed over the past three weeks. And as for Tuesday night?
"(The Honduras roster) was not depending on tonight," he said.
That might have changed with a hat trick of goals or a sterling defensive performance from one of the unit's new faces. But with this inexperienced squad failing to produce a result against a clearly inferior Canadian squad, it's unclear how much this night will affect anyone in the U.S. camp.