Grading Tiger Woods' Performance at Torrey Pines
Donald Miralle/Getty Images

Tiger Woods earned his 75th career PGA Tour victory Monday with a four-shot win at San Diego's fabled Torrey Pines South at the Farmers Insurance Open.
Woods set the PGA Tour record with his eighth win at this event in his career, which is the most times one golfer has won a tournament on the same course.
His four-stroke margin over Brandt Snedeker and Josh Teater did not come easy.
After a birdie on the 13th hole that put him at 18-under-par, Woods would drop four shots over the last five holes to finish the day with an even-par 72.
The reality is this should have been an easy win for Woods. When he stepped onto the 14th tee Monday, he held an eight-shot lead.
But the great fundamental golf he had played in the first two rounds had left him by the time Sunday's third and fourth-round marathon started, and was long gone by the time he rolled in his par putt that won the tournament.
Let's take a look at how well Tiger played this week at one of his favorite courses.
(Statistics via PGATour.com)
Begin Slideshow

»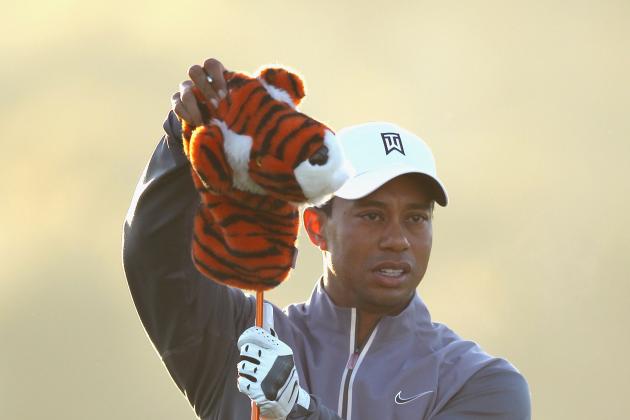 Ezra Shaw/Getty Images

For the first two days, the Tiger Woods of old was in full force off the tee.
Not only was he able to trust his driver to go long, but he also found ways to keep the ball in the center of the fairway. It truly was vintage Tiger Woods.
Starting with the back nine in Sunday's third round and continuing throughout the fourth round Sunday and Monday, Woods' ability to find the fairway was lost.
Woods only found the fairway 35.7 percent of the time in his last round and—if anyone else in the field had really pressed him—could have cost him the tournament.
The knock on Woods last season was that he had a difficult time putting together four consistent rounds in a row. After this performance, one would have to agree that is still an issue.
He gets a split grade here because the difference between Thursday and Friday and the weekend were extremely stark.
Grade: A (Thursday-Friday) / F (Sunday-Monday)
Overall Grade: C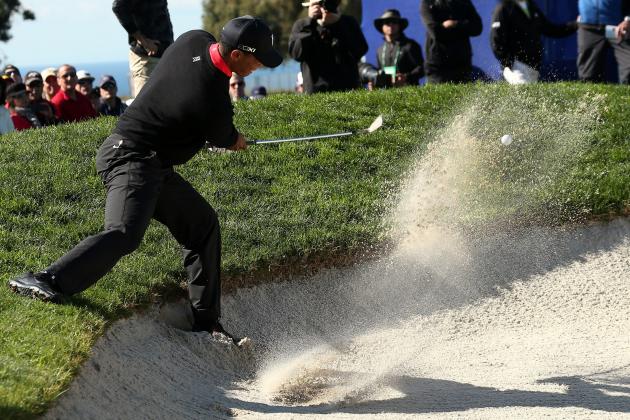 Stephen Dunn/Getty Images

One of the things that Woods did remarkably well after he lost control of his driver was to get his approach shots on the green.
It was tougher for him Monday, as he only hit half of the greens, but before the length of the round wore him out, he was able to get out of whatever situation he was in and get in the position to make par.
In fact, after missing fairways early on during Sunday's portion of the fourth round, he was able to make a couple of birdies from lies that most golfers would have struggled just to make par.
One of the more amazing shots he hit Monday was out of the bunker on the par-three 11th. Standing in the grass behind the bunker with his ball in a downslope, Woods picked the ball clean and was able to make a tap-in par from just a couple feet.
The reason Woods won was because he was able to put himself in a position where he could save par when he missed off the tee.
Grade: A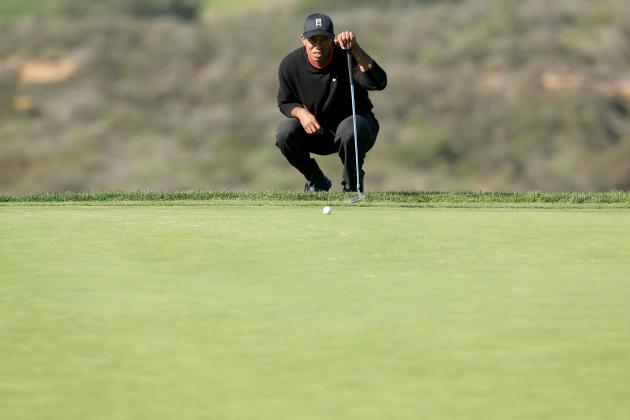 Stephen Dunn/Getty Images

Aside from a lapse of concentration during the latter half of Monday afternoon, one could say that for 48 holes Woods gave one of the best putting exhibitions he has in a long time.
He was able to judge his distances almost perfectly and get the correct line and speed on the putts to carry a six-shot lead into the final round.
You could tell that the confidence he had in his putter transferred over to the confidence he had in his driver during the first couple of days.
Until the second nine of the third round on Sunday, Woods pretty much dictated where he wanted his putt to go. It is been a long time since he has been able to do that.
Grade: B+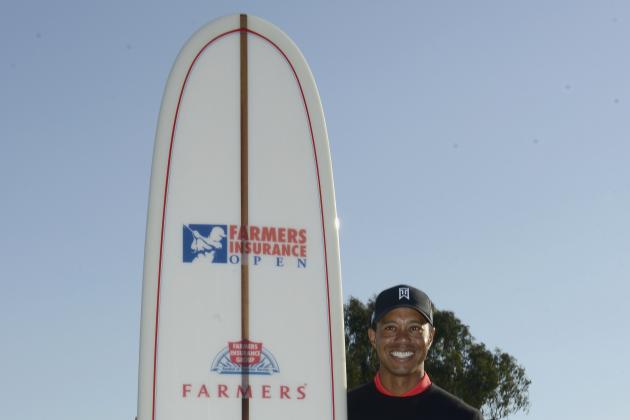 Donald Miralle/Getty Images

For 36 holes, Woods looked like he would storm through Torrey Pines like he had done so often throughout his career.
By the time he limped in with an even-par 72 on Monday, he looked like an old, tired golfer again.
Yes, he won the tournament by four shots, but no one else in the field made a move in the fourth round to give him a push.
The mistakes Tiger made off the tee on Monday would cost him a tournament in a better field. The fact that he was four-under on his round at one point, despite not being able to hit a fairway, says just how good his overall game was for most of the week.
But if you watched him play on Monday, you certainly cannot say he had is A-game going.
The thing with great players like Woods, however, is his ability to win even when he does not play his best. Monday's win certainly falls into that category. Woods' effort was not one to be locked in a time capsule.
Grade: B