The 25 Most Dangerous Fighters in MMA History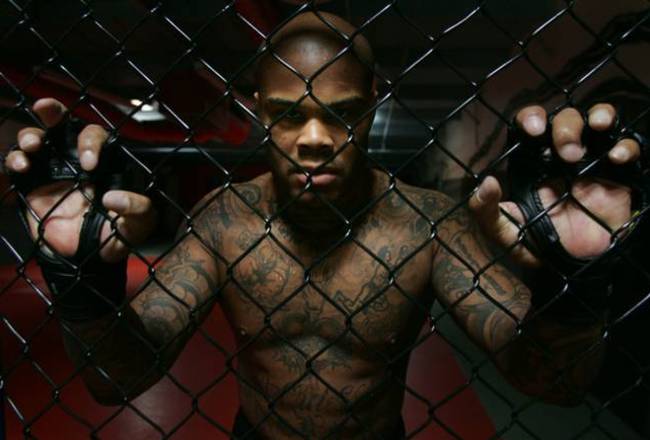 Gilbert Yvel (Photo credit: Sam Morris/Las Vegas Sun)

Maybe it was just Nate Marquardt's leg, but something this weekend got me thinking about the most dangerous fighters in MMA history.
Dangerous can mean different things, I suppose. But when I think about it in this context, I think about fighters who stand the biggest chance of doing two things: harming their opponent and wanting to harm their opponent. Someone for whom, as B.J. Penn has said, fighting is not a sport, but a fight. Someone you can see relaxing after the fight with a trank dart or two.
Records and statistics are certainly part of the equation, but recognizing someone as dangerous largely happens on a gut level. Do they fight with bad intentions? Are they dirty? Are they, eh, temperamental? The best or most effective fighters aren't necessarily the most dangerous.
Here are my top 25 examples, covering alllll of MMA history. With apologies to "Lightning" Lee Murray, this list only considers actions inside the cage. Did I miss one? Let me know in the comments. But hey, let's try to contain our aggression out there.
25. Brock Lesnar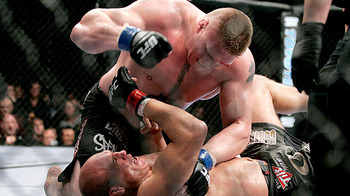 Photo credit: MMAFriedRice.com
You know the list is serious when Brock Lesnar is on the bottom rung.
You may not like his pro wrestling background or what not, but you have to admit: When the halls of Odin cast Brock Lesnar out of Valhalla and dispatched him to the earthly realm to reave souls with his hammer fists, they unleashed a very dangerous being on the land of mortals.
24. Jon Jones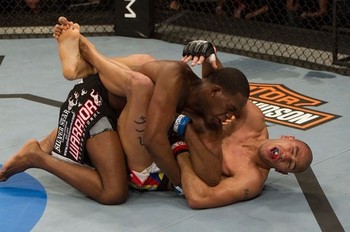 Photo credit: UFC.com
Jon Jones isn't dangerous in the sense that he looks to disable his opponents. But he can attack you so many ways, and from virtually anywhere.
And if you don't find those stone arrowheads on the ends of his elbows to be dangerous, well, I don't know what to tell you. Except "watch out for those stone arrowheads on the ends of his elbows...they're dangerous!"
Remember when Jones broke Brandon Vera's face, and it was so bad Vera couldn't get on a plane to go home after the fight? That was awesome.
23. Fedor Emelianenko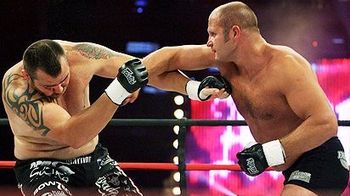 Photo credit: Dave Mandel/Sherdog
I was always hoping the instrument panel on Fedor Emelianenko's back would fall open during a live fight, or he would knock somebody out with his eyes rolled back and his mouth agape.
That would have been only a little more frightening than that state of near absolute zero in which Fedor existed in the cage.
22. Ronda Rousey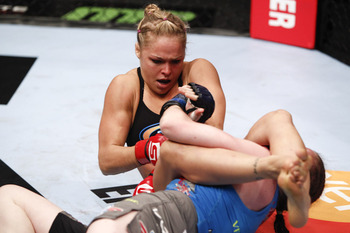 Photo credit: FC Fighter.com
"Hi, I'm Ronda Rousey. OK, here's what I'm going to do. I'm going to grab you, throw you down to the mat and put you in an armbar. You'll either tap or end up on the business end of an instructional video for orthopedics residents. Sound good? Good."
21. Jose Aldo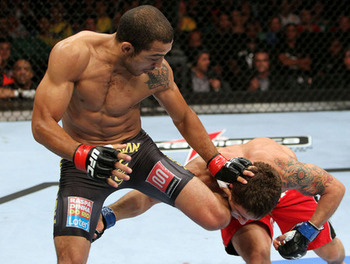 Photo credit: Ring Talk
Tarec Saffiedine put on a leg-kick clinic against Nate Marquardt Saturday night, but he still can't touch the king. Jose Aldo once put Urijah Faber on crutches with his leg kicks.
But his reign of terror doesn't end with that meat-and-potatoes maneuver. His all-points attack in the standup phase opens wounds no matter where it lands.
20. Shane Carwin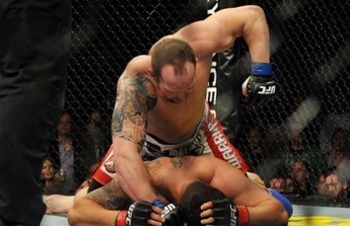 Photo credit: Jon Kopaloff/Getty Images
If you could line up every MMA fighter ever, while they were all in their prime, and ask them each to hit a pressure sensor one time, it's likely Shane Carwin would come out as the hardest pure hitter in the bunch.
Carwin and those Redwood arms of his now appear to be very much past their prime, but for that fleeting era, they were fearsome.
19. Renato "Babalu" Sobral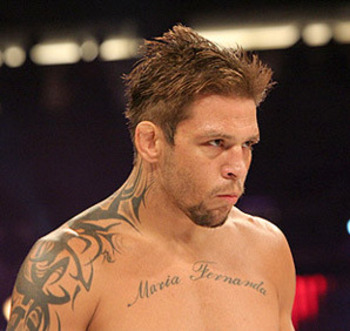 Photo credit: MMA Weekly
Not only does Renato "Babalu" Sobral have a track record of dangerous behavior in the cage, he also perpetually wears an expression that says: (1) I am trying to burn a hole in your retinas and (2) I just finished some kind of bender.
18. Bob Schrijber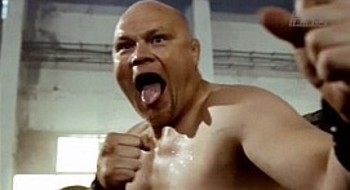 Photo credit: Remake
A journeyman who probably only achieved journeyman status by virtue of his talent for hurting people. Sometimes, that talent means pretending there aren't any rules.
Take his fight with Daijiro Matsui, in which he employed the sweet science of back-of-the-head stomping. (The referee, not being refined, disqualified Schrijber.) Or take the fact that none of his wins and only four of his losses ever went the distance.
Or take the fact that his nickname is "Dirty Bob." It's not like he's not owning this.
Lest you think Dirty Bob is gone and forgotten, consider that he still teaches MMA today. His most famous student is someone you may have heard of: one Stefan Struve.
17. Chuck Liddell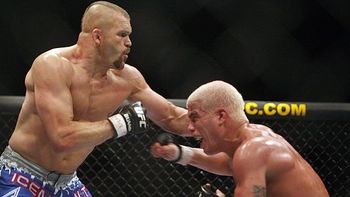 Photo credit: AP Photo/Marlene Karas
You may have heard of Chuck Liddell. He liked to get in there and knock people out. I'd go so far as to call that his specialty.
But there's more. As my colleague Jonathan Snowden put it, Liddell was also known to have some notoriously "pokey fingers."
16. Shinya Aoki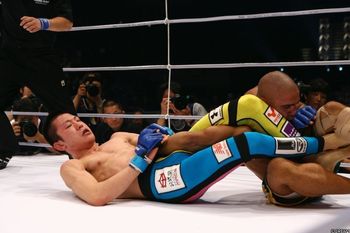 Photo credit: FanPop
Twenty-one of Shinya Aoki's 32 pro wins have come by submission. Perhaps more scarily, though, three came by "technical submission," which means someone either broke a bone or was choked unconscious.
Aoki is, of course, in the all-time Dangerous Moment Hall of Fame for that shoulder-break-into-bird-flip combination he pulled on Mizuto Hirota.
15. Allan Goes
Allan Goes was one of the early disciples to spread jiu-jitsu into North America. Interestingly, though, he may have made the biggest impact on what is now known as ground-and-pound.
During a tangle with the great Frank Shamrock in the venerable Pancrase promotion, Goes broke an unwritten rule of engagement when he began striking his grounded adversary. It was dirty at the time, and showed how dangerous Goes was. He didn't care about no unwritten rules. How does this one taste?
The battle ended in a draw. It's not the world's most famous fight, but Goes's dirty maneuver helped set the table for the modern game. If you've never seen the fight before, allow me to invite you to do so right now.
14. Anderson Silva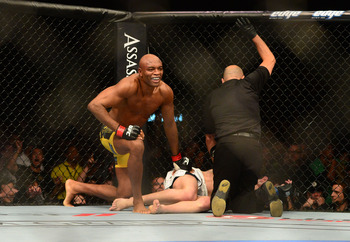 Mark J. Rebilas-USA TODAY Sports
Anderson Silva isn't a dirty or especially bloodthirsty fighter. But he can hurt you almost at will, and his mental game is withering. Some fighters go into the cage with Silva, and when they come out are never the same again. That's dangerous.
13. Cristiane "Cyborg" Santos
The Wanderlei Silva of the women's game has eight of her 10 wins by T/KO. And don't think she won't stomp a b**ch. Because she will. Check the video.
I know she has her issues and all, but when it comes to the actual act of fighting, no other woman, none, can match the physical charisma and sheer intimidation of Cristiane "Cyborg" Santos when she's stalking down her prey.
12. Melvin Manhoef
Melvin Manhoef might be the sickest knockout artist to ever don the fingerless gloves. The guy has a pro MMA record of 27-9-1 (1) with 25 wins by knockout or technical knockout. That's 93 percent of his wins by striking stoppage. That's a high percentage.
For those Philistines who think the 36-year-old Manhoef no longer has it, here he is ending Denis Kang with a knee to the body—that's a knee, to the body—on New Year's Eve.
11. Jon Hess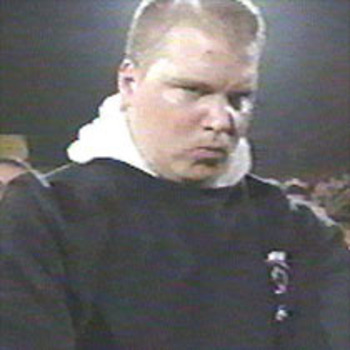 Photo credit: UFC
The professional MMA career of Jon Hess lasted a grand total of one minute and 35 seconds. But that's all it took to establish him as one of the dirtiest and most dangerous fighters ever.
His win over Andy Anderson at UFC 5 was a display for the ages. Imagine throwing any semblance of decorum out the window and literally doing whatever it took to win a fight. We're talking eye gouges. We're talking testicular stuff. It wasn't so nice.
Luckily, in Hess's second and final fight, a young man by the name of Vitor Belfort rode into town and took out the trash. So long, Jon Hess.
In a recent interview, Hess prattled on about his "fighting system" like it was something legitimate. It's like he's not aware his entire MMA legacy is based on him being a grimy scumbag, or that he believes people just don't understand him. Such is the life of the artist, I suppose.
10. Rousimar Palhares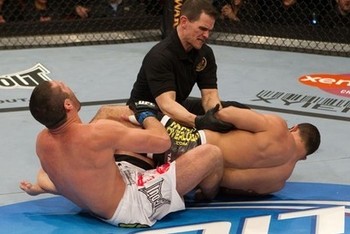 Photo credit: Josh Hedges/Zuffa LLC
9. Mikhail Ilyukhin
Mikhail Ilyukhin isn't one of the more lustrous names in the history books, but he might have been the most dangerous submission finisher of the mid-late 90s.
The numbers—36-18-1 as a pro, 33 wins by submission—are eye-opening. But the real clincher was the manner in which he garnered those submissions. Ilyukhin was a master of the ankle and Achilles locks, which easily cause injuries if the tap doesn't come.
But that's not even the worst of it. Not once but twice in his career, Ilyukhin gained a win using a certain maneuver that would never fly today, but was perfectly legal in the Wild West of 1990s MMA. It doesn't have a fancy, euphemistic name, either. It's known as "chin in the eye."
And he once used it to defeat the great Igor Vovchanchyn, a very dangerous fighter in his own right. Check out the video here, and fast forward to about the 8:20 mark to see the old "chin in the eye" in action. Looks painful.
8. Ken Shamrock
They don't call you "The World's Most Dangerous Man" because you're a devil with the ladies. In his prime, Ken Shamrock fought like a trophy hunter, mounting a litany of famous limbs on his mantelpiece.
The two most memorable images from Shamrock's MMA career are probably that wicked spin-o-rama kneebar on Bas Rutten (see video) and his white-hot grudge match with Don Frye in Pride, in which Frye refused to submit to some nasty heel hooks and ultimately won the fight but suffered long-term damage as a result.
7. Tank Abbott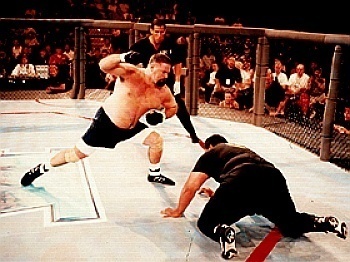 Photo credit: UFC
Tank Abbott speaks for himself. He likes hurting people. I like pretzels and science fiction movies. David "Tank" Abbott likes to hurt people. That's it.
6. Mirko Cro Cop
Mirko "Cro Cop" Filipovic is a very intelligent and decent person. He doesn't fight with the air of an unleashed animal. But that high kick, man. The way it flashes out of nowhere, with minimal setup. The way it built human rubble heaps even when the other guy knew it was coming. The fact that he said "right leg hospital, left leg cemetery," and everyone just nodded their heads. It wasn't cocky or silly.
Cro Cop's head kick probably gets my vote as the single-most dangerous strike in the sport's history. Watch and enjoy this highlight reel.
5. Alistair Overeem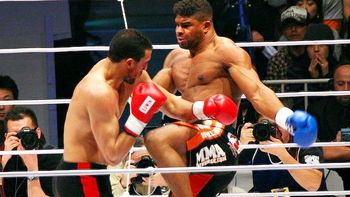 Photo credit: Faster Times
The biggest, strongest, strikingest, horse-eatingest, most, eh, structurally significant heavyweight of our time might be the scariest specimen to ever enter a cage. He's a bully who loves the smell of fear so much that, once he detects it, he'll use every extremity available to unearth it in your body.
All but two of his 36 wins came by stoppage. Of those 34 wins, 11 involved knees. Of those 11 knee-based knockouts, four were to the body. I'd rather stand in front of a moving car than an Alistair Overeem knee strike.
4. Frank Mir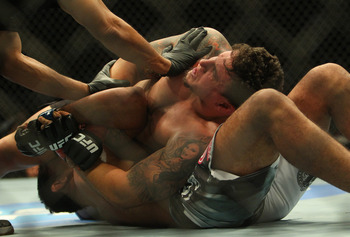 Tom Szczerbowski-USA TODAY Sports
He broke Tim Sylvia's forearm and Big Nog's humerus. He made Brock Lesnar mortal. He also likes to do things like toe holds and other sadistic stuff. Finally, he's a large, large man.
Oh, make no mistake. Frank Mir is the most dangerous submission grappler in the history of mixed martial arts.
3. Gerard Gordeau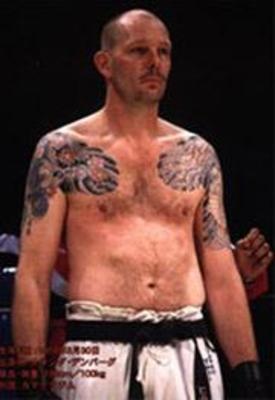 Photo credit: MMA Linker
The original dirty fighter of MMA. Doesn't he just look like the dirtiest dude ever? He looks like the guy they call in when they need to get rid of the identifying characteristics of a dead body. He's The Cleaner.
At UFC 1, he literally kicked Teila Tuli's teeth in. Into his own foot, that is. He later gouged the eye of Yuki Nakai so badly that he blinded Nakai in that eye. He still lost the fight, though. Curses!
2. Gilbert Yvel
Quite possibly the fighter who comes closest to actually being capable of anything inside the cage.
Thirty-two T/KO victories out of 38 total wins (in 56 total fights). The key stat, though, are the DQs. Gilbert Yvel has one for biting, one for eye gouging and one for the holy grail of crazy, knocking out the ref (see video). That's like the trifecta of fight movie villainy. Actually, it's probably too crazy for the cinema.
1. Wanderlei Silva
Seriously, were you really expecting anyone else?
The master of Pride used kicks, stomps, punches and anything else he could think of to beat the hell out of his opponent and, if it was a good day, win a fight, too. No one was more intense, and no one else instilled fear like "The Axe Murderer."
But enough chatter. Just watch the highlight reel.
Want some more ruckus? Follow Scott Harris on Twitter.
Keep Reading