Grading Every Team from NFL Divisional Playoff Weekend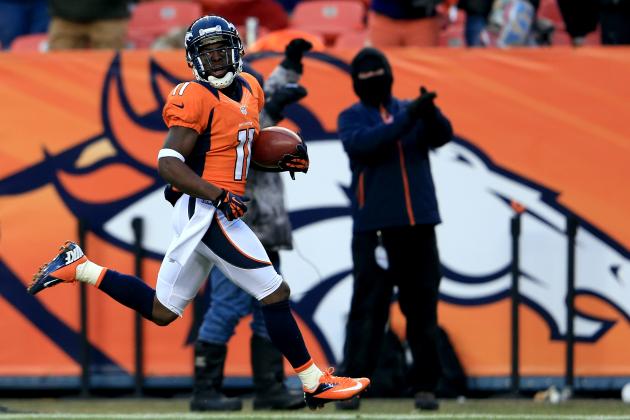 Doug Pensinger/Getty Images

After a Wild Card Weekend that produced some brutal games and unexpected results, NFL fans everywhere hoped the survivors could give the top seeds a run for their money.
With the winningest teams in football hosting some dangerous company, the divisional round should feature better play, better games and more excitement. Whether the favorites take care of business or the underdogs pull off the upset, we'll take a close look at how well all the NFL playoff teams play.
For a full report card on every quarterback, every running game, every offense, every run defense, every pass defense and every team overall, just click "Next."
Keep watching this space for updated grades!
Begin Slideshow

»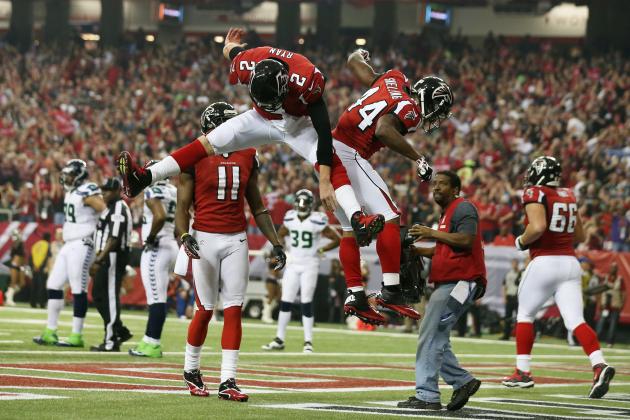 Streeter Lecka/Getty Images

QB Play: B
Matt Ryan had an excellent first half, and played well in the second—until he threw a killer interception. Ryan then faltered badly in the fourth quarter, struggling to complete passes at the worst possible time.
Ryan completed 24 of 35 passes for 250 yards and three touchdowns, but that almost wasn't enough to overcome Russell Wilson—or Ryan's own failures.
Ultimately, Ryan took 31 seconds and two passes and fashioned a game-winning scoring drive out of them. That trumps a lot of his mistakes, and answers a lot of questions about him.
Run Play: B-
Michael Turner and Jaquizz Rodgers both bolstered their stats early with big runs, but both had big trouble getting past the Seahawks defensive line in the second half. Falcons could have used Turner's help extending a few of the late drives, to give Wilson less time.
Overall Offense: B
Hard to complain about 20 points in the first half, but easy to complain about just seven in all but the dying moments of the second half.
Pass Defense: D+
The Falcons did a good job of getting pressure early, and backing it up with decent coverage. But in the third quarter the Falcon's typically excellent safety play broke down; Golden Tate and Sidney Rice started gashing them for yardage in chunks.
Run Defense: B+
The Falcons defensive line managed to do what few teams this season could: shut down Marshawn Lynch. But they couldn't quite stop Russell Wilson, who had seven carries for 60 yards and a critical touchdown.
Overall Defense: C-
They pitched a shutout in the half that doesn't count and gave up 28 in the half that does.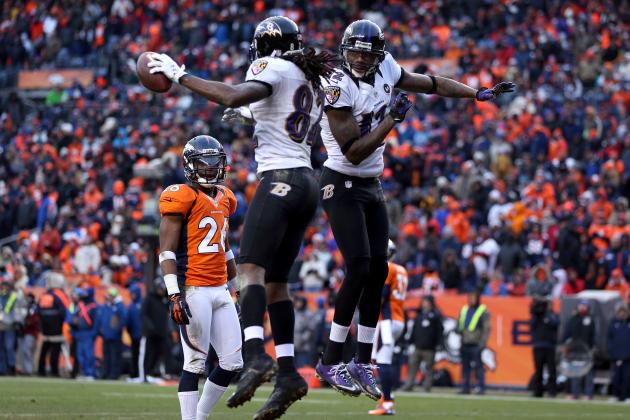 Jeff Gross/Getty Images

QB Play: B+
Joe Flacco missed Torrey Smith on two wide-open deep balls that would surely have gone for touchdowns, but he connected with Smith for scores of 59 and 32 yards, plus a mind-boggling strike to Jacoby Jones that forced overtime.
Flacco was much more effective on short and intermediate routes in the Wild Card Round, but he still has room to improve.
Run Game: C
Ray Rice and Co. were nearly invisible, save for one crucial drive in the fourth quarter.
Overall Offense: A-
A fantastic performance by Ravens wide receivers picked up the slack left by Rice and the run game. The Broncos were the fourth-best scoring defense in the NFL this season, and the Ravens walked into their house and put up 28 offensive points in regulation.
Run Defense: A
The Ravens completely snuffed out the Broncos running attack.
Pass Defense: C+
They let Peyton Manning beat them for scores early and late, but the Ravens pass defense tightened up through the middle quarters. The Ravens secondary may have benefited from some laissez-faire officiating.
Overall Defense: B-
Ray Lewis and the Ravens D allowed only 21 offensive points in regulation and stopped Peyton Manning on multiple overtime drives.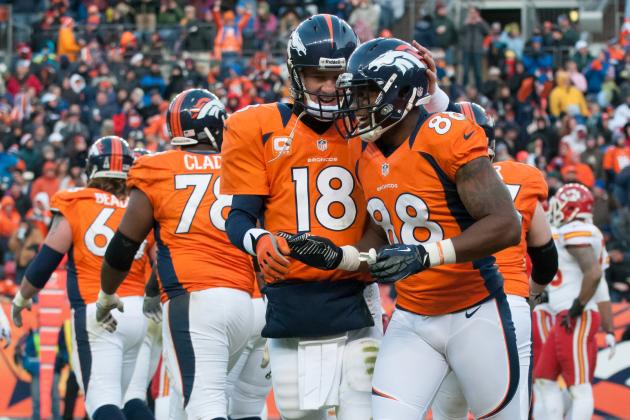 Dustin Bradford/Getty Images

QB Play: B-
Peyton Manning picked up where his glory years left off, but he was both conservative and ineffective in the third quarter. It's tough to blame him completely for his first interception and lost sack-fumble, but they happened.
Manning got it going again in the fourth quarter, leading to a critical touchdown drive. He repeatedly faltered in the first overtime, though, including a shocking interception that set up the game-winner for the Ravens.
Run Game: D
There were an awful lot of Knowshon Moreno runs into the back of his own linemen. Moreno, Ronnie Hillman and Jacob Hester combined for just 72 yards on 24 regulation carries. For once, the offensive coordinator didn't abandon the run early enough.
The Broncos repeatedly ran in short-yardage situations, and they were repeatedly disappointed.
Overall Offense: C+
Twenty-one regulation offensive points isn't bad at all, and the Broncos scored when they absolutely had to. There were long stretches where the Broncos looked ineffective, but bizarre officiating interfered with potential scoring drives.
Credit was given for an outstanding day by the Broncos offensive line, in both pass protection and run-blocking. Points were docked for a total inability to score a point in more than a quarter of overtime.
Run Defense: A-
The Broncos defensive line got incredible push, early and often. It surrendered one big 32-yard run to Ray Rice, but other than that held him to just 99 yards on 29 carries (3.4 yards per attempt). Night and day compared to the Colts' nonexistent run-stopping last week.
Pass Defense: D
Torrey Smith's speed, jumping ability and route running gave Champ Bailey fits all day, and the Broncos defense took far too long to adjust. Poor Joe Flacco throws prevented at least one and possibly two touchdowns where the Broncos D could not.
An inexcusable failure of deep prevent coverage let the Ravens tie the game with 31 seconds left.
Overall Defense: B-
The Broncos front seven deserves a better grade, and the secondary a worse one. They surrendered 31 points at home that could have been much more or much less, depending on a couple plays and some ref interference.
Special Teams: A++
This feature usually doesn't grade special teams, but the Broncos' two return touchdowns couldn't go unmentioned. One "+" was deducted for Matt Prater's 52-yard field-goal "attempt."
Stephen Dunn/Getty Images

QB Play: B-
As Aaron Rodgers goes, so go the Packers. Though he was very effective early, Rodgers threw an awful arm-punt of a pick in the second quarter between two 49ers touchdown drives. In the second half, the 49ers pulled away, and Rodgers just couldn't keep up.
Run Offense: C+
DuJuan Harris was effective with the relatively few touches he had. The Packers had to switch to the air too soon for Harris to make an impact, though.
Overall Offense: B-
Twenty-four offensive points in a road playoff game against the second-best scoring defense in the NFL is nothing to sneeze at. But it became apparent they couldn't catch Colin Kaepernick and the 49ers early in the second quarter.
Pass Defense: D
Sam Shields executed a picture-perfect pick-six of Kaepernick's second throw. After that, it was all downhill for the Packers pass defense, allowing 263 yards and two touchdowns. Michael Crabtree repeatedly torched the Packers defense, catching nine balls for 119 yards and both scores.
Run Defense: F
The Packers allowed the most rushing yards by a quarterback in NFL playoff history and the most rushing yards by any player in 49ers history, per Matt Maiocco of CSNBayArea.com. Besides Kaepernick's 181 yards and two touchdowns, Frank Gore registered 119 yards and another score.
Overall Defense: F
The Packers allowed 45 points in the playoffs. They didn't earn a passing grade.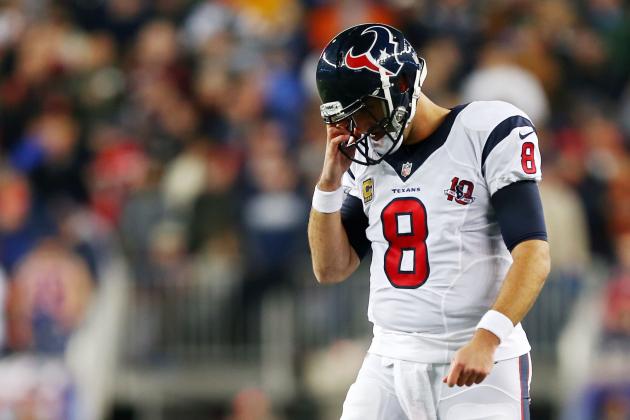 Elsa/Getty Images

QB Play: C-
Matt Schaub looked very shaky during Wild Card Weekend, struggling to execute a conservative gameplan. It was more of the same against the Patriots in the Divisional Round; Schaub struggled to complete short passes to his complement of quality targets.
Schaub's crucial third-quarter interception was bracketed by two Patriots touchdowns that put the game away. Schaub did come alive late in the fourth when down by several scores; he engineered a very nice drive that brought the deficit down to 10.
Run Offense: C+
Arian Foster needed a little time to get going, then took over the game on one late-first-quarter drive. After that, back to anonymity. Finished with only 90 yards on 22 carries.
Overall Offense: C+
The Texans offense pulled the game closer at the end of both halves, but were flatly outplayed by Tom Brady and the Patriots.
Run Defense: D-
Shane Vereen and Stevan Ridley combined for 123 yards and two touchdowns on just 22 carries, basically rolling at will over a Texans defense that's used to dominating the line of scrimmage.
Pass Defense: D
The Texans pass rush did hassle Tom Brady a bit, forcing some incompletions. But Brady bombed it downfield with impunity, racking up 344 yards and three touchdowns. Wes Welker had a monster receiving game game, as did Aaron Hernandez and tailback Shane Vereen.
Overall Defense: D
J.J. Watt and the pass rushers had a couple of splash plays, but surrendering 41 points in the playoffs is a near-total failure.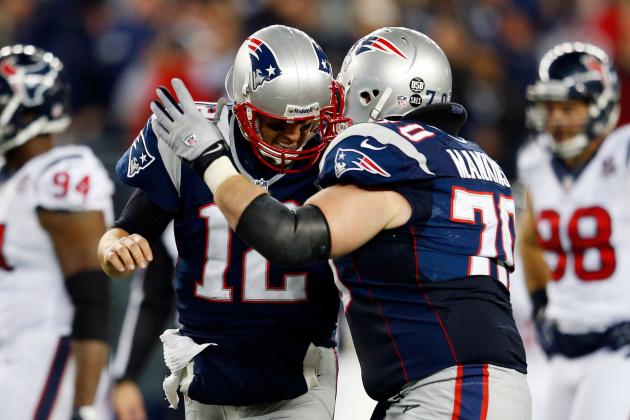 Jim Rogash/Getty Images

QB Play: A-
This was Tom Brady at his barnstorming best—throwing his receivers open, picking up yards in chunks, scoring three touchdowns and somehow still taking care of the football. His line kept a lot of heat at bay, but Brady still had to dodge some Texans pressure and make plays.
Brady could have been more clinical early, but it's hard to nitpick a 344-yard, three-touchdown, no-interception performance.
Run Offense: A
Stevan Ridley and Shane Vereen sliced through the aggressive Texans front seven 22 times for 123 yards (5.6 yards per carry) and two touchdowns. Vereen had another two receiving TDs; according to the official Patriots Twitter feed, that tied a team postseason single-game record.
Overall Offense: A
When a team scores 41 points—and left some on the board in the first half—that's an A.
Run Defense: A-
The final stats show Arian Foster had a respectable 90 yards and a touchdown. But save for two carries in the second quarter of 19 and 21 yards, he was almost completely ineffective (20 carries for 50 yards).
Pass Defense: B-
Matt Schaub did move the ball late in each half; though, with 51 pass attempts it'd be almost impossible not to. The Patriots did allow 343 yards, and two touchdowns through the air in garbage time, but also came up with a huge third-quarter interception that likely sealed the game.
Overall Defense: B
Again, hard to give out top marks for a defense that allowed 28 points at home in the playoffs, but for most of this game the Patriots were firmly in control.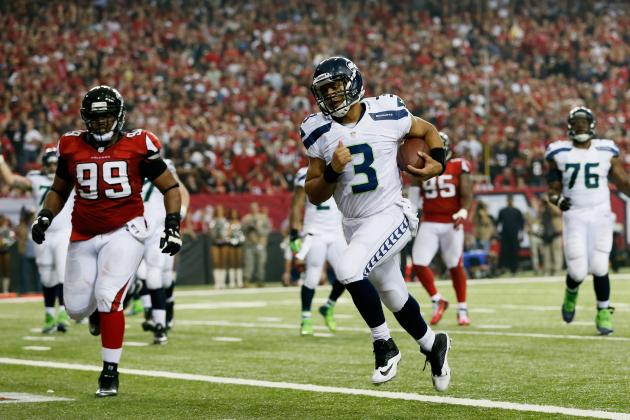 Kevin C. Cox/Getty Images

QB Play: A-
Russell Wilson had an incredible day, completing 24 of 36 passes for a whopping 385 yards and two touchdowns. He also ran seven times for 60 times and a touchown.
However, early mistakes (like a poorly-timed sack) held Wilson and the Seahawks scoreless in the first half. Wilson also tended to break down and scramble around in circles when he could have just stepped up and thrown.
That said, Wilson found another level in the second half, shredding the Falcons defense almost single-handedly. Wilson won't forget the pain of this loss, but history won't forget his performance either.
Run Play: D+
The Seahawks needed more than 46 rushing yards and a touchdown-dive-that-nearly-wasn't from Marshawn Lynch. Wilson was dangerous on the ground, but he was doing it almost entirely by himself.
Overall Offense: B
They were shut out in the half that doesn't count, and racked up 28 points in the half that does. They just needed a few more yards and a field goal...or a minute less on the clock. A huge day from tight end Zach Miller (eight catches, 142 yards and one touchdown) shouldn't go unmentioned.
Pass Defense: C
The lack of premier pass-rusher Chris Clemons hurt the Seahawks badly, and rookie Bruce Irvin (one tackle) couldn't make up for it. The secondary got gashed early by Ryan and the Falcons wide receivers, but tightened up and snagged two interceptions.
Then, with 31 seconds left to victory, they did the one thing they couldn't: let Ryan complete two long passes and get in field-goal range.
Run Defense: C-
Like everything else, it was the tale of two halves for the Seahawks run defense. Turner and Rodgers punished them early, but they stonewalled the Falcons run game in the third quarter and through much of the fourth.
Just not quite enough of the fourth.
Overall Defense: C
The No. 1 scoring defense in the NFL didn't play anything like it. The Seahawks let the Falcons roll all over them in the first half, and inexplicably let the win slip through their hands with half a minute left.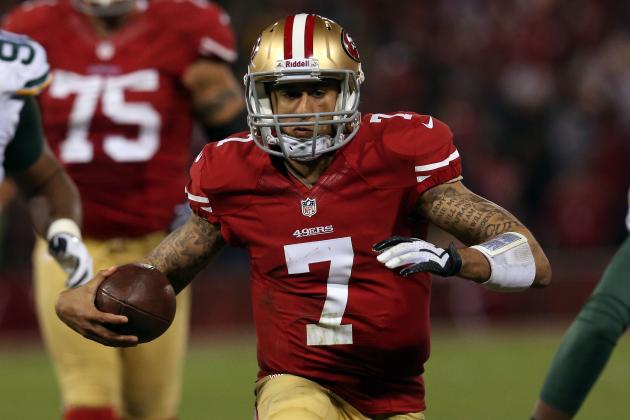 Stephen Dunn/Getty Images

QB Play: A+
It doesn't get any better than this. Colin Kaepernick played the game of his life, setting an NFL record for playoff rushing yards by a quarterback.
That's in addition to making a smorgasbord of impeccable throws. He finished the day going 17-of-31 for 263 yards through the air, with four total TDs.
Run Offense: A+
Frank Gore and his compatriots did well, especially late in the game when the Packers were gassed. Kaepernick, though, was the runner of record with 181 of the incredible 323 total rushing yards.
That performance set the 49ers franchise record for rushing yards in a playoff game and the NFL record for quarterback rushing yards in a playoff game.
Overall Offense: A+
The 49ers offense had an incredible day, racking up 579 net yards and 45 points. You couldn't have asked for more.
Pass Defense: B+
The Niners secondary allowed a few big grabs, and the pass rush wasn't as dominant as we've come to expect from San Francisco.
At the end of the day, though, the Packers got into a shootout and ran out of ammo. That's an impressive defensive performance.
Run Defense: C
DuJuan Harris was effective against the 49ers when he got the ball, but his touches dropped off after the first quarter.
Overall Defense: B+
An excellent performance, allowing just 24 offensive points against an offense that came in averaging 27.1 points per game during the regular season (fifth most in the NFL).