USC Football: Projecting Lane Kiffin's 2013 Defensive Depth Chart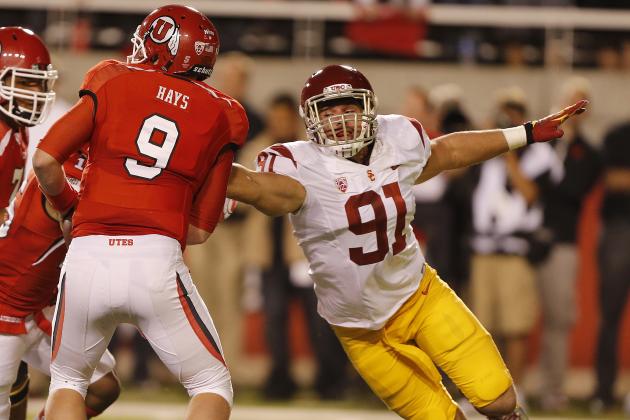 George Frey/Getty Images
Morgan Breslin
Although there remain many questions surrounding USC's 2013 defense (not the least of which is who their defensive coordinator will be) there are also some certainties that should give Trojan fans plenty of reasons to smile next year.
While the defensive backfield will undergo a major facelift, the front seven should be a strength as the Men of Troy try to rebound from the debacle that was their 2012 season.
This article show will take a presumptive look at the defense the Trojans will field next year, admittedly doing so under the burden of uncertainty regarding what kind of defense the new coordinator will employ.
For arguments sake, this projection of the 2013 defense will be predicated on the 4-3 defense the Trojans have run for years and will also assume that NFL eligible juniors will return for their senior year.
So without further delay, let's play Nostradamus and take a look in the crystal ball at next year's defensive depth chart.
Note: Starters are in bold
Begin Slideshow

»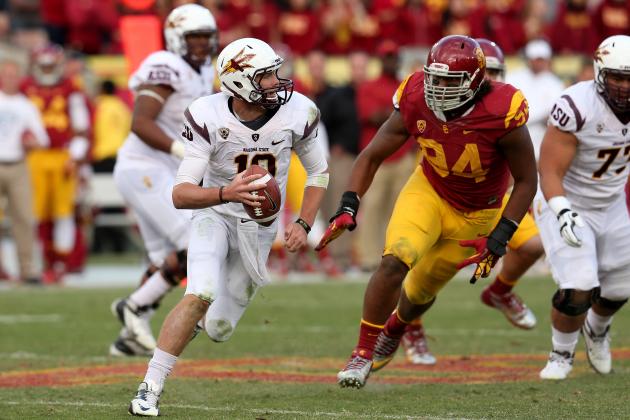 Stephen Dunn/Getty Images
Leonard Williams
Though the Trojans suffered through many bleak defensive moments in 2012, one area they shined was in their ability to create havoc in their opponents offensive backfield.
After finishing this year 11th in the nation in tackles for loss with a combined (solo and assisted) total of 116, USC bettered that by placing fourth in the NCAA in sacks with 45.
Led by returning defensive end Morgan Breslin and freshman sensation Leonard Williams, the Trojans have both talent and depth returning for the 2013 season.
With the return of injured defensive end Devon Kennard, USC actually stands a chance of being even more dominant than they were this year.
However, there are many questions that will need to be answered and issue that must be addressed on defense in the upcoming year and the d-line won't be one of them.
Note: Leonard Williams will likely also see time at defensive end.
Defensive End:
Morgan Breslin
Kevin Greene
DeVante Wilson
Nose Tackle:
George Uko
Antwaun Woods
Christian Heyward
Defensive Tackle:
Leonard Williams
J.R. Tavai
Kenny Bigelow (True Freshman)
Defensive End:
Devon Kennard
Greg Townsend Jr.
Jason Hatcher (True Freshman)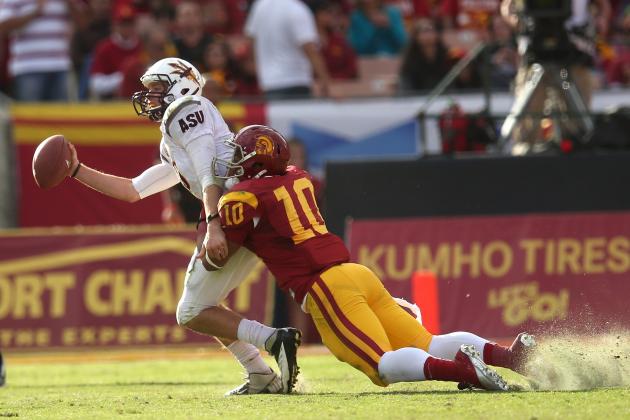 Stephen Dunn/Getty Images
Hayes Pullard
On the surface, this unit looks to come back completely intact with strongside linebacker Dion Bailey, middle linebacker Lamar Dawson and weakside linebacker Hayes Pullard all returning for 2013.
However, with the secondary depleted by graduation, don't be surprised if Bailey returns to safety, the position that he started his Trojan career at.
If this is the case, look for Jabari Ruffin, a 2012 stud true freshman who redshirted last year, to be given a long look to take Bailey's place at the strongside position along with Anthony Sarao.
Still, these changes remain to be seen but what is not in question is that this unit didn't quite play up to their potential last year.
Although Hayes Pullard had a nice season, Bailey tailed off a bit from his fine 2011 season and Dawson was somewhat of a disappointment last year.
For the Trojans, a return to the 2011 form from this unit will go a long way toward returning USC's defense to prominence in 2013.
Strongside Linebacker:
Dion Bailey
Anthony Sarao
Jabari Ruffin
Middle Linebacker:
Lamar Dawson
Scott Starr
Will Andrew
Weakside Linebacker:
Hayes Pullard
Simione Vehikite
Marquis Simmons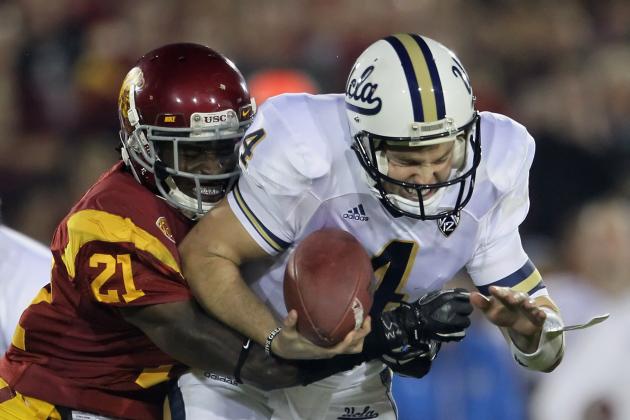 Jeff Gross/Getty Images
Nickell Robey
Even if cornerback Nickell Robey comes back for his senior campaign, there will be a ton of transition in the Trojans secondary.
With the graduation of safeties T.J. McDonald and Jawanza Starling, a new duo of starters will be making their debut for USC in 2013.
But even with the loss of McDonald, the Trojans leading tackler last year, is that necessarily a bad thing?
After all, the Men of Troy were only a middle of the pack 52nd last year in pass defense.
Still, it could get worse too and likely will at least at the beginning of the year as the revamped secondary gets used to playing together.
Here is one way the secondary depth chart could look by next fall:
Cornerback:
Nickell Robey
Kevon Seymour
Ryan Henderson
Free Safety:
Su'a Cravens (True Freshman)
Josh Shaw
Elijah Steen
Strong Safety:
Gerald Bowman
Demetrius Wright
Elijah Steen
Cornerback:
Torin Harris
Jalen Ramsey (True Freshman)
Ryan Dillard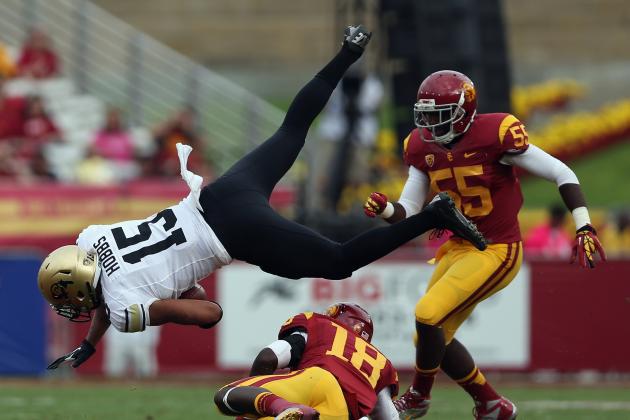 Jeff Gross/Getty Images

Because the defense is in such a state of flux (pending the naming of a defensive coordinator among other issues) looking ahead so far into the future is somewhat of an exercise in futility.
Couple that with the uncertainty of incoming freshmen such as cornerback Chris Hawkins and safety Leon McQuay III, both of whom may redshirt to gain weight and mature, making a contribution this year, and the situation becomes even more muddied.
That doesn't even take into account the possible impact freshmen who may still sign with USC for this recruiting class.
What is beyond question is that the Trojans will need to improve on this side of the ball for USC to regain the national prominence lost in 2012.
As for the veracity of this projected defensive depth chart, see me in September.