The Ultimate Fighter: Tyson Fury and 16 Heavyweights Who Could Fill a Cast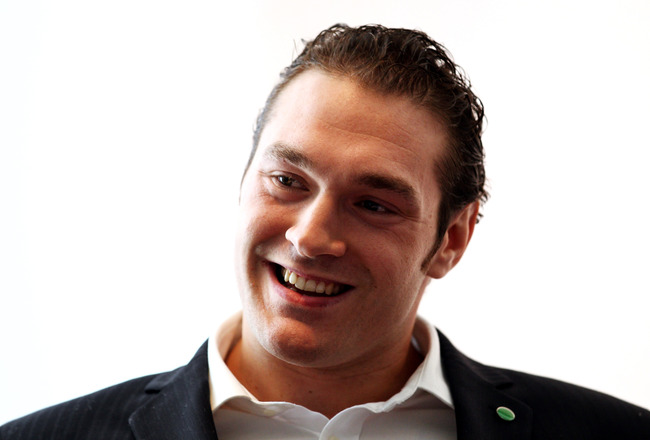 Dean Mouhtaropoulos/Getty Images
Professional boxer Tyson Fury made headlines earlier in the month when he called out UFC champ Cain Velasquez. This callout is reminiscent of when James Toney talked his way into a fight with Randy Couture at UFC 118, a fight in which he was absolutely manhandled.
However, the UFC heavyweight division is thin and could benefit from having an attraction like Tyson Fury. The best way to get him to develop some all-around skills necessary to succeed in MMA is to have him work with the best on The Ultimate Fighter.
Here are 15 other guys that could join Fury on an all-heavyweight TUF season.
Note: Only fighters that speak English were considered due to the house format. Also, fighters from Bellator and M-1 were not considered due to contract disputes. All height, weight and MMA records were retrieved via sherdog.com.
Scott Barrett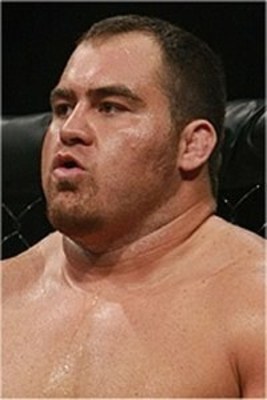 sherdog.com
Height/Weight: 6'0"/265 lbs.
Origin: United States
Record: 13-3
Notable wins: Mike Wessel, Gabriel Salinas-Jones
Scott "The Bear" Barrett is a hefty fellow that packs a wicked punch at heavyweight. His low center of gravity and sickening power makes him a threat to knock out any man in the division.
A veteran of Bellator, "The Bear" fights in the East Coast regional scene now and has defeated UFC veteran Mike Wessel by first-round knockout, as well as Strikeforce alum Gabriel Salinas-Jones by split decision.
One could easily see Barrett making a deep run in the tournament due to the fact he can catch you at any point in a fight.
Lee Beane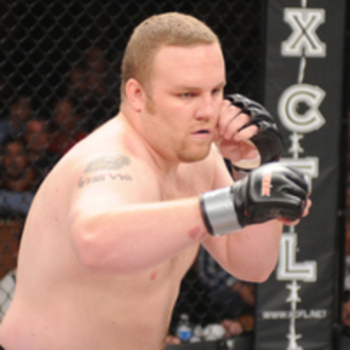 tapology.com
Height/Weight: 6'1"/265 lbs.
Origin: United States
Record: 9-2
Notable win: Dan Severn
Speaking of devastating knockout artists, Lee "The Beast" Beane has used his powerful hands to defeat all of his opponents. That includes a devastating knockout over the legend Dan Severn, who seemingly had an advantage due to his wrestling.
The Wai Kru MMA product is another instance of a guy dangerous throughout the fight due to his wicked power.
Bobby Brents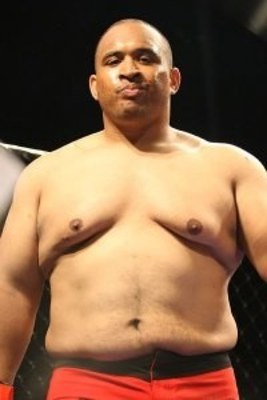 sherdog.com
Height/Weight: 5'9"/254 lbs.
Origin: United States
Record: 13-3
Notable wins: Rogent Lloret, Jason Riley
Bobby "Zombie" Brents may be short and fat, but he is one helluva fighter.
He would likely be the shortest heavyweight in the UFC, that obviously hasn't deterred him in the past. Brents uses his wrestling and smothering top game to use ground-and-pound to force a stoppage or slap on a submission.
He would be a dangerous adversary to anybody he faced in the competition.
Devin Cole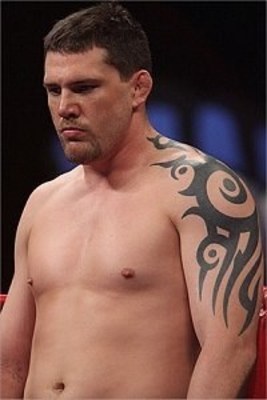 sherdog.com
Height/Weight: 6'4"/249 lbs.
Origin: United States
Record: 20-10-1
Notable wins: Gabriel Salinas-Jones, Shawn Jordan, Jason Riley, DJ Linderman, Travis Wiuff, Mike Kyle
Strikeforce veteran Devin Cole should have came over to the UFC when they absorbed the heavyweight division, but he didn't. Instead, he took part in the first World Series of Fighting card and lost via knockout to the resurgent Andrei Arlovski.
If you look past that loss, you will see Cole is a good heavyweight fighter. He is a dangerous striker that has a solid top-game on the ground.
At age 36, time may be running out. He needs to take a shot at making one final big-show run.
Tyler East
tapology.com
Height/Weight: 6'6"/240 lbs.
Origin: United States
Record: 11-3
Notable wins: Nick Gaston, Brian Heden, Esteves Jones
If height and reach were gold, Tyler "The Beast" East would be a wealthy man.
The 6'6" heavyweight fights long and is a powerful guy. Nine of his 11 wins have come via knockout, which means he can hurt you from a distance and put you down on the inside.
Stav Economou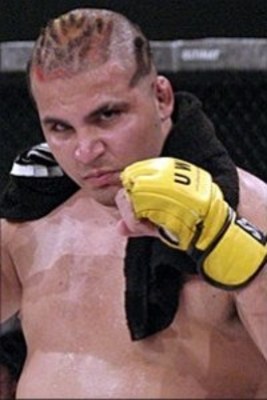 sherdog.com
Height/Weight: 6'1"/250 lbs.
Origin: Cyprus
Record: 14-2-1
Notable wins: Ricco Rodriguez, Bob Sapp, Linton Vassell
Stav "Crazy Bear" Economou may be from Cyprus, which is not known for their MMA talent, but he trains in the UK.
Economou has good takedowns and is a nasty striker. Not only that, he has the ability to pull off submissions from the top position.
His win over UFC veteran Ricco Rodriguez proved he may be ready for the big time.
Tyson Fury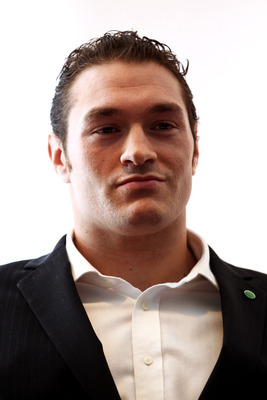 Dean Mouhtaropoulos/Getty Images
Height/Weight: 6'9"/257 lbs.
Origin: United Kingdom
Record: 0-0
Notable wins: N/A
The man who inspired this list, Tyson Fury should try his hand at MMA. He wouldn't need to work on his striking, considering he is a pro boxer, but could focus on his ground game the entire show.
His 6'9" frame is a natural advantage, as is his speed and athleticism. It would be good for ratings to have him on the show and could possibly draw boxing fans over.
It would be an interesting experiment, much like the one they did with Kimbo Slice.
Rolles Gracie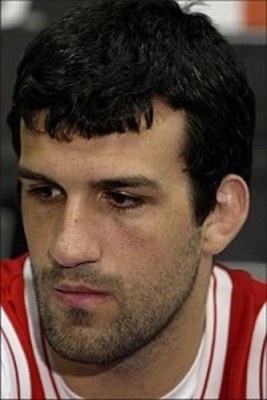 sherdog.com
Height/Weight: 6'4"/245 lbs.
Origin: Brazil
Record: 8-1
Notable wins: Tony Bonello, Bob Sapp, Lee Mein, Peter Graham, Baga Agaev
A member of the famous Gracie family, Rolles Gracie should get another chance since his embarrassing defeat at UFC 109. Since then, he has worked outside the UFC in other promotions such as One FC.
Gracie has a chance to be a great MMA fighter, but would benefit from the six-week taping that could improve his striking. His jiu-jitsu would be second-to-none on the show, so he could really benefit from a long striking camp from good coaches.
Peter Graham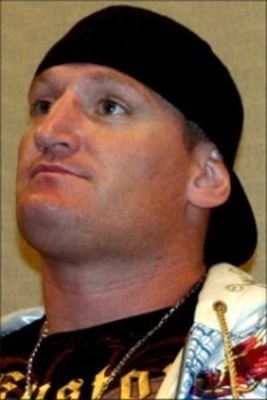 sherdog.com
Height/Weight: 6'2"/253 lbs.
Origin: Australia
Record: 6-5
Notable wins: Felise Leniu, Aleksander Emelianenko, Konstantin Gluhov
Peter "The Chief" Graham's MMA record isn't great. In fact, it's quite poor when looking at win percentages.
However, Graham's kickboxing ability alone makes him a huge threat in the cage. He has a 57-12-1 pro kickboxing record, as well as a 7-3-1 professional boxing record.
His leg kicks are nasty. It would be interesting to see how he would fare on a competition as high level as TUF.
Mike Hackert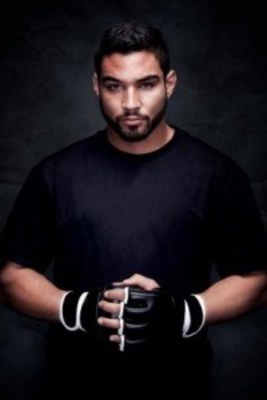 sherdog.com
Height/Weight: 6'0"/230 lbs.
Origin: Canada
Record: 6-1
Notable win: Tim Hague
Mike "The Honey Badger" Hackert is known as a fighter that fights to decisions, but that does not mean he is a boring fighter. In fact, his striking and all-around game are fun to watch.
The Canadian owns two wins over UFC veteran Tim Hague, the latter of which ended via knockout. He is definitely on the lighter side of heavyweight, but that means he would benefit from a deeper gas tank and quicker movement.
It would be interesting to see how he would fare.
Mike Hayes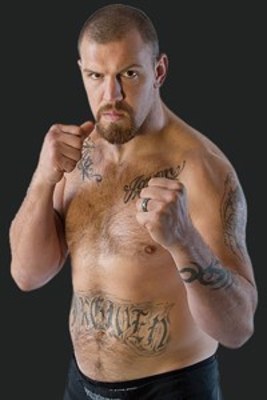 sherdog.com
Height/Weight: 6'4"/235 lbs.
Origin: United States
Record: 18-6-1
Notable wins: Andreas Kraniotakes, Neil Grove, Fabiano Scherner
Mike "300" Hayes has been on my radar for a while now, but every time I think he is getting closer to a UFC invite, he loses a higher-profile fight.
Hayes is a tough guy, as he has never been finished in an MMA fight. However, the well-rounded Hayes has been consistently successful overseas.
Dave Huckaba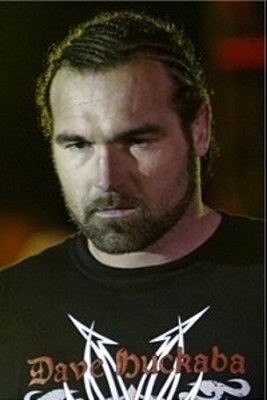 sherdog.com
Height/Weight: 6'2"/255 lbs.
Origin: United States
Record: 19-5
Notable wins: Carl Seumanutafa, Ruben Villareal, Bo Cantrell
Dave "Bad Man" Huckaba is another big-time knockout artist that could be a good addition to the UFC.
Huckaba has fought all over the United States and knocked out 16 men in the process. He is two-dollar-steak tough as well, absorbing a good amount of punishment before he is broken.
He could be a real fun fighter to watch on the show.
Derrick Lewis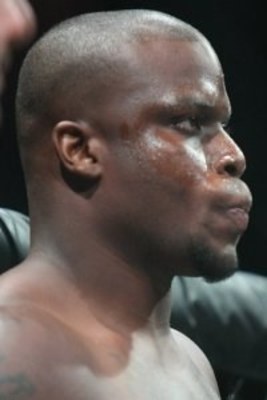 sherdog.com
Height/Weight: 6'3"/260 lbs.
Origin: United States
Record: 8-2
Notable wins: Jared Rosholt, Ryan Martinez
Derek "The Black Beast" Lewis is a finisher and a bull at that. His strength and size alone are advantages when he walks in the cage.
He has not been finished in either of his two losses. That is especially impressive, considering how aggressive he is and the level of competition he has faced.
Soa Palelei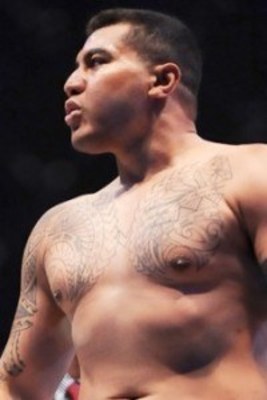 sherdog.com
Height/Weight: 6'4"/290 lbs. (would need to cut)
Origin: Australia
Record: 18-3
Notable wins: Sean McCorkle, Bob Sapp, Brad Morris
Soa "The Hulk" Palelei definitely would need to cut weight to make the 265-pound limit on the show, but it would definitely be worth it. Palelei is a monster and could make a serious run in the tournament format.
Palelei had one shot in the UFC, but was released after a lackluster showing against Eddie Sanchez at UFC 79. He has come back from that win and looked great since, fighting mostly in Australia.
The time is now to give him another shot.
Smealinho Rama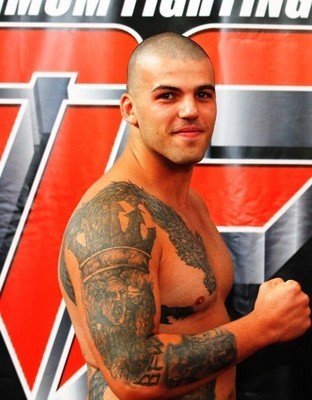 tapology.com
Height/Weight: 6'0"/262 lbs.
Origin: Canada
Record: 5-0
Notable wins: Ryan Fortin, Lee Mein
Smealinho Rama is newer to the sport of MMA, but he has been a success so far. The powerful Canadian has used a well-rounded game to run an undefeated record, all of which have been finishes.
None of his fights have left the first round, including a rear-naked choke win over the touted Ryan Fortin. His ground game would be hard to deal with for many that could make the show.
Jim Yorke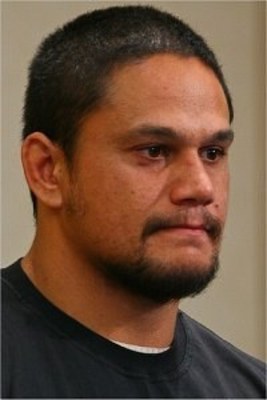 sherdog.com
Height/Weight: 6'1"/265 lbs.
Origin: New Zealand
Record: 15-5
Notable wins: Lucas Browne, Felise Leniu, Peter Graham, James Thompson, Brad Morris
"Big" Jim Yorke may be best remembered for this devastating knockout loss to Dave Herman, but he was doing well in that fight before that. Plus, that type of strike would be illegal in the UFC.
Yorke is another big, powerful man with tremendous stopping power. All 15 of his career wins have come via knockout or submission.
As you can see, he has a pretty solid resume, beating some top Australian talent, as well as some other imported talent.
Keep Reading