Novak Djokovic: Breaking Down Djoker's Road to the Finals
Use your ← → (arrow) keys to browse more stories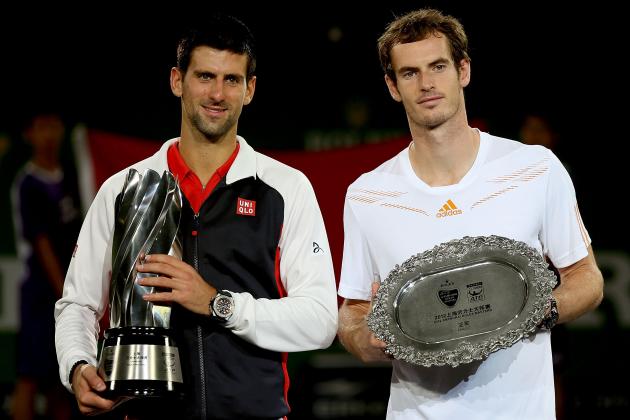 Matthew Stockman/Getty Images
The Australian Open draw is set up for a potential Andy Murray-Novak Djokovic final.
Novak Djokovic enters the Australian Open as the two-time defending champion and No. 1 seed on the men's side of the bracket.
Reaching the finals of this particular event is expected, but he still has to defeat each opponent in his way.
Here is the road he faces on his way to his third straight final:
In the first round, Djoker will take on Paul-Henri Mathieu—the 58th-ranked player in the men's game. Mathieu is 30 years old and a 13-year tour veteran who has been ranked as high as 12th in his career.
He's 61-57 in his career on indoor courts and 203-193 against right handed players.
In other words, he's an average player, but no one Djokovic should be too scared of facing in the first round.
In Round 2, Ryan Harrison and Santiago Giraldo are the possible opponents.
At 20 years of age, Harrison is quite the opposite opponent of Mathieu. He is similar, though, in that he is ranked 68th. He is considered a player on the rise, which makes him just the kind of player Djokovic should be concerned about.
If Giraldo beats Harrison, Djokovic would be facing the 63rd player in the world who is 25 years old, which closely identifies him with the Djoker.
Should the Djoker escape unscathed to the third round, his most likely opponent is the 31st-seeded Radek Stepanek, who is still playing solid tennis at the ripe age of 34. One would have to expect that Stepanek would be unable to keep up with the still sly 25-year-old Djokovic.
In which round is Novak Djokovic most likely to lose?
In Round 4, Sam Querrey is a likely opponent. Querrey is considered a tough matchup for Djokovic because he is equal in age, is powerful at 6'6" and has a solid service game.
If he can get past the American, his quarterfinal opponent will likely be either the fifth-seeded Czech, Tomas Berdych or the 11th-seeded Juan Monaco.
The 12th-ranked player in the world, Monaco, is a better matchup for Djokovic as he is slightly older. Thus, he is slightly less agile and not a tremendously powerful player at 6'1".
Berdych, on the other hand, stands at 6'5" and is a brilliant service player much like Querrey. His return game is quite adept as well.
Assuming Djokovic can run that gauntlet, he is likely to face David Ferrer in the semifinals. Ferrer is quite the opposite player compared to the majority of Djokovic's competition leading up to the semis. At 5'9", Ferrer relies on quickness and agility to make shots.
The turnaround from preparing for physically strong opponents to a quick player may prove too drastic for the No. 1 player. Then again, the No. 1 player in the world should be able to make such a turnaround.
Notice who has not been mentioned yet—Roger Federer and Andy Murray. Those two will be the favorites to land in the semis on the other side of the bracket.
One of those two—or someone who upsets them—would be Djokovic's competition in the Australian Open Final.
What a final it should be, if only Djokovic can take care of business in the early rounds.