Ranking All 25 Australian Open Tournaments in Hard-Court Era 1988-2012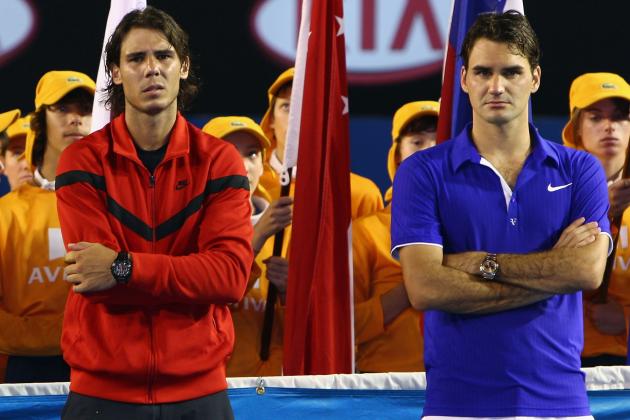 Clive Brunskill/Getty Images

The 2013 Australian Open anticipates the likes of Roger Federer, Andy Murray and two-time defending champion, Novak Djokovic. Despite the absence of world No. 4 Rafael Nadal, excitement runs high for another great tournament.
The Aussie Open was traditionally played on grass from its advent in 1905-1987. It did not receive as much acclaim as Wimbledon and the U.S. Open, mainly because it was difficult to attract deep and talented fields for participation.
In 1988, the grass surface was replaced by hard courts, albeit a slower and higher-bouncing surface than the U.S. Open. This surface called Rebound Ace lasted 20 years until it was updated in 2008 to a similar surface called Plexicushion.
After 25 years of hard courts, the Aussie Open has grown in importance. It now attracts all of the top stars and is the important first of four Grand Slam events for a calendar year.
The following is a brief look at the dominant storyline for each of these tournaments. They will be ranked in terms of memorable matches and quality, especially in terms of the semifinals and finals.
Begin Slideshow

»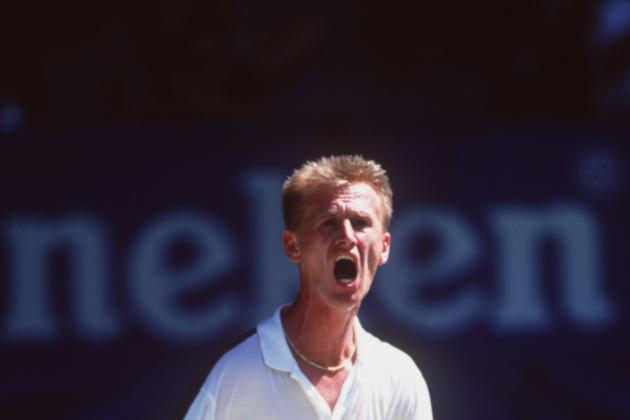 Clive Brunskill/Getty Images

No. 1 Pete Sampras was gone in the quarterfinals. No other prominent star remained. Petr Korda won his only Grand Slam title by defeating flash-in-the-pan Marcelo Rios.
Korda then became infamous six months later at Wimbledon when he was banned for an anabolic steroid called nandrolone.
This was Rios' only Grand Slam appearance. A few months later would see Rios achieve the No. 1 ranking for six weeks without winning or appearing in any other Grand Slam final.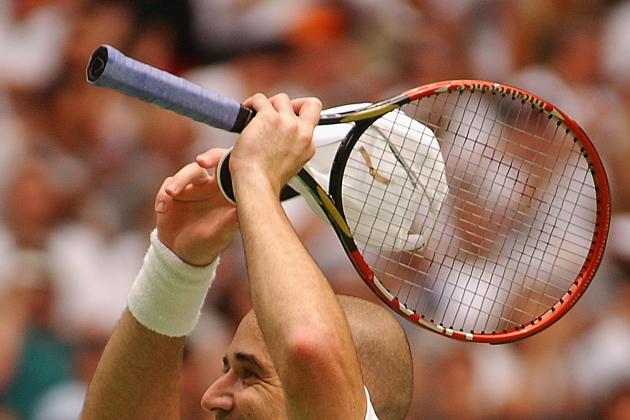 Nick Laham/Getty Images

It was a weak field that aging Andre Agassi defeated on his way to his eighth and final Grand Slam title.
The highlight was Andy Roddick's quarterfinal win over Younes El Aynaoui, which produced a marathon fifth set at 21-19. Roddick was tired and subsequently eliminated against 31st seeded Rainer Schuettler, robbing the finals of a marquee match-up.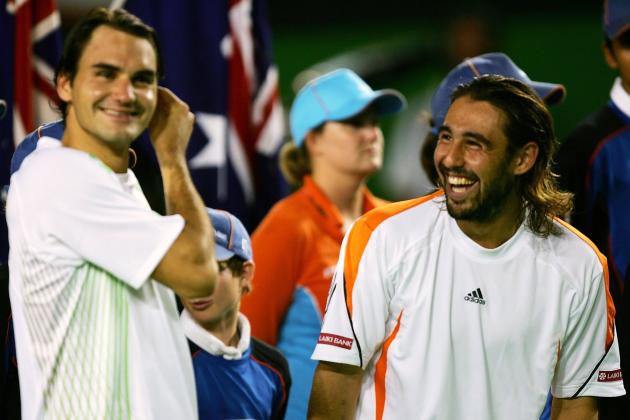 Sean Garnsworthy/Getty Images

Defending champion Marat Safin could not play because of injury. It turned out to be more of a coronation than competition for Roger Federer, who cruised to an easy title.
Marcos Baghdatis was a remarkable story, but would never get back to such prominence. He suffered a high-profile loss to Andre Agassi in the U.S. Open and slowly drifted amongst the second and third tier players.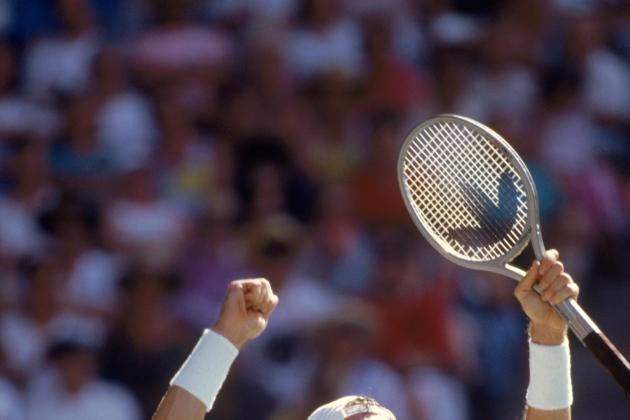 David Cannon/Getty Images

The drama withered away in the Aussie quarterfinals when Stefan Edberg could not compete, perhaps robbing his semifinal appearance against Ivan Lendl.
Lendl would destroy Miloslav Mecir, sending the talented Slovakian to his second and final loss in a Grand Slam final. Mecir's other Slam final loss was a 1986 sweep at the U.S. Open, also by Lendl.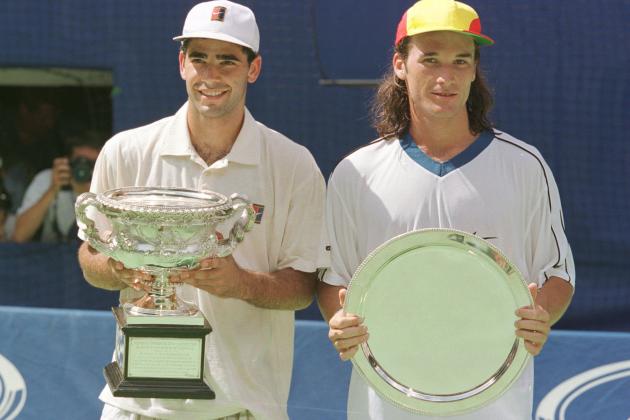 Clive Mason/Getty Images

It was a tournament tailored for Pete Sampras. He did not face a ranked player in the first week, and then finished off his final three wins against Albert Costa, Thomas Muster and Carlos Moya.
If this were the French Open, it would be a career achievement, but Sampras had no trouble with these clay-court specialists in Australia.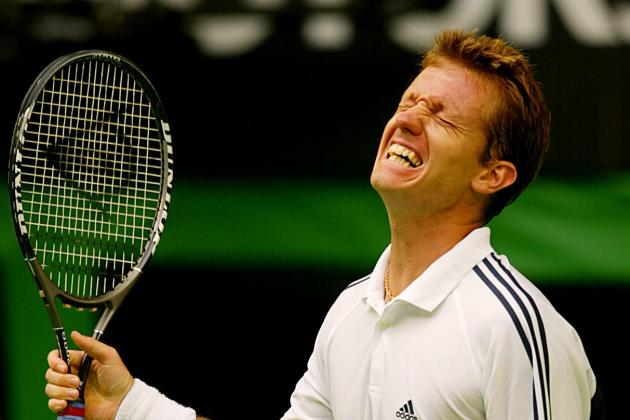 Sean Garnsworthy/Getty Images

In the first round, the chaos began with No. 1 seeded Lleyton Hewitt losing. By the quarterfinals, No. 7 seed Tommy Haas was the favorite.
Marat Safin endured a tough five-setter over Haas in the semifinals, but produced a surprising letdown in the finals to No. 16 seed Thomas Johansson. It was one of the most unpredictable results from start to finish and not too memorable either.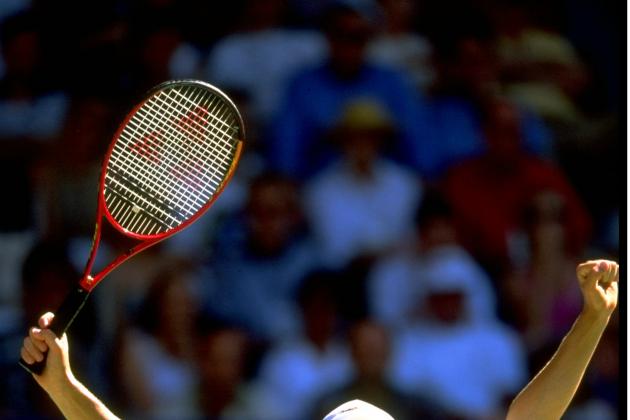 Clive Brunskill/Getty Images

There was more madness at an era of star-driven instability just before Andre Agassi would begin his career renaissance.
Top seeds were bounced out like kangaroos at an Australian pub. Yevegeny Kafelnikov added his second and final Grand Slam title to pair with his French Open win of 1996.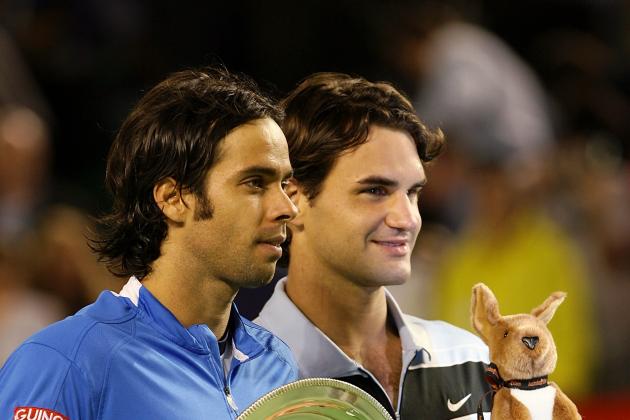 Clive Brunskill/Getty Images

After his 2006 U.S. Open defeat at the hands of Roger Federer, Andy Roddick made another push to catch the Swiss Maestro.
Federer quickly annihilated this notion with a 6-4, 6-0, 6-2 thrashing over Roddick in the 2007 Aussie semifinals.
Federer did not drop a single set on his way to this title, so this would be a masterpiece memory for his fans.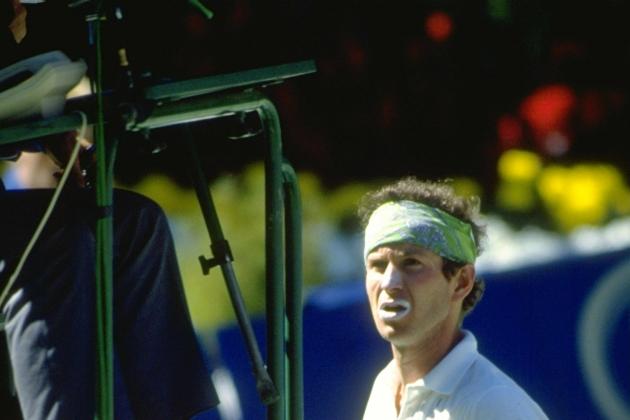 Pascal Rondeau/Getty Images

It could have been a much greater tournament with some legendary players had it not been for two unfortunate episodes.
In the fourth round, fourth seeded John McEnroe was defaulted for unsportsmanlike conduct, which would have been a YouTube sensation had it occurred two decades later.
In the final, with the match squared a set apiece, Stefan Edberg had to retire with a torn stomach muscle. It was an unfortunate end for a Grand Slam venue, and the last of Lendl's Slam titles.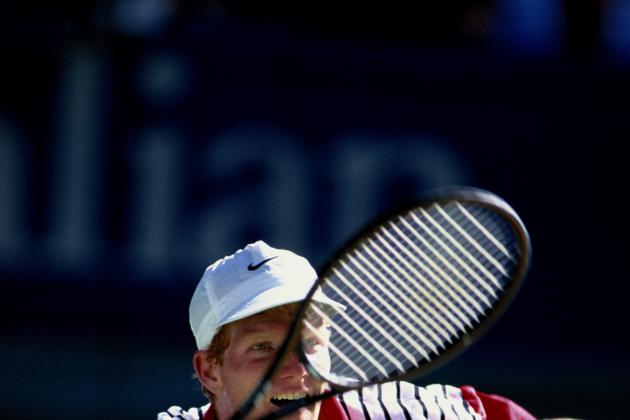 Simon Bruty/Getty Images

Defending champion and No. 1 Jim Courier won the Aussie finals rematch vs. No. 2 Stefan Edberg. The match was almost a replay of the previous year in which Courier's hard forehand bullied Edberg for four grueling sets. The drama was lacking.
Another oddity was the lack of competitive big matches. All of the quarterfinals and semifinals matches were straight sets wins.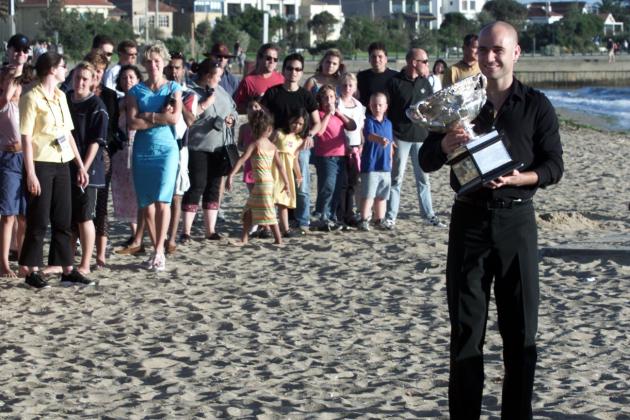 Darrin Braybrook/Getty Images

The field was weak after some of the big guns were expelled before the quarterfinals. But three five-set matches kept it compelling.
The best match was countryman Patrick Rafter going up two sets to one on sixth seeded Andre Agassi in the semifinals.
Agassi survived the five-set match and then blitzed Arnaud Clement who was running on fumes after back-to-back five setters of his own.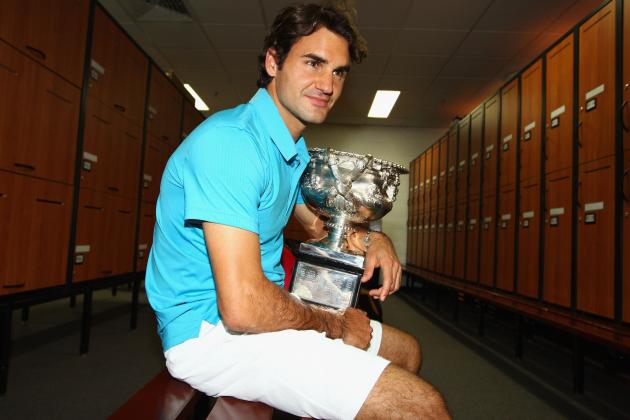 Clive Brunskill/Getty Images

Roger Federer fans remember it most as his exclamation point on a near-perfect run to capturing all four Slams. Were it not for a five-set loss to Juan Martin del Potro in the U.S. Open, Federer's convincing win over Andy Murray at the 2010 Aussie Open was proof enough.
For Murray, it was another step in the right direction, but he simply could not beat Federer unless the Swiss Maestro was off. Murray's recent U.S. Open win and gold medal helps soften the blow and validates his persistence.
This would mark the end of Federer's peak years, though he has remained a champion and may have several more great moments ahead.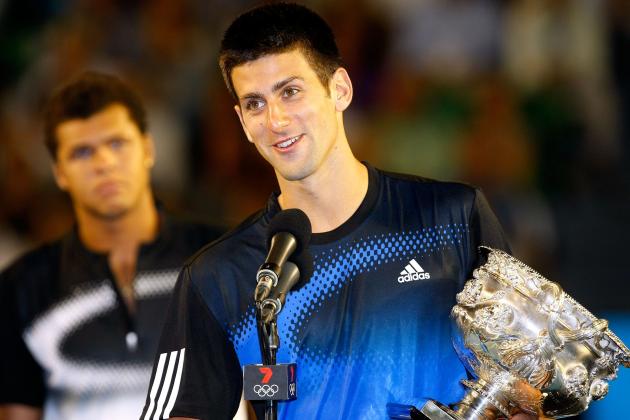 Lucas Dawson/Getty Images

Novak Djokovic gave a glimpse of the future with his outstanding talent. He toppled Roger Federer in the semifinals and crowned the achievement by defeating promising Jo-Wilfried Tsonga.
It was also the first time the Aussie Open was played on Plexicushion. Djokovic seeks his fourth title in six attempts on this surface heading into the 2013 tournament.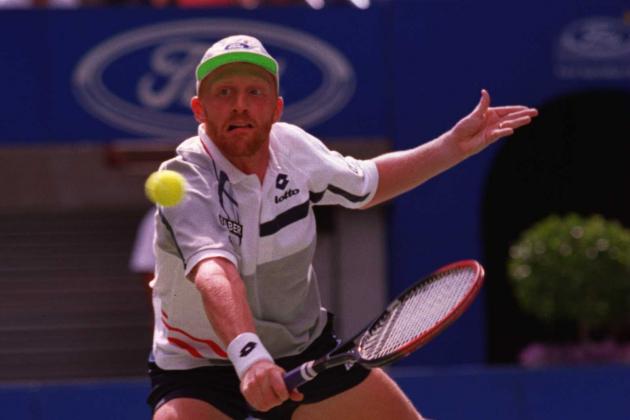 Phil Cole/Getty Images

In the quarterfinals, Andre Agassi roared back from a two sets deficit to defeat eighth seeded Jim Courier. Agassi then fell to fellow American Michael Chang.
It was an interesting change-of-pace final with old dog Boris Becker versus terrier Michael Chang. Chang fought hard in 1996 to win another Grand Slam, but could not overcome the serve or net game of Becker or Sampras.
This would be Boris Becker's last Slam title. The German legend captured his first Slam in five years and second overall Aussie title.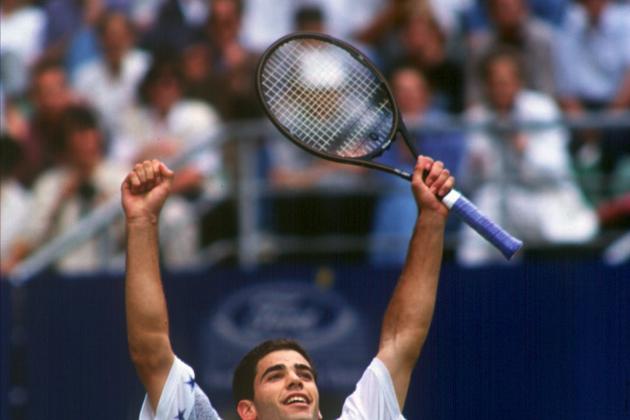 Clive Brunskill/Getty Images

Pistol Pete Sampras won his first Aussie Open title with a whitewashing of two-time defending champion Jim Courier in the finals.
This run of three consecutive Slams for Sampras was comparable to those from Roger Federer in the mid 2000s.
Finalist Todd Martin made his mark by defeating Stefan Edberg in the semifinals behind three straight tiebreakers after dropping the opening set. Martin was never able to win a Slam title despite an excellent serve and beautiful groundstrokes.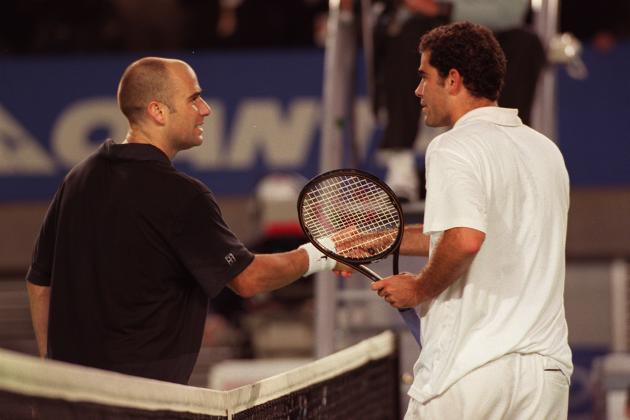 Clive Brunskill/Getty Images

Most of the tournament was a lackluster affair until Andre Agassi toppled Pete Sampras in the semifinals. It was one of the great Aussie Open matches of all time in which Agassi had to pull out a tough fourth set tiebreaker.
Agassi then opened the fifth with remarkable returns to break Sampras and send him barking at Agassi's coach, Brad Gilbert who was apparently cheering too loudly.
The final pitted Agassi against talented second seeded Yevgeny Kafelnikov. He was not to be denied in capturing the title for a run of three Slams in four attempts and a Wimbledon runner-up.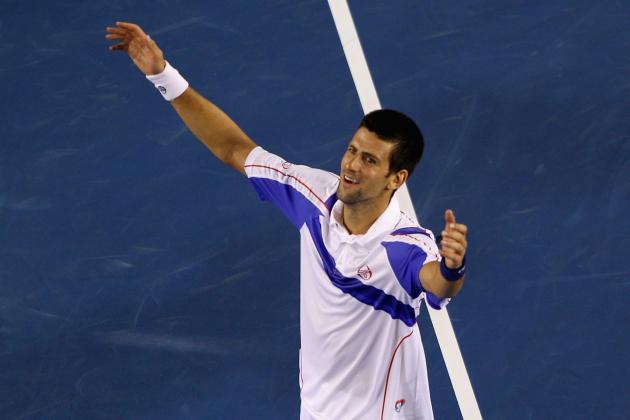 Mark Dadswell/Getty Images

Rafael Nadal's bid to hold all four Grand Slam titles at one time ended in the quarterfinals with a straight sets defeat to David Ferrer.
Above all, Novak Djokovic put a stamp on the start of his dominant 2011 season with a hard-fought victory over Roger Federer and a convincing win over Andy Murray. It was a shift in men's tennis that broke up the Federer-Nadal stranglehold at the top.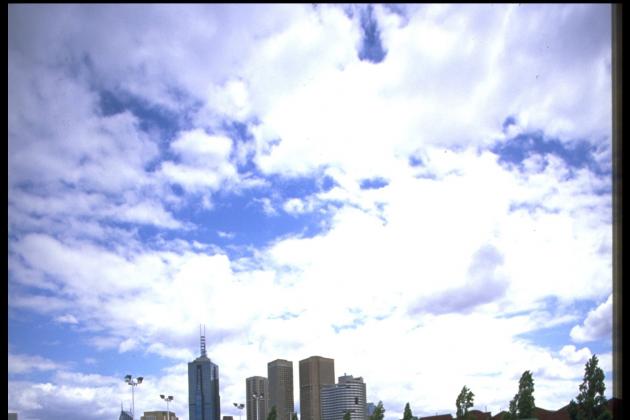 Joe Mann/Getty Images

A five-set quarterfinal thriller between Ivan Lendl and Stefan Edberg was a last gasp epic between the 80s generations of champions.
It was also the turning point for Jim Courier's brief run at No. 1 in toppling rival Edberg. It signaled a new brand of baseline power tennis. Courier would also win the 1992 French Open and to date is the last player to start a new year by winning both titles.
The classic serve-and-volley play of Edberg was setting, but he would rebound to win the 1992 U.S. Open for his sixth and final Slam title.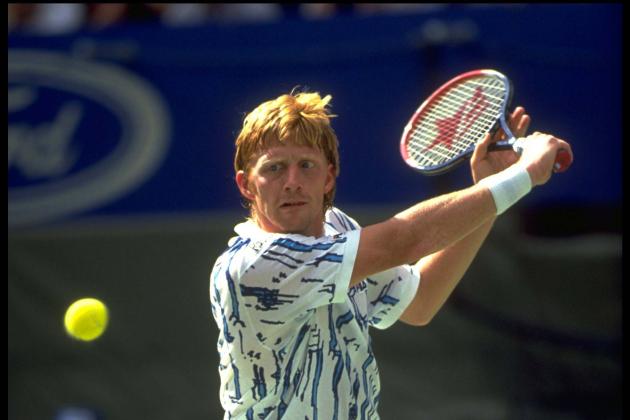 Simon Bruty/Getty Images

Ivan Lendl won a five-set semifinal classic over rival Stefan Edberg, but could not pull off his third straight Aussie Open title.
Instead it was Boris Becker who finally earned the No. 1 ranking for the first time in his career. He held it for twelve total weeks in 1991, but never recaptured this ranking again. It's the conundrum of his flamboyant and spectacular career backed up by six Grand Slam titles.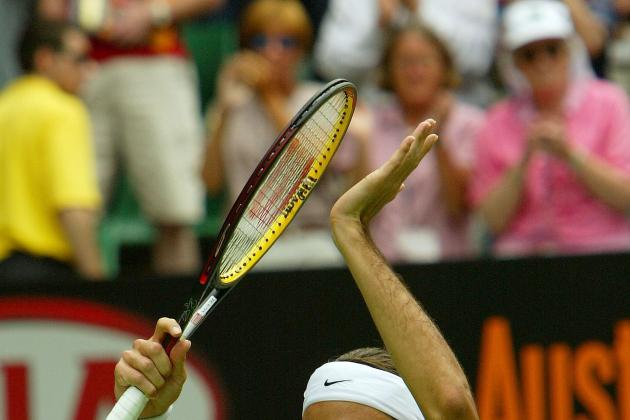 Clive Brunskill/Getty Images

Marat Safin was his competitive self with back-to-back five-set wins over Andy Roddick and Andre Agassi to reach the finals. It was an excellent run by a talented player, but it would have also been interesting to see Agassi—the early millenium's King of Australia—take on Roger Federer in a passing-of-the-torch match.
Few could have known that this Aussie title for Federer would separate him from the likes of Roddick, Agassi, Safin and Lleyton Hewitt. Tennis was changed forever. Federer would prove himself for six years with the most dominant championship run in tennis history.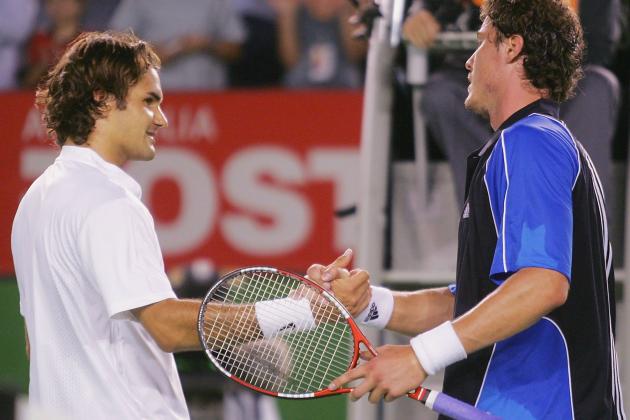 Sean Garnsworthy/Getty Images

Perhaps Marat Safin's five-set victory over Roger Federer in the semifinals was the greatest match in Australian Open history. Federer showed his spectacular talent and even tried to seal match point in the fourth set with a 'tweener'. Somehow, Safin outlasted the Swiss Maestro 9-7 in the finale. Simply brilliant tennis by both players.
The tournament had several other appealing matches including Federer's annihilation of Andre Agassi in the quarterfinals, and great efforts by native son Lleyton Hewitt to overcome David Nalbandian and Andy Roddick.
All of Australia tried to will Hewitt to overcome a long drought of Aussie-less titles since the halcyon days of Rod Laver and Ken Rosewall. Safin was just too talented and not to be denied after arguably the most impressive win of his career.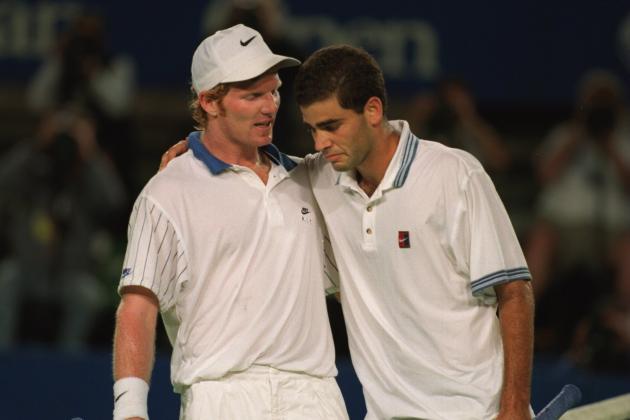 Gary M. Prior/Getty Images

"You all right, Pete? We can do this tomorrow, you know." Jim Courier tried in vain to keep his concentration on a match that was slipping into the Outback.
Pete Sampras could no longer contain the tears of emotion. It was the fifth set of the quarterfinals and Sampras had recently learned his coach, Tim Gullikson, was being sent home because of a stroke which would lead to brain cancer.
Sampras had rallied back from losing the opening two sets on tiebreakers and the moment humanized him to the media and fans who had often charged him as acting robotic. It was high drama with Sampras actually able to produce the kind of media sensation normally held by Andre Agassi. Sampras went on to the finals.
Eventually, it would be Agassi's time to shine. The balding baseliner with his pirate clothing defeated Sampras in wilting heat to capture the No. 1 ranking and continue one of his two career peaks.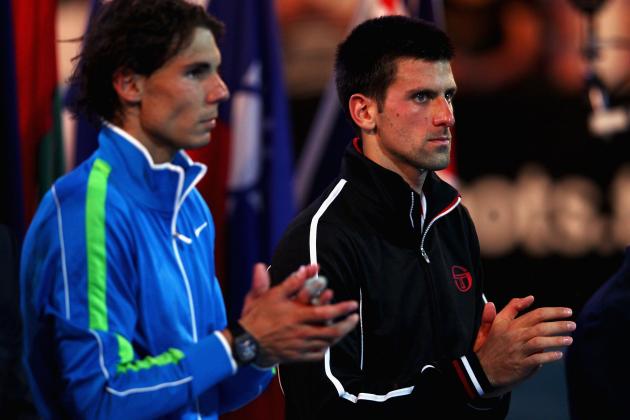 Clive Brunskill/Getty Images

The two semifinal matches were another display from tennis's Fab Four. Nadal once again fought back to defeat Federer. Andy Murray pushed Novak Djokovic to a fifth set before bowing out to the Serbian champion.
The final turned into a double marathon. Though Djokovic had his chances to wrap up the match by the fourth set, he opened the door for Rafael Nadal. The rest of the match was more grueling than spectacular.
It ended with an ecstatic Djokovic ripping off his shirt with an Incredible Hulk impersonation. Nearly six hours of tennis had elapsed in what some called the greatest match of all time. Nadal had lost his third consecutive Slam final, all to Djokovic.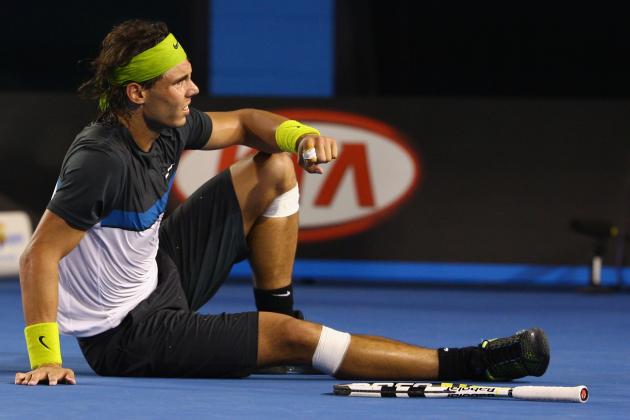 Clive Brunskill/Getty Images

Fernando Verdasco gave a career performance in his semifinal five-set loss to Rafael Nadal. He pushed his fellow Spaniard to his absolute physical limits in the stifling heat.
Nadal spent the next two days trying to recover his strength. In his autobiography, Rafa, he admitted he did not think he could even play in the finals.
Somehow Nadal pushed himself to win another five-set match at the expense of the mighty Federer. The two champions were emotional, Nadal for having persevered through his physical suffering and Federer who had to wonder if his dynasty had ended.
Federer's excruciating loss would disappear on the courts of Roland Garros as he would capture his French Open title and follow this up with a Wimbledon title classic. Great champions always have more.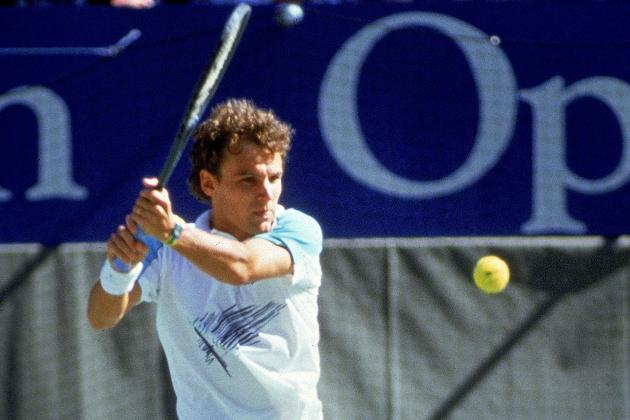 Getty Images/Getty Images

The first Aussie Open on hard courts featured a memorable Grand Opening that may be the greatest of the past quarter century. All three of the final matches featured star talents who dueled through five-set matches.
In one semifinal, native Australian Pat Cash thrilled the folks Down Under by defeating No. 1 ranked Ivan Lendl. The serve-and-volley master had a propensity for playing well in big matches, and this one may have ranked second on his career highlights behind his 1987 Wimbledon victory over Lendl.
The other semifinal was a Swedish delight as Mats Wilander out-grinded the beautiful game of Stefan Edberg. Wilander was just warming up.
Wilander's next display was to outlast Cash in a match that lasted four and a half hours. Halfway through the match, rain caused the roof to be closed. It was the first Slam title to be completed indoors. Wilander eked out his championship in the fifth set, 8-6.
Wilander went on and added the French and U.S. Open titles. He would be the last man to win three Slams in one year until Roger Federer patented this pattern beginning in 2004.
Since Wilander's great win, the Aussie Open has been a spectacular success with virtually all the stars on the ATP tour making the trip and competing at the home of one of tennis's finest and traditional establishment.