The 10 Greatest Trilogies in MMA History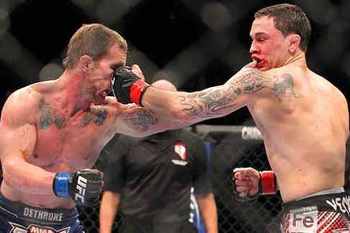 mmamania.com
When I think of great trilogies in any combative sport, for me there has to be several ingredients that come together to create an epic story where the fighters, acting as co-authors, give us all they can and it's simply not enough for a single sitting.
Thus, because it was so good the first time, we need more.
A great trilogy needs action (and back-and-forth action is the best), some doubt as to who is going to win each bout (and the more doubt, the better), drama as a result of serious conflict, and above all, there needs to be a reason why two fighters would need to meet a second time, let alone a third.
Some notable trilogies that didn't make this list based on this criteria are Tito Ortiz vs. Ken Shamrock, Wanderlei Silva vs. Kazushi Sakuraba, Randy Couture vs. Vitor Belfort, and so on.
It's not that those trilogies weren't good; it's that I didn't think they were great.
Ortiz ran all over Shamrock in their first bout and from there it just got worse, and we got a trilogy lacking any real drama, doubt as to who would win, and no clear reasons why they should fight two times, let alone three.
Well, there was money, of course; can't forget about that.
The same could be said about Silva vs. Sakuraba (to some extent), and as far as Couture vs. Belfort, the only reason why we got a third fight is because Couture didn't slip that punch as well as he thought in the second bout.
Of course, not all great trilogies meet every standard, but they meet most of them, and for the purpose of this list, the majority rules.
Enjoy.
No. 10: Antonio Rodrigo Nogueira vs. Heath Herring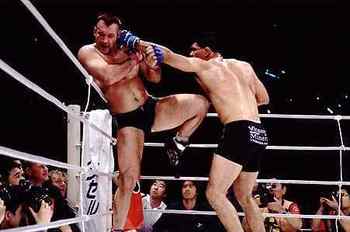 en.susumug.com
Division(s): Heavyweight
When: Pride 17 / Pride Critical Countdown 2004 / UFC 73
Results: Nogueira via unanimous decision / Nogueira via submission (anaconda choke) / Nogueira via unanimous decision
When Antonio Rodrigo Nogueira and Heath Herring first squared off, it was with a high pace as they both went after it for the duration of the fight; attacking each other on the feet and on the floor.
Nogueira was clearly the better fighter, but it was amazing to see Herring get out of each submission thrown at him, and many of them came close to ending the bout.
In their second fight, Nogueira sealed the deal and finished Herring with an anaconda choke that was as tight as they come.
When they met for the final time, it was in the UFC octagon, and while Nogueira was dominating the bout, Herring landed a high kick to the head of "Big Nog," dropping him to his back.
Herring was unable to capitalize and Nogueira would go on to win the bout via unanimous decision, but it was still a very good set of fights.
No. 9: Fedor Emelianenko vs. Antonio Rodrigo Nogueira
sherdog.com
Division(s): Heavyweight
When: Pride 25 / Pride Final Conflict 2004 / Pride Shockwave 2004
Results: Emelianenko via unanimous decision / No Contest / Emelianenko via unanimous decision
Back in the day, no one believed that Antonio Rodrigo Nogueira could have his ground game stifled once the fight hit the mat.
Nogueira was a wizard on the ground, and normally, when he got a fighter down, the end was near.
When he faced Fedor Emelianenko, nearly everyone thought the quiet Russian was just another name on Nogueira's hit list, but then Fedor blasted Nogueira with a big punch, and from there he unleashed some of the most brutal ground-and-pound the sport has ever seen.
Nogueira survived it all but was unable to turn the tide; to the surprise of most everyone, Fedor was able to maintain top positions amid numerous submissions thrown at him from one of the sport's very best.
Nogueira bounced back and earned a rematch with Fedor, but the bout was stopped after an accidental clash of heads, and ruled a no contest.
They had their final fight to determine once and for all who was the top dog and once again, in a spirited fight, Fedor won the decision.
No. 8: Forrest Griffin vs. Tito Ortiz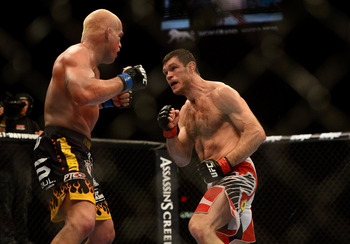 Mark J. Rebilas-USA TODAY Sports
Division(s): Light Heavyweight
When: UFC 59 / UFC 106 / UFC 148
Results: Ortiz via split decision / Griffin via split decision / Griffin via unanimous decision
It was the first big test for any cast member of The Ultimate Fighter and as Forrest Griffin squared off against Tito Ortiz, it looked like the TUF winner was going to learn some hard lessons.
Ortiz secured a takedown and began battering Griffin with nasty elbows, opening a cut along the way.
As the bout wore on, Griffin began to mount a comeback, landing punches and stuffing most takedowns that came his way.
In the end, the judges gave the nod to Ortiz via a split-decision victory, although some thought Griffin should have gotten the decision.
In their second bout, it was much of the same; Ortiz scored with some takedown attempts while Griffin stuffed a fair share, and on their feet it seemed somewhat even until Ortiz got tired and Griffin began to throw like he was working a heavy bag, landing nearly at will and earning the decision.
In the final bout (and the last in the career of Ortiz), Griffin once again earned a decision even after being dropped twice by the punches of Ortiz. Griffin proved to be the more active fighter and scored well, even though both men looked like they had seen better days.
It was one of those trilogies that had three close fights that in all honesty could have gone either way, and that is why it ranks above others on this list—because it was competitive, even if the competitors were not at their greatest.
No. 7: Shinya Aoki vs. Joachim Hansen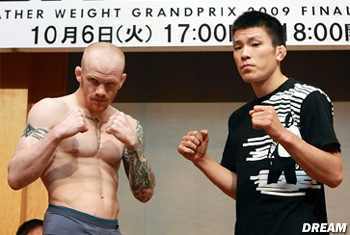 mmajunkie.com
Division(s): Lightweight
When: Pride Shockwave 2006 / Dream 5 / Dream 11
Results: Aoki via submission (gogoplata) / Hansen via TKO (punches) / Aoki via submission (armbar)
I find myself somewhat amused by this trilogy, for all the right reasons.
I honestly believed that in the first bout between Shinya Aoki and Joachim Hansen that Aoki was going to get a fairly through beating, and instead Aoki locked up a submission fairly quick and walked away with an easy victory that left Hansen looking somewhat schooled.
In the rematch, I was firmly going with Aoki, even though Hansen was the fresher fighter. I was then reminded just how bad a fight prognosticator I was when Hansen defeated Aoki via TKO.
In the rubber match, I had finally learned I had no clue as to who was going to win, so I just sat back and enjoyed the violence.
The result of their third bout was a good fight that saw Hansen on his way to winning a decision before Aoki locked up an armbar and took the title via submission in a thrilling come-from-behind victory.
No. 6: Georges St. Pierre vs. Matt Hughes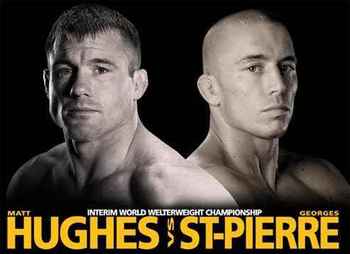 mmamania.com
Division(s): Welterweight
When: UFC 50 / UFC 65 / UFC 79
Results: Hughes via submission (armbar) / St. Pierre via TKO (punches) / St. Pierre via submission (armbar)
I remember when it was announced that Georges St. Pierre was going to be fighting Matt Hughes at UFC 50 for the welterweight title, and I thought it was just too soon for GSP to be facing a fighter like Hughes.
In their first match, I was surprised at just how well St. Pierre was doing, and then with a single second left in the first round, Hughes executed a beautiful kimura counter that ended up in an armbar so slick that it almost looked choreographed.
When they met up the second time, St. Pierre was a different fighter, and it showed as he dominated the fight and eventually caught Hughes with a head kick that sent him reeling to the floor and followed up with punches to earn the title.
Their third meeting was for the interim welterweight title and saw Hughes trying to get one-up on St. Pierre, who had lost the belt to Matt Serra via a shocking and brutal first round knockout.
St. Pierre made it look so easy that it didn't seem like he was fighting Matt Hughes, but someone else who wasn't nearly as good.
St. Pierre stuffed any takedown Hughes attempted and scored takedowns of his own almost at will, finally ending the bout with an armbar that seemed almost poetic, given that Hughes had won via armbar in their first meeting.
No. 5: Sam Stout vs. Spencer Fisher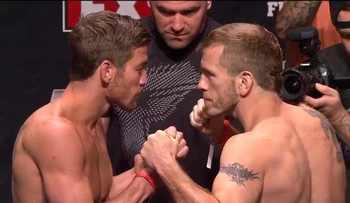 mmamania.com
Division(s): Lightweight
When: UFC 58 / UFC Fight Night: Stout vs. Fisher / UFC on FX: Maynard vs. Guida
Results: Stout via split decision / Fisher via unanimous decision / Stout via unanimous decision
The first time these two men slugged it out, it was excitement from top to bottom as they played to their strengths and ended up knocking each other all over the octagon.
The final two bouts were much of the same, really. Both men showing just how much power they have by rocking the other, and from there each man showing his resolve by marching forward like nothing happened.
This is one of the trilogies on this list that has a kind of quality about it, especially when it comes to action and drama.
No. 4: Gilbert Melendez vs. Josh Thompson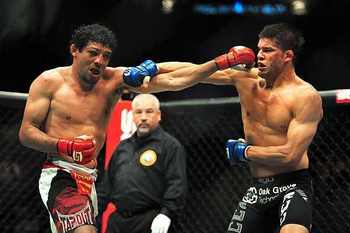 espn.go.com
Division(s): Lightweight
When: Strikeforce: Melendez vs. Thompson / Strikeforce: Evolution / Strikeforce: Barnett vs. Cormier
Results: Thompson via unanimous decision / Melendez via unanimous decision / Melendez via split decision
This was a closely contested series of fights that saw each man bring the best out of the other, in many ways similar to Erik Morales and Marco Antonio Barrera.
This was a case of two tough, battle-tested men slugging it out, using all the brain and brawn at their disposal, and you never really knew who was going to win, or if it was going to make it to a decision.
These fights were very entertaining and close.
No. 3: Frankie Edgar vs. Gray Maynard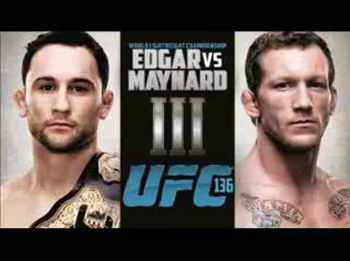 vimeo.com
Division(s): Lightweight
When: UFC Fight Night: Florian vs. Lauzon / UFC 125 / UFC 136
Results: Maynard via unanimous decision / draw / Edgar via KO (punches)
Given that their first fight was more of a prolonged grappling match, I am not sure if anyone expected the opening round of the second bout between Frankie Edgar and Gray Maynard to go the way it did—especially given that BJ Penn had such a hard time connecting his punches to Edgar's chin—but when Maynard began to land, we knew we were in for a totally different fight than we saw the first time.
Maynard threw a hellacious beating on Edgar in that first round, and the fact that Edgar even made it back to his stool after was nothing short of impressive.
Then, Edgar began to stage a comeback; darting in to tag Maynard with solid punches and then darting back out on one hand while snagging takedowns on the other.
Both men struggled against each other and by the end, the judges could not agree upon a clear winner and the bout was declared a draw.
So, Dana White granted Gray Maynard an immediate rematch (and rightfully so), and lo and behold, Maynard gives Edgar another first-round beating that was almost as bad as the last first round.
True to form, Edgar mounted a comeback, and this time he finished Maynard with punches in the fourth round to retain his title in a classic trilogy that defines the words "heart" and "heartbreak."
No. 2: Chuck Liddell vs. Randy Couture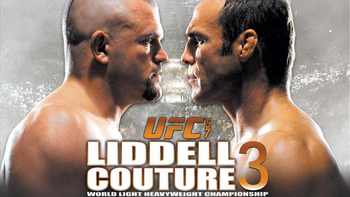 themoviedb.org
Division(s): Light Heavyweight
When: UFC 43 / UFC 52 / UFC 57
Results: Couture via TKO (punches) / Liddell via KO (punches) / Liddell via KO (punches)
The first time these greats met, it was to decide the interim UFC light heavyweight champion, and on that night, Randy Couture pulled off a shocking upset; out-striking Chuck Liddell and eventually putting "The Ice Man" on his back and pounding him out.
In their second bout, it was Liddell who pulled off the upset, dropping Couture with a monstrous punch that left him out cold and unaware of the flurry that followed and brought an official ending to the bout.
The third bout was to finally give us the answer as to who was the best between them; would it be Couture, getting Liddell to the ground and hammering the title out of his hands, or would the champion extend his reign by reacquainting his fist with Couture's chin?
The latter was the case as Liddell once again knocked Couture out and defended his belt in a dandy trilogy that was much more dramatic than mere words can convey.
No. 1: Wanderlei Silva vs. Quinton "Rampage" Jackson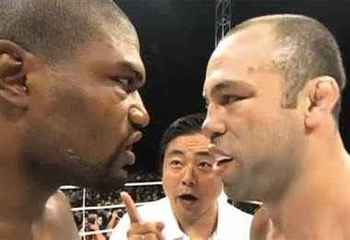 sherdog.net
Division(s): Middleweight / Light Heavyweight
When: Pride Final Conflict 2003 / Pride 28 / UFC 92
Results: Silva via TKO (knees) / Silva via KO (knees) / Jackson via KO (punch)
Few fights have ever been as noteworthy as each bout in this trilogy; all have made highlight-reels for the intensity of how they were fought and the savagery of their finishes.
Given the ability of both men to end a fight fast, there was constant drama that kept you on the edge of your seat, and even though there were a few lulls in the action here and there, overall, the pace was high.
Both men enjoyed moments of domination in the first two fights that eventually saw Silva wrecking Jackson in brutal fashion.
The rubber match was short and sweet, but no less brutal, as Jackson exacted some measure of revenge when he starched Silva with a beautiful counter left-hook.
Sometimes, when I re-watch these fights, I get so pulled in that for a split-second, I actually find myself unsure of who is going to win.
But just for a split-second.
Keep Reading