Grading Every Philadelphia Eagles Starter's 2012 Regular Season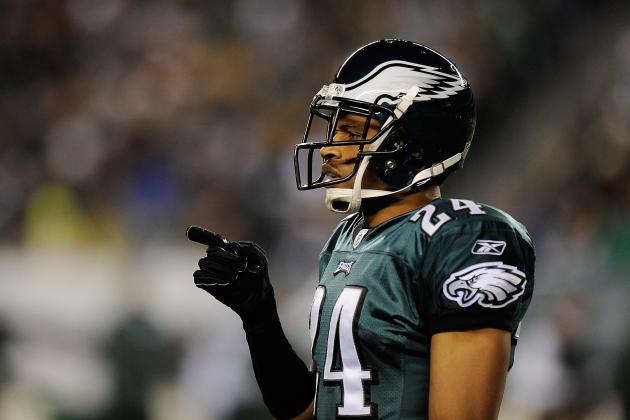 Patrick McDermott/Getty Images

It's time to grade the players responsible for the 2012 Philadelphia Eagles' 4-12 record. While the team effort was consistently futile throughout the season, which players were bright spots who could take some momentum into the offseason?
On the other hand, which players left a bad enough taste in our mouths to pull an "F" for the season? The grades are in, and let's just say they aren't pretty...
Begin Slideshow

»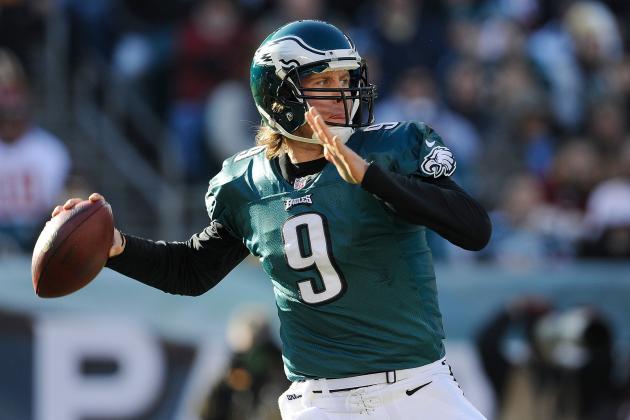 Patrick McDermott/Getty Images

Quarterback Nick Foles had a roller coaster ride of a season. After assuming the role when Michael Vick went down with a concussion, Foles had some obvious rookie problems. His inaccuracy, especially when throwing deep, showed early in the season.
However, Foles steadily improved with some lapses along the way. By far Foles' best game came on December 9 against the Tampa Bay Buccaneers. With close to 400 yards, two passing touchdowns and a rushing touchdown, Foles led the Eagles to the only win in his six starts.
When it comes down to it though, going 1-5 with five interceptions to just six touchdowns doesn't cut it. Sure he showed promise at times, but it just didn't translate to wins. It will be interesting moving forward how the new head coach plans to use Foles, if at all.
Grade: C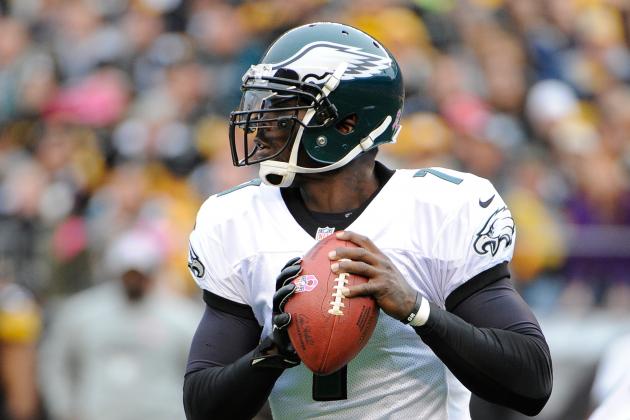 Joe Sargent/Getty Images

Although Vick would have never seen the field again if it weren't for Foles' hand injury, it would be hard to exclude him as a starter after getting the nod in 10 out of 16 games.
While Vick finished the season at a measly 12 touchdowns to 10 interceptions, the stats don't tell the real story. In his last seven starts, he actually posted nine touchdowns to just four interceptions. Not exactly something to phone home about, but you can't crush him over it.
You can crush Vick for the same reason Foles brought home a bad grade; his record. In those last seven games, Vick went 1-6 (with the only win coming on a missed field goal by the Giants). Even if the numbers show Vick was playing well, various fumbles and other poor decisions cost the Eagles drastically.
In fact, Vick's worst statistical games cam in Week 1 and Week 2, where the Eagles actually won. If you don't remember, Vick crafted a couple pretty game winning drives early in the season. Without it, the team may be looking at the first overall draft pick this upcoming draft.
With that being said, you can't praise a player too much for a late game drive if he put the team in that position in the first place. How many games in 2012 did Vick do the same thing, but dug the hole too deep to void the chance of a comeback at all?
With Vick's contract that allows the Eagles to release him and their financial responsibility to him, we have probably seen the last of Vick in an Eagles uniform. However, if Chip Kelly's high tempo Oregon offense come to town, things may get interesting.
Grade: C-
Al Bello/Getty Images

If you haven't looked at LeSean McCoy's stats recently, take a guess right now on how many rushing touchdowns he finished the year with. Ready?
McCoy's 2012 consisted of a whole two rushing touchdowns.
While Eagles' fans fawn at the chance of having an elite running back in the City of Brotherly Love, the same player ended the season with more receiving touchdowns (3) than rushing.
Of course the argument can be made that the Eagles' offensive line was banged up. At the end of the day, elite running backs can create for themselves, and McCoy just didn't do that.
McCoy had the lowest totals since his rookie season in carries, average yards per carry, touchdowns, yards and longest carry. He also doubled his career fumble total.
With that being said, McCoy didn't have a horrible season given the circumstances. He failed to make his mark as an elite runner, and will need to rebound in 2013 to become the foundation for the organization.
Grade: B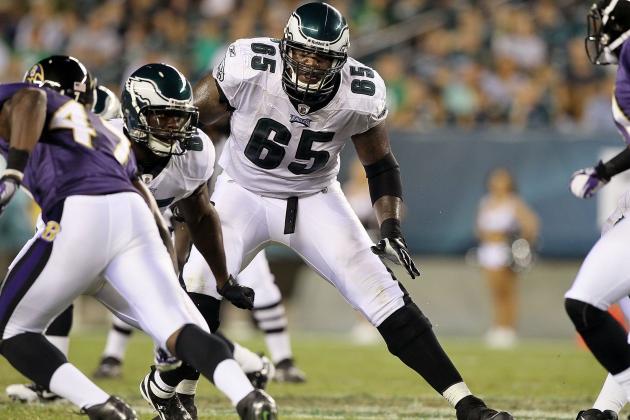 Jim McIsaac/Getty Images

Usually a 6'9" and 350-pound player gets a team some value on an offensive line. All it got the Eagles was a lot of hands to the face penalties, false starts, poor protection and tons of frustration.
King Dunlap's one year contract is up in 2013 and it seems unlikely the Eagles would have any interest in bringing him back. Fans will be thankful for that.
Grade: F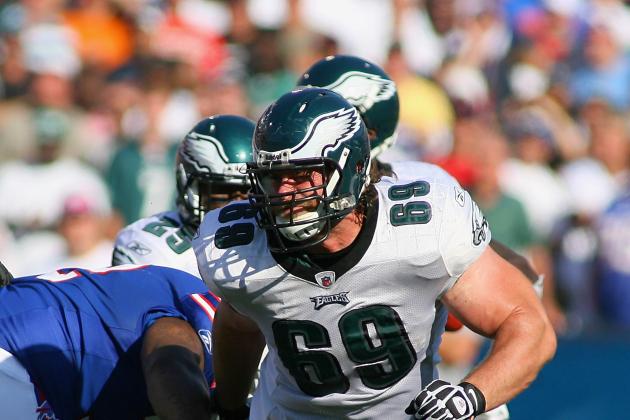 Rick Stewart/Getty Images

Evan Mathis was the only player on this team worthy of making the Pro Bowl. Suffering from the "horrible Eagles' offensive line" tag placed on the group, he was unable to garner much attention or votes.
Although a snub, Mathis was an anchor for the offensive line. One can only imagine how much harder the position is with inferior players long side of you. While it would have been nice to see how he fit in with the healthy core of Jason Peters and Jason Kelce, there's something small to look forward to next season (hopefully).
Grade: A-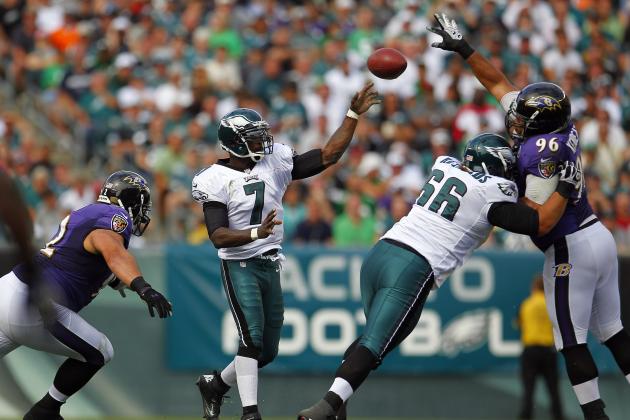 Rich Schultz/Getty Images

After starting center Jason Kelce went down, Dallas Reynolds filled in for 14 starts this season. The saying is something like you're only as strong as your weakest link. The Eagles offensive line had four weak links and Reynolds was one of them.
It's hard to quantify offensive lineman in stats. To really break down the good and the bad requires watching footwork, blocks and general play. With that being said, you didn't need to watch much of Reynolds to see what the replacement offered.
Michael Vick and Nick Foles had enough of their own troubles this season. Dallas Reynolds' poor snapping ability didn't do them any favors.
Grade: D+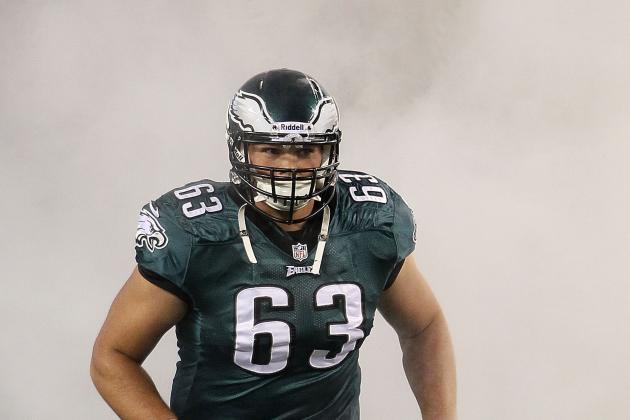 Alex Trautwig/Getty Images

Danny Watkins only started six games this season, and is far from being a labeled "starter". However, Watkins is still the starter for 2013 (as of now) and the right guard position in general for the Eagles was anything but consistent.
Watkins was just another check in the column of "bad Eagles draft picks." It was unclear this season whether he was missing games due to actually injuries or just a healthy scratch. Either way, he wasn't on the field and the coaching staff saw a better chance to win without him by Week 17 (when he was in fact a healthy scratch).
A healthy scratch for a guy who was drafted just two years ago says all it needs to say about Watkins' season.
Grade: F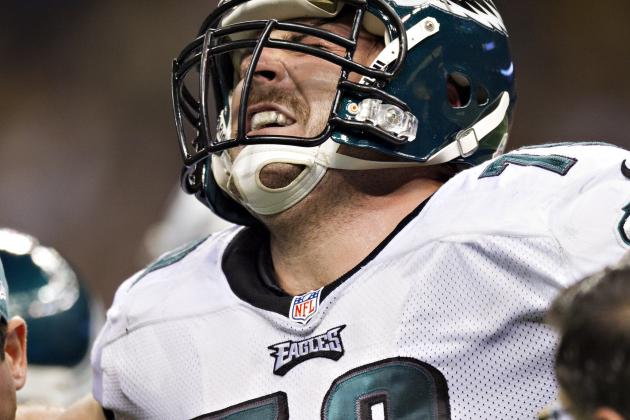 Wesley Hitt/Getty Images

Todd Herremans like Danny Watkins barely played half the season this year, but should be the starter coming in to 2013 if he's lucky.
A starter for half the season, and the near future, Herremans has been a fan favorite. Herremans played consistent before the injury, but at times looked like he couldn't take the load of those faltering around him. While non of these issues are directly Herremans' fault, it's hard to help the team when you're not on the field for 16 games.
Grade: C+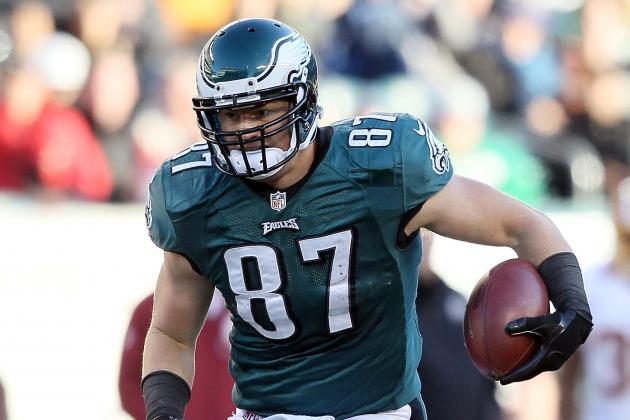 Alex Trautwig/Getty Images

Celek didn't have a great statistical season. At just under 700 yards and only one touchdown, he too will like to forget this past year in 2013. He struggled to create a rapport with Nick Foles, and numerous drops in the second half of the season didn't help.
However, Celek was one of the identifiable players who visibly gave his all on every down. He took a lot of big hits throughout the season, and that toughness and grit will go far if he wants to become a vocal leader in the locker room. At the end of the day, that still doesn't make up for underachievement.
Grade: C
Chris Graythen/Getty Images

For a second tight end, Clay Harbor has played nicely in his role. Before being placed on season ending Injured Reserve in December, Harbor caught 25 passes for just under 200 yards and two touchdowns.
Harbor has been a nice complementary to Celek who (at times) has looked like the teams long term tight end. If he can continue the solid and consistent play, Harbor will be a nice piece moving forward.
Grade: B
Elsa/Getty Images

Arguably the biggest home run hitter in the Eagles offense, Jackson like the rest of the squad has had an under performing season. If he hadn't been injured, Jackson was on pace to come close to his average marks statistical wise, but on the field his presence wasn't always noticed.
Jackson too went on Injured Reserve with fracture ribs after playing 11 games. However,his touchdown totals have dropped off consistently in his past four season (9,6,4,2, respectively). This is a little concerning, as his big play ability usually results in a touchdown. The Eagles missed that this season, and Jackson may be the number one fall man for that.
Grade: B-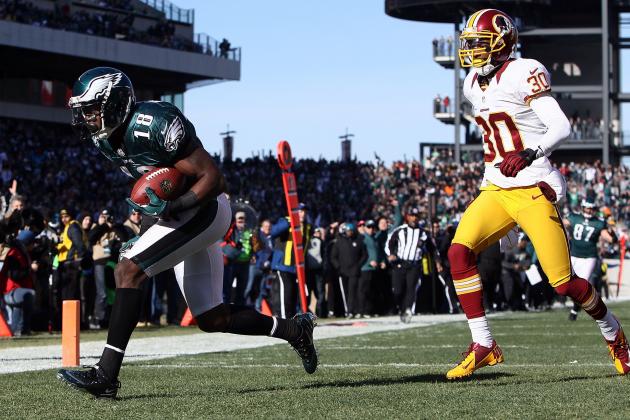 Alex Trautwig/Getty Images

Jeremy Maclin became the Eagles only real offensive threat once Desean Jackson, LeSean McCoy and Michael Vick were off the field with injuries. Because of that, I really like what Maclin was able to do.
Some may have a differing opinion, but here is the argument. Between the shoddy offensive line, rookie quarterback, and being the only playmaker left on the field, Maclin's responsibility went through the roof. He responded fairly well with five 90+ yard games and seven touchdowns (without having a multi touchdown game).
While that's not jaw dropping, it still is a consistency that the offense lacked. Maclin's play and body type may be more suited for a slot receiver, but his demeanor and professionalism handling added responsibility was a rare bright spot for the season.
Grade: A-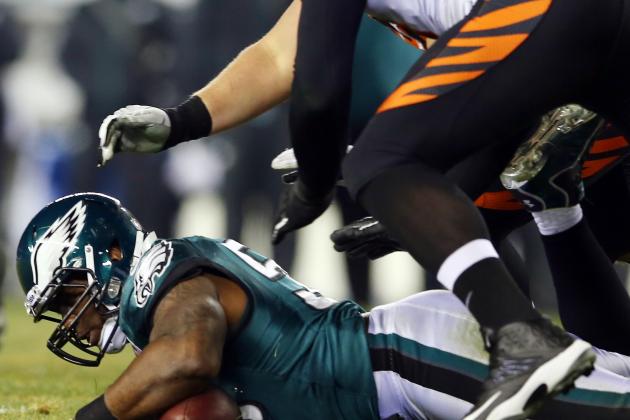 Elsa/Getty Images

After three straight seasons of 10 sacks or more, Trent Cole only logged three in 2012. He also hit a new low in tackles at 24 (previous low was 38). While this isn't always the best metric for level of play, it's pretty clear Cole was missing an edge this season.
Cole is a guy that could be a foundational piece for the Eagles moving forward. His work ethic in practice and now nine season under his belt with the Eagles sets him up for a long term leadership role. Cole will need to have a rebound year in 2013 if that plan will ever come to fruition.
Grade: C-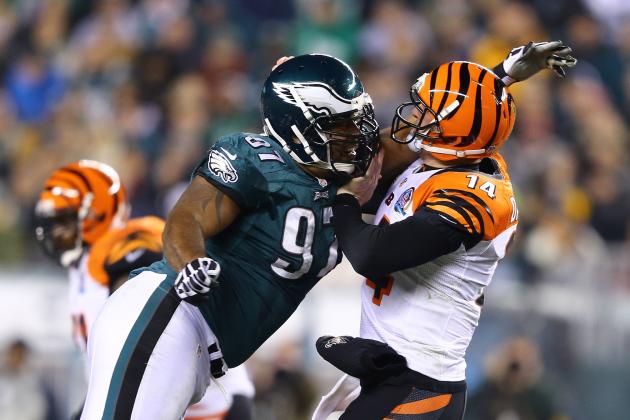 Al Bello/Getty Images

As Les Bowen wrote on Monday, Jeremy "Maclin talked about changes on the roster, players brought in from other teams who were 'used to doing things a different type of way' who did not buy into Reid' program."
Cullen Jenkins seems like one of those guys, and the other we will touch on in just a bit. Jenkins' 22 total tackles were the lowest 16 game total he's recorded since his rookie season with the Packers. His four sacks were nothing special either.
For a guy who was brought in on a huge contract to bring the defense to elite status, he has had the opposite effect.
Grade: D+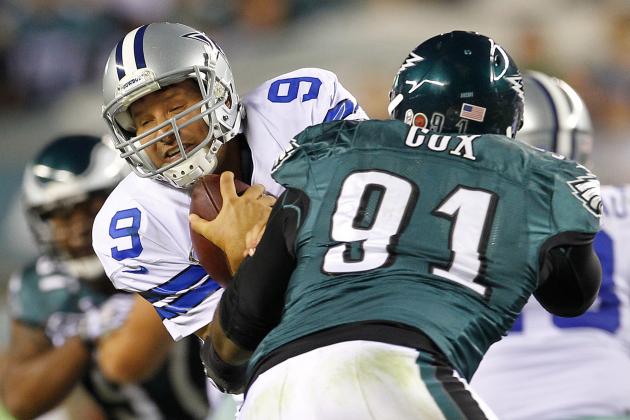 Rich Schultz/Getty Images

Counting the season as a whole, Cox may have been the Eagles best defensive player. While that was much more of a compliment in years past, it is not something Eagles fans hear often about a rookie.
Cox's 40 tackles and six sacks should only increase moving forward, especially if the Eagles look to draft a player like NT Star Lotulelei out of Utah with their #4 draft pick.
Hopefully 16 game seasons will be a thing of the future, as Cox missed time to end the season due to a concussion.
Grade: B+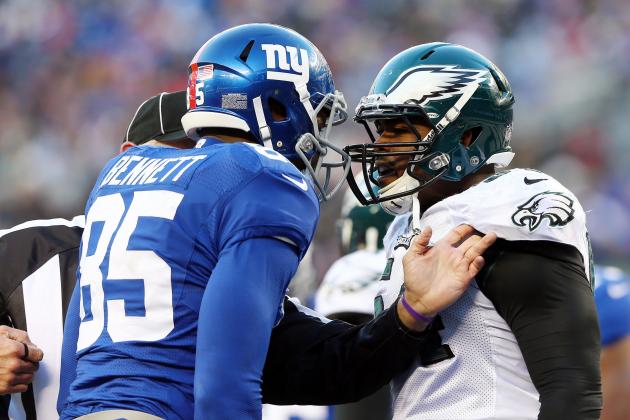 Elsa/Getty Images

Once Jason Babin left town, Brandon Graham became the center piece of Eagles talk. Graham, a young hybrid defensive end and linebacker has had a career of injury and backup status. That changed once Graham energized the defense with sacks and quarterback pressure in the second half of the season.
With Graham and Cox as a young tandem on the Eagles' defensive line, rebuilding this team may be easier than many think. However, Graham can't receive top marks until we see him in action for a full season.
Grade: B+
Alex Trautwig/Getty Images

Kendricks was a pleasant surprise early in the season, but fell into a bit of an oblivion about half way through. While hitting a rookie wall is no surprise, it would have been nice to see him play at a relatively high level for 16 games. His speed will work well with out next player being graded, DeMeco Ryans.
After recording 75 tackles in 2012, Kendricks avoiding the sophomore slump will absolutely boost the Eagles defense. Overall though, his year was average and forgettable.
Grade: C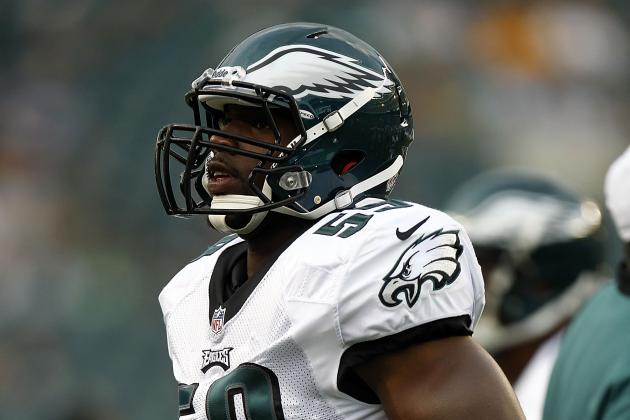 Jeff Zelevansky/Getty Images

Not much needs to be said for DeMeco Ryans. When traded from Houston, Ryans was a guy who had the talent but didn't fit the defensive scheme of the Texans. When placed in the Eagles 4-3 base defense, that description proved true.
Earlier this year, I wrote about how advanced statistics highlighted DeMeco as a top player. There's no denying he was the linebacker piece the Eagles had been missing. However, as fate would have it, when the weak link was finally fulfilled, the rest of the defense crumbled.
DeMeco Ryans was a great pickup for the Eagles, however he is still far from an elite linebacker.
Grade: B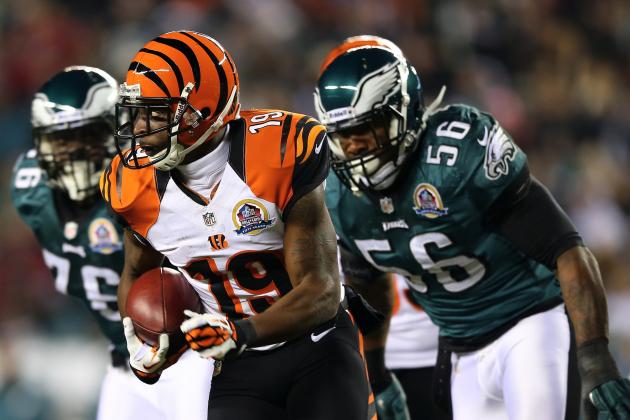 Elsa/Getty Images

Akeem Jordan only started seven games at linebacker this season, but that was still more than teammates Jamar Chaney and Casey Matthews. It is still up in the air what the Eagles will do with this linebacker by committee role moving forward.
Jordan recorded 44 tackles and manage to force an impressive four fumbles this year. While he still lacks speed and coverage ability, the rest of the defense managed to cover up most of his mistakes.
Grade: C-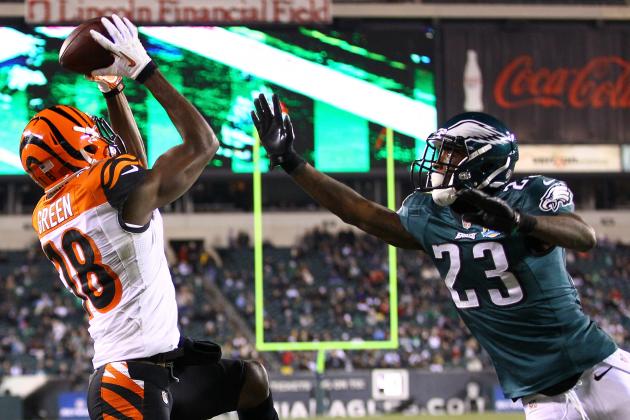 Al Bello/Getty Images

DRC was the Eagles best cornerback this season. Any Eagles fan knows that does nothing to define his level of play.
Rodgers-Cromartie had his ups and downs. Just as he was making a diving pass deflection, it seemed he was missing a tackle at the five yard line on the very next play.
DRC will become a free agent in the offseason and whether he showed the Eagles enough to be brought back remains up in the air. He was supposed to supplant Asante Samuel's role as a playmaker and shutdown corner, but those projections have gone flat. Rodgers-Cromartie was an average player with above average expectations.
Grade: C+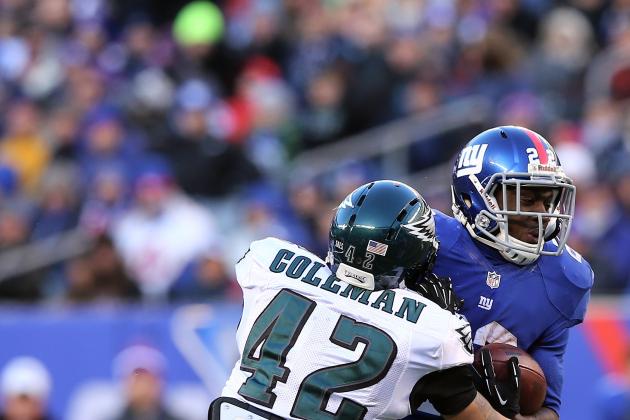 Elsa/Getty Images

The final three pieces of the defense are about as appealing to Eagles fans as nails on a chalkboard. Kurt Coleman was just one of the trio involved in constant arms above head, finger pointing and blame game antics going on in the Eagles secondary.
He can't tackle, can't cover, is too slow and flat out shouldn't be playing safety for the Eagles moving forward.
Grade: F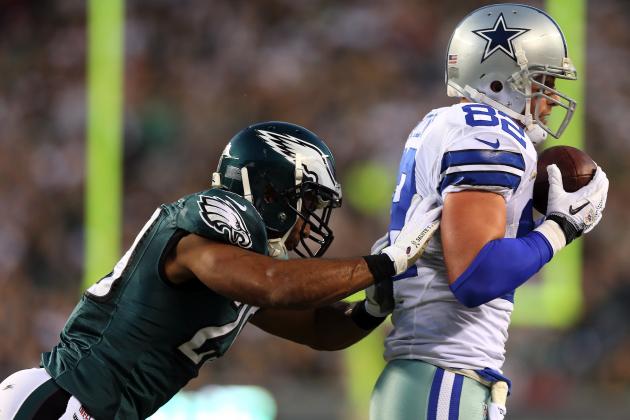 Elsa/Getty Images

Too bad for Nate Allen the NFL isn't two hand touch. Then maybe you could argue some of his second round value.
There is nothing strong about strong safety Nate Allen. He carries many of the same characteristics as fellow safety Kurt Coleman, but may sometimes get a pass because he's young and is "raw."
At the end of the day, the Eagles secondary was one of the most abysmal things in the NFL. There was no communication and no responsibility. They work together as a unit, and as a unit they failed.
Grade: F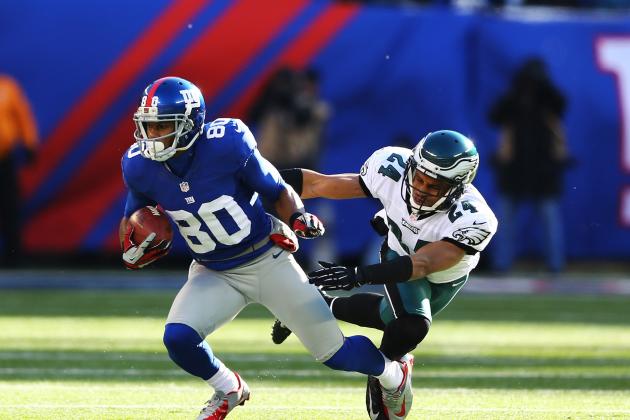 Al Bello/Getty Images

Nnamdi may have been the player Maclin was referring to as someone who "didn't buy in." In fact, for his sake he better hope it was the reason.
Asomugha this season managed to solidify his position in a couple different places. The first, is one of the worst free agent signings the Eagles have had. The second is one of the biggest non-injury drop offs a position player has ever had.
Asomugha came into Philadelphia as probably the second most heralded cornerback behind Darrelle Revis. After year one, people blamed the defensive backs and the play calling. After year two, 2012, it's clear Nnamdi was the problem.
Think back to the most memorable positive impact you remember Nnamdi Asomugha having in Eagles green. Is it even possible? 2013 will see an Asomugha-less team, as it is almost a guarantee that his contract will be voided with the team.
Grade: F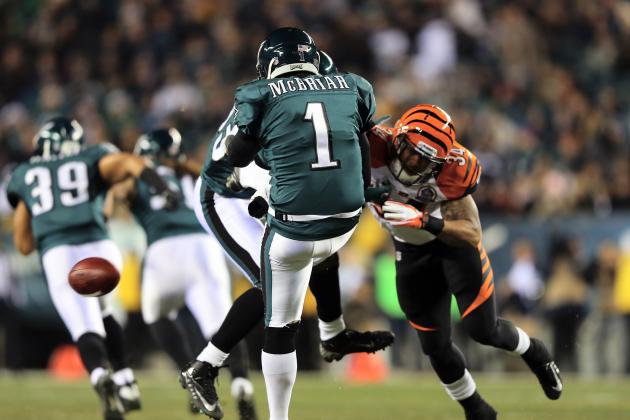 Elsa/Getty Images

McBriar's first season as an Eagle was not exactly memorable. Then again, you either have to be really excellent or especially horrid for that to happen as a punter.
McBriar's average punt increased compared to recent seasons, but in terms of accuracy, had a major drop off. He had just 13 punts downed inside the 20 yard line, totaling 23.6 percent of his punts. Last year in Dallas, this same statistic totaled 36.2 percent.
McBriar certainly did the Eagles no favors in terms of field position.
Grade: C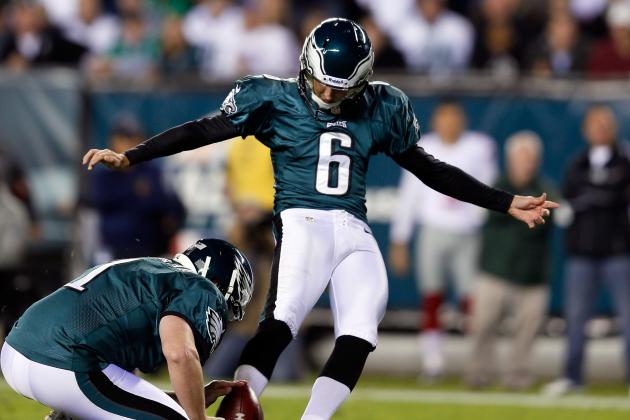 Rob Carr/Getty Images

Ignoring this...mishap...from Sunday's game against the Giants, kicker Alex Henery had another good season.
Henery had the leagues longest consecutive field goals made streak at 22 earlier in the season. He closed the season at 27-of-31, a great mark from a kicker who was drafted based on his accuracy in college.
David Akers has done very well in San Francisco, but the Eagles have managed to do the same with the pickup of Henery. This season was another great step for the hopeful long term kicker of the team.
Grade: A-