8 Biggest Questions Facing Atlanta Braves Heading into 2013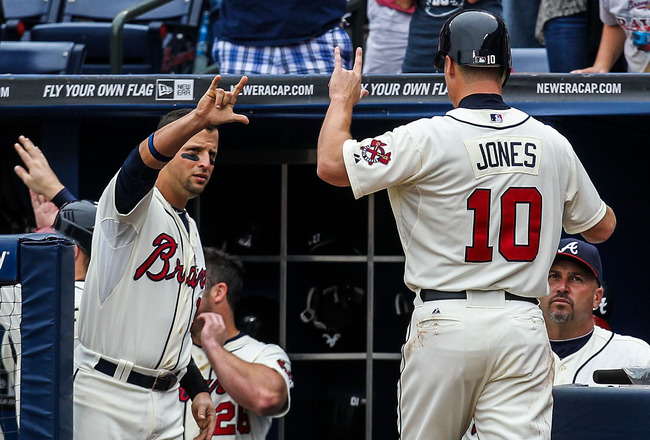 The Braves have to replace Chipper Jones in 2013.
Daniel Shirey/Getty Images
A left fielder, a leadoff hitter and replacing Chipper Jones are the biggest challenges facing the Atlanta Braves in 2013.
A year after losing to the St. Louis Cardinals in the one-game playoff, the Braves are looking to win their first playoff series since 2001.
However, there are some issues that still have to be worked out.
Here's a look at the eight biggest questions facing the Braves in 2013.
Who Replaces Chipper?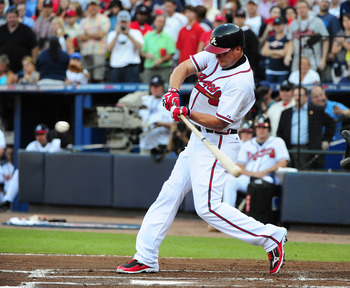 Who takes over as team leader for Chipper Jones?
Scott Cunningham/Getty Images
With the retirement of Jones, the question now is who will replace him as the team leader.
Is it Brian McCann, who is a fan favorite but also a free agent after the 2013 season?
Or how about Martin Prado, who will be taking over for Jones at third base?
The answer is neither.
Jason Heyward and Freddie Freeman will be looked at to be the team leaders. They will step into the leadership roles in the same manner Jones did early in his career.
Both are young stars who have had a lot of success on the field.
Hopefully, they'll be in Atlanta for a long time to come.
Who Plays in Left Field?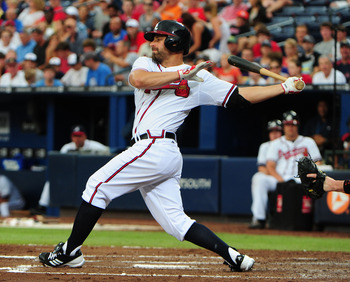 Reed Johnson could see a few starts in left field in 2013.
Scott Cunningham/Getty Images
Right now, the Braves are without a left fielder in a sense.
With six weeks to go before pitchers and catchers report to spring training, Atlanta still has time to remedy this issue.
If the Braves don't, they can fix the issue in-house.
Martin Prado can play both third base and left field and can hit both righties and lefties. Third baseman Juan Francisco has power from the left side of the plate but struggles to hit lefties (.189 average). Outfielder Reed Johnson bats from the right side and hit .311 against lefties last year.
So, when the Braves are facing a right-handed starter, Prado can start in left and Francisco can start at third. When the Braves face a lefty, Prado can start at third and Johnson can start in left.
It's a little bit of an odd platoon but is something that could work in favor of the Braves.
Who's the No. 5 Starter?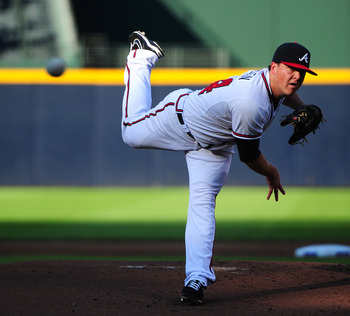 Kris Medlen is locked into a rotation spot this year.
Scott Cunningham/Getty Images
Kris Medlen surprised many down the stretch, as the Braves won all 12 of his regular-season starts.
Tim Hudson continues to be rock solid at the front of the rotation, winning at least 16 games for the third year in a row.
Then, there are Paul Maholm and Mike Minor, who both impressed in the second half last year and give Atlanta two good left-handers.
Their top four spots are guaranteed to begin the season. The battle comes down to Randall Delgado and Julio Teheran once again in spring training.
With Brandon Beachy likely out until June or July, Teheran and Delgado will compete for the No. 5 spot.
After Delgado beat Teheran out of spring training last year, you can bet the Braves' top prospect isn't going to want to see that happen again.
Any way you look at it, the Braves have a strong possible rotation heading into next year.
What Do You Do with Tyler Pastornicky?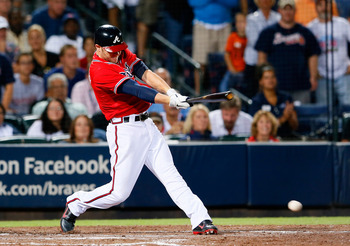 Tyler Pastornicky could be valuable as a utility infielder.
Kevin C. Cox/Getty Images
Tyler Pastornicky failed as Atlanta's everyday shortstop.
When you consider that Andrelton Simmons couldn't be kept in the minor leagues any longer, it was only a matter of time before Pastornicky lost his job.
Although he didn't get a lot of playing time at the end of 2012, Pastornicky still provides something valuable to the Braves.
If he could learn to play the outfield, he could become the next super-utility player for the Braves. By doing so, he would be following in the footsteps of Prado and Omar Infante.
Plus, he could play three infield positions, giving guys a day off when they need it.
Of course, some team could find more value in Pastornicky and want to trade for him. The more likely scenario is that he will accompany one or two top prospects in a deal if the Braves were to make a big trade.
Some team will want to include him, the same way the Braves wanted to include him when they acquired Alex Gonzalez.
Who's Leading Off?
Andrelton Simmons could see time in the leadoff position.
Scott Cunningham/Getty Images
With Michael Bourn gone via free agency, the Braves signed B.J. Upton to replace him in center.
However, Upton is no leadoff hitter. So what do the Braves do?
Assuming the Braves don't make any more moves for outfield and leadoff help, the likely choice will be Simmons, who had a .335 on-base percentage last year.
While Simmons doesn't steal many bases, he did have 10 steals in 44 games prior to being called up from Double-A Mississippi.
Simmons is in his second year, and manager Fredi Gonzalez would be most comfortable keeping him in the bottom of the order. But his hand could be forced if general manager Frank Wren fails to make any other moves this offseason.
Christian Bethancourt or Brian McCann?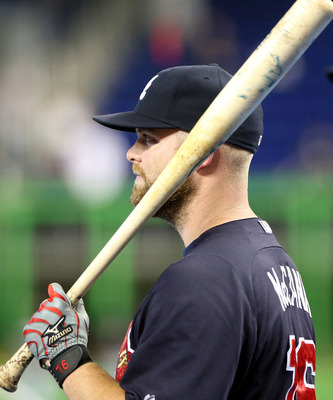 Brian McCann will be a free agent after this season.
Marc Serota/Getty Images
Will Brian McCann be with the Braves long term, or will 2013 be his last year with his hometown team?
McCann is a free agent after this year and will likely command top dollar on the market next year.
However, injury concerns and the fact that catchers don't age well don't play in McCann's favor to get top dollar. That may actually benefit the Braves.
Atlanta has to decide if it is going to stick with McCann long term or if they're going to let him walk and hand the catching duties over to Christian Bethancourt.
Bethancourt still needs more seasoning in the minors but should be ready to go by 2014.
So, who do the Braves go with?
If they go with McCann, they have to trade Bethancourt, as he is too good of a player to have as a backup.
With McCann on the shelf for the first month of the season, Bethancourt could get a chance to showcase his talents as a backup to Gerald Laird.
Sooner or later, the Braves are going to have to make a decision.
How Long Can Dan Uggla Be Allowed to Struggle?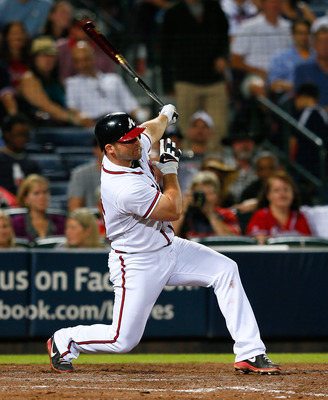 Although a power hitter, Dan Uggla has struggled at the plate.
Kevin C. Cox/Getty Images
While Dan Uggla has never been a .300 hitter, he still has things to work on at the plate in 2013.
In his first year in Atlanta, Uggla batted .233 with 36 home runs and 82 RBI. The power offset the low batting average.
However, in 2012, the power and average weren't there, as Uggla batted .220 with 19 home runs and 78 RBI.
The question is how long Uggla can continue to struggle at the plate.
Gonzalez has been patient with him; although, he did bench him late in 2012. But Braves fans aren't as forgiving and want to see results from Uggla.
Can Mike Minor Duplicate His Second Half from Last Year?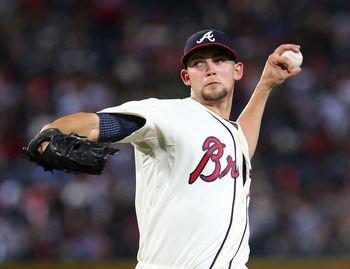 Many people wrote off Mike Minor after a bad first half in 2012.
Mike Zarrilli/Getty Images
Many Atlanta fans were ready to write off Mike Minor after his 6.98 ERA at the end of May. June was a little bit better, but not by much.
However, things turned around for the lefty in July, as he didn't allow more than three earned runs in nine straight starts.
From there, it was all good for Minor, as he showed what everyone thought he was capable of.
Before, Minor was considered to be on the trading block. Now, Wren would be crazy to let him go, as he's likely the only left-handed starter in the rotation beyond 2013.
Keep Reading

Atlanta Braves: Like this team?