2013 Cotton Bowl: 10 Things You Need to Know for Oklahoma vs. Texas A&M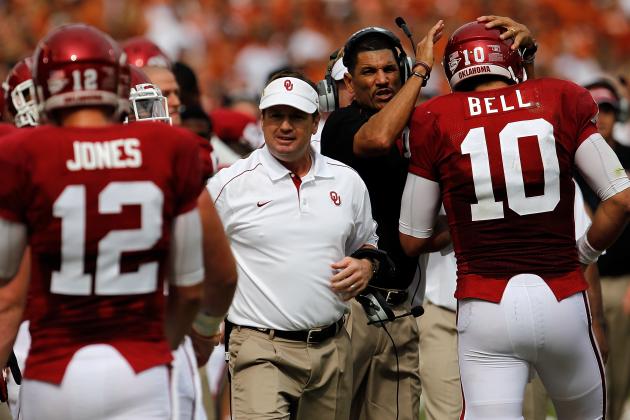 Tom Pennington/Getty Images

Oklahoma and Texas A&M football fans understand the tradition of playing in the Cotton Bowl.
The Aggies and Sooners have combined for seven Cotton Bowl appearances since 1992. However, this will only be Oklahoma's second trip to the game during the span and A&M's first trip as a member of the SEC.
The two teams played each other every year from 1996 to 2011 as members of the Big 12 South and developed a rivalry after Bob Stoops took over in Norman. Although Kevin Sumlin and Stoops have never matched up as opposing coaches, each know the stakes of this year's Cotton Bowl game.
There are so many keys to a game that has been anticipated for over a month, but here are 10 things you should know going into this year's game at Cowboys Stadium in Dallas.
Begin Slideshow

»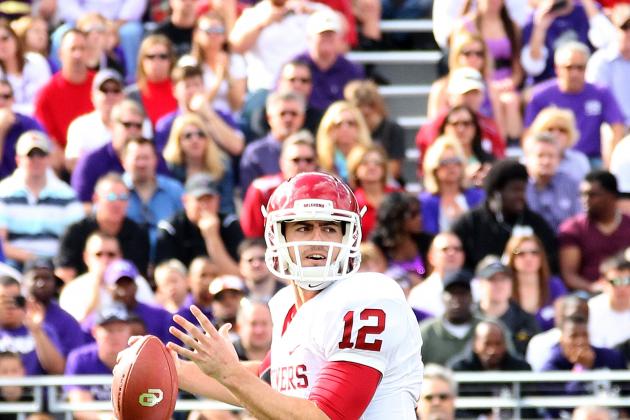 R. Yeatts/Getty Images

Obviously the Aggies have plenty of firepower. Johnny Manziel is worth about three touchdowns by himself.
However, Oklahoma has a potent offensive attack as well.
The Sooners put up over 40 points per game in 2012 with the well-balanced arsenal of Landry Jones' arm and Damien Williams' legs. Jones averaged over 340 yards through the air and Williams averaged over 75 yards on the ground with 11 scores.
Too bad for Sooners fans, Manziel did all of that himself, plus more.
Manziel put up 3,419 passing yards and 1,342 rushing yards with 43 total touchdowns in 2012.
If you're a defensive traditionalist or just want to see a smash-mouth football game, don't watch the Cotton Bowl. You'll be sorely disappointed.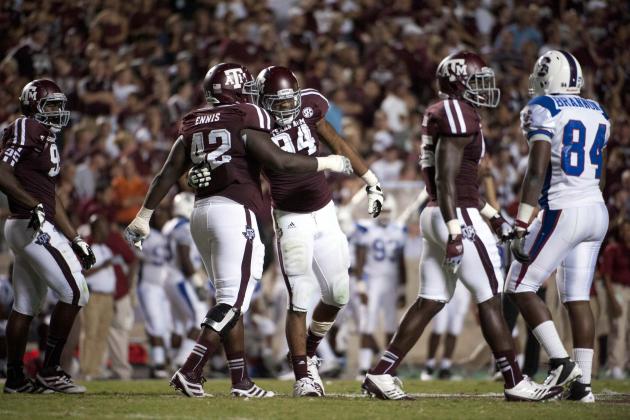 Brendan Maloney-USA TODAY Sports

The Aggies defense isn't exactly the best in the nation, but it still has the ability to make the Sooners one-dimensional.
Oklahoma's offense lives through the air, but just like every other team, it opens up the pass game with the run game.
A&M gave up over 140 yards per game on the ground, but held its opponents to just 3.7 yards per carry. If the Aggies can hold the Sooners to under four yards per carry, it will be extremely tough for Landry Jones to get the pass game into rhythm.
Landry has proven throughout the season he can get it done, but he hasn't faced a defense that forced him to be one-dimensional. The Aggies can do just that.
And if they do, it could get ugly early in the game.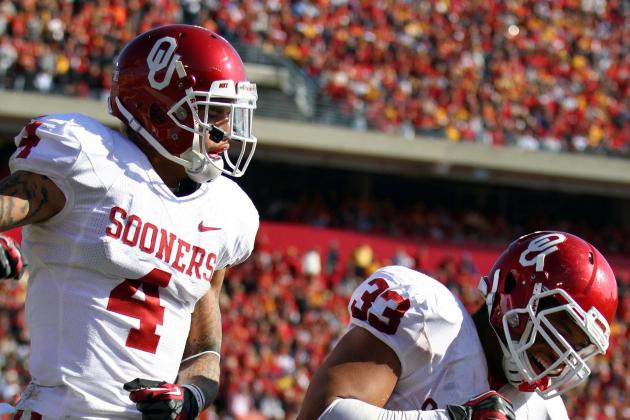 Matt Ryerson-USA TODAY Sports

Yes, I know, Johnny Manziel is the best player in the nation.
But let's not forget, the Sooners have plenty of talent as well.
The Sooners feature four first team All Big 12 players, including two defensive backs Aaron Colvin and Tony Jefferson.
Oklahoma also has Landry Jones, Damien Williams, Gabe Ikard, Trey Millard, Kenny Stills and Jalen Saunders, just to name a few.
Of course A&M has talent—the Aggies wouldn't be playing in a January bowl game if they didn't. But the Sooners are talented as well, and they have just enough talent to steal a victory in Dallas Jan. 4.
Brett Davis-USA TODAY Sports

Bob Stoops has never mastered a winning game plan for mobile quarterbacks, and he faces the best of the best Jan. 4 with Johnny Manziel.
There are plenty of names that have given Stoops' teams problems over the years. Eric Crouch, Vince Young, Reggie McNeil (Aggie), Colt McCoy, Tim Tebow, Pat White...
I could go on, but it would take a while.
Manziel rushed for 1,342 yards this season with 19 touchdowns. He averaged nearly 100 yards per game.
Let's just say Stoops better have a game plan Jan. 4 or he's in for a long day. Manziel could be the best he's seen in his 14 years in Norman.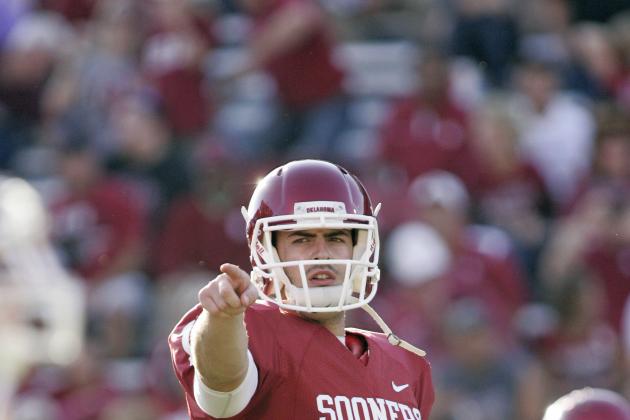 Brett Deering/Getty Images

Landry Jones already owns most of the passing records at Oklahoma, but he could also leave the Cotton Bowl undefeated in bowl games.
As it stands, Jones is 3-0 in the postseason with wins over Stanford at the Sun Bowl in 2009, UConn at the Fiesta Bowl in 2010 and Iowa at the Insight Bowl in 2011. One thing Jason White, Josh Heupel and Sam Bradford share in common? Losses in bowl games.
Jones has already lost his status as a first-round draft pick and missed a shot at a national title the past two seasons. One thing he's playing for is that record. Stoops has shown loyalty in the senior signal-caller and there's little doubt he wants to end his career with a bang.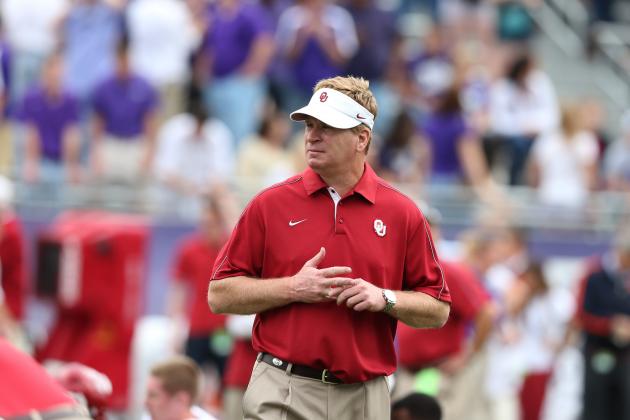 Matthew Emmons-USA TODAY Sports

Mike Stoops hasn't really made his presence felt this season, but he's had plenty of time to game-plan for one of the most high-powered offenses in the nation.
That could be pretty dangerous.
Stoops earned his stripes during his first tenure as defensive coordinator before taking the head-coaching gig at Arizona. This year he turned around the secondary and coached Aaron Colvin and Tony Jefferson to first team All Big 12 honors.
Give any defensive coordinator time and he's going to have what he considers to be the best possible game plan for his opponent. Although Johnny Manziel happens to be the opponent this time around, there's still little doubt Stoops can figure it out.
Not to mention, his brother knows a little bit about defense as well.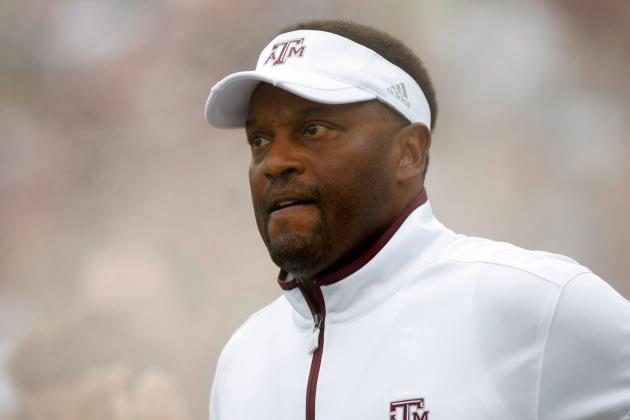 Brett Davis-USA TODAY Sports

Texas A&M gained a chunk of recruiting prowess in the state of Texas after switching from the Big 12 to the SEC.
Unlike when they were a part of the Big 12, the Aggies are the only team in the SEC that calls the Lone Star State home.
Oklahoma and Texas have always been the two biggest recruiting powers in Texas, but with an A&M victory at the Cotton Bowl, the Aggies could throw their name in that hat as well.
Oklahoma hasn't brought in much talent the past two seasons and things could get worse if it doesn't pull out a victory Jan. 4. There's more on the line than just winning or losing a bowl game. The future is at stake. With a win, A&M can assert itself as a true recruiting power and make itself more attractive to the players deciding between the Sooners and Longhorns.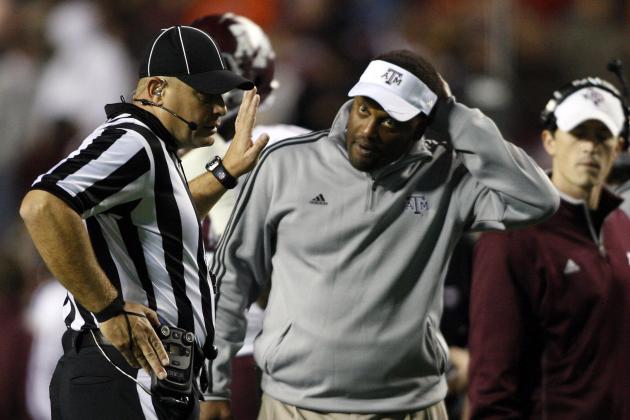 John Reed-USA TODAY Sports

Bob Stoops has asserted himself as one of the best coaches in the nation over the past 14 seasons. He's been to four BCS title games and has the 2000 National Championship Trophy sitting on his mantel.
However, Kevin Sumlin has made it quite clear that he's also one of the best coaches in the nation.
Sumlin made a name for himself at Houston, but was the co-offensive coordinator and wide receivers coach at Oklahoma first.
Sumlin learned under Stoops and surely took away what it takes to coach a blue blood program. He's known for his high-powered offensive schemes and has been a national coach of the year finalist twice in his short career.
When A&M made the jump to the SEC, there were many doubters. However, after seeing what Sumlin can do, it's easy to see the Aggies will be a power for years to come.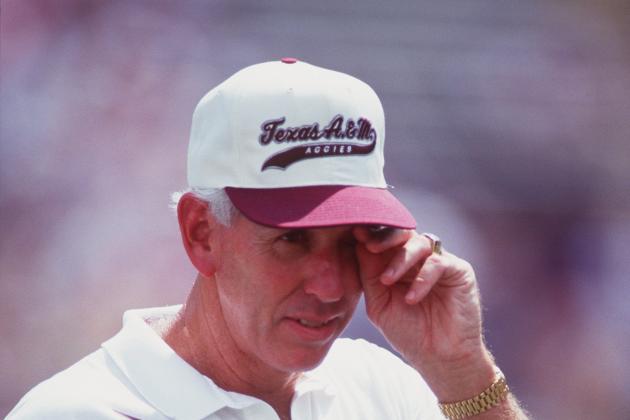 Joe Patronite/Getty Images

The last time the Aggies won at the Cotton Bowl, they defeated a Lou Holtz-led Notre Dame team.
That was 1988.
They lost again in 1992 to Florida State, again to Notre Dame in 1993 and 1994, again to UCLA in 1998, again to Tennessee in 2005 and again to LSU in 2011.
Of course, Kevin Sumlin and Johnny Manziel had nothing to do with those teams.
It's hard to say A&M will be affected by its past demons in Dallas Jan. 4, but it's never good to be 0-6 in your last six Cotton Bowl games.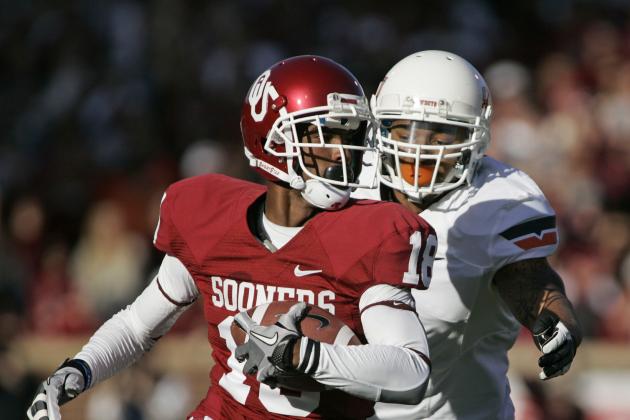 Brett Deering/Getty Images

The Sooners had a rough December.
Somehow, even after Oklahoma's past, two players found their way into handcuffs. Wide receiver Jalen Saunders was arrested early in the month for possession of marijuana. Just three weeks later, defensive lineman Stacy McGee was arrested for driving under the influence.
Talk about wrong place at the wrong time.
McGee didn't make the trip with the team to Dallas; however, Saunders did and has been cleared to play Jan. 4.
Even with just one player absent, the Sooners still face the distractions that come with off-the-field issues. One thing teams don't want to deal with is distractions.