Gonzaga Basketball: 5 Lessons from the Zags' Win over Baylor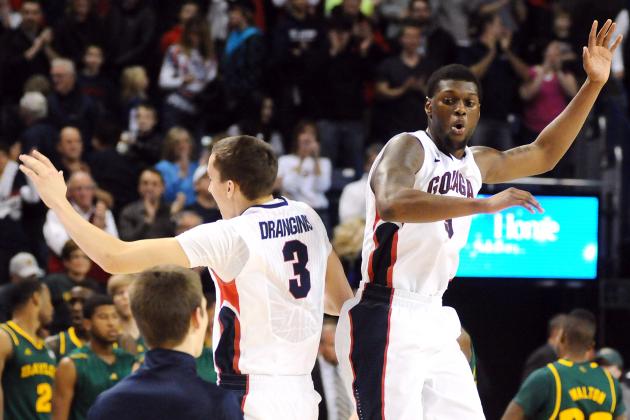 James Snook-USA TODAY Sports
Kyle Dranginis and Gary Bell Jr. played to their potential last night against Baylor.
Gonzaga basketball showed what they were made with in a great win over a talented Baylor Bears team.
The emphatic 94-87 win as helped elevate Gonzaga back onto the national stage, and many are beginning to notice that the Zags are a force to be reckoned with.
This was an important win for the Zags, and five distinct lessons could be taken from it.
Begin Slideshow

»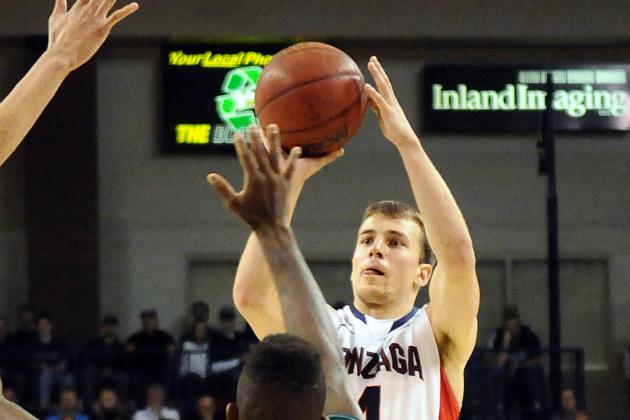 James Snook-USA TODAY Sports

Kevin Pangos had been working through a shooting slump that was unnatural for a shooter of his ability.
Pangos had not scored over 12 points since Gonzaga beat Davidson in November.
When they needed him the most, though, the Zags got the best that Kevin Pangos had to offer.
The sophomore point guard put up 31 points, highlighted by seven three-pointers.
Gonzaga desperately needs Pangos to maintain his shooting form because without a perimeter threat to worry about, defenses can pack the lane to stop Gonzaga's bigs.
Kevin Pangos is back, and Gonzaga fans will have to hope that he is back to stay.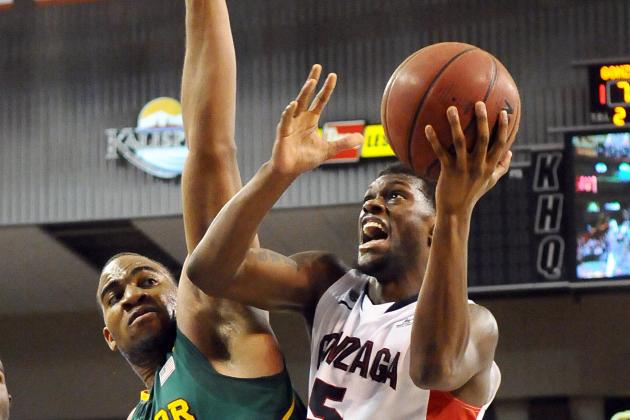 James Snook-USA TODAY Sports

One thing that struck me about this Gonzaga team is that it is mentally very tough.
Baylor took an early lead all the way to the end of the first half.
The Bulldogs did a fantastic job taking the initial blow and hanging around before they could take the momentum back before halftime.
Baylor's explosive offense allowed them to hang around throughout the second half, though.
Every time Gonzaga would begin to run away, Pierre Jackson and Isaiah Austin would pull the Bears back to within six points.
Gonzaga's ability to halt these runs and answer the call speaks to its mental toughness.
Every player on this team is capable of making plays down the stretch to win games, and opposing teams should be scared that the Bulldogs are beginning to play with this mental toughness and confidence.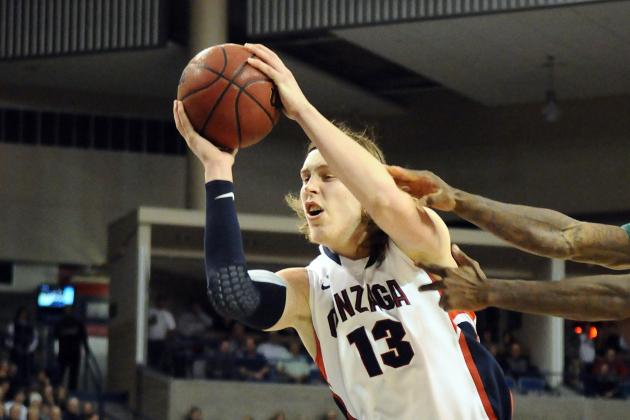 James Snook-USA TODAY Sports

Gonzaga should no longer be labeled as soft.
I do not know what it is about mid-majors that make them automatically soft in the public eye, but teams such as Goznaga and Butler simply do not fit that assumption.
Last night, Kelly Olynyk and Elias Harris yet again proved that they could hang in the paint with a Big 12 frontcourt.
The two combined for 38 points and 11 rebounds and seemed to abuse Baylor's defense at will.
What makes this Gonzaga frontcourt so dominant is its depth.
When teams begin to adjust to the finesse of Kelly Olynyk, Mark Few puts Gonzaga's 7'1" Polish bruiser of a freshman Przemek Karnowski into the game.
Last night Karnowski provided solid minutes when Olynyk suffered from early foul trouble.
Gonzaga even received some good play from Sam Dower, who has largely disappointed with his play this season.
One of the reasons Gonzaga has sustained success this season is because it enjoys a frontcourt advantage over just about every team it has played.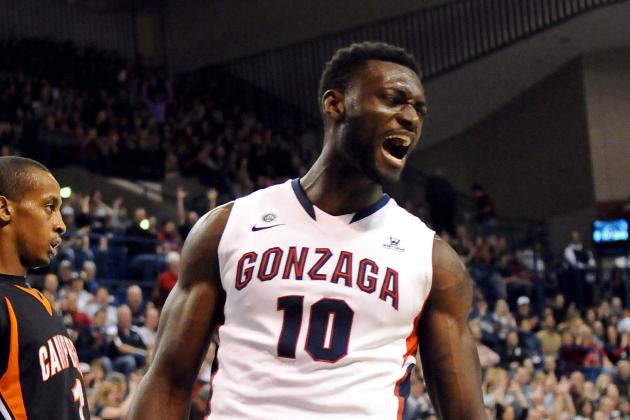 James Snook-USA TODAY Sports

Gonzaga had previously seemed weak at the wing position, but it's new style of playing the wing position by committee appears to work very well.
Last night, Mike Hart, Guy Landry Edi and Kyle Dranginis combined for just four points, but more importantly, they collected 10 rebounds.
Based on the nature of Gonzaga's offense, it is not paramount that any of these players score on a regular basis.
Hart is a defensive stopper who seems to make every single hustle play. Landry Edi is an explosive wing who can make plays in the open court. Dranginis has great chemistry in the offense with Kevin Pangos and Gary Bell Jr.
Gonzaga needs defense and hustle out of the wing position, and all three of these players can provide that.
The three together provide different skills sets and thus different looks to the opposition.
It will be interesting to see if Mark Few continues to play he wing by committee because based on this small sample size, it seems like it's the style that works.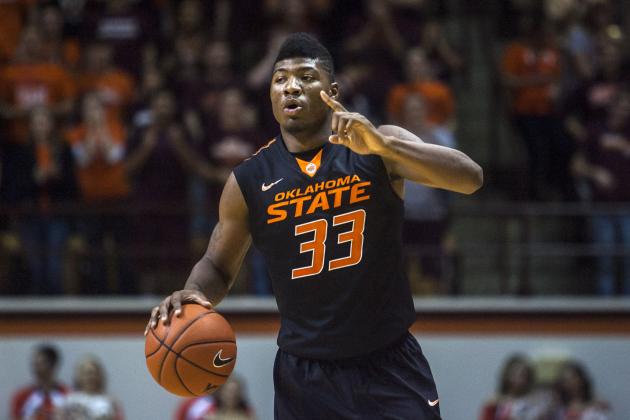 USA TODAY Sports
Marcus Smart is on the horizon for the Zags. They must step up defensively.
One of Gonzaga's greatest weaknesses this season has been its inability to stop elite scoring guards.
Kevin Pangos and Gary Bell Jr. are both a bit undersized at their respective positions, and for that reason, bigger, more athletic guards can bully them at times.
Pierre Jackson, one of the nation's best guards, scored 23 points on the Zags last night.
This was, for the most part, over shadowed by Pangos' 31 points and the fact that he turned the ball over frequently.
Jackson's performance brought back memories of Brandon Paul, who torched the Bulldogs to the tune of 35 points in route to a win at the Kennel earlier this season.
Gonzaga must learn to stop elite talent as they come up against guards such as Marcus Smart of Oklahoma State, Matthew Dellevadova of St. Mary's and Rotnei Clarke of Butler.
If the Zags can shore up this weakness, the sky is the limit for them.