Jets vs. Bills: Instant Grades, Analysis for New York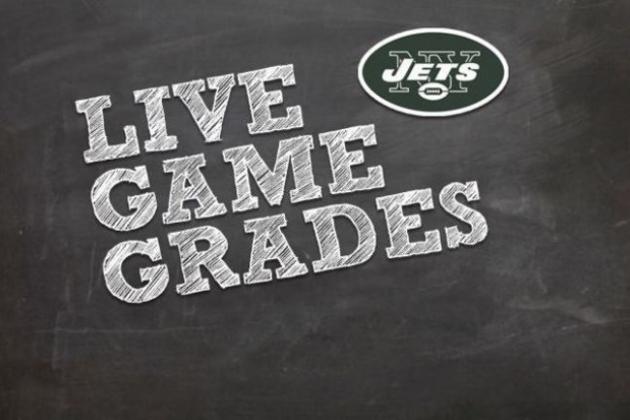 Thank goodness it's over.
The New York Jets 2012 season has come to a close with a 28-9 loss to the Buffalo Bills.
The 6-10 record is the Jets worst record since their 4-12 record under Eric Mangini in 2007.
The good news of course is that the loss will boost the Jets draft spot up a number of spaces and they could likely nab a top-10 pick. Also, depending on the final tiebreakers, the Jets could be looking at a last-place schedule in 2013.
But perhaps the best news of all is that fans will not have to watch that offense on the field ever again.
Changes are afoot for sure, perhaps starting as early as tomorrow. Woody Johnson didn't make the trip to Buffalo, so there likely won;t be any news tonight, but keep yourself posted tomorrow to see the fallout from such a disappointing season.
Begin Slideshow

»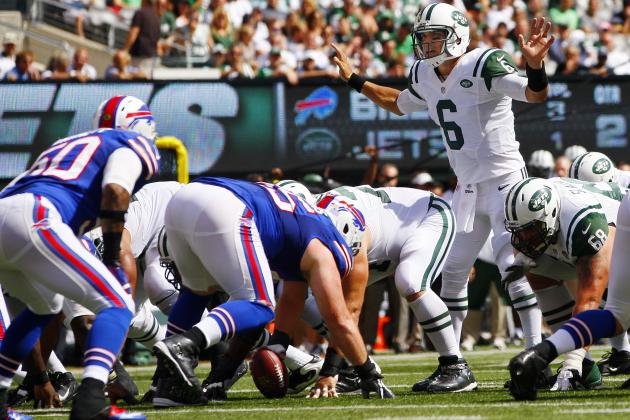 Rich Schultz/Getty Images

OVERALL GRADE: F
Mark Sanchez finished the season with a fittingly putrid performance. Even in an offense where he was treated as a rookie being brought along with safe throws, he still couldn't take care of the football. His contract situation is a real problem, but how can the Jets sell him to fans as the team's starter next year?
Sanchez finished 17-of-35 for 204 yards.
THIRD QUARTER: D
Sanchez's 16th lost fumble since 2011 (the most in the NFL) gave the Bills field position at the Jets 32-yard line. Luckily, Ruan Lindell missed his second field goal of the game and it ended up not hurting the Jets.
Sanchez has looked a little more comfortable as the game has worn on. He completed a 40-yardpass to Jeremy Kerley, his second 40-yard hookup with Kerley on the day, but the drive fizzled out after that.
SECOND QUARTER: D
The good news is that Mark Sanchez avoided turnovers in the second quarter and led the Jets on two scoring drives. The bad news is that he has had little to do with it.
Sanchez has been asked to simply hand the ball off to Shonn Greene and Bilal Powell and try to make simple passes if he's called on to do so.
FIRST QUARTER: F
To nobody's surprise, Mark Sanchez threw another pick-six and missed a couple of open receivers on his first drive. It's a good thing this game is on the road. The only question here is whether Rex Ryan will turn to Tim Tebow at any time today.
Sanchez is 3-of-6 for 14 yards through one quarter.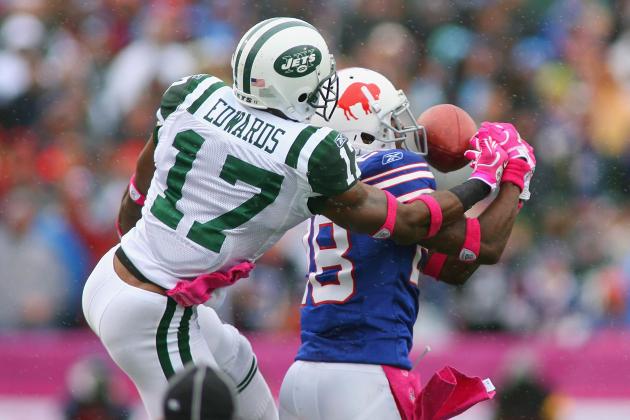 Rick Stewart/Getty Images

OVERALL GRADE: F
The Bills have the second-worst defense in the NFL and the Jets managed just three field goals against them. Just brutal. There was some early success in the running game, but once the Bills adjusted to stop that, the Jets couldn't take advantage with any deep passes.
THIRD QUARTER: D
The Bills seemed to have tightened up their run defense, which means the game will come down to Mark Sanchez making plays in the running game. He hooked up with Jeremy Kerley for his second 40-yard reception of the game, but even that led to nothing.
The Jets were lucky the Bills didn't capitalize on a Mark Sanchez fumble. Nick Mangold couldn't hold his block long enough on a long-developing play to cause the fumble.
No points on the board this quarter for the offense.
SECOND QUARTER: B
The offense has dominated the time of possession and if it wasn't for Mark Sanchez's erratic passes downfield, this unit might actually get an A. Instead, his inability to make plays has resulted in the Jets settling for field goals instead of punching it in for seven.
Jeremy Kerley busted loose for a 40-yard gainer on a 3rd-and-16 screen play and Bilal Powell has shown some explosiveness as well. Shonn Greene is also making one final case for himself as a hand-runner who could become a valuable free agent pick up for someone looking for a complimentary back.
A Clyde Gates drop and a general inability to do anything with their final drive of the half gave the Bills plenty of time to try to put some points on the board going into the half.
FIRST QUARTER: C
If the Jets are going to have to pass the ball, things are going to get ugly. Mark Sanchez still does not look comfortable, misfiring on a number of passes and throwing an easy pick-six.
On the ground though, things were a little different.
The Jets came out looking to pound the ball on the ground and did so effectively for the most part. The Jets ran the ball nine times on their first drive and dialed up just two passes on their way to a Nick Folk field goal.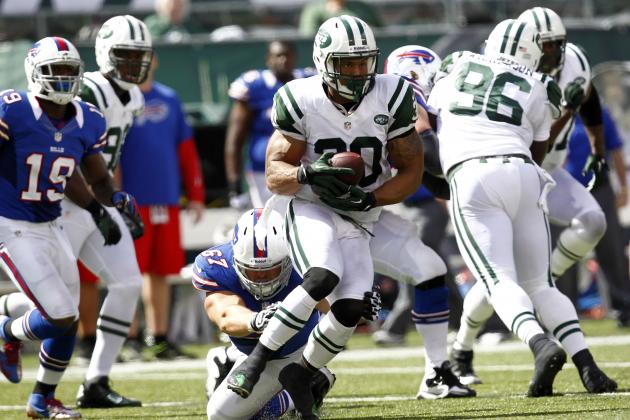 Jeff Zelevansky/Getty Images

OVERALL GRADE: B-
The defense allowed just two long drives all game and was strong overall once again. They did however give up three touchdowns to a mediocre Bills team. Muhammad Wilkerson made plays in the backfield all day once again.
As they did with Chris Johnson, the Jets bottled up C.J. Spiller all game with the exception of one play. The play today was a 66-yard touchdown pass from Fitzpatrick to Spiller.
THIRD QUARTER: C
The Jets allowed their first long drive of the game as the Bills kept the ball for over six minutes on an 11-play drive. However, Rian Lindell missed a field goal and the drive amounted to nothing. LaRon Landry and Muhammad Wilkerson got pressure on Ryan Fitzpatrick on a 3rd-and-3 to force an incompletion and the subsequent field goal attempt.
SECOND QUARTER: B
The defense had done extremely well until it allowed a 66-yard touchdown on a swing pass to C.J. Spiller. Besides that, the Jets have allowed the Bills just 37 yards of offense.
The unit did do a good job though of keeping the Bills off the board at the end of the half as a stalled offensive drive coupled with a poor punt gave the Bills good field position.
FIRST QUARTER: A-
The Jets defense was helped out by an early holding call against the Bills to slow their first drive, which made it into Jets territory. Although they were victimized by two 11-yard plays on the drive, the Bills ultimately had to punt.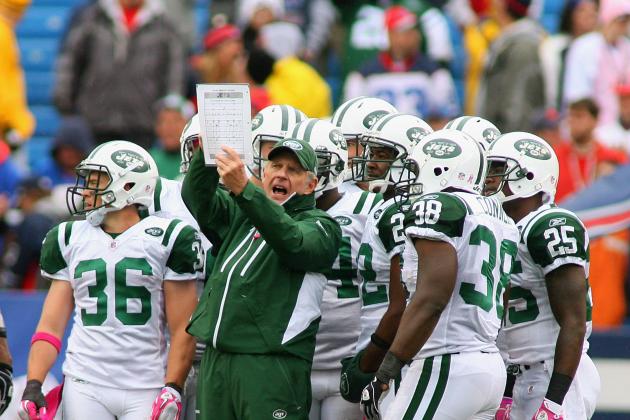 Rick Stewart/Getty Images

OVERALL GRADE: C
Nick Folk made three field goals, which is an accomplishment judging by how hard of a time Rian Lindell had in these conditions. However, Folk had a fourth field goal attempt blocked at a key spot, forcing the Jets to play from two-scores down for much of the second half.
THIRD QUARTER: D
Even in Mike Westhoff's last NFL game, the Jets couldn't send him out without a mistake-free performance. Brandon Moore couldn't hold his block on a Nick Folk field goal attempt early in the half, resulting in a blocked field goal.
Jeremy Kerley called for his 35th fair catch in the third quarter, which is the most in NFL history.
SECOND QUARTER: B
Nick Folk converted two short field goals in the only special teams action of the half. Coverage could be a little better on kickoffs, as the Jets are allowing 26 yards per return.
Robert Malone's only punt of the game went for just 32 yards.
FIRST QUARTER: B+
With a wind chill of just 13 degrees, kicking conditions are clearly not optimal in windy Buffalo today. Credit Nick Folk for easily converting a 47-yarder to give the Jets and early 3-0 lead.
Kickoffs on both sides were short and the Jets had a hard time corralling Brad Smith on a 27-yard return.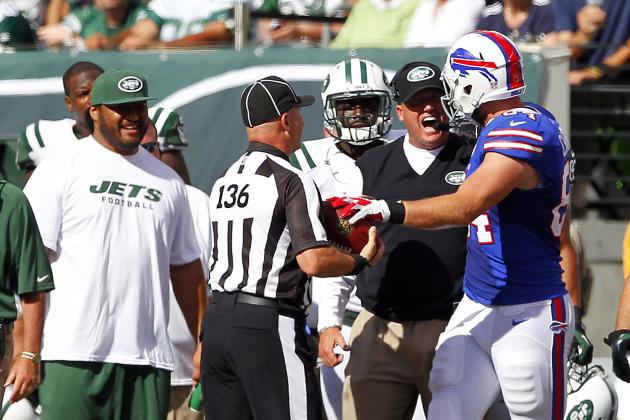 Rich Schultz/Getty Images

OVERALL GRADE: C
There was nothing that stood out as a huge negative from the coaching staff this game. The game was managed fine, the play calling was appropriate and for as bad as the offense was, the team played hard. The only real decision to make was to go for it on a late 4th-and-1. The Jets rightly went for it, the play call was fine, but the execution wasn't there.
Vince Lombardi couldn't have done anything with the team that was thrown out there today.
THIRD QUARTER: C
The Bills have adjusted their defense to try to slow the Jets running game and have had success in doing so. As a result, Tony Sparano is going to have to take some shots down the field. He has shown that adjustment, now it's up to players to make some plays. Sparano has nothing to lose at this point and you'd hope he'd show a little creativity going into perhaps his final quarter as a Jet.
SECOND QUARTER: B
Tony Sparano hasn't strayed from his run-heavy game plan and it's worked well for them. The Jets have dominated the time of possession and both Shonn Greene and Bilal Powell have run well. The only problem so far is that on one of the few times Sanchez was asked to pass, he threw a pick-six to Bryan Scott.
There haven't been any crucial decisions to make just yet, so Rex Ryan hasn't been tested. Despite the meaningless nature of this game, the team is playing hard, showing they haven't quit on the season.
FIRST QUARTER: B
Even though he has been widely panned for being way too conservative, Tony Sparano came out in what is likely his last game as a Jet with a clear game plan to establish the run. It was clearly the right call as the Jets bullied their way down the field.